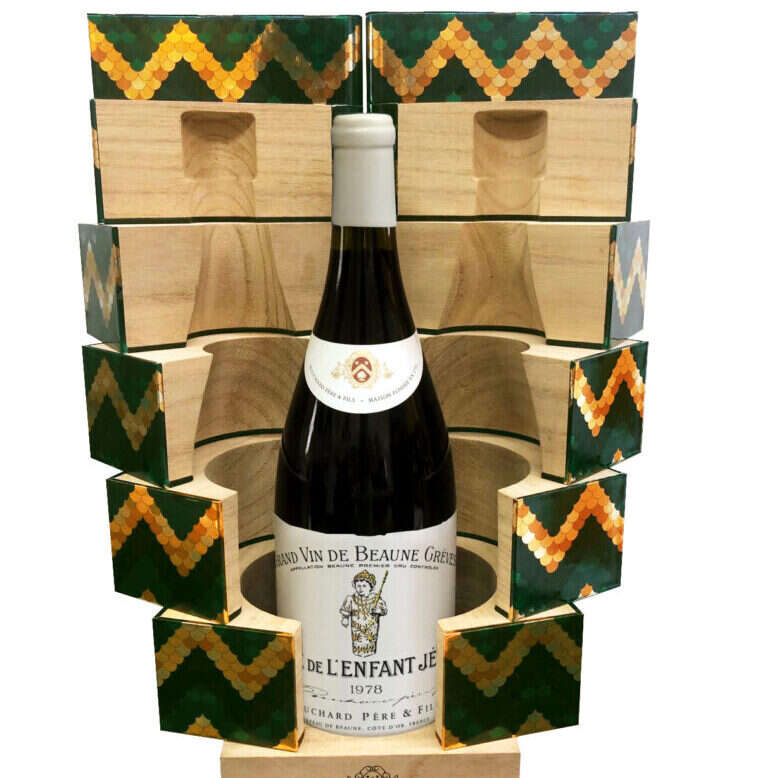 To celebrate the 200th anniversary of the purchase of the Château de Beaune, which houses the most exceptional collection of venerable Burgundy vintages, Bouchard Père & Fils is releasing 100 magnums of its iconic Beaune Grèves from a legendary year still at the height of its powers
Even for the largest owner of grand and premier cru vineyards on the Côte d'Or, Bouchard's Beaune Grèves plot of almost ten acres (4ha) is highly prized, and produces one of its flagship wines. Bouchard has commissioned special cases for its 200th anniversary releases: "Designed by Italian Pascal Pozzo di Borgo in collaboration with the Burgundy-based Langalerie workshops," the company explains in a press release, "they offer an understated multifaceted interpretation of the house itself. The two eco-friendly, reusable oak wood cases are crafted without the use of plastic, and rendered in tiles of green, tawny and black, a distinctive sign of Burgundy."
The artisanal limited-edition box for the Vigne de l'Enfant Jésus 1978 fans out five ways to reveal a magnum of the Beaune Premier Cru Grèves on an oak platform. Only 100 magnums and boxes, each individually numbered, are available. A second special case contains one bottle each of two of Bouchard's Beaune premier cru monopoles, one white, one red, from the latest released vintage: 2018 Beaune Clos Saint-Landry, from the historic vineyard where the town's oldest traces of Chardonnay were found; and 2018 Beaune Clos de la Mousse, from another symbolic vineyard, dating back to 1220, when it was bequeathed to the Chapter of Notre-Dame de Beaune.
It was in 1820, almost four centuries after it was built, that the Château de Beaune, a former royal fortress built in the 15th century by King Louis XI, was confiscated during the French Revolution and put up for sale. Bernard Bouchard seized the opportunity to purchase the property, and today it is not only home to thousands of bottles of fine Burgundy vintages, but also forms the heart of one of the oldest wine estates in Burgundy, founded in 1731. Four of the five original towers of the fortress, as well as fragments of the ramparts, still stand, and have featured on a list of historic monuments since 1937.
Over the years, the Bouchard family converted the underground galleries and bastion chambers of the Château into wine cellars some 33ft (10m) deep. These provide the best storage conditions, dark and naturally temperature controlled, for wines to age gracefully and undisturbed. These include a collection of more than 2,000 bottles from the 19th century, the oldest wine being a still-lustrous Meursault Charmes 1846.
The Bouchard Père et Fils Artisanal Limited-Edition Box with a magnum of Beaune Grèves Vigne de l'Enfant Jésus 1978 has a UK recommended retail price of £2,650; Bordeaux Index is offering it at £2,200 in bond (£2,645 including duty & VAT). The Bouchard Père et Fils Anniversary Set with 2018 Beaune Clos Saint-Landry and 2018 Beaune Clos de la Mousse has a RRP of £151.75.