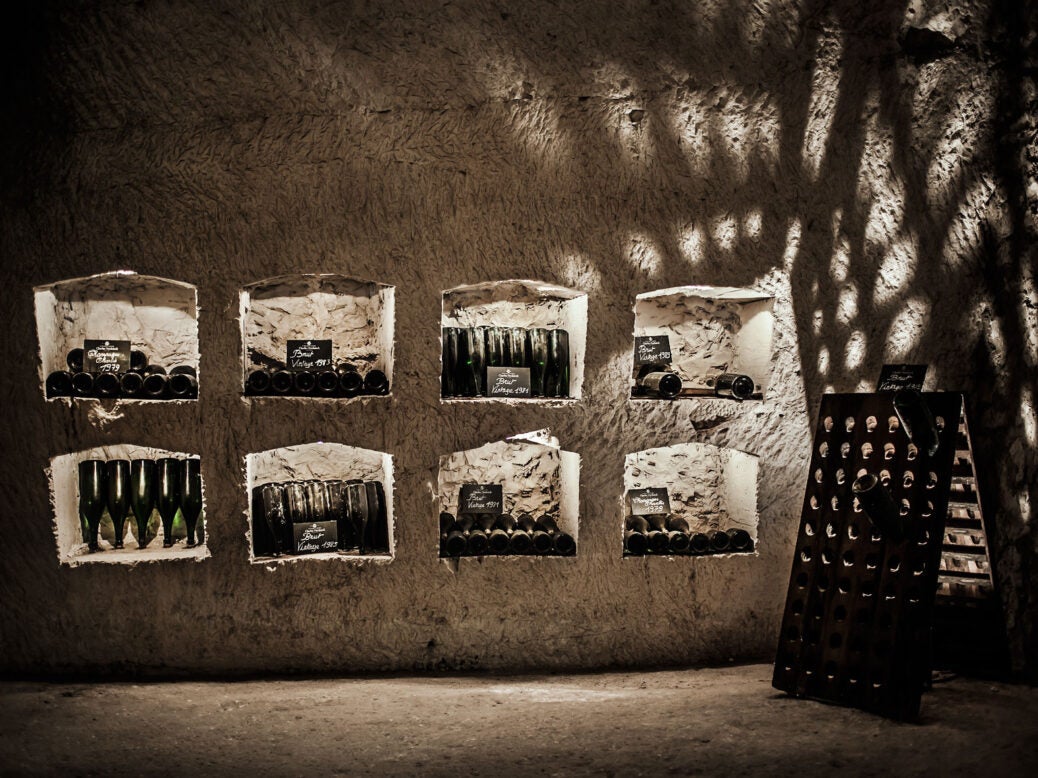 Anthony Rose is granted access to the remarkable cache of old Champagnes stored beneath Charles Heidsieck's Reims headquarters
Cette porte doit rester imperativement fermée.
As the Fort Knox-like steel door in Charles Heidsieck's Reims garden snapped shut and the 116 chalk steps down to the subterranean cellars were safely negotiated, the meaning of the stern warning became clear. There is valuable treasure lying there in its 2nd-century Gallo-Roman chalk cellars. The 47 Bond-like echo chambers are home not just to current stock but to something of even greater importance to Champagne lovers: a sequence of rare Charles Heidsieck vintages including the late, great Champagne Charlie itself.
Selected by Charles Heidsieck's chef de cave Cyril Brun, a part of this remarkable library is to be auctioned at Christie's on December 7 in London and on December 8 and 9 in New York. To the delight of Champagne connoisseurs in general and Champagne Charlie fans in particular, the Collection Crayères will include two vintages of Champagne Charlie, one in magnum. This first Collection release comprises:
Charles Heidsieck Champagne Royale 1981
Charles Heidsieck Champagne Charlie 1982 magnums
Charles Heidsieck Champagne 1983 Vintage in magnums
Charles Heidsieck Champagne Charlie 1985
Charles Heidsieck Champagne Rosé 1985.
Each of Charles Heidsieck's main markets will also have an allocation of the Collection Crayères to be sold in high-end restaurants and wine shops and by direct sale. In the UK, it's likely to be available from Fortnum & Mason, The Finest Bubble, and Hedonism Wines. In addition, a total of 29 different cuvées, comprising 528 bottles and magnums, are to be sold at auction by Christie's. This extraordinary offering will include all five vintages of Champagne Charlie, from first, 1979, to last, 1985, as well as the house's prestige cuvée Blanc des Millénaires from 1981, 1983, and 1990 and the historic Cuvée Royale from 1966 and 1975. There will also be 12 Jéroboams of the fabulous Millésime 1989.
While the rare old Champagnes slumbered 65ft (20m) below the streets of Reims, the Descours family purchased the company, along with its bigger sibling, Piper-Heidsieck, from Rémy Cointreau in 2011. After chef de cave Thierry Roset died tragically in 2014, Cyril Brun, Veuve Clicquot's deputy cellar master, was interviewed. "I see you've got nice shoes," said Christopher Descours, spotting that Brun was wearing the luxury group's JM Westerns. "I've had them for many years," said Cyril. He got the top job on the spot.
Descours understood that by purchasing Charles Heidsieck and so removing it from beneath the shadow of Rémy Cointreau, he had the chance to restore the house to its former glory. As part of that process, the house's urbane MD Stephen Leroux decided that the time had come to release the first in a series of rare older vintages, hence the Collection Crayères.
Before his death in 2002 at the age of only 55, Daniel Thibault made five vintages of Champagne Charlie between 1979 and 1985, but it was discontinued when the company changed hands. One of the consequences of being absorbed by Rémy Cointreau in 1985 was that the umbrella company, which had Krug in its portfolio, had a problem knowing where to position Charles Heidsieck, and as a result it lost focus on Charles. The problem was one of distribution, not quality.
Champagne Charlie was the name conferred on the flamboyant founder of Charles Heidsieck (in 1851), Charles- Camille, by American high society after his succès de scandale on the American market in the 1850s. By the beginning of the American Civil War, he was selling 25,000 cases of Champagne. Scandal left success in its wake, however, when the wheeler-dealer was arrested and jailed by Unionists in 1861 for possessing letters from French textile companies offering to supply clothing to the Confederate armies. After being charged with spying and languishing for four months in jail, he returned to France bankrupt, but through a stroke of good fortune, his debt was paid off, and the house survived and prospered.
The birth and rebirth of Charlie
Until 1961, Charles Heidsieck sold only Vintage Champagne in the UK. This was also the first vintage of its prestige cuvee at the time, Cuvée Royale. But Joseph Henriot and his cousin Jean-Marc Heidsieck, deciding that it did not incarnate the name or style of the house, charged the creative Daniel Thibault to come up with a new prestige cuvée that would push the style and elegance envelope. Thus, Champagne Charlie was born. Its first vintage was 1979, followed by 1981, 1982, 1983, and 1985.
It's ironic that the Charles Heidsieck website refers to the typiquement Charles spirit, because Champagne Charlie was never any more typical than the man himself. Given carte blanche in his blends for Champagne Charlie, Thibault was not constrained by any particular method or recipe but free to follow his own instincts. His aim was simply to distill the best from each vintage to reach the quintessence of what the house could achieve in that year. As Cyril Brun says, "Charlie was a wild animal, aiming to encapsulate something unique. Sometimes it contained more Chardonnay, or more Pinot Noir, sometimes very different components, but it was always the product of the intuition of the chef de cave."
Given that there were only five vintages of Champagne Charlie, it's a fantastic opportunity for collectors to find that two of them—the 1982 and the 1985, the last vintage—form part of the Collection Crayères. The addition of the Charles Heidsieck Champagne Royale 1981 adds another piece of the historical jigsaw, while the superlative 1983 Vintage in magnum and the still youthful and vinous Charles Heidsieck Champagne Rosé 1985 complete the Collection Crayères picture.
In Reims in late August, I was one of a small press group invited to taste the collection, including all five vintages of Champagne Charlie, a vertical of the house's more recent icon Champagne, Blanc des Millénaires, and the current range. What we tasted revealed the thumbprint of the remarkable Daniel Thibault and, in more recent vintages, his successors Régis Camus (chef de cave of Charles Heidsieck until 2011 and then of Piper-Heidsieck) and Thierry Roset (chef de cave 2011–14).
Thibault had created a series of great Champagnes, not least the Brut Réserve, with its substantial proportion of reserve wine and long time spent on the lees. In 1997 he came up with the revolutionary but frequently misunderstood concept of Mis en Cave—the year of bottling following the vintage of the base wine, that is—on the label (now relegated to the back label). Sourced from 60 different crus since the 2007 harvest, over 100 individual cuvées are fermented in stainless steel to create a house style, 60 percent with equal proportions of Chardonnay, Pinot Noir, and Pinot Meunier. To enhance the fleshy texture and the complexity and richness of maturity, the Brut Réserve contains no less than 40 percent of reserve wines with an average age of ten years.
The remarkable consistency of quality continues with the 2004 Blanc des Millénaires, a prestige cuvée that itself labored under the shadow of Champagne Charlie in the two overlapping vintages of 1983 and 1985. To be released worldwide in January 2018, it will be followed by a second batch of the Collection Crayères. Charles Heidsieck is being tight-lipped about exactly what will go into the second collection, though a vertical of Blanc des Millénaires may be on the cards. Stephen Leroux has also indicated, tantalizingly, that Champagne Charlie itself is to be reincarnated: "We have purchased the bottle and done the mold again, and Champagne Charlie will be on the market again in the next ten years."
NOTES
1. Charles Heidsieck Current Range
Charles Heidsieck Brut Réserve NV
(base 2008, disgorged 2017)
This is surely one of the great Mis en Caves (in this case Mis en Cave 2009), a wine of great impact with its super-complex nose; a wonderful subtle vanilla and almondy toastiness of aroma, then deliciously rich and full, subtly toasty, almond pastry mousse, streaked with an incisive lemony acidity slicing through the richness for a mouthwateringly crisp, citruszest explosion on a nutty finish, all beautifully balanced and complex. | 93
Charles Heidsieck Brut Réserve NV
(base 2010, disgorged 2017)
A tad subdued as yet on the nose, this displays a gentle subtle toastiness, incipiently youthful Charles vanilla character, lovely richness of texture, with fine lemony mousse and incisive fresh acidity, at this stage the sweetness and acidity still coming together, but looking likely to develop just as well as the Charles Heidsieck Brut Réserve NV Mis en Cave 2009. | 92
Charles Heidsieck Rosé Réserve NV
(base 2012, disgorged 2017)
With 20 percent reserve wine and a dosage of 11g/l, this is a bronze pink rosé, with a charming nose, wonderfully fresh and intense, with subtle Armagnac-like pruney notes and fine-textured, rich, yet delicate mousse, a sharp blade of incisive acidity, toasty aromas, and an underlying redberry fruitiness. | 92
Charles Heidsieck Rosé Réserve NV
(base 2008, disgorged 2017)
Also with 20 percent reserve wine and a dosage of 11g/l, this displays a fine, complex nose, with fresh and inviting berry-fruit aromas, fine-textured, intense red-berry fruit quality and creamy raspberryish mousse, finishing on a balanced, fresh, vivacious, and tangy dry note. | 93
2005 Charles Heidsieck Brut Millésime
(disgorged 2016)
Floral, spicy, and honeyed on the nose, with a fine light smokiness; sweet and savory dried stone-fruit palate that's seriously complex, with a powerfully rich, intense, and concentrated fruit quality, and fine mousse shot through with notes of almond and pastry. Now maturing well and will continue to age with grace. | 94
2006 Charles Heidsieck Brut Millésime
(disgorged 2017)
Lovely nose, subtle, complex, solids, with leesy nuttiness, golden toast and apples, fine fruit richness and intensity, subtle mousse, vinous and youthful, intense fruit purity with fine, firm balancing acidity and an elegant finish. | 93
2006 Charles Heidsieck Rosé Millésime
(disgorged 2017)
With 63% Pinot Noir and 37% Chardonnay from a dozen villages, this has a more Brut Réserve nose, perfumed with toasty vanilla, spice, and berry notes, an elegant yet soft, rich cushion of bubbles, very sensual, and delicate fresh cranberry-like bite for fine balance and dry elegance. | 92
2005 Charles Heidsieck Rosé Millésime
(disgorged 2017)
From similar sources as the 2006 Rosé, this is now a deep bronze-pink in color, with a slightly smoky, strawberryish nose, then the opulent, full-bodied richness and vinosity of Pinot Noir fruit (two thirds of the red-wine component comes from the Montagne de Reims), muscular, winey, and fleshy, rather like a red-wine drinker's rosé, very much a food wine, with a vanilla finish. Lots of character here, a million miles from a simple, sugary, vapid rosé. | 93
2. Charles Heidsieck Oenothèque (excluding Blanc des Millénaires and Champagne Charlie)
1989 Charles Heidsieck Champagne Brut Millésime (disgorged 1997)
Yellow golden in color; the intensely toasty, nutty aromas are followed on the palate by an amazing concentration of wonderfully rich, intense, full peach and apple fruit, with a fine, lively mousse and excellent vinosity shot through with a super-fresh blade of linear acidity. This seems to me to be as close to perfect as Vintage Champagne gets. | 98
1985 Charles Heidsieck Champagne Rosé Millésime (disgorged 1991)
Bronze-pink; elegant, beautifully berry-like, almost red Burgundy-like fragrance, terrific mulberry-like vinosity, with real, textured grip from both a touch of red-wine tannins and a firm spine of acidity; a very serious rosé Champagne made for food; partridge or pheasant would fit the bill nicely. | 97
1983 Charles Heidsieck Champagne Brut Millésime
(disgorged 1991)
Lovely golden hue, greenish hints; wonderful fresh notes with hints of tropical citrus fruit and underlying nuttiness, super-fresh mousse of fine bubbles, excellent intensity of flavor and balance of fruit with its firm spine of linear acidity and mineral dry finish. | 97
1981 Charles Heidsieck Champagne Blanc de Blancs
(disgorged 1986)
Deep yellow-gold; this is quite buttery on the nose, with truffley undertones, and a rich, buttery-full flavor, based on a gentle mousse of bubbles, and a firm spine of crisp acidity running through it like a squeeze of lemon on buttered toast, lots of richness and opulence, just starting to show its maturity. | 94
1981 Charles Heidsieck Champagne Cuvée Royale
(disgorged 1989)
Yellow-gold, almost old gold in color; distinctly nutty and toasty in aroma but starting to show its maturity now, with mushroomy/truffley notes and only just starting to gradually fade, though with its rich marmaladey fruit it's still showing bags of energy and verve. | 94
1979 Charles Heidsieck Brut Millésime
(disgorged 1988)
Yellow-gold, bright color; very fresh on the nose, with nutty, piney notes of beeswax, spice, and a touch of honey, rich and intense mango, pine and beeswaxy mousse, which is intense and incredibly fresh, with honeyed and nutty undertones and a fine spine of linear fresh acidity. | 95
3. Charles Heidsieck Blanc des Millénaires Blanc de Blancs
2004 Charles Heidsieck Blanc des Millénaires
(disgorged 2016)
Blending Vertus, Oger, Le Mesnil, Avize, and Cramant, vanilla, butter, and Cornish cream combine with youthful tropical citrusy aromas, essence of Chardonnay, pristine, pure, concentrated, and intense fruit, with richness of texture and flavor, fine mousse, a fleck of honey, amazing power and concentration, with beautiful seamless acidity, lengthening in the mouth. | 96
1995 Charles Heidsieck Blanc des Millénaires
(disgorged 2015)
Comprising 20 percent each of the five villages, the current release offers a super-toasty nose, combining a citrusy freshness with exotic mango and honeyed richness, a hint of white chocolate and grilled almond; evolved and complex, supervinous mousse, powerfully full-flavored, and just starting to age gracefully yet with pineapple-fresh acidity, turning as much into a wine with bubbles as a Champagne. 20 years young. | 96
1990 Charles Heidsieck Blanc des Mllénaires—Both bottles corked.
1985 Charles Heidsieck Blanc des Millénaires
(disgorged 1994)
Transcendent nose, intense, fresh, very beautiful, slightly smoky, toffee apple, mango, and pineapple exotic richness and buttery, honeyed texture, yet incredibly fresh with a fine elegant mousse and vivacious acidity, keeping the whole thing mineral, and still incredibly fresh for its age. | 95
1983 Charles Heidsieck Blanc des Millénaires
(disgorged 1991)
Pale gold; citrus zesty tangeriney nose, apricots and peaches and honey, a subtle oyster-shell savory note, beautifully creamy mousse, with super-zesty marmaladey tang of freshness and the finest, most elegant blade of acidity. | 96
4. Charles Heidsieck Champagne Charlie
1985 Charles Heidsieck Champagne Charlie
(disgorged 1993)
With a complexing touch of reserve wine and a shade more Pinot than Chardonnay, yellow golden color, toast, honey, and orange marmalade on the nose, with a distinct nuttiness and hint of coffee, creamy soft duvet of bubbles with light earthy, truffley undertones, a touch of spice, a glorious sweetness of nectarine-like fruit morphing into savory, fresh acidity, not oxidation, but richness and sweetness of aroma, finishing with a delightful nuttiness. | 98
1983 Charles Heidsieck Champagne Charlie
(disgorged 1990)
A dash of complexing reserve wine; yellow-gold; a smoky and zesty fresh note on the nose, almost in the mold of mature Riesling, lime armalade, subtle nutty notes, also a searingly fresh limezesty note underpinning an expansive, finely textured mousse and seriously concentrated vinosity of fruit, finishing long, on a super-dry, mineral note.
A near-perfect Champagne. | 99
1982 Charles Heidsieck Champagne Charlie
(magnum, disgorged 1994)
Yellow-gold; a bit broader on the nose than the 1983, a mature white Burgundy-like nuttiness, serious vinosity, a gentle mousse, with lovely peachy ripeness, a tad austere, even though ripe, with a wonderful, mature Pulignyesque nuttiness and dry mineral finish. | 96
1981 Charles Heidsieck Champagne Charlie
(magnum, disgorged 1988)
Containing some reserve wine even though it's a Vintage Champagne. Deep yellow-gold; super-rich, smoky, nutty bouquet, with gentle truffley undertones, appetizingly toasty, honeyed, rich, full fruit intensity, with a delicious nectarine and ripe sweet apple fruit quality, underpinned by a subtle nose full of nutty notes and a seamless, linear steely blade of minerally acidity. | 99
1979 Charles Heidsieck Champagne Charlie
(disgorged 1986)
Remarkable freshness on the nose, even if it is now just starting to show its maturity with a display of honeyed, toasty, and nutty notes; still a gentle prickle on the tongue, seriously vinous fruit with a gentle mousse of rich bubbles; a finely textured style with underlying nutty notes and real vinosity, and, even though it is starting to show some age, it still manages to look elegantly graceful as it approaches 40 years old. | 97
Photo credit: Pol Baril