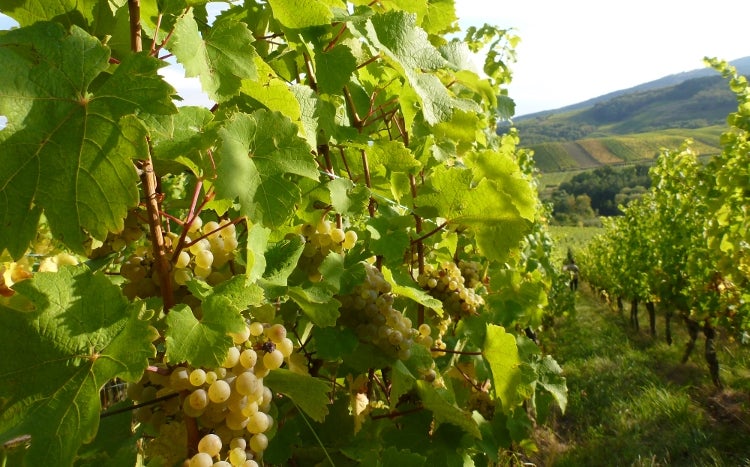 André Ostertag, owner and winemaker of Domaine Ostertag, rarely travels to London these days. He is busy managing his biodynamic estate or, in his words, "pampering the 100ishyear- old vine plots around Epfig." So, when the opportunity came to taste through his Muenchberg Grand Cru at a recent masterclass organized by his importer Fields, Morris & Verdin, it was not to be missed.
"Alsace is a very old area," begins André, "people there have been making wine since the middle ages. My father started in 1966—we have 50 years of winemaking, but that is nothing in terms of Alsace. That's a baby. But for me it was interesting to not have a long history on my shoulders, it was motivating and creative." Sure enough André is a true revolutionary, unhampered by the rules and traditions of the region. Together with his father he developed his land in Muenchberg into a very reputable vineyard by sharply reducing yields and converting to biodynamics in 1997. He studied in Burgundy where he found great inspiration from his friend and mentor, Dominique Lafon, and returned to Alsace with new techniques for producing dry white wines with more character and texture. His unique style of Pinot Gris did not get approval to state Muenchberg Grand Cru on the label so he opted to use a secret code A360P as a map reference to where his Pinot Gris parcel is planted.
His passion for the land he works is captivating. "When you talk about wine, you talk about your life," he muses, "Muenchberg has made me as much as I have made Muenchberg, it's a double relationship." André goes on to explain that Muenchberg has soils that are some 250 million years old, primarily sandstone and volcanic. "Sandstone is very soft, it isn't hard, it has a delicate grain, for me it is like skin," he explains. "Volcanic is the opposite, it is the fire of the earth. A pure volcanic wine is very powerful and austere, pushing your palate. Together they make a wonderful combination of opposites at Muenchberg." The "Monk's Hill" is an enclosed amphitheater 250–300m (800–1,000ft) above sea level. Its vineyards get sun throughout the day across three exposures. André owns 2.4ha (6acres) of the 17ha (42-acre) grand cru site where he grows Riesling and Pinot Gris.
THE WINES
Domaine Ostertag 2015 Muenchberg Grand Cru Riesling
(A very warm vintage, 14.5% ABV.)
Juicy pear and lemon, herbal notes, and mineral stone aromas. Powerful and intense palate with lots of freshness in complete harmony despite the highish level of alcohol. Long, with a salty touch at the end.
Domaine Ostertag 2013 A360P Pinot Gris
(André says 2013 was a "global warming" vintage—one that is chaotic and unpredictable. A single season had both extremes, dry and wet, making biodynamics and a long-term plan for the vineyard even more challenging. Barrel-fermented and barrel-aged in Vosges oak.)
Lively, rounded, with a delicate spice. Soft-textured and dense on the palate but overall very clean and pure. Lovely mouthfeel and a lingering finish. Still very young.
Domaine Ostertag 2007 Muenchberg Grand Cru Riesling
(Very little rain, but every few days they had mist. Very early flowering at the end of May; the usual maturation cycle is 100 days from flowering to picking, but in this vintage it was 120 days. 9g/l RS)
Pronounced mineral and petrol aromas. Rounded and rich but dry with a vibrant acidity that moves through the palate. Sensational, with a very long finish.
Domaine Ostertag 2005 A360P Pinot Gris
(The "coolest" vintage, in the sense that it was the least stressful, being peaceful and easy: "It was a honeymoon." 8–9g/l)
Perfumed nose of honeyed and spiced quince. Very lush, rich, and flavorful, with structure and a long mineral streak through the palate. Long and concentrated, with a complex mid-palate that tapers off with a tantalizing finish.
Domaine Ostertag 2001 Muenchberg Grand Cru Riesling
(The opposite of 2005—a very difficult vintage in a cool and wet year.)
Extremely mineral (André refers to it as "geological"), very earthy, with a slight hint of rubber. Serious, intense, but I wouldn't call this austere. It is lighter in body but has great texture and traces of vetiver essence. This is a wine for lovers of strong mineral character.
Domaine Ostertag 1993 A360P Pinot Gris
(Pre-biodynamic. "The strongest hail of my life was in 1993," says André, but Muenchberg was well preserved and undamaged.)
A touch simpler and less intense than most of the wines, with more new-oak influence. Orange-peel aromas, then high acidity on the palate, which is perhaps lacking a little flesh. Not as concentrated as the previous wines in the flight, but still very pleasing to drink.
Domaine Ostertag 2007 Muenchberg Riesling Vendanges Tardives
(André doesn't produce VT on a regular basis, only in suitable vintages.)
Sweet tropical honey, abundant fruit, yet still has a distinct purity to it. Brilliantly balanced acidity and sweetness, powerful and structured, yet fresh.