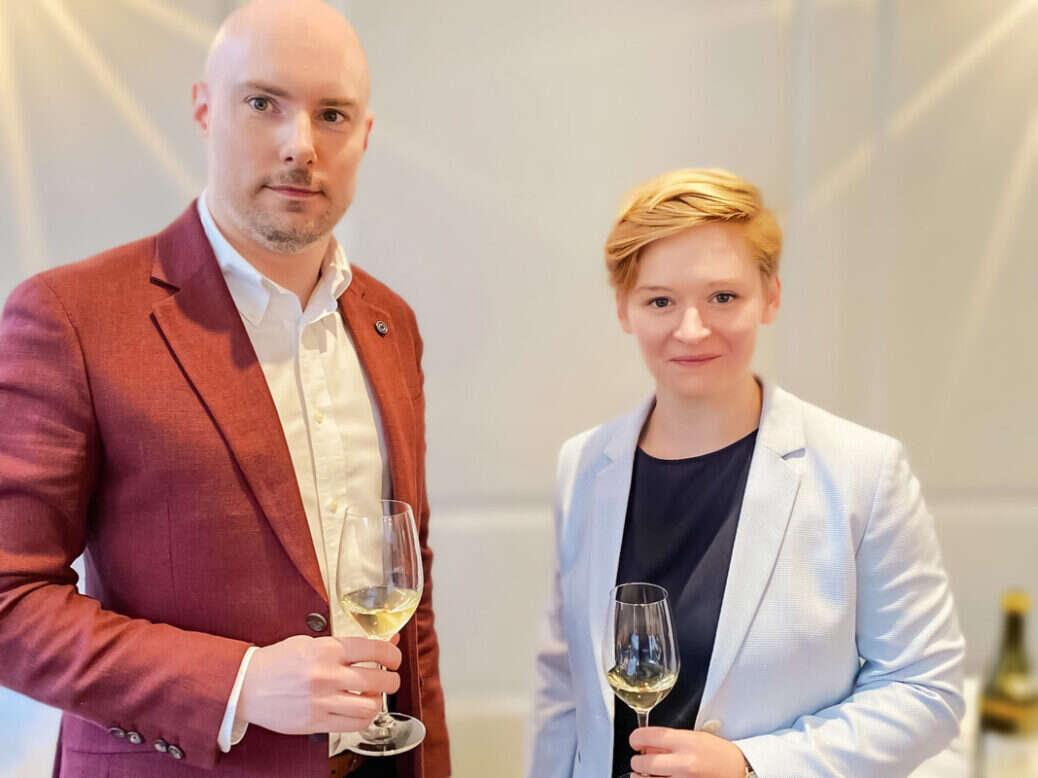 A new monthly wine-subscription service allows drinkers in the UK to benefit from the experience and expertise of some of the country's leading sommeliers.
Nicolas Pierron, former Head Sommelier of Jason Atherton's City Social in London, and Sophie Picheta, on-trade fine wine sales representative for Lea & Sandeman Wine Merchants in the city, started Private Somm during lockdown, when the UK's 65,000 pubs and restaurants closed their doors.
Subscribers receive either a three- or six-bottle mixed case of wines, selected by a different top sommelier each month. Videos and tasting notes will accompany each month's selection, to introduce the sommeliers and enable them to share their passions and areas of interest with subscribers.
"With the government's ever-changing guidelines and rules on hospitality, we wanted to put the spotlight back on the wealth of talent in our industry," said Sophie. "Our friends and colleagues have years of experience, vast knowledge, and so much to share with wine lovers all over the UK.
"One of the things we missed the most during lockdown were those special conversations with sommeliers. When you get to know a somm, his or her personality, and the wines he or she loves, you really trust them. Then they pour you something new and delicious—that's absolutely magical, and we want to give our subscribers a piece of that magic at home."
Between them, Nicolas and Sophie have three decades of experience in the wine industry, spanning all areas from sales and import, to winemaking, as well as plenty of front-of-house experience in pubs, wine bars, and Michelin-starred restaurants.
"For us, knowing the people choosing and recommending wines is crucial," said Nicolas. "Private Somm is a subscription service with high-quality, ethical, and well-made wines, of course, but the personalities and knowledge of the sommeliers is key. We're excited to show the great wine restaurants of the UK, and support our sommelier colleagues across Britain."
The subscription service launched in September, and the first case, sent out in October, was selected by Martyna Pawliczek, Head Sommelier at Two Michelin-Starred La Dame de Pic in London.
"When I first heard about the project I thought it sounded fantastic," said Martyna. "Private Somm offers the possibility for me as a sommelier and a wine lover to spread the word about my favorite producers, cuvées, and regions, and it enables me to show these wines beyond the borders of the restaurant. I can't wait to show off my selection!"
November's box will continue the Two Michelin-Starred restaurant theme, with wines selected by Rémi Cousin from Le Gavroche in London's Mayfair.
The 3-bottle subscription is £78, and the 6-bottle subscription £140. Alongside the unique sommelier experience, subscribers also enjoy various perks such as free postage, invitations to tastings and events, and discounts and rewards as part of the Private Somm Member Reward Points scheme.
For more information, see their website, or follow them on Instagram.
[Photo caption] Nicolas Pierron and Sophie Picheta