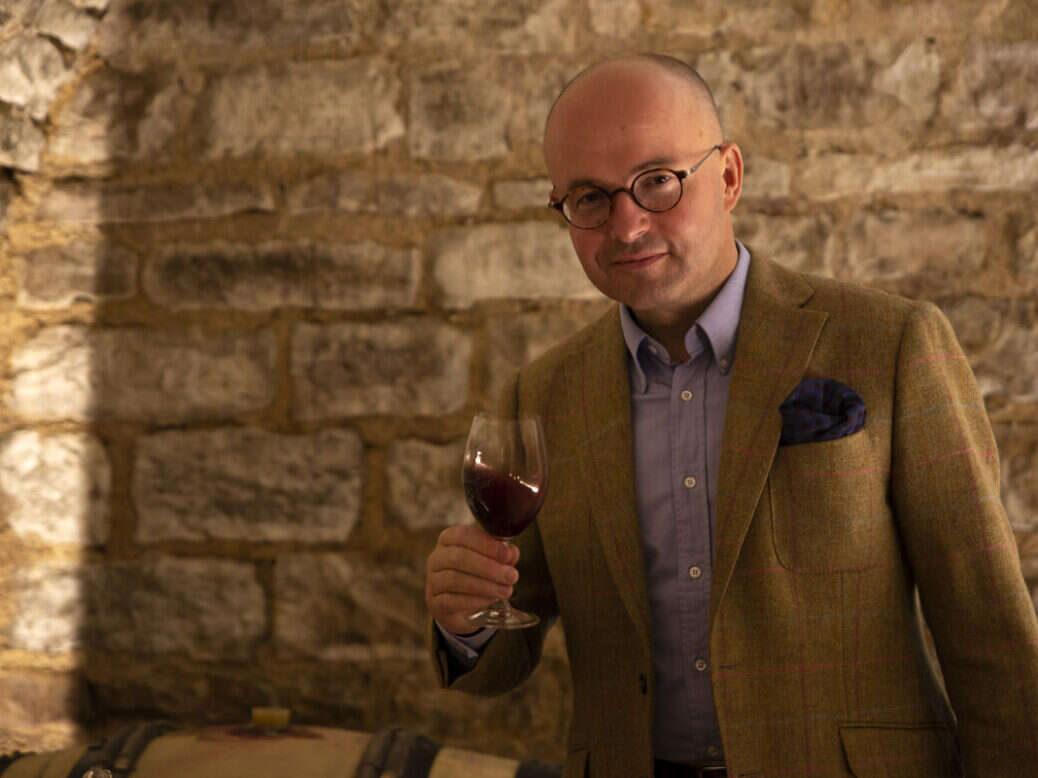 Of all the regions in the world where one might launch as a new wine producer, Burgundy is perhaps the least attainable. According to the latest figures from French land agency, Safer, the average price for a grand cru vineyard in Burgundy is €6.25million per hectare ($2.8million for 1 acre), which would still be a lucky break given there's not much for sale anyway.
However, when the objective is to revive a house founded by family, particularly one with deep-rooted relationships in the region, then the circumstances are rather more auspicious than they might otherwise seem.
Great grandson recovers great house
Gathered at Hide Restaurant in London on November 28, 2019, Laurent Delaunay was visibly pleased (despite suffering from a cold) to greet UK press and share the fruits of his labor in reviving his great grandfather's, Edouard Delaunay's, Burgundy house. And judging by the ten wines he presented from his growing portfolio, it was evident that he has already made great strides since the 2017 purchase.
The rise and fall and rise
Edouard Delaunay's illustrious history dates back to 1893, when Edouard Delaunay senior and his brother Louis purchased the estate from an old supplier and relocated their families from Nantes and Angers to Nuits-Saint-Georges to run their new family business. From the 1920s, Jean Delaunay, the son of Edouard, and his brother Marcel expanded the business worldwide, from Europe to the Americas, from the African colonies to the Far East. In France the wines were not only in top restaurants but also supplied the major travel companies of the time (the French Line, Orient Express, Wagons-Lits, Cunard, Air France). The Delaunays distributed the wines of other prestigious producers including Domaine de la Romanée-Conti and the Liger-Belair family (La Romanée), and naturally took an active part in the creation of the famous Confrérie des Chevaliers du Tastevin in 1934.
Alas, a difficult period brought on by Laurent's father, Jean-Marie Delaunay, falling ill, as well as economic challenges during the Gulf War recession, led to the decision to sell the business to the Boisset family.
Nevertheless, Laurent found success in the industry. Upon graduating from Dijon University with his wife, and fellow winemaker, Catherine Delaunay, they founded Badet-Clément. Making wine in the Languedoc-Roussillon, Rhône Valley, and Provence, their company became famous for Les Jamelles, its flagship brand of varietal wines from Pays d'Oc, and its signature ranges of high-end wines, Abbotts & Delaunay from the Languedoc. Selling more than 15 million bottles of their wine in 55 countries gave them some more options.
Back to Burgundy
"We always kept one eye on returning to Burgundy," said Laurent. The puzzle started to come together when at a lunch with Jean-Claude Boisset he asked the question, and Boisset replied that in fact he had already been thinking that the name should return to him. He also meanwhile bought back their original property, Château de Charmont, in the Hautes-Côtes de Nuits, and began renovations to the highest standard. "I bought the right to use my family name again. The original vineyards, however, were not for sale."
"My family always kept very good relationships in Burgundy," explained Laurent, acknowledging that his siblings' connections, along with the small distribution company he started in Burgundy in 2003, DVP, allowed him to source grapes from more than 150 different growers.
He assembled a star team, led by cellar master, Christophe Briotet, who was previously chief winemaker at Domaine du Lycée Viticole de Beaune, with experience making wine in Chile and Turkey. They create around 25 different wines from purchased grapes, but the terms allow them to take responsibility from harvest. "We set the harvest date and pick the grapes ourselves," said Laurent. "We work in a very precise way. It's very important to be aware of our strengths and weaknesses. Even preparation to bottling and bottling—we can make important improvements with attention to details."
Edouard Delaunay produced 60,000 bottles in 2017, 75 percent of which were Pinot Noir. White grapes were more difficult to find, but Laurent plans to increase white production, and double his overall volume in his second vintage, while continuing to improve quality.
The total capacity of the winery is 10,000 cases. "It might take us several years to get there," smiled Laurent, but there's hope that Edouard Delaunay will once again become a leading Burgundian house along the way.
The Wines
Edouard Delaunay Bourgogne Chardonnay Côte d'Or 2017
Grapes sourced from the Côte de Beaune (mainly Auxey-Duresses and young vines in Meursault). Barrel-fermented (15% new oak). Aged 12 months with occasional stirring.
Refreshing and bright with delicate lemon and creamy stone-fruit flavors.
Edouard Delaunay Saint-Romain Le Village 2017
This cuvée hails from two high-altitude plots: the En Poillange and La Périère, with marl and limestone subsoil containing some layers of clay. Vinified in French oak barrels (20% new oak) at low temperatures using indigenous yeasts. Aging in the same lightly toasted barrels approximately 15 months.
Very lively, sweet apple and lemon-peel flavors dancing across the palate. Satisfying depth, weight, and persistence. Simply delicious.
Edouard Delaunay Corton-Charlemagne Grand Cru 2017
Their only Grand Cru of 2017; in 2018 they will have Chevalier-Montrachet.
Grapes sourced from the En Charlemagne climat located on the border between Pernand-Vergelesses and Aloxe-Corton in the upper part of the appellation grown on clay-rich, marly soil. 3 barrels total production, 2 of which were new oak; 15 months barrel aging.
Lovely balance and richness, but not huge amounts of fruit intensity. Lovely weight on the palate, with an overall delicate hazelnut and stone-fruit flavor. Needs time to evolve complexity—still very young.
Edouard Delaunay Bourgogne Côte d'Or Pinot Noir 2017
Pinot Noir grapes from the Côte de Beaune and Côte de Nuits (Volnay, Chorey, and Fixin) all vinified separately. Cold maceration for 4 days (50ºF [10ºC]); 10% whole-bunch maceration.
Small stainless-steel tanks—with open tops; natural yeast fermentation.
Pigeage during the second half of the fermentation—to avoid getting any green notes. Post-fermentation maceration; 70% aged in barrels, 15% new oak, 30% in stainless steel.
Vibrant pure red fruit and earthy notes. Fresh acidity, balanced with just enough concentration and very soft, barely-there tannins.
Edouard Delaunay Beaune Premier Cru Les Gre`ves 2017
From vines planted in deep, calcareous soil that also contains clay and iron oxide. Located in the center of Beaune village, at the bottom of the slope. Completely destemmed and crushed. Maceration is rather long with regular punch-down. Oak barrel aging lasts 15 months, with 30% new oak.
Jewel-like garnet tone. Intricate earthy and red-cherry aromas laced with vanilla and wood smoke. Lovely and long across the palate, satin tannins ground the wine. Tertiary flavors on the horizon.
Edouard Delaunay Nuits-St-Georges Le Village Vieilles Vignes 2017
Grapes come from three plots located at the foot of the slope, both north and south of the village, where limestone soil is mixed with clay and marl. Average vine age is older than 45 years. Grapes are destemmed, transferred to tanks where fermentation begins naturally under the influence of indigenous yeasts. The cuvée is barrel-aged for 15–18 months (30% new oak).
Intense, perfumed, verging on dark prune and incense. Juicy black cherry within a firm structure. Long and layered with slightly drying tannins.
Edouard Delaunay Nuits-St-Georges Premier Cru Aux Chaignots 2017
The 14.3acre (5.8ha) plot is located in the northern part of the appellation (toward Vosne-Romanée), in rather deep soil composed of gravel. Vinification lasts approximately 18 days with a few punch-downs toward the end of fermentation. Oak barrel aging for 14 months (30% new oak). Only 591 bottles produced.
Refined and elegant. Very tempting black-cherry and tea-leaf aromas followed by a firm, solid structure. Long finish on a savory note.
Edouard Delaunay Nuits-St-Georges Premier Cru Les Crots 2017
This 10-acre (4ha) climat is located just south of the village, at the very top of the slope. Destemmed grapes are transferred to tanks where they undergo traditional vinification that lasts approximately two weeks with regular punch-down, especially at the end of fermentation. The wine is then aged in barrels for 15 months with one third new oak.
Distinctly red-fruit (red-cherry) nose with a floral lift. Wonderfully complex in the glass as aromas keeping evolving and suggesting something roasted and savory.
Firm tannins, with a long, silky sensation enveloped in layers of pure fruit.
Edouard Delaunay Chambolle-Musigny 2017
One of the villages where it is the most difficult to find grapes. "We were lucky to find enough grapes to fill two barrels," said Laurent. Grapes come from a plot in Les Gamaires climat, located in the extreme northeast of the Chambolle-Musigny appellation, beneath Les Bussières, which is considered to be one of the appellation's most prestigious climats. This plot also lies adjacent to Morey-Saint-Denis (Les Porroux climat). Destemmed grapes. Fermentation with indigenous yeasts, and minimal punch-down. The wine is aged for 14 months in one- and two-year-old oak barrels.
Crunchy cranberry and red-currants aromas. Quite tannic, powerful, and intense, matched with a fresh acidity.
Edouard Delaunay Charmes-Chambertin Grand Cru 2017
From two plots, in Charmes and Mazoyères, where the vines are 80 years old, in the southern part of the appellation, downhill from Chambertin and south of Griotte-Chambertin. Destemmed and vinified traditionally with a short period of pre-fermentation maceration followed by fermentation that relies on indigenous yeasts. Maceration lasts 17 to 18 days. Barrel aging then lasts for 18 months with a proportion of two thirds new oak. Only one barrel produced— achieved "two thirds new oak" by using another wine to "wash it" for 3 months.
Gorgeous perfumed nose of dark berry fruit, heady floral notes, and spice. Perfectly crafted, balanced, long, rich, and refined.
Négociant bottles from Laurent's cellar (400 bottles from his father and grandfather)
Griotte-Chambertin Grand Cru 1990
Very mature, evolved nose with a distinct sour red-cherry and earthy character.
Balanced freshness and firm structure with a velvety finish.
Volnay 1978
Complex, savory nose. Intense satin-feel tannins, with a little grip on the end. Flavorful enough but tired.
Corton Les Bressandes Grand Cru 1955
Completely transformed fruit—into caramel apples, toffee, dried figs, dried leaves.
Very harmonious, seductive, and long. Laurent has just two bottles left.