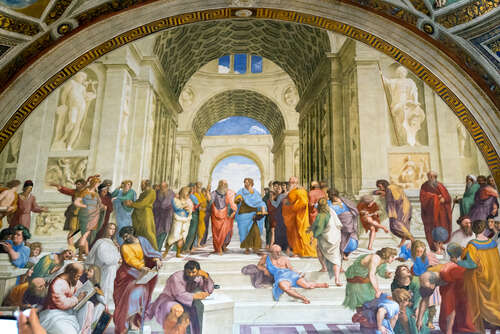 What if wine classification followed similar principles to those used in the evaluation of an Old Master painting? Margaret Rand proposes a new way of assessing wine quality.
Back in the day, in Ancient Rome, people sniffed bronze statues because that way they thought they could tell genuine Corinthian bronze from mere imitations. So said Martial, anyway (Epigrams, 9.59), and he should know.
Matt Paulett of Paulett Wines in Australia's Clare Valley tastes rocks to get a feel of the soil. So did the Cistercians, we are told, in Burgundy.
Cheval Blanc and Ausone, however, seem (from what I have read) to be rejecting the St-Emilion classification because there is too much focus on a property's social media presence and not enough on terroir. Leaving aside the question of why on earth social media presence should be considered a factor in what is supposed to be a classification of wine quality, I would like to propose a new system of classification. It won't work, of course, but bear with me.
An alternative way
If you were to consider buying an Old Master painting you would be faced with an alternative way of grading works. It doesn't measure quality, but it does consider style, so it has that in common with most appellation systems; classification systems, by contrast, are supposed to identify quality. Where it departs radically is that it is based on not knowing who created a particular picture: The origin must be inferred from what is in front of your eyes.
So let's imagine that every wine, everywhere, could be tasted blind in a grand judging. The judges would know the grape variety (akin to knowing the medium of the picture, and lab analysis will tell you if the pigments used are modern or not) but not the geographical origin.
In art-world terms, "by" is straightforward. You know it's by Raphael: It's signed, or documented, or something. "Attributed to," means probably, but keep your fingers crossed. Then there's "studio of" or "workshop of"—Raphael might have looked at it, and possibly grabbed a brush and adjusted the nose. (The equivalent of employing a consultant in your vineyard or cellar.) "Follower of" means no direct connection at all: Just someone who thought this Raphael chap was on to a good thing, so let's have a go. "Circle of" implies the same period, but again, no direct connection. "Manner of" is not the same period; it was done later. "After" is a copy. "School" can mean pretty much anything. "Italian school," for example, simply means you haven't a clue but it looks Italian.
A school of Champagne
Every wine nowadays qualifies as a "by" so the judging must be blind, to remove that. But let's persevere. Imagine if the dullest, most underperforming wines of Champagne, instead of getting a proud AOP, were relegated to a dismissive "school of Champagne." The best of England would beat them hands down; the most commonplace wines of England would join them at their proper level.
Still in England, Bacchus might, at its best, be "circle of Marlborough Sauvignon Blanc." Syrah from anywhere in the world might, usefully, be categorized as "follower of Grange" or "follower of Hermitage," though how would Grange in its early days have been classified? As "after Hermitage," or as "after premier cru Pauillac?" There are still a few wines in the world that could be labeled "manner of Robert Parker."
It brings us back to the question of terroir: How much we can infer the terroir from blind tasting, and what it means if we can't infer much. If we can't tell the terroir from what we taste, is it because we aren't good enough tasters? Or is it because we don't know the terroir intimately enough to understand its nuances? To match wine with terroir, blind, you need an equally clear understanding of both, and there's so much we don't know about terroir.
Genetics and epigenetics
The second Old-Vine Conference went into genetics and epigenetics: Viticultural consultant Dylan Grigg suggested that if you take a cutting from a very old vine it becomes a very young vine, and loses its epigenetic "memory" compared to the same old vine propagated by layering, when the new vine retains all the adaptations and experience of the mother vine. Laura Catena, on the other hand, thought that cuttings don't lose all their epigenetic changes, because cuttings from her high-altitude sites retain the markers that show adaptation to high UV levels compared to cuttings of Malbec from France. And remember that all the Malbec in the world came from a single seed, and has come a long way. Epigenetic changes, as well as genetic mutations, are surely part of terroir.
As is microbial life in the soil. We're a long way from being able to say precisely what is going on under that placid soil surface and how it affects vines and wine, but Catena finds that if you plant a whole population of different clones and massal selections, they ripen closer together than they would if planted separately. She wonders if they talk to each other via their root systems, and the vineyard functions as a whole. Lovers of field blends have always said this; lovers of the opposite have always pooh-poohed it. Our understanding of terroir could be about to take a huge jump forwards.
Style v terroir
But. How much can you make a wine in the style of another wine, and still talk about terroir? You can, is the answer, but perhaps you should blush just a little while talking. If you raise your white-wine fermentation temperature by just one degree in order to get peach rather than citrus notes, are you emphasizing the terroir or disguising it? Should our categories include the likes of "school of Denis Dubordieu" or "School of Michel Rolland" or "School of Alberto Antonini?"
As I said, it wouldn't work. Also, many people would be wary of handing more influence to critics, who can already be a little over-keen on grade inflation to make their mark vis-à-vis other critics. Not that art historians and picture dealers are immune from grade inflation either. Was it a critic, a dealer, or a maker of statues who first suggested sniffing Corinthian bronze?