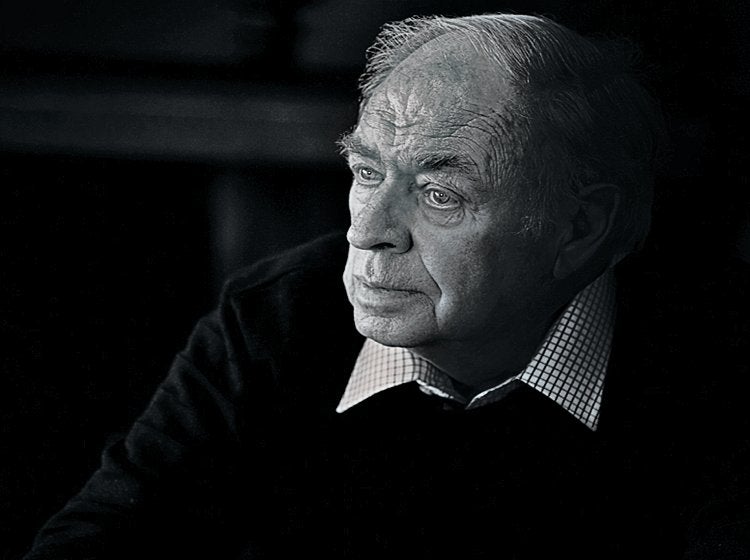 Once met, never forgotten. Unless you're the Queen of England. That was the Barossa Valley winemaking legend Peter Lehmann. Lehmann was quick-witted and shrewd, a great story-teller who loved a good laugh. His language could embarrass a wharfie, and he had no inhibitions. Once, he even embarrassed the Queen. She'd awarded him an Order of Australia in the 1975 Queen's Birthday Honours List, and personally presented it to him in Canberra. Two weeks later, they met again in the Barossa, when Her Majesty appeared not to recognize him. "You haven't forgotten me already, have you, Your Majesty? You gave me an AM in Canberra two weeks ago!" he grinned.
The jocular, hard-living, risk-taking Lehmann had a larrikin streak that could be useful in business; some people didn't take him seriously, to their cost. He was a wild youth who surprised many by becoming a very good winemaker and winery manager, a great boss, a highly respected wine judge, and a successful businessman who managed to survive many testing financial crises.
Tearaway child of the church
Peter Leon Lehmann was born on August 18, 1930, the son of a liberalminded Lutheran pastor who preached at five churches every Sunday in the Barossa Valley. Many of the parishioners were, like the Lehmanns, descended from German-speaking Silesian settlers who'd fled their home for religious reasons. Franz Lehmann, who also owned a small vineyard, was widely loved and respected, and his son Peter learned some of his leadership skills from his father. But he was a larrikin and a tearaway from the start, letting down parishioners' tyres, or climbing the church roof and ringing the bell during the service for a lark. His life was dotted by health scares, which started early, when he was knocked off his bicycle aged 12 and had his skull opened. Lehmann lived and partied hard, but despite being a heavy smoker and a man who loved a drink, he overcame most of his illnesses and lived to be just a few weeks short of his 83rd birthday.
His father died suddenly when Peter was 14. Although he made his name as a winemaker, he was not formally educated in that field, leaving school early to take a job as a laboratory assistant at Yalumba in 1947. He came under the tutelage of Yalumba's chief winemaker Rudi Kronberger, the managing director Wyndham Hill Smith, and the company secretary Alf Wark, who collectively channeled Lehmann's energy, schooled him in winemaking, and taught him about the civilizing influence of wine, food, and good living.
But Lehmann shocked the Hill Smiths by leaving for better pay at Saltram, also located in Angaston, and there was a temporary rift. He then shocked the Barossa by leaving his first wife Nan for a younger, vibrant, highly intelligent, and outgoing schoolteacher, Margaret Penny, whom he soon married.
Peter and Margaret were perfectly matched and she became his partner in all things, including his working life, which she shared completely. Margaret revealed many sides of his personality which he himself didn't know he possessed, especially a love of music and the arts in general, which led to the Lehmanns befriending many artists and musicians and sponsoring arts events in the Barossa, including an international music festival.
Champion of the Barossa
Lehmann is best known as a champion of the Barossa Valley, which throughout the 1970s and '80s was out of favor. He was a promoter of regionality long before it became fashionable, and the protector of the grapegrowers, many of whom were his relatives or personal friends, as they'd been his father's. This loyalty to the people surfaced many times in spectacular ways. First was his refusal to curtail the grape intake in the 1965 vintage at Saltram as the company directed. Later, when Saltram was owned by diversified stock-and-station company Dalgety, and he was directed not to accept grapes in the 1978 vintage, Lehmann again disobeyed and organized his own way of utilizing the unwanted fruit. With a small group of financial backers, he formed a company to vinify the grapes, selling the wine in bulk and paying the growers-who would otherwise have had no income for the year-when he could. He did the same the following year and then left Saltram, taking most of the winemaking and cellar team with him, to build a new winery and start what became Peter Lehmann Wines. It is now a global brand-name and the man himself was known and respected around the world.
He was known as a champion of the vulnerable worker in the face of uncaring, self-interested corporate irresponsibility. This disgust with the corporate world and the jealous protection of the Barossa and its people resurfaced repeatedly over the first 13 years of PLW throughout various ownership upheavals, since the Lehmanns had little money of their own and relied on investors. In 1993 a public float was organized, which put the company on the stock exchange and at the mercy of the fickle stock market.
After more hair-raising financial crises, PLW was the target of a hostile takeover attempt. This time British drinks conglomerate Allied Domecq played the role of corporate bad guy. Lehmann took a high profile in the media and his colorful, straight-talking manner won him many friends the world over, who were touched by his David-versus- Goliath battle. The perfectly scripted climax arrived when he won. By sheer luck, Lehmann and his managers had recently met the people who shared their philosophy and would eventually make an offer for PLW shares, win the bidding war and become a stable and benevolent majority owner-the Swiss-based family company, and owner of wineries in several other lands, Hess Corporation. The Barossa growers backed Peter, declining to sell their shares to Allied, even when it seemed Allied had the more attractive bid. The story became a legendary tale of how money is not all that matters, and how loyalty and friendship can compensate for lack of power. Hess still owns the majority of PLW shares today.
Peter Lehmann is survived by his wife Margaret, daughter Libby, and son Douglas from his first marriage, and two sons David and Phillip- both Barossa winemakers-from his marriage to Margaret. Another son, Bruce, pre-deceased him. Doug served the company as CEO and is still a director. Vale Peter Lehmann: generous, kind, big-hearted, nimble-minded, always ready for a joke and, as they say in the Barossa, a schluck and a schnitter.