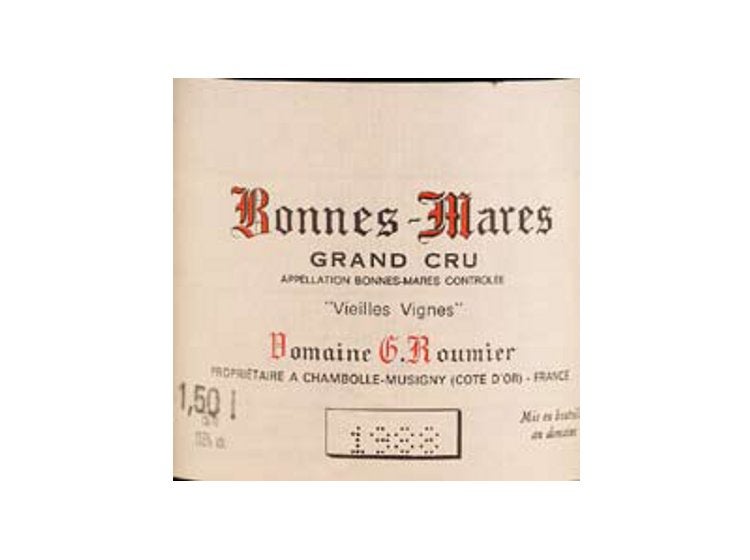 by Clive Coates MW
The acidity of the 1978s coupled with the lush, concentrated fruit of the 1985s, was how I described the 1988 vintage at the outset. Charles Rousseau said that one would have to have been a real idiot not to have produced good wines. And if one had screwed up, one should think of changing metier.
The spring was warm; the flowering took place without mishap; July, August, and the first half of September were hot; and after a lull in the middle of the month the weather improved for the rest of the vintage. The size of the crop, overall, was quite large (more than 1987 and the fiveyear average, but less than the abundant 1986) but by no means excessive at the top domaines. The fruit was in a very satisfactory sanitary condition, and the ambient temperatures as the grapes arrived at the wineries were warm but not too hot. It was, in short, an easy vintage to vinify, and it was clear from the outset than one would get wines of balance, class, and terrior definition.
Ten years on, when I last made a comprehensive survey, the wines were approaching their prime, though a few critics found them a little austere. They were misled. A little reserve in a young wine is an essential ingredient in a wine of quality that will age with dignity. A few lesser wines of the Côte de Beaune were a little lean. But most were delicious or potentially so. Today the vintage is 20 years old.
As you might expect, some lesser wines are showing a bit of age: They have lost the charming aspect of their fruit; their acidity is taking over. The first session — the first 30 or so wines, largely premiers crus — was a bit underwhelming. But the remaining two offered a great deal of satisfaction. The standard was very high indeed.
The only downside was a handful of corked wines. As sod's law had it, the cork problem affected some of the great wines of the vintage: DRC Richebourg, de Vogüé Musigny, Rousseau Clos St-Jacques… The tasting took place in Guilford, Connecticut, in March 2008.
Premiers Crus
Hubert de Montille Volnay Taillepieds
Full, vigorous color. Lovely, pure, succulent fruit on the nose. A fine, fullish, complex, mature wine on the palate. Now-2014. 17
Domaine de la Pousse d'Or Volnay Caillerets Clos des 60 Ouvrées
Medium-full color. Soft, mellow, fragrant, classy nose. Medium-full body. Laid back, complex, lovely fruit in the slightly lean 1988 way. But real depth and finesse. Fine. Now-2015. 17.5
Domaine de Courcel Pommard Grand Clos des Epenots
Very full, vigorous, rich color. Fullish, plump, fresh nose. Good depth here. A meaty wine. On the palate, fullish body, good grip, nicely gamey in character. Finishes positively. Drink quite soon, nevertheless. Good plus. 15.5
Maison Camille Giroud Pommard Pezerolles
Fullish color. Lovely fruit on the nose. Rich and fat. Generous and plump. Fullish body. Lots of fruit. Still very fresh. Long and classy. Very good indeed. Now-2015. 17
Hubert de Montille Pommard Rugiens
Fullish, vigorous color. Good nose, but a bit more evolved than his Volnay Champans. Medium-full body. Balanced, long, and classy. Very good indeed. Drink quite soon. 17
Alain Michelot Nuits-St-Georges Les Cailles
Fullish color. Ripe, profound, classy nose. Lots of depth here. Fullish body. Harmonious. Intense. Very good plus. Now-2017. 16.5
Georges Mugneret Nuits-St-Georges Les Chaignots
Full color. Fullish, quite firm, abundantly fruity nose. Very good style and grip. Fullish body. Quite fat, but with a 1988 reserve. Vigorous, plenty of depth, but lacks a little real elegance. Plenty of life ahead of it, though. Very good indeed. Now-2015. 17
Camille Giroud Nuits-St-Georges Les Perrières
Full, vigorous color. Complex, classy, mature Pinot fruit on the nose. Fullish body. Gamey and spicy. Fat and rich. Long. Very good indeed. Now-2015. 17
Domaine Leroy Vosne-Romanée Les Beaux-Monts
Fresh, medium-full color. Fragrant nose: ripe and stylish. Medium-full body. Elegant, harmonious, and intense. Lovely fruit. Very clean and pure. Fine plus. Now-2012. 18
Camille Giroud Vosne-Romanée Les Beaumonts
Fresh, medium-full color. Black-fruit nose. Lots of energy. Full body. Quite sturdy. Good depth and balance, but it could have had a bit more finesse. Very good. Now-2012. 16
Jean Tardy Vosne-Romanée Les Chaumes
Fresh, medium color. Mellow nose. More alive than his Boudots. Medium weight. Stylish. Similar on the palate. It lacks a bit of dimension at the end, but harmonious and attractive. Very good indeed. Now-2012. 17
Jean Gros Vosne-Romanée Clos de Réas
Medium color. Lovely, soft, mellow, oaky nose. Very intense, classy, and fresh. A wine of no great size, but very subtle and complex, very profound. Lots of energy and real finesse. Splendid finish. Very fine. Now-2015. 18.5
Lamarche Vosne-Romanée La Grande Rue
Medium-full color, still youthful. Ripe, stylish, and quite profound on the nose. Nicely fresh and not a bit austere. Medium to mediumfull body. Ripe tannins and plenty of energy and class. But overall a lack of generosity. Very good at best. Now-2015. 16
Jacky Confuron-Cotetidot Vosne-Romanée Les Suchots
Medium-full color. Very fragrant, elegant nose. Good intensity. Medium-full body. Ripe, sweet, rich, and stylish. Long on the palate. Fine plus. Now-2015. 18
Jean Grivot Vosne-Romanée Les Suchots
Vigorous, medium-full color. Lovely nose. Rich, fullish, and profound. Complex fruit and nut flavors. Fullish body. Youthful. Rich. Lots of depth. Very fine. Now-2020. 18.5
Joseph Drouhin Chambolle-Musigny Les Amoureuses
Very vigorous, mature color. Very lovely nose. Fragrant, complex, and very classy. Very Chambolle. Medium-full body. Rich and ripe, sweet and fragrant. Long and complex. Very fine. Now-2012. 18.5
Joseph Faiveley Morey-St-Denis Clos des Ormes
Good medium-full color. Ripe, rich, vigorous nose. Good depth and class. Fullish, fragrant, stylish. A lovely sweet finish. Long. Fine plus. Now-2015. 18
Dujac Gevrey-Chambertin Aux Combottes
Medium-full color. Ripe, classy nose; soft but vigorous. Medium to medium-full body. Good intensity. High-class fruit. Fine. Now-2012. 17.5
Grands Crus
Domaine de la Romanée-Conti Echézeaux Medium-full color. Lovely, classy fruit on the nose. Ripe and complex. Easily the best of the Echézeaux. Medium to medium-full body. Balanced, stylish, intense, and vigorous. Long and subtle. Fine plus. Now-2015. 18
Domaine Engel Grands-Echézeaux
Medium color. Complex, classy, intense nose. Still very fresh. Medium to medium-full body. Balanced, fragrant, subtle, very lovely on the palate. Profound and vigorous without being a blockbuster. Very fine. Now-2015. 18.5
Domaine de la Romanée-Conti Grands- Echézeaux
Medium-full color. Still very fresh on the nose. Lots of depth and dimension. Still very youthful on the palate. Pure, rich, very, very, elegant. Very lovely fruit. Spendid, long finish. Now-2107. 18.5
Gros Frère et Soeur Clos de Vougeot
Medium color. Soft, fragrant, arractive, and classy on the nose. Better than his Grands- Echézeaux. Good weight and vigor. Rich, fresh, long, and profound. Fine. Now-2015. 17.5
Jean Grivot Richebourg
Full color. Firm nose. Very, very concentrated. Rich and youthful. Still very young on the palate. Full body. Marvelous structure and depth here. Great vigor and intensity. Multidimensional. Intellectual rather than seductive. Excellent. Now-2017. 19.5
Jean Gros Richebourg
Medium to medium-full color. Marvelous nose. Full, fragrant, absolutely saturated with fruit. This is quite brilliant. Full body, vigorous, complete. Excellent fruit. Real finesse. Very, very lovely. Very, very seductive. A great wine. Now-2017. 20
Gros Frère et Soeur Richebourg
Medium-full color. Good nose. But not the depth and class of the Gros or Grivot. Fullish. Very good grip. Lovely fruit, nevertheless. Fine but not great. Yet there is an impressive intensity here. (The vines were youthful at the time, but you can see the terroir pushing through.) Now-2017. 17.5
Domaine de la Romanée-Conti Richebourg
Medium-full color. Sadly the wine is corked. But there is very lovely, beautifully balanced fruit here. I'd guess (and based on past bottles) at least 19
Joseph Drouhin Bonnes Mares
Medium-full color. Elegant, fragrant, Chambolle-like nose, but slightly less distinction than their Amoureuses. Medium to medium-full body. Good, fresh acidity. Plump, red-currant and raspberry fruit. Fresh, balanced, and intense. Fine plus. Now-2013. 18
Domaine Dujac Bonnes Mares
Medium color. Fragrant nose. Ripe and rich and very Dujac. Excellent balance and freshness. Very stylish. Medium weight. Complex. Very long. Fine plus. Now-2012. 18
Domaine Louis Jadot Bonnes Mares
Medium-full color. Full, rich, concentrated, complex, and cool on the nose. Lots of depth here. Full body. Very velvety-smooth. Clearly Bonnes Mares rather than Musigny. Rich, profound, and energetic. Very classy, very long, very lovely. Now-2017. 18.5
Comte Georges de Vogüé Bonnes Mares
Medium-full color. Marvelous nose. A splendid expression of pure Pinot Noir fruit. Not as big a wine as Jadot or Roumier. Medium-full body. Ripe, balanced, and very lovely. Some marked tannin originally, but this now well absorbed. Long, complex, and with great finesse. Very fine indeed. Now- 2017. 19.5
Domaine Georges Roumier Bonnes Mares
Fullish color. Fullish, firm nose, still quite backward. Lots of energy. Cool, complex, very vigorous. Full, profound, multidimensional. Very fine indeed. Now-2017. 19.5
Ponsot Clos St-Denis
Fullish, well-matured color. Aromatic nose. Good class and depth. Still very fresh. Medium-full body: ripe, balanced, individual, and profound. Long and complex. Fine plus. Now-2013. 18
Joseph Drouhin Clos de la Roche
Medium-full color. Fully mature. Fresh, fragrant, stylish nose. Very Drouhin. Lovely Chambolle fruit. Medium to medium-full body. Ripe, balanced, intense, and classy. Long. Very fine. Now-2013. 18.5
Dujac Clos de la Roche
Medium color. Fully mature. Very ample, fragrant, spicy nose with a touch of natural sweetness. Nothing reticent here! Medium body. Complex and intense. Splendid balance and integration. Fine plus. Now-2013. 18
Joseph Faiveley Clos de la Roche
Medium-full color. Fullish, rich, vigorous nose. Medium-full body. A certain rigidity. But very good fruit and grip. Long and positive. Fine but not great. Now-2013. 17.5
Armand Rousseau Clos de la Roche
Medium to medium-full color. Mellow, classy, ripe nose. Most attractive. Medium to medium-full body. Lovely fruit. Very complete. Fat, rich, and ample. Excellent grip. Lovely finish. Very fine. Now-2013. 18.5
Dujac Charmes-Chambertin
Medium to medium-full color. Fully matured. Lovely, aromatic nose. Richer, firmer, fuller, and cooler than the Clos de la Roche. Fullish body. Very stylish. Good grip. Rich and vigorous. Not as sexy on the attack (as the Clos de la Roche) but very fine at the end. Now-2015. 18.5
Maume Charmes-Chambertin
Medium-full, fresh color. Cool, classy nose. Not a bit funky. Balanced. Rich. Very good depth. One of Maume's more civilized efforts. Fullish body. Vigorous, balanced, stylish, profound, and youthful. Fine. Now-2015. 17.5
Joseph Drouhin Latricières-Chambertin
Medium-full color. Ample nose. Ripe, rich, and spicy. Quite sizable. Good grip. Mediumfull body. Classy, balanced, virile, seductive. Fresh, long. Fine plus. Now-2018. 18
Ponsot Griottes-Chambertin
Medium-full color. Individual, classy, and fragrant on the nose. Medium-full weight. Complex and harmonious on the palate. Very lovely, intense fruit. Very, very long. Very fine. Now-2013. 18.5
Armand Rousseau Ruchottes-Chambertin Clos des Ruchottes
Medium-full color. Discreetly classy, cool fruit on the nose. Laid back and understated. Medium to medium-full weight. Slight austerity here, but long and subtle. Fine plus. Now-2014. 18
Armand Rousseau Mazy-Chambertin
Medium-full color. Slightly closed on the nose. Fuller, firmer, and richer than the Ruchottes. More tannin. Very good depth and concentration. Still very vigorous. Most impressive. Very fine plus. Now-2015. 19
Armand Rousseau Gevrey-Chambertin Clos St-Jacques
Medium-full color. Corked. Nevertheless, one can see the depth, richness, and quality one would expect. Full body. Very lovely, beautifully balanced fruit. Very fine indeed. Now-2015. 19.5
Bruno Clair Chambertin Clos de Bèze
Medium to medium-full color. Fragrant nose. Soft but vigorous. Profound, classy; lots of depth here. Medium-full body. Lovely, complex fruit. Long, subtle, and very, very elegant. Very fine finish. Now-2015. 19.5
Louis Jadot Chambertin Clos de Bèze
Medium-full color. Rich, full, profound, and succulent on the nose. Medium-full body. Excellent fruit. Real finesse. Lots of energy. Very good grip. This has a splendid finish. Now-2015. 19.5
Armand Rousseau Chambertin Clos de Bèze
Medium-full color. Very lovely nose; full and rich and very, very complex. Excellent depth, class, and harmony. Fullish body. Ripe, rich, and silky-smooth. Very pure and fresh. Fuller and mellower than Jadot and Bruno Clair. Very lovely. Now-2015. 19.5
Joseph Drouhin Chambertin
Good color. Fragrant nose. Lovely fruit but feminine for a Chambertin. Very Drouhin. Does it lack a bit of strength? Lovely fruit here. Harmonious and elegant. But for a Chambertin it lacks a little depth. Fine plus. Now-2012. 18
Armand Rousseau Chambertin
Good color. As so often, totally brilliant. Full, rich, marvelous concentration. Ripe, complex, and very, very, classy. Splendid vigor, harmony, and dimension. A great wine. Now-2018. 20