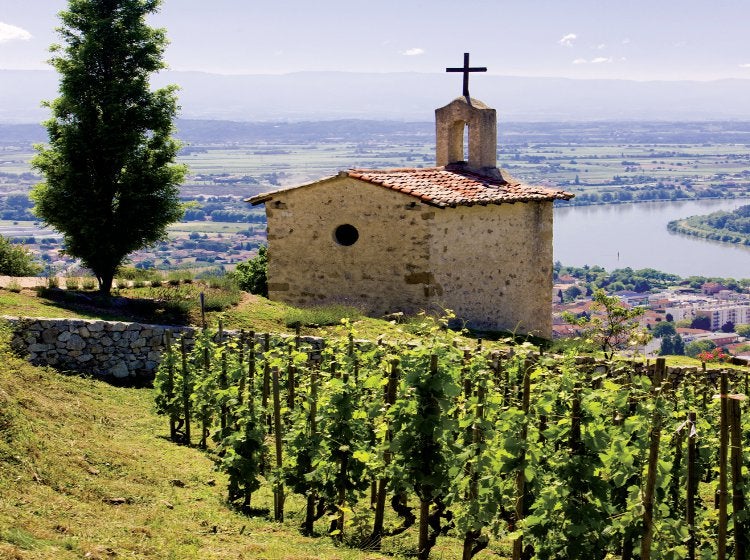 Retune your wirelesses. Seek Hilversum, not Whizzo FM. Here comes the retro offering of vintage 2006. It is a long way from the heated excesses of the late 1990s and early 2000 years. Harvesting dates in the Northern Rhône were comfortably into September in 2006, usually from the middle of the month onward, with some growers, such as the Jamet brothers at Côte-Rôtie, ending in October.
The year had got off to a slow start, with an unusually heavy snowfall of 40cm (16in) at Cornas in January. Water reserves started to edge back to normal levels, so diminishing the hydric stress that the vines had experienced since the deluges of autumn 2002. By April, there was roughly a two week lag in ripening. "There have been a lot of morning frosts, like the old days," commented Bernard Faurie at Hermitage. June and July were very dry, but some rain in August helped smooth out the ripening of the polyphenols. While August was not very hot — and was even fresh at Côte-Rôtie, at the northern end of the valley — September was fine and stable. It is always worth remembering that, in ripening terms, Cornas and Hermitage are comfortably ahead of Côte-Rôtie, whose mean temperature is usually 1-2°C (1.8-3.6°F) lower. Consequently, in less hot years, the Côte-Rôties will be on the sinew more than on any plump fruit, as if stretching out their feelers to the Pinot Noir lands of Burgundy farther north.
Yields were full. "We hit the full allowance, even having dropped grapes," remarked Pierre Clape at Cornas. "My 2006 yields were 36hl/ha, against 32hl/ha in 2005," commented Louis Drevon of Domaine de Rosiers at Côte-Rôtie. Ripening was sound, even if it occurred steadily rather than hastily. "Our crop was very mature," recalled Jean-Paul Jamet at Côte-Rôtie. "Some of the wines are low in acidity." Stéphane Ogier echoed this: "2006 is a year of good equilibrium but lower acidity than 2005 and 2004. The malolactic fermentations completed very quickly, by January, whereas they often take until June."
The 2006 tannins come in marked contrast to the 2005 heavyweight tannins. From an early stage they have been integral to the wines, rather than sitting on a precarious outside fence. As a result, young wines tasted agreeably out of the cask from their early days. Aging has allowed them to fuse well, and, at Côte-Rôtie particularly, time has served to add some body and to provide greater ballast on the mid- to late palate.
However, the first WFW encounter with a series of these Northern Rhône 2006s came under unfavorable circumstances. Many of them were still cask samples that had been transported to London, so the fact that it poured with rain all day was detrimental. London in mid-July 2008 was murky and sodden, and the cloud cover barely cleared the buildings. Such low pressure was likely to encourage baby wines to retreat for cover, to lie low in the glass.
Gerard Basset MS MW picked up on this aspect, finding that the wines "failed to shine at that particular moment and, consequently, were difficult to taste." Simon Field MW compared this round of 2006s to some tasted in the autumn of 2007, stating that "some of the wines were on the edge of shutdown, their fruit a little less exuberant than before."
Thematically, it was clear that clean winemaking paid dividends. Growers taking trouble over crop selection, aeration, and temperature control delivered ready results. Of course, 2006 is not a robust vintage, so care had to be taken, and those who favor strong extraction and heavy dollops of oak were on the back foot this year.
Oak in its possible excess appeared here and there, though even one-time arch exponents such as Les Vins de Vienne — Cuilleron, Gaillard, Villard, and Villa, modernists all — have reduced their emphasis. From this tasting, Chapoutier with his M de la Sizeranne and Jean-Michel Gerin with his La Landonne seemed close to the limit with their oaking. Côte- Rôtie has always been the most problematic Northern Rhône appellation with overexuberant oaking, which clouds the intrinsic finesse of the wines. St-Joseph in its northern reaches is another local area where oaking can be excessive.
A few wines seemed overextracted — Chapoutier's Mordorée Côte-Rôtie and his Ermitage Les Greffieux, for instance. Both of these are finesse wines if one considers their terroir influence. By nature, Les Greffieux provides more succulent, fleshy wines than the Les Bessards climat that is the origin of Chapoutier's Pavillon Ermitage. Simon liked the Mordorée's "authoritative density of black fruit" and called it "masculine and magisterial," so not every view concurs with mine on that wine. The Greffieux, however, failed to please: "cooked flavors, overworked" comments came through on this.
There were very few wines that were tainted, though the wine that I described as "traditional wine that may unsettle the pure of mind" had Simon scuttling for cover with his comment: "Palate is uncompromising — Brett perhaps? Not one for me." Arise, Franck Balthazar, with your reductive Cornas Chaillot.
The Cave de Tain emerged with a success via its Cornas Les Arènes Sauvages, though I must signal some unease about it being a little stretched on the finish, the palate somewhat worked on. The showing of Cornas here echoed what has been apparent since around the 2000 vintage — that winemaking standards are greatly improved, and, given the local micro-climat, this is an appellation capable of providing elegant and classy wines on a par with its more noble neighbors. In late August 2008, for instance, I shared a 1983 Cornas Guy de Barjac with Andrew Jefford, a bottle purchased from Monsieur de Barjac at the end of 1984. It was a beautiful, curvaceous wine that murmured elegant Northern Rhône Syrah rhythms to us. Cornas has always been a noble vineyard but has never possessed the economic structure to be taken nobly by the world at large.
Hermitage at a young stage is difficult to grasp. Ownership is split among large established houses, such as Chapoutier, Delas, and Paul Jaboulet Aîné, and a host of small growers with a hectare or two. Somewhere in the middle are Domaine Jean-Louis Chave, with 14ha (35 acres) and the Cave de Tain cooperative, with 21ha (50 acres). Jaboulet and Chave were both absent, as were leading small vigneron domaines such as Bernard Faurie and Marc Sorrel. Thus, an incomplete picture was presented via incomplete wines. The Chapoutier wines always need time in bottle to allow their climat typicity to emerge, while the Delas Bessards presented its granite-derived "steel" to the world. This is a wine that comes forward with implied softness of texture when it is young only in unusually ripe years such as 1999 and 2003.
The Côte-Rôties presented were mostly from the modern school of winemaking, so domaines such as Barge, Jamet, Clusel-Roch, Levet, and Bernard were not present. 2006 is a success at Côte-Rôtie — indeed, a growing success — and I have every confidence that the wines will show very well around 2011-15, whatever their inclinations at this stage. The progress made by them since first tasted in cask at three months, and their possession of well-founded fruit, point to an ability to charm, given a little bottle age. At this juncture, before many of the wines have been bottled and tidied up, I would term 2006 as a vintage for true Northern Rhône enthusiasts, those who enjoy subtlety and a degree of mystery in their wines. Given their fineboned quality, they are wines for lovers of refined foods and courteous discussion, rather than more ribald gatherings.
Postscript on wines tasted in November 2009
The wines continued to make steady progress, with the Côte-Rôties having moved past their opening acidity. By now, René Rostaing had found a closing down on his 2006s, and this may be a feature for some of these Syrahs. The more open virtues of Cornas and Hermitage mean they are likely to continue to tick over with clear fruit and helpful tannins. 2006 remains a very classic vintage of pure appeal.
Marie et Pierre Bénetière Côte-Rôtie Cordeloux 2006 ranked in John Livingstone-Learmonth's, Gerard Basset MS MW's and Simon Field MW's top wines at this tasting, and is our wine of the month.
Marie et Pierre Bénetière Côte-Rôtie Cordeloux 2006
GB | Medium-deep ruby, with a slight garnet rim. Superbly floral on the nose, with violet, but also dried herbs in abundance. Supple with a fine, silky texture on the palate. Herbs and cured meat are very present on the palate, but there is also some very ripe black fruit. Very complex and enticing wine. Long finish. | 18.5
SF | Enfin, the celebrated aromas of violets, olives, and even hints of garrigue, a leitmotif of the appellation, often buried in the rigors of ambition. Palate has ethereal lift, lots of pepper, and a precocity that is hard to resist. An endearing archetype, very finely paired at the finish. More in a major than a minor key but unfailingly honest. | 18
JL-L | Very correct dark-red robe; smoky, typical, rather traditional style of Côte- Rôtie bouquet — wide, a tiny bit sweaty, with ripe black fruit present, and it suggests a gradual shift to secondary stage is occurring. Agreeable, well-fruited palate, again on a typical trail: It is aromatic, red fruits mixed with iris flowers at the end. Good truth in this. Drinks well; now to 2017-18.
| 17.5