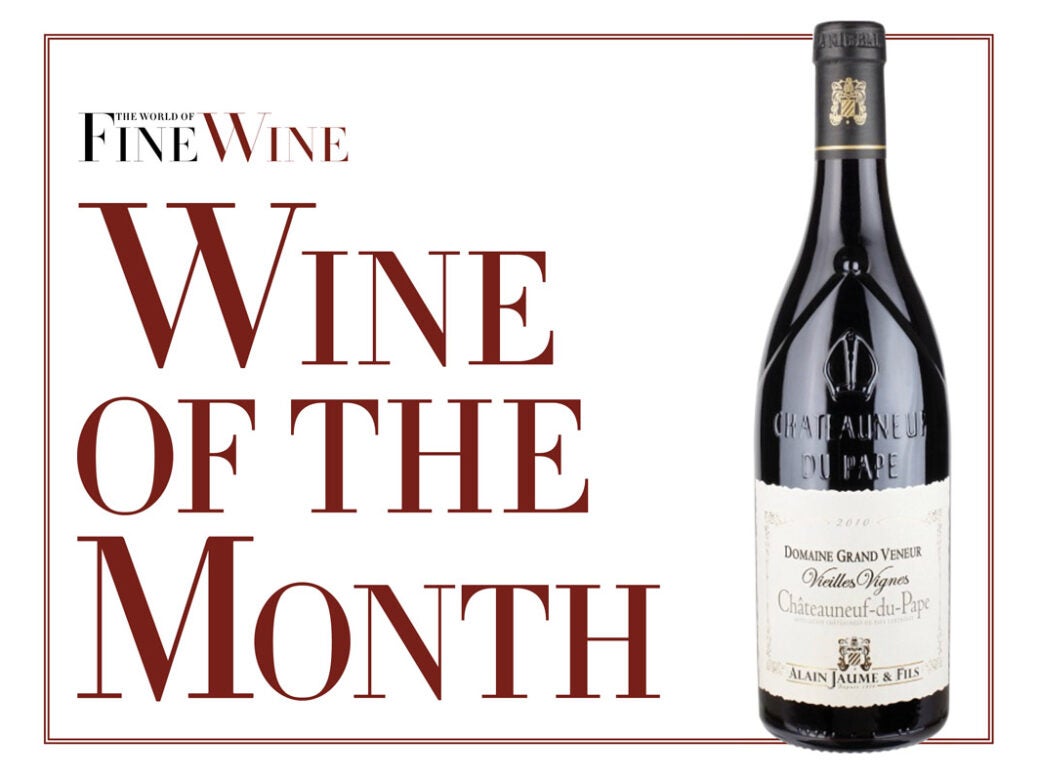 The confronting excesses of Châteauneuf-du-Pape are not for everyone, says Andrew Jefford. But if you can accept the concentrated, texturally dense terms of engagement, then a vintage as good as 2010 — a vintage that fellow taster John Livingstone-Learmonth believes is currently tasting like the "legendary" 1978 at the same age — can offer a great deal of drinking pleasure. Simon Larkin MW offers a note of skepticism in an otherwise high-scoring tasting based largely on classic cuvées but also featuring a handful of small-production special releases
This was a stupendously good tasting. What, though, were we scrutinizing?
Among all of France's high-quality red-wine AOCs, Châteauneuf-du-Pape is one of the largest. Its 3,231ha (7,984 acres), for example, makes it almost 25 times larger than Hermitage. It is an undulating, discreet, upland lying between the Rhône and the Ouvèze (and most of it, anthropogenically speaking, between France's A7 and A9 motorways, which fuse just to the north of the appellation, near Orange). This is one of France's warmest, driest, and windiest wine-growing zones, with a mean January temperature higher than anywhere in Bordeaux, similar to many parts of the Languedoc, and regularly exceeded only in coastal Provence and Roussillon. The appellation's distinctive soils include marine deposits of marl and sand, as well as vast benches and terraces of rolled pebbles deposited by the wandering courses of the Rhône and its tributaries over the past 25 million years. Many vineyards here are, quite literally, stonefields (or sandfields.)
The long history of this appellation — and the fact that its prescriptive nature, thrashed out in the 1920s, became a model for France's appellations as a whole — has an almost paradoxical legacy. No other appellation in France, in fact, enjoys the varietal freedom that Châteauneuf growers do. They are famously entitled to use "13 varieties" in making their wine, though in fact the 13 varieties number 20 or more, given that a single named variety like Grenache may occur in up to three forms: red, white, and "gray" (or pink). Not only that, but this is also a unique appellation in that any of the varieties may be used on its own, if wished; blends are not compulsory here. In practice, the vast majority of the wines are indeed blends, the main exception being made for old-vine Grenache.
A warm climate, a huge appellation, lots of varietal freedom… You might assume that this means widely varying quality. Right. Moreover, the complications of buying the finest Châteauneuf have multiplied in recent years as assiduous producers have attempted to maximize the potential of their often scattered holdings by producing a range of "special cuvées" based on old-vine fruit, single-variety parcels, low-yielding parcels, unique pedological zones, and sometimes using non-traditional élevage (and in particular, smaller new-oak containers; the traditional aging recipient here is the large old-oak vat). A number of leading domaines now produce no fewer than three special cuvées in addition to a larger-volume "tradition" cuvée. For this tasting, we decided to keep the focus as tight as possible: the classic cuvée from the most ambitious domaines (note that, in the case of certain domaines, like Clos des Papes or Vieux Télégraphe, this means a "grand vin" in the Bordeaux sense) with, where appropriate, an alternative special old-vines cuvée to compare with the classic or traditional cuvée. Just 32 wines from an appellation like this cannot be a comprehensive tasting; it certainly felt, though, representative of the best that Châteauneuf has to offer.
Except for one wine, too, all of the samples we looked at were from the 2010 vintage. This was a very small harvest (principally because the Grenache had flowering problems) but one of astonishingly high quality. I have never tasted better; the Rhône authority John Livingstone-Learmonth, who has tasted these wines in youth since the 1970s, considers the vintage "close to the legendary 1978 at the same stage of its life." It was a warm, bright summer without either the explosive rain episodes to which this area can be prone, nor the desiccating high northern winds that slice their way south down the Rhône corridor. Nights were a little cooler than in the warm vintages that preceded it (like 2007 and 2009), giving the wines a welcome focus and precision. There was a low skin: juice ratio — the wines are concentrated and texturally dense.
I was enraptured by what I tasted, giving higher aggregate marks than for any other tasting I have ever been lucky enough to help with for The World of Fine Wine. Indeed, I can still hardly believe that my lowest mark was 15 (a "very good wine with some outstanding features," according to our rubric). The vastly more experienced John Livingstone-Learmonth was almost as enthusiastic, with a bottom score of 14. It was left to Simon Larkin MW to provide a note of skepticism; he objected variously to stylistic imperfections, including disjointedness, astringency, and aggressivity, as well as to excessive ripeness and alcoholic warmth, with overripening of the fruit lending some palates a baked quality. Perhaps inevitably at this stage of youth, some wines came out of their bottles in a reduced state. Each must note as he or she tastes, of course, and I agree that "the Larkin list" is populated by imperfections to which Châteauneuf is prone — but for me none of this outstanding set of wines from a very, very fine vintage were actually disfigured by faults like these. Even where there were stylistic singularities, the quality of the raw materials still came burning through, furnishing more-than-adequate compensation.
It is, however, very important that purchasers of these wines realize what kind of beast they are about to uncage when they pull the cork. Apart from one or two noted exceptions (like the precious La Nerthe), Châteauneuf is not in any sense a reasonable, classically proportioned wine. Anyone who lives near Avignon through summer and then winter will know that this is a land of extremes and excess, and it breeds grand, spectacular, entirely unreasonable and excessive wines that love to run way off the leash. Classical palates may be well advised to steer clear of Châteauneuf. But as I found myself writing repeatedly in my notes, there is not much that human beings are able to put into their mouths that can trigger the kinds of sensations that great Châteauneuf can. I found this tasting provided nonstop, edge-of-the-seat excitement. And if there is a more propitious zone anywhere in the world in which to grow Grenache, I don't know it.
One brief point to finish: Given that the special cuvees often cost much more than the tradition versions that are always produced in considerably larger quantities, buyers looking for value might like to concentrate on the latter. The two sets of wines were divided in our tasting, but on my score sheet at least two of the tradition wines were able to outscore their special-cuvée siblings for sheer drinking pleasure.
Domaine Grand Veneur Châteauneuf-du-Pape Vieilles Vignes ranked in Andrew Jefford's, John Livingstone-Learmonth's and Simon Larkin MW's top wines at this tasting, and is our wine of the month.
Domaine Grand Veneur Châteauneuf-du-Pape Vieilles Vignes
AJ | Saturated black-red. Very serene, warm, and harmonious, full of dusty black fruits; almost elegant, even — which in this context is unusual. The Grenache sticks its nose above the parapet with a touch of raisiny sweetness. Very Grenache on the palate, too: rich, broad, sweeping, a great regal train of ripeness with the usual extractive force that only Châteauneuf can seem to provide. There is huge density here: a great woof of flavor that, like an explosion, almost seems to suck you in with it afterward. Lovely throbbing tannins. For me, it is a little bit sweet and marooned up on that plug of sweetness… but I'm still astonished by how much else there is in there, packing this wine, and (like Stonehenge) it should be visited and wondered at, even if you don't fully understand why it is there | 18.5
SL | Deep and brooding on the nose. There is a dusky intensity to the fruit. Layered on the palate, with sweet spiced raspberry and loganberry flavors. Grippy tannins start to assert, too. This is a powerful wine that will need patience — slow out of the block but a more brooding example. There is an almost moist fruitcakey element on show here. Much more evidently structural than most in its flight, but patience should be well rewarded. A fine showing | 17
JL-L | Healthy dark robe; stylish, rounded bouquet, bears black fruits, a simmered touch to them, in concerto with the elegance of the vintage, has subtle depths and corners to reveal over time. The palate washes well with fluid, tasty black fruits, cherries, an engaging ease in them, with a good layer of support from its ripe content. Very good, immediate appeal wine that will be all the better if left until 2016. It has balance and cohesion for the future. Aromatic fruit brings up the close. Holds good tannins, too, with clear, mineral flecks in them. 2031-33 | 18.5