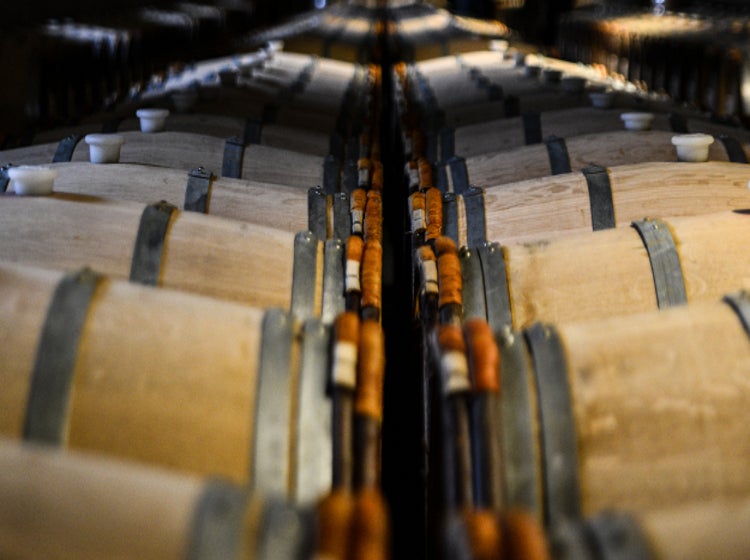 * When I was tasting at Cos d'Estournel I described the Pagodes de Cos as "concentrated, but without force," and Dominique Arangoïts, the Directeur Technique, smiled at me and queried, La Force Tranquille? François Mitterand's 1981 election slogan. A phrase that both took me back to when I lived in Bordeaux, and immediately seemed to encapsulate the character of the best 2014s, the clarets in particular.
A SUMMARY
The weather: The key features of the 2014 weather were a very irregular rainfall pattern across the region, a cool and relatively wet August, and a magnificently long, warm, and dry autumn. September and October each had nearly one third more sunshine than usual and, respectively, one quarter and less than half their normal rainfall. Perfect conditions, of course, for the harvest.
The wines: This produced clarets that range from good to outstanding, fine dry whites, and first-rate Sauternes. The usual variations in quality and style accepted, it is a consistent vintage for both styles of white wine; it is inconsistent for the reds.
Whites: The cool summer resulted in a noticeably vital acidity in both the dry and the sweet whites. In many cases the dry white Bordeaux have a bite that is more reminiscent of Chablis than Bordeaux, and the sweet wines a defining acidity that recalls that of 2001, and a fine botrytis complexity reminiscent of 2007, though without that year's ample proportions. Both well worth cellar space.
Merlot: The inconsistency in the reds is primarily due to when, where, and how much it rained, which varied considerably across the season and the region. This mainly affected Merlot on the Right Bank (there was much first-rate Merlot on the Left) where the rain fell more awkwardly at flowering for "early" terroirs, and where it fell in greater quantity over the cool summer, resulting in much larger grapes, which curbed the already slow summer maturation even more. If the Merlots were mainly sugar-ripe at harvest, their naturally earlier ripening cycle meant their skins and pips couldn't benefit from the prolonged Indian Summer in the same way that the Cabernets could. The large grapes, even after "bleeding" the vats by 15-20 percent, necessarily yielded wines that were less concentrated, and that tend to be more red-fruit in character, less rich, fleshy, and complete than their Left Bank counterparts. But because the rain was so unevenly spread, there are some fine St-Emilions and Pomerols, if with more elegance, perfume, and finesse than density as such, but the hit rate of exceptional wines is much lower.
Cabernets: Both Cabernet Sauvignon and Cabernet Franc, later to flower and longer to ripen, were much less affected by the vagaries of rainfall distribution, especially on the Left Bank. The fine September and October gave them all the time necessary to catch up on the protracted summer ripening, the grapes were small, the skins fully mature, and on the Left Bank the good quality bias increases the farther north you go, reflecting the overall drier season of the northern Médoc.
Style / Quality: The reds across the region are marked by their freshness — the cool summer and cold autumn nights — though the year's characteristic acidity is less marked in the northern Médoc, and by a notably fine-textured tannin in the Cabernets above all — that prolonged, slow, complete ripening. If these two characteristics are reminiscent of 2005 (which they are), the similarity stops there for most of the wines. They are better than 2011, 2012 (mostly), and 2013. The (moderately) useful comparisons for the majority are 2001 …. and some, 2006 with finer tannins, or 2008 with more ripeness and flesh.
There are numerous sunny, genial, juicy lesser wines, and many "second" wines with a level of ripe fruit and depth that is surprising and special. On the whole they are not "naturally" (one can force anything!) particularly big, strong, or structured; they are not 2009 or 2010. And yet, although this is clearly not a great vintage, there are a handful of wines, mainly from St-Estèphe, Pauillac, and St- Julien that would sit very comfortably in a great vintage.
Is there a mood change in Bordeaux? Here are two comments, from Canon La Gaffelière and Palmer respectively: "People understand more and more that excess extraction makes for very dry wines"; "We are looking less for concentration now, more for a fine balance." They happen to be comments that suit the style of 2014.
But be in no doubt, there are plenty of wines that have a great deal more than just sweetness and charm. If they lack for sheer size, they don't lack for ripe fruit, intensity, flesh, class, and length. Complete in a quieter register… La Force Tranquille! And they will be immensely drinkable. Many early on, most in the medium term, the best with the balance to age gracefully for decades.
I think the 2014s, red and white, will give a great deal of pleasure and win many friends for Bordeaux. At the right price, they certainly deserve cellar space. My specific buying recommendations below are for the budget-conscious but, when trying to make my "favorites" selection, I realized just how many good wines there are, right across the price range.
There are plenty of excellent 2014s, but the following are three dozen personal favorite 2014 reds, across the region and hierarchies.
The final 20 would be good value, at the suggested prices, for a limited budget. All the wines were tasted at the property, or supervising property, in question.
My top sixteen
Absolute Top Wines
Mouton Rothschild Pauillac
(95-97) Dense, sweet-cored, polished wine; particularly fine and beautiful.
Latour Pauillac
(95-97) Not that big, but effortlessly classy and complete.
Ducru-Beaucaillou St-Julien
(94-96) A magnificent balance of ripeness, fragrance, finesse, and length.
Petrus Pomerol
(94-95) Great class, grace, complexity, and distinction.
Cos d'Estournel St-Estèphe
(94-95) Beautifully elegant; rich, supple, seductive, and aristocratic Cos.
Just Behind
Pichon-Lalande Pauillac
(93-95) 1996 with greater richness; a beautiful balance of flesh to finesse.
Angelus St-Emilion
(93-94+) Considerable class, complexity, and density without sinew.
Palmer Margaux
(93-94+) A truly lovely combination of fruit, perfume, minerality, length.
Margaux Margaux
(93-94+) Pure, transparent, fragrant, firm, and fine.
Pichon-Baron Pauillac
(93-94) Concentrated, supremely elegant, long-term.
Vieux Château Certan Pomerol
(93-94) A rich, perfumed, succulent, and subtly seductive beauty.
Montrose St-Estèphe
(93-94) Dense, sweet-cored Cabernet; a close-grained, gravelly, elegance.
Gruaud-Larose St-Julien
(93-94) Beautifully proportioned, very aromatic, long, and quietly classy.
Ausone St-Emilion
(92-94) Gently sweet, pure, delicate, firm; great mineral-suffused length.
Lafleur Pomerol
(92-94) Redcurrant-sweet, mouthcoatingly mineral, fragrant, and aromatic.
d'Issan Margaux
(92-94) Graceful, classic Margaux of great class and finesse.
A baker's dozen of favorites that will be very good drinking value in terms of sheer quality-for-price if under £300 in bond (approximately £30 a bottle all told):
Réserve de la Comtesse Pauillac
(92-93) One of the best ever: ripeness, flesh, freshness, finesse.
Rouget Pomerol
(92-93) Cassis-rich, generous, spicy, firm, and satisfying Pomerol.
Fieuzal Pessac-Léognan
(90-92) Juicy, mineral, fresh, and very fine-textured.
Tronquoy-Lalande St-Estèphe
(90-91) Almost sumptuous, such a wealth of richly satisfying fruit.
Langoa Barton St-Julien
(89-91) Ripe, fresh, tenderly tannic, beautifully accessible St-Julien.
Croix de Beaucaillou St-Julien
(89-91) A lovely balance of richness, freshness, minerality.
Pagodes de Cos St-Estèphe
(89-91) The inspiration for La Force Tranquille ….
Dame de Montrose St-Estèphe
(89-91) Plenty of fruit, freshness, minerality, length.
Belgrave Haut-Médoc
(89-91) A deliciously juicy quality within a firmish frame. Ages very well.
Sociando-Mallet Haut-Médoc
(89-91) Firm, fine, gravelly Médoc with a tasty blackberry fruit core.
Carbonnieux Pessac-Léognan
(89-90) Graceful, refined, ripe, and mineral, classical Graves.
Goulée Haut-Médoc
(89-90) All flesh and fruit and ease, with a delicious gentle complexity.
Haut-Batailley Pauillac
(87-90) Sweetly fruited, sapid, flowing, lighter style of Pauillac.
And a baker's half dozen of great-value cellar-bonbons if under £200 in bond (approximately £20 a bottle all told):
Sénéjac Haut-Médoc
(89-91) Sweetness, flesh, charm, class. 1990 and some. A gem.
Angludet Margaux
(89-90) Button-bright, wild-strawberry sweet, succulent, elegant, appetizing.
Charmail St-Estèphe
(89-90) Ripe, compact, blackcurrant and mineral, a tasty early pleasure.
de Pez St-Estèphe
(88-90) Full of ripe, fresh, fleshy blackberry fruit.
Lalande-Borie St-Julien
(88-90) Fullish, friendly, juicy, delicious.
Capbern Gasqueton St-Estèphe
(88-89) Sweet, fresh, mineral; lovely fruit generosity.
D'Aiguilhe Côtes de Castillon
(88-89) Floral, fruit-packed, a seductive winner of friends.
Michael Schuster's fully annotated, detailed report will be in the June issue of The World of Fine Wine (Issue 48)