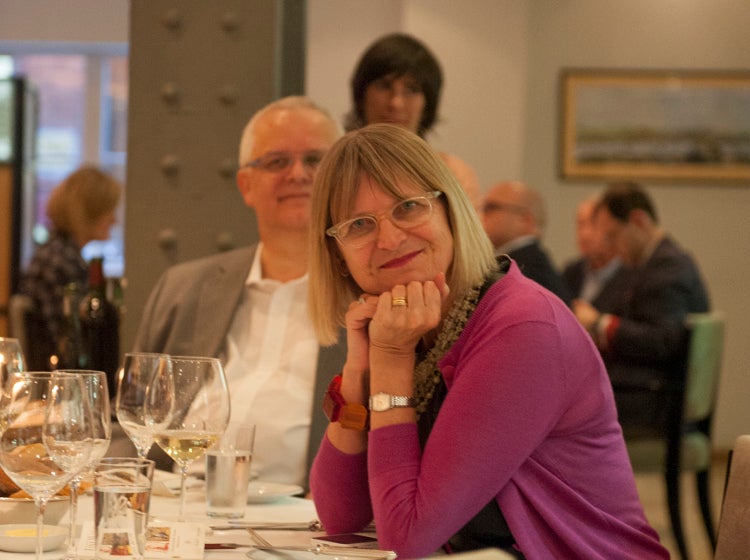 1. The first wine
What was it?
Lutomer Riesling (normally pronounced Rizeling then)
Where did you drink it?
At a ladies lunch in a village in Somerset, with my Granny when I was 12.
Was it a good or a bad experience?
The latter, because although the Laskirizling fruit was probably delightful when picked in Slovenia, it was heavily coshed by chemical additions, especially sulphur, before shipped in bulk to the Port of London to await bottling.
2. The finest wine
What was the wine?
I hate these questions because I am thoroughly spoilt. But I have evolved an answer! Château Cheval Blanc 1947 from magnum.
Where did you drink it?
At that smart restauraunt in Bouilland near Beaune, L'Hostellerie du Vieux Moulin. With Hong Kong wine collector Henry Tang and a group of winos he was travelling through France with: Early evidence of eastern connoisseurship.
What made it so memorable?
I've been lucky enough to taste from bottles labeled Ch Cheval Blanc 1947 many times but this particular magnum, along with a bottle shared with the television presenter Phillip Schofield, was by far the best. Some have undoubtedly been fakes. It was the combination of richness and elegance. And all the layers of interest — and I got the dregs because I arrived late straight off a plane.
3. The last wine
What was the wine?
Leftovers of a Château Raymond-Lafon 2013 barrel sample.
Where did you drink it?
At home watching a documentary about British Airways, entwined with my younger daughter.
Was it a good or bad experience?
Good and interesting because it very much evinces the new directions Sauternes is taking: more refreshing rather than just sweet. Some complexity there too.
4. Desert island wine
If you were forced to drink a single wine region/country/style for the rest of your life, what would it be – and why?
What a truly horrible question! I would be so sad if I were robbed of the wonderful variety wine can offer. But I would definitely want my wine to be primarily refreshing and possible to drink without as well as with food, and I wouldn't want it to be too alcoholic, so I would probably go for German Riesling — the full gamut from bone dry to lusciously sweet. I flirted with the idea of Champagne, the only wine you can drink if you're feeling ill, but I think that would be too limiting.
5. Wine 101
If you were forced to get rid of a single wine region/country in the world, what would it be – and why?
Another horrible question! Much as I admire Klaus Peter Keller of the Rheinhessen, I think we can probably do without the vineyard he has planted in Norway.
6. Wine book
What book should no wine library be without?
Now you're asking! But of course now I realized how difficult it is to decide between Wine Grapes, The World Atlas of Wine, and The Oxford Companion to Wine. Until September, 2015, perhaps the seventh edition of the Atlas because it's the most recent. But hold on for the fourth edition of the Companion next year…
7. Wine hangout
What's your favorite place for wine drinking?
The Quality Chop House in London's Clerkenwell. I'm so proud of what our son Will has achieved at this wine bar/resto' that is quite well known for the range and kind pricing of its wines. The joke is that people think (quite wrongly) I have a hand in it. I never realized how much he was learning by osmosis.
8. Dream wine
If you were given unlimited funds, what single wine would you buy?
I'd like to buy an authentic, beautifully kept example of one of the red Bordeaux stars of the blessed decade 1920s of which I have had so little experience. Latour 1928 or 1929 would do me nicely.
Jancis Robinson MW at WFW Anniversary Dinner. Photography by Jon Wyand
9. House wine
What's your house wine, your everyday drinking standby?
Honestly, we don't really have a house wine as I always have so many leftovers from tasting samples. (I know I am not going to make many friends by pointing this out.) Italian reds are a house favorite, though. A good Chianti Classico or Langhe Nebbiolo.
10. New wine
What's your favorite recent discovery?
Crete is now making some great wines. I'd love to go there.
11. Winemaker
Who is your favourite winemaker?
This must be the most difficult question of all. The wine world is peopled by thousands of fascinating, generally very generous, often quirky, often inspiringly intelligent people. I could give you 100 names with no difficulty at all. But I have just returned from Austria where the 222nd anniversary of Salomon Undhof was celebrated by the exceptionally nice and popular Salomon family, so let me plump for Bertold Salomon (who, incidentally, did so much for the reputation of all Austrian wine when he was managing director of the Austrian Wine Marketing Board in the late 1990s).
12. Wine place
What's your favourite wine region to visit?
We love California but Piemonte is a particular favorite, not just because of the wines and people but because of the food. It seems almost impossible to eat badly there.