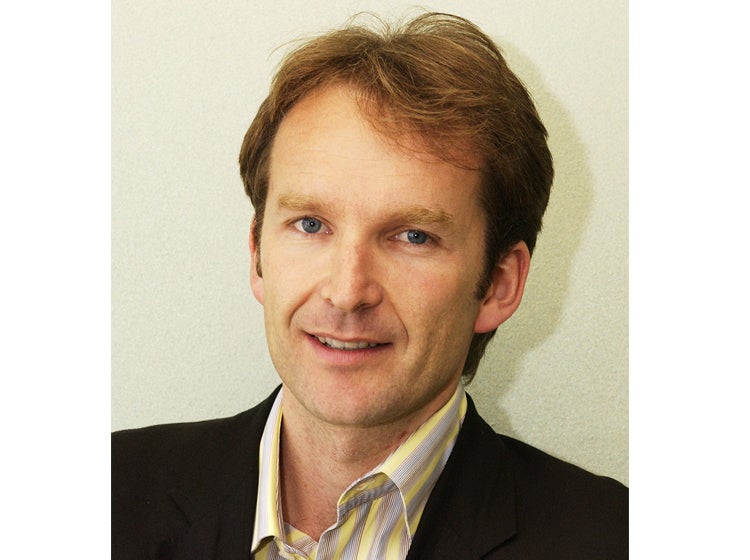 1. First Wine
What was it?
A generic Marks & Spencer Chablis. It was rather good.
Where did you drink it?
My parents used to serve it sometimes with dinner. I shared a bottle with friends the day we got our finals results at university.
2. Finest wine
I've had the good fortune to drink some great first growth Bordeaux at various dinners over the years. The wines served at the recent dinner to celebrate this magazine's 10th anniversary were truly remarkable.
3. The last wine?
Howard Booysen, Western Cape, Riesling 2012. I drank it as an aperitif: off-dry, petrol scents, fruity.
Where did you drink it?
I took my wife for a birthday dinner at Restaurant Alimentum in Cambridge.
Was it a good experience?
I was driving so it was the only glass of wine I drank, but I enjoyed it and would try it again. My wife drank an English sparkling white from Hampshire and a glass of okayish Marlborough Pinot Noir. When I got home, as I watched Match of the Day, I drank a glass of Frog's Leap, a good, solid Californian Zinfandel.
4. Desert Island wine
If you were forced to drink a single wine region/country/style for the rest of your life, what would it be – and why?
I wouldn't wish to be restricted to a single style but if I had to choose one country it would be France, so long as one would be free to travel from region to region.
5. Wine 101
If you were forced to get rid of a single wine region/country in the world, what would it be – and why?
I hated those big, oaked, urine-coloured Chardonnays as well as the huge, alcoholic Cabernet Sauvignons from the Barossa Valley that were popular in the 1990s and were often served at publishing dinners I attended. That said my view of the Barossa changed completely when I attended a lunch there a couple of years ago and found myself on a table with the Henschke family (of Hill of Grace fame). While I was in South Australia I also drank some very good, bone-dry Riesling from Clare Valley.
6. Wine book
Apart from the obligatory wine atlases and compendiums, I'd recommend Jay McInerney's A Hedonist in the Cellar: Adventures in Wine. McInerney is a stylish novelist and short story writer whose literary reputation is not quite as high as it ought to be – perhaps because he is considered too frivolous by some of his peers, too much of the man-about-town. He's a wine enthusiast and writes about his favorite wines, winemakers and regions with wit, elegance and no little erudition. He's a first rate name-dropper, too, but there's also something winningly guileless about him. I learned a lot from the book.
7. Wine hang-out
I'm a member of the Garrick Club, which has an excellent and well-priced wine list. My wife and I once had a fabulous lunch at Constantia Uitsig in the Western Cape. We sat outside on a warm afternoon, with views across the vineyards and Table Mountain in the near distance. We ate fresh fish and drank a bottle of the house Sauvignon Blanc. Quite some hang out.
8. Dream wine
If you were given unlimited funds, what single wine would you buy?
There's no one wine that I yearn to drink. Perhaps the editor of this august journal would recommend something special by way of payment for this piece?
9. House wine
What's your house wine, your everyday drinking standby?
We tend to buy our house wines from the local Waitrose: various Loire Sauvignon Blancs and Italian reds, Barolos or Amarones.
10. New Wine
What's your favorite recent discovery?
Sine Qua Non "Just for the love of it", Syrah, 2002.
11. Winemaker
Who is your favorite winemaker?
I don't have a favorite. I've met Penfolds' chief winemaker, Peter Gago, at a couple of dinners and, if he's reading this, I just want to remind him of how much I like Penfolds Grange as well some of his finest Chardonnays.
12. Wine Place
What's your favorite wine region to visit?
I really enjoyed visiting Franschhoek (more for the restaurants and the food than the wine) in the Western Cape as well as Margaret River, the bohemian (and perhaps too fashionable now) outpost of Western Australia – or "Pauillac by the sea" as it likes to describe itself. I liked the can-do spirit of the winemakers I met in the Margaret River and their experimentations have created some very interesting wines. Most of the best vineyards also have good restaurants. I'd recommend visiting Cullen, Vasse Felix and Leeuwin Estate.