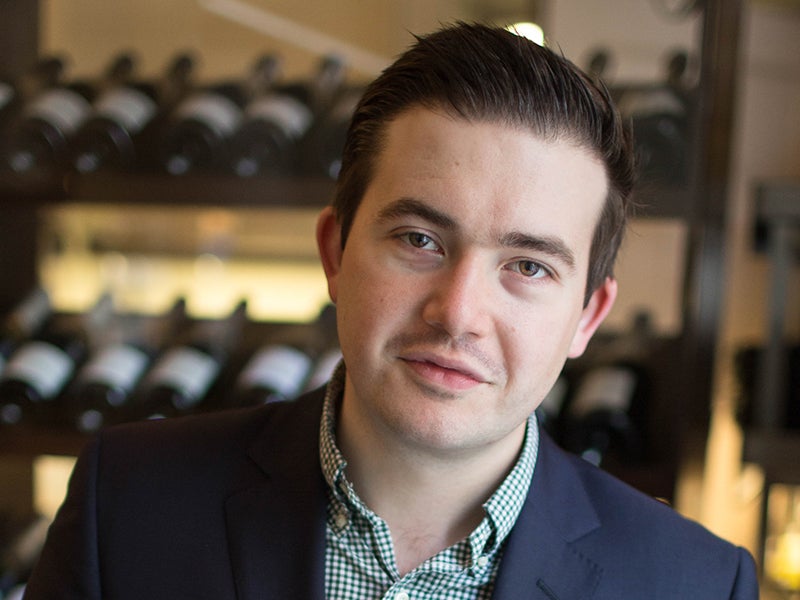 In a conversation with Katherine Houston, Master Sommelier Clément Robert, head sommelier at 28-50 Maddox Street in London, discusses his favourite London locations for a good wine list and what he likes to see in a wine bar, and when he simply must go for the French classics.
What is your favourite part of being a sommelier?
This is a tough one; there are many, many exciting parts. I would say discovering new wines and sharing them with our guests. It's always exciting to find a new wine, a new vintage or something exciting, and put it on the list and see the guests' reaction. So one of my favourite parts is essentially to get the wine, understand where it's going to go on the list, what sort of guests will appreciate it, and then see the reaction of those guests.
Are there any particular wine regions or countries that have inspired you most or most recently? How did they inspire you?
I think two in particular – Italy and Australia. They are quite different. I think Australia because of the change in style but also the massive improvement in terms of quality; we used to brand Australian wine as 'sunshine in a glass'; it used to be really concentrated and simple, only a few every year. They've really expressed terroir. And when it comes to Italy, I've just come back from Piedmont and I don't think I will ever get tired of drinking those Nebbiolos.
What's your favourite Australian wine?
It's a difficult one, a very difficult one in fact. I love a good Shiraz with a lot of bottle age and I love Cabernet Sauvignon with bottle age. I don't know if I have one specific to say but a 1990 vintage Riesling Wynns from Coonawarra is absolutely astonishing. Normally you'd think of the Cabernet Sauvignon but the Riesling is absolutely astonishing as well.
How do you create a three star wine list? What goes into making a three star wine list?
You need to have a look at a different range of prices and to account for literally everyone – from entry level to very high quality – but always considering the value of your cellar and to please every palate. I think that's very, very important. Often as a sommelier your personality may influence your choices but it's also very important to understand and consider what other people may like or may not like.
To create an award-winning wine list you need a combination of small producers, bigger names, famous names and more common wines that people with recognise. I always think that one's [wine lists] that only list obscure or niche producers miss some of the point – I'm not saying we should only have big names but I think it's very important that your guest, when they walk into your restaurant, that they recognise a couple of names before to going for something a little more niche.
Finding that combination of different wines, different prices, different labels in terms of quality – I think is very, very important – and the quality of course has to be superb, but obviously match the price point.
What are your wines of choice during summer?
I probably drink more Champagne during the summer. I'm not a big fan of rosé; I'm not very keen on it. But I drink sparkling wine and mostly Champagne – which is very French indeed.
Which restaurants or wine bars do you visit when you are looking for a good list in your restaurant's home city of London?
I always like to get inspired by different concepts and different restaurants. I went to 10 Cases in Covent Garden recently. I was very impressed: small, concise selection, value for money, some small producers I didn't know or haven't tried for a long time, some quite niche, but then some more generous appellation or more serious names.
Even as a sommelier I think it's important that when I walk into a restaurant I can recognise a few producers or wines on the list. Or if they have different producers but I know the appellation I know I can give it a try. [At 10 Cases]The atmosphere was good, the food was good, and the service was really good, which is very important obviously. The way they were selling the wine was good – the temperature, the size of the glasses, the type of glassware, everything was particularly thought-through.
I was in a wine bar in Italy, again in Piedmont, in the town of Alba, a small place called Isle Vicoletto. Again, extensive wine list, good value for money – what I look for when I go to a wine-producing region is to see most wine from the region but different producers, different levels of quality, different appellations. The food was good, simple, well-cooked, service was friendly, amicable. That's what I like to see in a wine bar.
Are there any young sommeliers who you believe will go on to achieve great things?
For sure. Of course there are a couple of guys at 28-50 that are doing a great job.
What do the wine awards mean to you? How has this affected you and your establishment?
I don't know how it affected us because it's a very recent award but I'm sure it will come. From what I understood The World [of Fine Wine awards] is definitely growing in reputation – I've seen Gerard putting his name behind the awards so it's certainly something which is growing.
So [having this award] it will bring people that obviously have a strong interest and passion for wine, which is exactly the guest that I would want in our restaurant. It can only be beneficial. I take great pride to construct and build wine lists so obviously for me it's a personal achievement which I'm very proud of.
What wines pair the best with turkey?
It would depend a lot on the garnish, turkey is relatively delicate, it's not the most fully-flavoured poultry in the world, so I would probably go for something like a rich wine – something from California – a Chardonnay, or from Australia for example, from Mornington Peninsula with a little bit of bottle age would do very, very nicely.
When it comes to red wine I think pinot noir, particularly if you've got a traditional cranberry sauce, which is served in England for Christmas, pinot noir is just an absolutely killer to go with the turkey. I would go for a quite generous style of pinot, with a Kiwi pinot from Central Otago. A young vintage; the lively acidic would cut very nicely through the flesh of the turkey.
It's a relatively versatile type of dish, turkey, it depends on the garnish and a lot on the way you cook it as well. Essentially: a richer, heavier white or a lighter type of red wine.
What wines pair the best with beef?
What would I pair with beef? Probably a red wine! My favourite pairing with beef, I will be very French classic and I would go either a Brunello di Montelcino from Tuscany in a vintage with a bit of bottle age, but I like it al dente so not too aged – probably a 2008 which I like very much in Tuscany. Or I would go Bordeaux, as I said French classic, something like a Pessac-Léognan or Pauillac which are probably my favourite appellations in Bordeaux. Or for something more vintage I would go something a little bit older, more mature. I really like 2001 right now, but also 2004 is drinking pretty good right now, very underrated.
Who do you think the best sommelier in the world is? And who do you think is the best in the UK?
Best sommelier in the world is Gerard Basset, best sommelier in the UK is Gerard Basset. It's pretty simple.
Who is the most influential sommelier ever to have lived?
Gerard Basset again. He has no equal, for me, simply because he has achieved all the titles you can think: best sommelier in the world, best sommelier in Europe, master of wine. No doubt he's the most influential person and the best because he has created a successful chain of restaurants and more. He's more than a sommelier, he's a restauranteur, he's a consultant, he's training people for competitions, and he has a real sort of dynasty as well. He trained people, he trained people that trained people – so in England he's a great influence and worldwide he's a great influence also: for me it's a no-brainer.
What is your go-to celebratory sparkling wine/Champagne?
Dom Pérignon to me is one of my best choices because it's always very high quality. I can't think of a bottle of Dom Pérignon that has ever disappointed me: it's always extremely good. If I had to bring a present for an occasion like a gift, that people would recognise, I think Dom Pérignon would be the bottle to go for.
But if I really wanted to open a special bottle of Champagne because it's my birthday or something like that, I would go for the Comtes de Champagne (Blanc de Blancs) by Taittinger, Amour de Deutz by Deutz or a great vintage by Dom Pérignon.
What is the best bottle of wine you've ever tasted?
In terms of white that would be Jean-Francois Coche-Dury Meursault Premier Cru Perrières 1999. For the red, I would say Château Lafleur 1982. They're probably the most memorable wines.
What is the rarest wine you've ever tasted?
That would probably be 1945 Château Mouton-Rothschild .