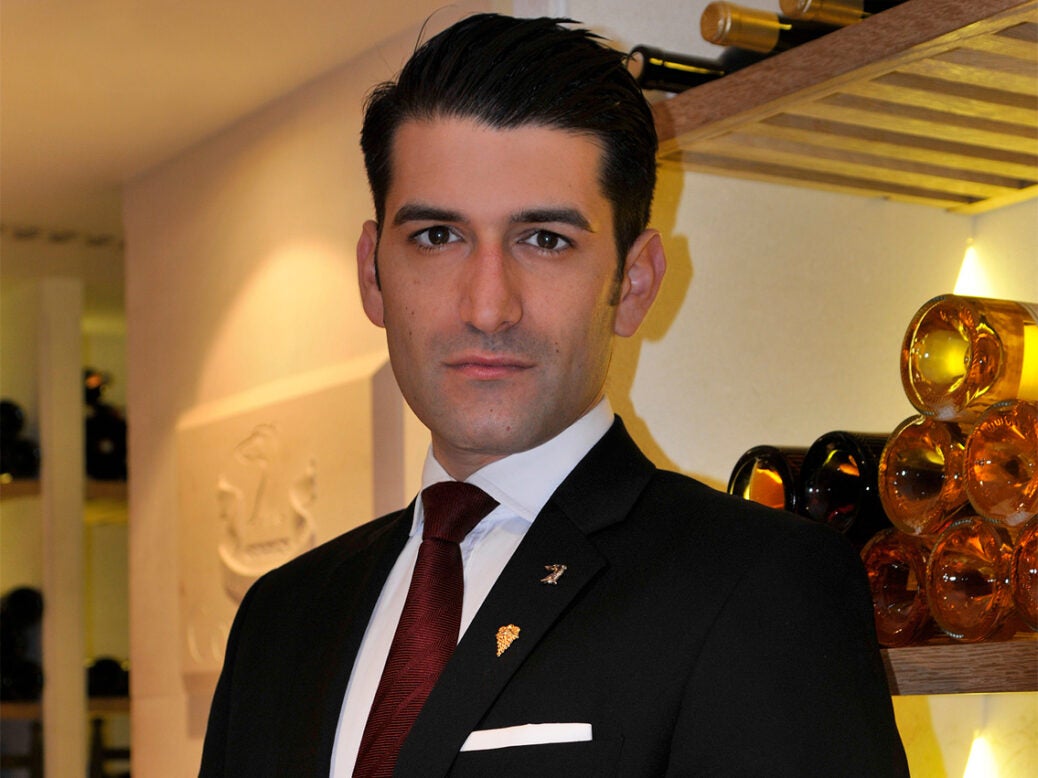 Mirko Benzo, head sommelier at Hélène Darroze at the beautiful Connaught hotel in Mayfair, London, may be Italian, but when it comes to a summer beverage he doesn't necessarily reach for the Prosecco. Benzo divulges his perfect summer wines, the joys of a sommelier career and much more. Read on for our full interview, Katherine Houston reports.
What is your favourite part of being a sommelier?
My favourite part is when you're sharing wine knowledge with your guests, seeing them smile after having a great experience and to change their dinner in a positive way.
You can see how you've helped make their night, in a way
It's when you show them something different or I can make them taste something they've never tasted, and you just grab their attention and change their dinner in a positive way. For example, at the moment we have a Chinese sweet wine from a young guy in China, it's rice wine and we usually we put it in a blind tasting so that is not guessed straight away. After the meal, we often have a discussion and say it's from China and they are completely in shock by the quality and the wine style that is presented. They think, 'Wow, it's come from China'. However, I was the same when I first tasted it.
Are there any particular wine regions or countries that have inspired you most or most recently? How did they inspire you?
The Barolo and the Barbaresco areas in the Piedmont region and Burgundy area, Pinot Noirs mostly. They are two regions where there's always this love and romance behind every single bottle coming from the area.
How do you create a three star wine list? What goes into making a three star wine list?
For sure we can say it's a lot of work and a lot of passion from the sommelier's side, discovering new scenes and new things, not just the classic wines. Plus of course, we have The Connaught, which brings us a lot of resources. It's not easy to create a three star wine list without somebody behind it like The Connaught. We have more than 1,200 labels and we try to go even further than that in our wine list. We taste a lot of wines and what we want to bring is a completely different wine list from all around the world, to taste and discover different types of wines with the guests.
What are your wines of choice during summer?
I'm Italian, so I'm supposed to say Prosecco! But I would say a Riesling: I'd go for a Riesling from Germany. My favourite is Egon Muller QbA. They have good stuff in Australia too, like in the Adelaide Hills.
Which restaurants or wine bars do you visit when you are looking for a good list in London?
Social Tapas in London has a very good wine list, as does 28-50 and Sager + Wilde. There are so many options in London, it's wonderful. Lots of things are going on so it's quite interesting for a market here, you have wines everywhere.
Are there young sommeliers who you believe will go on to achieve great things?
Yeah, I believe so. For sure my assistant, Cyrielle Mascaro at The Connaught, I believe she will go on to do beautiful things. Gabrielle Di-Bella, Assistant sommelier at Marcus Wareing also.
What inspiration do you take from The World of Fine Wine magazine?
One of the reasons I decided to subscribe the wine list to The World of Fine Wine World's Best Wine Lists awards is because at the moment, I believe the most important people in the wine business are judging or are involved with it and I believe it's something we want to be a part of as well. So in terms of inspiration, in the wine business they are creative: this magazine is unique in the wine business.
What do the wine awards mean to you? How has this affected you and your establishment?
It's given us reason to celebrate! No, at the moment I don't think they could generate more revenue in terms of business but for sure internally they see the passion and that we bring something. The awards are very important to Jan and to me, and the whole sommelier team, we work hard.
What we would like to achieve is maybe to be on top of a small category, of course we're never going to compete with the best wine list in the world but something like that is very exciting.
At the moment from the beverage point of view at The Connaught it's very important. We received the three star award for the wine list and recently, The Connaught won the World's Best Cocktail Bar (announced in July), so in terms of the beverage department we are really working hard and to push forward all the single departments to try to be overall on top.
What wines would you pair with turkey?
Massican Chardonnay, Hyde Vineyard Napa Valley 2014
What wines would you pair with beef?
Stella di Campalto 2008 Brunello di Montalcino
Who is the most influential sommelier ever?
I believe it is Gerard Basset MS, MW, OBE
What is your go-to celebratory sparkling wine/Champagne?
Krug Grande Cuvée
What is the best bottle of wine you've ever tasted?
The best bottle of wine I ever tasted, I believe… I have two or three! It would be:
Domaine Armand Rousseau 1969 Gevrey Chambertin Premier Cru Clos St-Jacques
What is the rarest wine you've ever tasted?
Château d'Yguem 1891