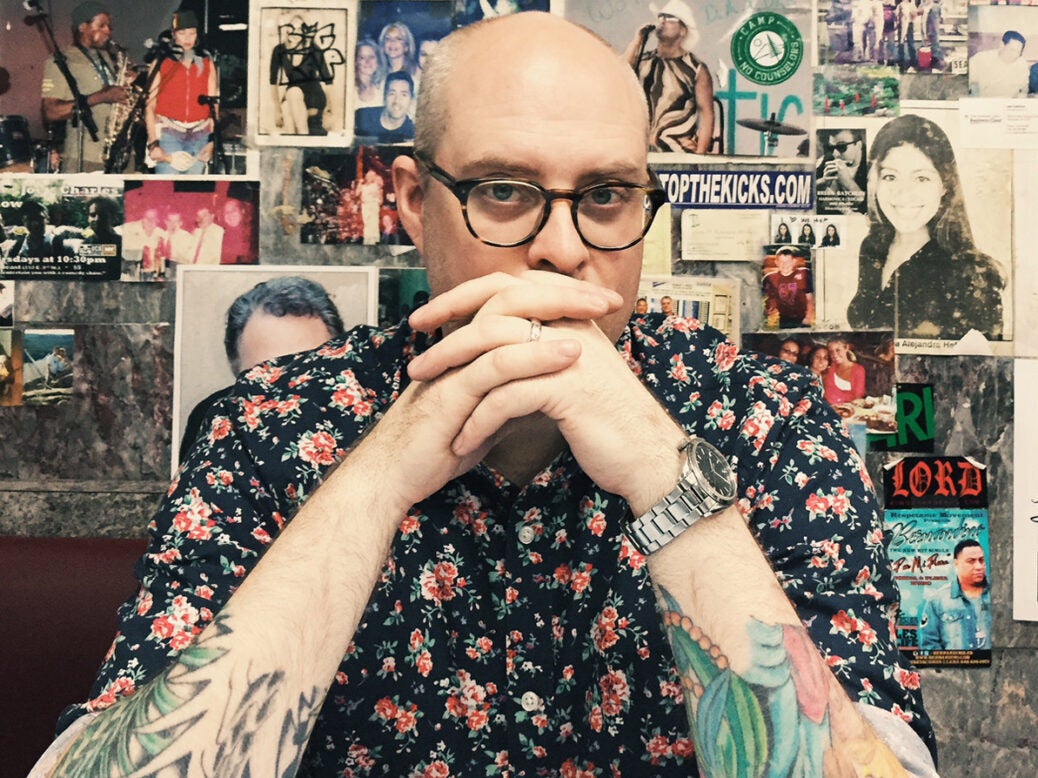 "Being recognized for building a world-class wine list is very humbling. We set out to be the best restaurant we can be and any recognition is uplifting and greatly appreciated," comments beverage director at Jean-Georges New York, Eric Hastings.
Hastings assisted the restaurant in attaining a three star award for the third consecutive year in the World's Best Wine Lists 2016, in addition to holding a collection of personal accolades under his belt. Discussing his affinity and history with Ruinart Champagne, who recently presented at La Fête du Champagne, the colorful sommelier – in both personality and tattoos – also chats to Katherine Houston about his favorite wine regions of late, his wine preferences during the summer time (something to look forward to), and much more, including a couple of useful tips when pairing various cuts of beef to red wine, for those not in the know – something to consider for roasts this winter?
What is your favorite part of being a sommelier, and being involved with wine in this way?
Introducing new wines to our guests and also seeing how the tastes and knowledge base of the public has changed over the years.
Are there any particular wine regions or countries that have inspired you most or most recently? How did they inspire you?
Most recently I was in Alsace and to experience the severe changes in soil type there and the resulting effect on the wine was quite interesting. Within 20 meters (60ft) of a vineyard there could be three different soil types.
How do you create a three-star wine list? What goes into making a three star wine list?
I strive to have balance with my wine list between Old and New World, as well as being sure to have some great selections at affordable prices. One list covers two dining rooms, one formal and one casual, so I must take into account those diners that are stopping in on their way to the theater or another engagement and just want a nice, affordable wine with their meal, while also keeping in mind those diners that have Jean-Georges as their main attraction for the evening and are looking for a memorable experience.
What are your wines of choice during summer?
Austrian white wine and Champagne. A favorite producer of mine from Austria is Rainer Wess. He produces classically structured and savory Grüner Veltliners and Rieslings in the Kremstal and Wachau. He uses only healthy fruit in his table wine, so no botrytis unless it is for a dessert wine. For Champagne, whatever is cold will work, though my favorite house is Ruinart, as indicated further down.
Which restaurants or wine bars do you visit when you are looking for a good list in New York?
There are quite a bit to choose from and I try to go to as many different places that I can, but Gramercy Tavern is always a top option, as is Café d'Alsace.
Are there any young sommeliers whom you believe will go on to achieve great things?
There are a lot of very talented, young sommeliers all over the world. Locally, Caleb Ganzer (wine director at Compagnie des Vins Surnaturels, NYC) and Andrea Morris (beverage director at vegetarian restaurant Nix, NYC) are getting some attention for their well-curated wine lists.
What inspiration do you take from The World of Fine Wine magazine?
The challenge to be recognized among the best wine lists in the world.
What do the wine awards mean to you? How has this affected you and your establishment?
Being recognized for building a world-class wine list is very humbling. We set out to be the best restaurant we can be and any recognition is uplifting and greatly appreciated.
What wines do you like to pair with turkey?
I've always liked Alsace Riesling with turkey. Its richness and fruit tend to work well for me with the leanness of turkey breast. The Riesling Schlossberg from Paul Blanck is a perfect match. It's a robust Riesling, with the smallest hint of residual sugar and a richness that can't be matched from other Riesling growing regions. Quite outstanding. Also, though not as easy to find, Barth René Riesling Mambourg is another winner, made by Michel Fonné.
What wines would you choose to pair with beef?
There are so many options here from Australia to California, South America, France, Italy, Spain, and so on. Pairing wine with beef is fairly simple. The key is to match the structure of the wine with the cut of the beef. I could break it down a little for you:
Tenderloin – Lighter style red wine like Burgundy (Pierre Gelin Gevrey-Chambertin Clos Meixvelle) or Oregon Pinot Noir (Chehalem Ridgecrest Vineyard) as the cut of beef has little fat and doesn't require a rich and tannic wine.
Ribeye – Here is where some intensity is needed and can be found from Bordeaux to California, Barossa to Mendoza. Look for boldness and richness here (d'Arenberg Dead Arm Shiraz, Clos du Val Cabernet Sauvignon Stag's Leap District, Château Gruaud-Larose, Catena Alta Malbec) to complement the well-marbled cut of beef.
Flank – These are usually well marinated and grilled outdoors with friends and family. Perfect for Zinfandel from Ridge Vineyards or Côtes du Rhône from Domaine la Roubine.
Who do you think the best sommelier in the world is? And who do you think is the best in the USA?
I believe that title was just won by Arvid Rosengren of Charlie Bird in NYC.
Who is the most influential sommelier ever to have lived?
I don't know that there is only one most influential. There have been many that have influenced the world of the Sommelier and helped to define and expand what a Sommelier is. Every Sommelier has had one or two mentors, so those would be the most influential to each sommelier.
What is your go-to celebratory sparkling wine/Champagne?
I have a personal connection with Ruinart, as a former Ruinart Challenge winner (2011), and thoroughly enjoy their wines. The attention to quality is extremely high and the wines have never been better. Truly a special winery.
What is the best bottle of wine you've ever tasted?
The most memorable I've had was the first time I was able to taste Château Margaux 1995. It was in the year 2000 and I had just finished a very busy night at work which was also the last day that particular restaurant would be open. I walked to a wine bar near the restaurant and ordered the 1995 Château Margaux that I had been wanting for months. At $250, it was a bargain and I sat at the bar by myself and savored every drop.
What is the rarest bottle of wine you've ever tasted?
1897 Château Lafite Rothschild, though I have a bottle of 1937 Yquem that's getting pretty tough to hang on to much longer.