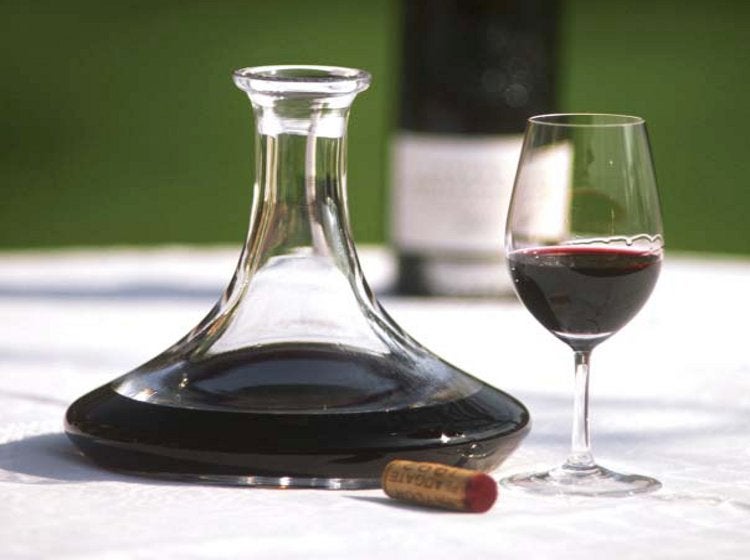 When it comes to Port, my heart beats. I am Portuguese, and my passion for Port goes back to the '70s, when I was a young boy. My father, born in the Douro Valley, used to take my family to his very poor, very small, home village twice a year – in the summer and Christmas holidays. The fabulous landscape, the golden colour of the Douro River and the smells of esteva, a wild flower growing throughout the region, remain forever in my mind.
I used to wake up to the inviting scents of the food being prepared by my mother and grandmother: grilled milk-fed veal with roasted organic potatoes and rosemary, wheat bread and olives, chestnuts and a homemade ewe's-milk cheese. Homemade wine, brandy and Port were also important parts of the meal. There's an old saying in the region – 'The Douro is six months of winter and six months of hell'. I remember being frightened by the thunderstorms and my father saying, 'Port is the only drink in the world to calm a storm.' Those days are gone forever, but my passion for Port remains.
Food and Port matching
I believe that almost everything worth saying about food and wine matching has already been said, and Port is no exception. Some Port houses used to organise 'gourmet' dinners at which Port was the only option throughout. I respect this approach but do not myself find that it makes the most of the food or the wine. Why? Port is fortified. Its alcohol content is strengthened (to around 20%) and the fermentation stopped, by the addition of neutral grape brandy, so that some of the sugar remains, giving Port its luscious, sweet taste. Although some Ports are less sweet than others, and Tawny often smoother than Vintage, the high levels of alcohol and sweetness make them the ideal match only for creamy, powerful, rich foods such as cheese and dessert.
Some chefs, sommeliers and other professionals have defined complex rules regarding acidity, sweetness, aroma, flavour, structure and so on, in order to achieve the 'best' wine and food matching. But I believe in tools rather than rules, and my first is that the best match is all about pleasure. At the same time, I agree with François Chartier, a top Canadian sommelier, that the most successful match is one where there is an osmosis of the aroma, colour, flavour and texture of the dish and the wine.
Niepoort 1917 White Port
Founded in 1842, Niepoort is a small, family-run business with a high reputation. Dirk Niepoort, a talented and visionary young winemaker, took over the direction of the company from his father Rolf.
This outstanding Port is a blend of native grape varieties such as Malvasia, Viozinho and Rabigato. Trodden in traditional cement vats called lagares, it was bottled in 1925. This is what I call a 'tawny' white Port. It displays a beautiful, complex, velvety structure, with very nutty aromas and flavours (hazelnuts and walnuts) and candied orange peel, with great depth and length. But what really intrigues me is that, despite its age, it still has exceptional freshness, giving the wine a perfect balance. Ernest Cockburn once said that a Port, to be Port, must be red. Well, this is an exception to the rule.
My second tool regarding wine and food matching is the colour of the dish. Normally white sauces are based on cream, butter, milk, white wine and (quite often) cheese. The trend today is to drink red wine with cheese, which, in my opinion, doesn't work most of the time. The convention is understandable, because (at least in the UK and the US) cheese is normally the last part of a meal, and people tend to carry on with the red they drank with the main course. So, why doesn't that work? Cheese is, of course, fermented milk by the coagulation of casein. The high levels of proteins in lactic products react with tannin, making the match difficult.
I like to suggest only one cheese at a meal, since different cheeses, with so many different flavours and textures, are very difficult to match with only one wine. This Niepoort white Port makes a very interesting and successful combination with aged Cheddar, offering a perfect match with its mellow sweetness and complex, smoky undertones. On the palate, the cheddar starts with a sweet sensation; the texture is creamy and soft, with hints of caramelised milk and hazelnuts. The wine, with its gently oxidised bouquet of orange peel, nuts and Cuban cigar, is all the more sensational in this partnership, though it would always, of course, be a superb 'meditation wine' on its own.
Fonseca 1977 Vintage Port
When it comes to Vintage, I like to call Fonseca the Château Latour of Port. The best single word to define it is 'unique'. David Guimaraens studied oenology in Australia and is now the man in charge, having taken over from his father, Bruce Guimaraens, one of the great personalities in the region.
The 1977 vintage is still generally reckoned to be one of the very top postwar years. A classic match with this wine would be Stilton or Roquefort. But I prefer to try it with different types of chocolate: milk chocolate caramel with its nutty flavours; dark chocolate with a 55 per cent cocoa content, showing a nice balance of sweetness and bitterness; and white-chocolate ice cream.
My third tool is the temperature of the wine. This is so important that most matches with Port tend to be almost impossible if the wine is served at the wrong temperature. Especially with its 20% alcohol content, Port should never be served over 18 or 19°C (approx 64.5-66°F). I've seen people serving and drinking Port at 23°C (73.5°F) or even warmer – and this is such a bad way of tasting it. The alcohol becomes dominant, overpowering the aromas of the wine, whose sweetness makes it taste flat. On the other hand, it should not be served too cool either. One can match Tawny Port at around 14°C (57°F), but Vintage Port should never be served at so low a temperature, because its greater concentration of tannin makes it taste hard.
To match chocolate and Port successfully, we need to find contrasting qualities, or else the mutually reinforcing sweetness of the two will make them taste boring. The Fonseca '77 still has a long way to go, and its fruitiness and richness in terms of flavours is the right option to counterbalance the bitterness of the dark chocolate and the perfumes of the Valrhona Manjari.
Chocolate has, of course, a very thick, velvety texture and tends to stick to the roof of your mouth, but the residual sugar and brandy in the Port clean your palate surprisingly well. Normally ice cream numbs your palate, but in this combination the effect is rather refreshing. More than ever, though, the right temperature is vital. The Port should be served at 16-17°C (approx 61-62.5°F), at which temperature the chocolate and the wine will both taste superb.
Graham's 40 Year Old Tawny Port
Graham is a big name in the universe of Port. With its Scottish origins, it is now part of the Symington group. It is very difficult to produce a really fine old Tawny, which requires both ample, wellstored stocks and great experience and expertise in blending. It is available only in very limited quantities.
Aged in oak casks, Tawny Port changes colour and develops a superb bouquet, with intense nutty aromas and very rich toffee flavours. Colour, aromas, texture and temperature of service – around 15°C (59°F) in this case – are again very important. The crème brûlée I propose with this Tawny is quite different from the classic one. It is the inspiration of chef John Campbell, and it tastes spectacular. As well as the milk and egg yolk, this recipe includes a black olive and strawberry compote, Pedro Ximénez jelly and caramel. Because of this, it tastes less sweet and less 'burnt' than normal. It is incredible how such a creamy texture can give such a balanced, fresh sensation.
The best match is a wine with an aged, gently oxidative character – firstly, because the aged quality counteracts the sugar, making it less sweet; secondly, because this Tawny displays an outstanding bouquet of nuts, tobacco and coffee, but still keeps fresh notes of caramelised orange peel. The interaction of these elements makes for perfectly harmonious scents. (My fourth tool, incidentally, is the nose, which is actually far more important than the palate in taste terms.) Finally, the balanced sweetness and velvety texture of this wine allow it to merge so successfully that you have the sensation of the dessert being prepared with the Port.
Noval 1997 Late Bottled Vintage Port (Unfiltered)
Quinta do Noval, acquired in 1993 by the French insurance group AXA, has a long tradition of Port making. It is most famous for its Noval Nacional, from a small parcel of old, ungrafted vines, the 1931 of which is considered by many to be the greatest Vintage Port of the 20th century.
Much more accessible and affordable than the Nacional (and indeed the first three Ports proposed here) is Noval's Late Bottled Vintage Port. As well as offering tremendous value, it is one of the few unfiltered LBVs, allowing it to acquire additional complexity with bottle age. This Noval 1997 LBV is already very dense, deep and powerful, but it has great potential still to improve. The clean, fresh and very appealing intensity of fruit on the nose says much about the quality of the grapes.
LBV is frequently regarded as the poor relation of Vintage Port, but that need not always be the case. This LBV has been confused with a full Vintage Port in blind tastings.
Although the wine may be paired very successfully with a wild berry tart, I would like to propose a rather less orthodox match – one that involved cooking with Port. Some see it as a waste to cook with such high-quality wine, but I would insist that great wine can also make great food.
A great match with this LBV is the famous Portuguese ewe'smilk cheese, Serra. Despite its popularity, it is not always easy to find a high-quality cheese in the right condition, which for me means creamy. Imagine a soup-spoon of this cheese with raspberry and mulberry 'brunoise' finely diced; on the top of this a strawberry coulis lightly spiced with nutmeg and little cubes of LBV Port gelatine.
The intensely fruity flavour of the dish combines with the aromas of the Port, the velvety texture of the cheese with the smooth and delicious sweetness of the wine. But what makes the osmosis between the Port and the dish is the gelatine. When eating a nice spoon of all these elements together, the gelatine fuses all the flavours into such a harmonious whole that one can hardly separate the food and wine. Irresistible!
Recipes
KEEN'S CHEDDAR WITH PECAN AND APPLE
Vanilla and apple purée
5 Granny Smith apples
1 vanilla pod
100g butter
70g sugar
Peel and core the apples, then finely slice. Mix with the other ingredients and place in a pan. Cover the pan with clingfilm and simmer very gently for one hour, stirring occasionally. Remove the vanilla pod, and purée in a food processor while still hot. Pass through a strainer and allow to cool before using.
Pecan biscuits
90g white breadcrumbs
90g ground pecan nuts
45g sugar
30g cornflour
1 egg
45g melted butter
Mix all the ingredients together to form a paste. Spread thinly on to baking paper and bake at 160°C/320°F/gas mark 3 for 8 minutes. Cut out discs while still hot. Store in an airtight container.
Pecan dressing
50ml pecan oil
50ml arrachide oil
25ml white wine vinegar
Mix together and store. Shake before using.
Caramelised apple
200g sugar
250g fresh apple juice
1 Granny Smith apple
Caramelise the sugar in a pan until a light golden-brown colour is achieved. Add the apple juice to stop the cooking process. Simmer until all caramel is dissolved. Using a Parisienne scoop, make small apple balls and cook in the caramel syrup for 5 minutes. Allow to cool in the liquid.
Other ingredients
mixed salad leaves
grated Granny Smith apple
ROQUEFORT WITH PICKLED ONIONS
Pickled onions
300ml white wine vinegar
90g sugar
1 bay leaf
15 peppercorns
1 vanilla pod
1 red chilli, de-seeded and julienne
30 baby onions
Bring all the ingredients apart from the onions to the boil. Peel the baby onions and add to the pickling liquid. Simmer gently until the onions are almost cooked. Allow to cool in the liquid, and leave to marinate for 48 hours before serving.
Onion soubise
Finely slice four onions and caramelise slowly in a pan until dark brown. Add enough whipping cream to allow the onion to be puréed in a blender. Allow to cool before seasoning, adjusting the consistency with water if necessary.
Caramelised pears
500g sugar
500ml water
1 vanilla pod
2 Conference pears
Caramelise the sugar in a pan until a golden-brown colour is achieved. Add the water to stop the cooking process. Add the scraped vanilla pod and seeds. Simmer until all the caramel has dissolved. Add the peeled and halved pears and simmer gently until almost cooked. Leave the pears to cool in the syrup then transfer to the fridge. Allow to mature for 24 hours before serving.
Other ingredients
Roquefort cheese at room temperature
deep-fried pumpkin seeds
mixed salad leaves dressed with vinaigrette
basil oil/beetroot syrup
finely sliced baby radishes
CRÈME BRÛLÉE
Black olive and strawberry compote
200g black olives
400g Mara des Bois strawberries
600g caster sugar
Drain and pit the black olives. Chop and mix heavily with caster sugar. Over the following two days remove the wet sugar and replace with fresh. This process will draw out the moisture in the olives and lightly candy them. Remove olives from the sugar and mix with diced strawberries and freshly ground black pepper. Serve immediately.
Crème brûlée
80g caster sugar
500g cream
100g milk
100g egg yolk
1 leaf gelatine
Boil the cream and milk. Soak the gelatine in cold water. Whisk the egg yolk and sugar together, then add to the cream and milk. Heat until mix thickens. Add gelatine and strain. Cool quickly. Whip to a soft peak just before serving.
Pedro Ximénez jelly
500ml Pedro Ximénez Sherry
5 leaves gelatine
Soak the gelatine in cold water, warm 100ml of the Pedro Ximénez Sherry and dissolve the gelatine in this. Add the rest of the Sherry and allow to set in the fridge.
Caramel shards
200g glucose
200g fondant
100g isomalt
Heat all the ingredients together until a light caramel is achieved. Pour on to parchment paper. Being very careful (the sugar will be very hot), pull shards from the caramel, or alternatively roll very thinly between two sheets of parchment paper. Store in an airtight container.
Sable biscuit
400g icing sugar
800g butter
4 egg yolks
1kg flour
4 cooked egg yolks
Cream the icing sugar, butter and cooked egg yolks together and slowly add the raw eggs, then the flour to form a dough. Allow to rest before rolling and cutting into strips. Bake at 170°C/325°F/gas mark 3 for 6 minutes.
TASTING OF CHOCOLATE
Chocolate cake
320g egg
420g sugar
400g butter
250g Valrhona Manjari chocolate
200g soft flour
275g walnuts
Whip the butter until soft, melt the chocolate and add to the butter. Whisk the eggs and the sugar together but not aerated; mix the walnuts with the flour. Add the butter and chocolate mix to the egg and sugar, then fold in the flour. Bake in the bread tins for 30 minutes at 190°C/375°F/gas mark 5, checking after 20 minutes.
Chocolate ganache
500g cream
500g milk
250g sugar
400g egg yolks
460g dark chocolate (55 per cent cocoa solid content)
4 leaves gelatine
Bring the milk and cream to the boil. Whisk the sugar and egg yolk together and add. Heat the mixture until it thickens – be careful not to overcook the egg! Pour over the chocolate and softened gelatine. Mix well and pass through a chinois. Allow to set in the fridge for at least 6 hours before use.
White-chocolate ice cream
1,200g water
60g milk powder
120g glucose
60g dextrose
420g white chocolate
40g egg yolk
Bring the water, milk powder and glucose to the boil, whisk the dextrose and egg yolk together and add to the boiling liquid. Continue to cook until the mixture thickens, being careful not to let it boil. Pour over the white chocolate and mix well. Pass through a chinois and cool. Allow to rest for 24 hours before churning.
Chocolate caramel
200g glucose
300g fondant
200g milk chocolate
Mix the glucose and fondant together and cook until it reaches 155°C (311°F), checking with a sugar thermometer. Pour on to parchment paper and place in a hot oven until soft. Put another sheet of paper on top and roll as thinly as possible.
Chocolate brandy snap
900g sugar
560g butter
450g golden syrup
300g flour
150g cocoa powder
30g pectin
Bring sugar, butter and golden syrup to the boil. Add flour, cocoa powder and pectin. Cool before rolling between two sheets of parchment paper. Bake at 180°C/350°F/gas mark 4 for 15 minutes. Cut and shape while still hot. Allow to cool.
Chocolate e'spuma
600g yogurt
250g milk
125g cream
300g dark chocolate
60g sugar
60g water
Bring milk, cream, sugar and water to the boil. Pour over chocolate and mix well. Add yogurt once cooled. Place in a whipped-cream canister and charge with two bulbs.
Chocolate squares
Temper 500g dark chocolate and spread on to acetate sheets. Cut into squares and allow to set.