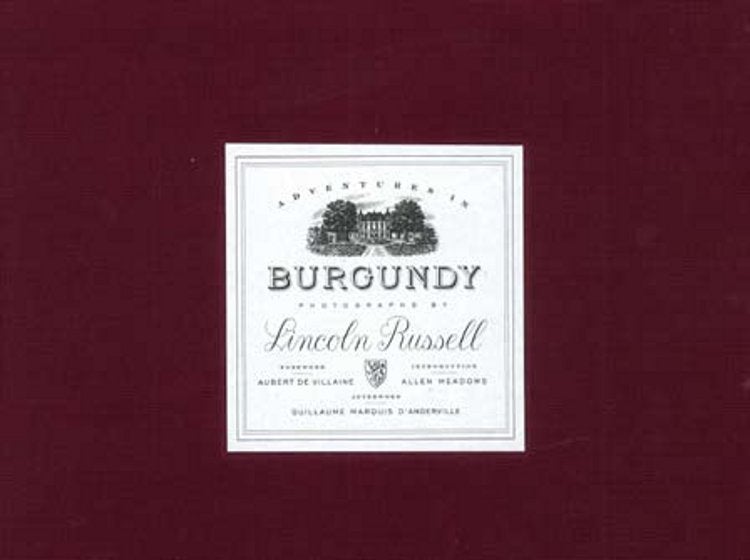 Lincoln Russell
Adventures in Burgundy
Published by Pinot Press US$50
Reviewed by Jon Wyand (www.jonwyand.com)
Who better to review a book of photographs of Burgundy, you may think, than a professional photographer who has been visiting there for ten years? The problem is that I suspect any photographer who visits Burgundy harbors the ambition of producing his own book, and I am no exception. Can I therefore be fair and dispassionate? I will try. But I think Lincoln Russell would agree that once a passion for Burgundy has been aroused, it gives each of us a personal and, I hope, unique viewpoint. And to me, as clearly to Lincoln, viewpoint is fundamental.
Adventures in Burgundy is not Andy Katz's Heart of Burgundy, Ralph Gibson's Spirit of Burgundy, or Alfred Gaspart's Une Année dans la Vigne. As these books show, there are many ways to visualize the place. Adventures is a very personal reaction to a wonderful region and deserves to stand alongside these other titles. Plenty of relaxed portraits of famous names, beautiful landscape images, interesting details, and scenes of Burgundians at work and play are all part of Lincoln's vision.
Clearly, he is smitten by Burgundy and cannot stay away. The photographer visited many times during 2005, 2006, and 2007, so this book is the result of serious dedication and not merely passing fancy. A chance meeting with Etienne de Montille while skiing in the Alps led to an invitation to visit and stay at Château de Puligny-Montrachet to photograph the harvest there.
Subsequently, over the course of his many visits, Russell was passed around Etienne's friends, as he puts it, like a beach ball. Apparently he did not start photographing immediately but instead took his time to get to know his surroundings. The result is an intimate record of his stays, from a fairly privileged position. We are lucky that he shares this privilege so beautifully.
His work is of a very high standard, as is the book's production. Having the approval and friendship of those he portrays, he shows them in relaxed mood. People are most often shown isolated from their environment, however, as if met out of context at some gathering. Sometimes it is a shame not to see these well-known faces at home, in their own cellars, or any place with an identity. Lincoln's style seems limited here to the classic telephoto lens and shallow-focus style. But some of the photos do use beautiful light and really do capture the essence of the person. It is not easy to photograph Burgundians without embarrassing them.
The landscape is frequently isolated, too, reduced to a graphic, textural image, usually unidentified, as if to represent all Burgundy. The device of dating a photograph, while sometimes not telling us where it is, almost says, "Look how often I came to Burgundy, but gosh, I'm not sure where I am now because I was brought here." Giving everyone's name in a caption shows that he cares about the people he meets, but in Burgundy the vineyards have names, too. If you are not interested in vineyard names, you cannot understand Burgundy. The vineyards themselves may be very photogenic, but the work in them is very hard and monotonous. I wish that Lincoln had shown us a little more of the sweat and toil there as a contrast to the feasting.
But enough quibbling. Let us enjoy his magical twilight views of châteaux. He handles landscape, architecture, interiors, and people. Photographers arrive in Burgundy with varying experience of wine photography and their own special skills. Their success or failure depends on how they appreciate the opportunities that Burgundy then offers them. Lincoln Russell succeeds.
The book is a record of his introduction to wine photography, and he was fortunate in being given such mentors. But he has repaid his good fortune with the love and respect that you see in the pictures. The written contributions from Aubert de Villaine, Guillaume d'Angerville, and Allen Meadows must be read to understand what the photographer has produced.
Some publishers would tell him the book is too big to be commercially viable, but it is certainly not too big to enjoy. This self-published title is, I suspect, available only in Massachusetts, Beaune, and from Lincoln's website (adventuresinburgundy.com), which does give the potential buyer a good idea of what s/he can expect.
I recommend Adventures in Burgundy to any wine lover but particularly to Burgundy lovers, for its intimate insight into the Côte d'Or and its winemakers. I got mine for $50 from the website – very good value. The question is: Where next, Lincoln?