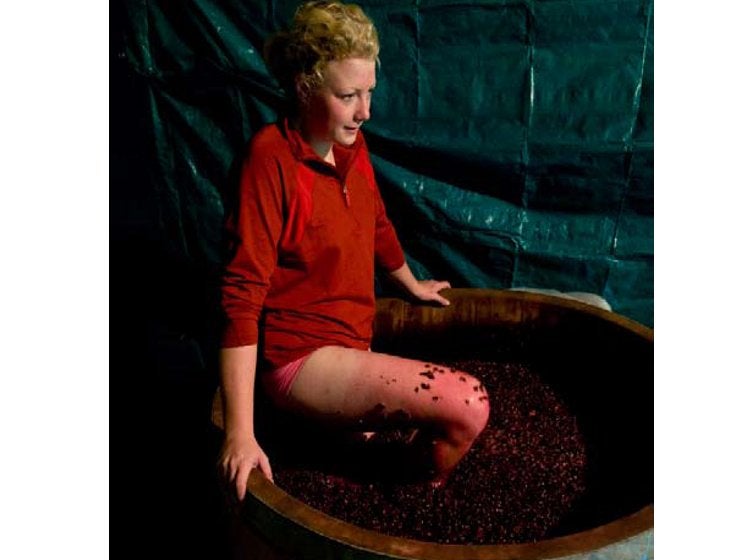 For most Pinotphiles, it comes as a surprise that Germany is the world's third-largest Pinot Noir producer after France and the USA. Germany's southern region of Baden alone has a greater area under Pinot Noir than all of Australia, but so far the Germans have been keeping their Spätburgunder to themselves. The first two-day International Spätburgunder/Pinot Noir Symposium held in February 2012 in Bad Neuenahr, however, set out to change that.
Featuring winemakers from as far afield as South Africa, New Zealand, California, Oregon, France, Austria, and Switzerland and other German regions, the event afforded German visitors as much of an international outlook as foreign visitors were given of Germany. Highlights of the Saturday program included a rare tutored tasting of older vintages of the Staatsdomäne Kloster Eberbach's most famous single-vineyard Spätburgunder, the Assmannshäuser Höllenberg in the Rheingau-a steep, southwest-facing site of mica slate, where plantings of Pinot Noir were already documented in 1507. Markus del Monego MW-who presented a flight of the 2009, 1989, and 1959 vintages-commented on the "oftenunderestimated aging potential of German Pinot Noirs" and the characteristic "smokiness" always found in the wines from this site.
Rheingau-born Walter Schug, of the eponymous winery in Carneros, California-a former winemaker at Joseph Phelps whose father had been the director of the Staatsdomäne at Assmannshausen from 1925 to 1959- provided a welcome but completely coincidental link to the past by reminding the audience of the intense clonal research undertaken at the domaine, explaining that these wines were the result of years of positive massal selection.
Other contributions included an overview of Pinot Noir in New Zealand by John Belsham and an exploration of German Pinot's stylistic variation by Stephan Reinhardt (author of The Finest Wines of Germany, Aurum Press / University of California Press; due for release September 2012). Professor Ulrich Fischer of the Pfalz viticultural research institute, the DLR, expanded on the latest enological research on Pinot Noir: By comparing experiments regarding harvest point, the enzymatic effect on phenolics, cold maceration, fermentation temperature, and malolactic fermentation, his illustrations went a long way to explain the dramatic rise in quality of German Pinot Noir in recent years. To unite so many of the top German producers in one place was a feat. It allowed tasters to take a snapshot of regionally and stylistically diverse wines, to compare "classic" Spätburgunder matured in large, used barrels showing paler colors and often intense, savory fruit, with barrique-matured styles that largely seemed to have overcome their former heavy-handedness and moved away from overextraction and overripeness. The combination of mesoclimate and soil along with viticultural expertise in prime sites insures that sugar and physiological ripeness can coincide despite Germany's northern latitudes.
Elegance, finesse, and minerality were the keywords of the day. The southerly region of Baden shone through Bernhard Huber of Malterdingen, who makes silky Pinots with immense backbone on limestone slopes first cultivated by Cistercian monks. The stalwart quality producers from the Kaiserstuhl, where volcanic and loess sites predominate-namely Bercher, Schwarzer Adler, Johner, Dr Heger, Knab, and Salwey-also showed consistently elegant wines. While the opulent, flirtatious 2009 vintage and some of the concentrated 2010s were shown, Schwarzer Adler highlighted a refined and extremely balanced Selektion A Spätburgunder from the much more challenging 2008 vintage. Weingut Ziereisen showed characterful and long-lived Pinots from Baden's southernmost tip of the Markgräflerland. The Pfalz was represented by Rebholz and Knipser, two pioneers who started experimenting in the 1980s and paved the way for increased planting of Pinot in their region. Knipser's 2007 Grosses Gewächs Laumersheimer Kirschgarten is defined and linear and shows such focus of fruit and acidity that it will be a joy to savor at maturity.
Franken, Württemberg, Mosel, and Rheingau were less prominent. However, Markus Molitor from the Mosel showed compelling, mineral Spätburgunder with a smoky edge. His muscular, profound 2007 Graacher Himmelreich received the inaugural Grand Pinot Noir Award, chosen by an international jury of writers and journalists. The host region of the Ahr, naturally, was well represented by Meyer- Näkel, Jean Stodden, Adeneuer, Deutzerhof, HJ Kreuzberg, and Nelles, with Stodden, as always, convincing with supremely poetic wines. The attendance of Swiss producers from the Bündner Herrschaft in the canton of Graubünden was also a treat; these wines are rarely shown internationally, and the evocative Pinot Noirs from Daniel and Martha Gantenbein were a revelation. Burgundy was represented by Domaine Bertagna, Maison Albert Bichot, and Domaine de l'Arlot. Some 160 producers in total showed their wines. The next event is scheduled for 2014.