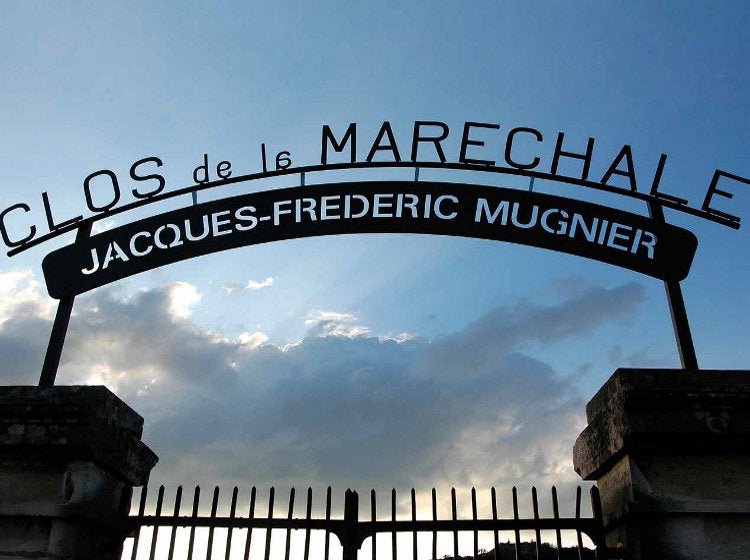 It's a Monday morning in May, it's distinctly chilly, and the Côte d'Or is dotted with bent backs and white vans. Growers are out debudding their vines, rubbing surplus buds from the new growth. It's a chancy activity when the Ice Saints are not yet past.
It's hard to know whose side the Ice Saints are on. They are Saints Mamertus, Pancras, and Servatius, whose feast days fall on May 11, 12, and 13 and who coincided with a cold snap more years than not, until the change to the Gregorian calendar moved the cold snap to the end of May but kept the Ice Saints where they were. Today is May 12, and Gregorian calendar or not, it's cold. The elder bushes are in flower, but the sky is gray and rain periodically spatters on the windscreen. We're on our way to Maranges.
I'm with Giles Burke-Gaffney of London merchant Justerini & Brooks. He started there in sales 17 years ago, and now he's buying director, and he comes to Burgundy about three times a year. He's invited me along this time to be a fly on the wall as he takes an early look at the 2013s. Not to buy: That will come later, in the fall. It's more a keepingin- touch trip, a way of maintaining relationships in a business that is seldom governed by agency contracts. Some growers sell through only one merchant per country; some through several, with buyers and sellers in an elaborate dance around and with each other as harvests and markets fluctuate. What happens in a vintage like 2012, when quantities are right down, but demand is strong? Well, says Burke-Gaffney, if your usual allocation is 50 percent of Clos de Assez Cher, that's what you'll get. Do other merchants try to get your allocations? Yes, he says, that can happen. Come on Giles, name names. He grins, and does -but I won't.
What he really wants to know is how much 2013 there's going to be. The 2012 vintage was tiny: Bachelet-Monnot, in Maranges, made half as much as usual overall, with 35 barrels of village Puligny instead of 65, and 75 percent less in Bourgogne Blanc. "One year like that is okay," says Marc Bachelet. "But if it was every year, pfff!" The 2013 crop here is pretty near to normal, though, and Marc is already suntanned from a warm March in 2014. Does the flowering look promising? "I don't see too many bunches," he says, and it's difficult to know if he really means it, or if it's a way of propitiating the Saints.
The result of short crops is that Burgundy prices are rising. The 2012s were up 20-30 percent for grands crus, 15-20 percent for premiers crus, and 5-10 percent for village wines and basic Bourgogne-and while that helps compensate growers for a short vintage, they know the dangers. One grower after another asks Giles about sales of the 2013 Bordeaux, and Giles doesn't shirk from telling them. Simply, they didn't sell; they were too expensive. "For the past two years, J&B has sold more Burgundy than Bordeaux."
Domaine Mugnier, whose owner Frédéric Mugnier says he is "confident of the 2012s"
Chassagne and Meursault
So, what's in demand? Everything, pretty much. But the top and the bottom go first. The grands crus walk out of the door, but they're jostled by Bourgogne tout court. Everybody wants straightforward wines from good growers. "Maranges is good value and therefore exciting," says Giles. "It used to be unsexy, but now it's a great source. We're struggling to get enough. It's a bit of a turnaround." Next year the Bachelets will replant a chunk of Chassagne-Montrachet for Bourgogne Blanc because of that demand. And their Bourgogne Blanc is beautiful; the 2012, for those lucky people who have it, is knife-edge accurate, light, pure, and mineral. There was no bâtonnage at Bachelet Monnot: "The danger in 2012 was to make heavy wine. We pick very early now."
Ironically, having come to look at the 2013s, we taste only 2012s. Giles shrugs. "Some growers don't like to show their wines half done. They're not through the malo yet." At Jean-Noël Gagnard, however, Jean-Noël's daughter, Caroline Lestimé, darts from barrel to barrel brandishing her pipette. In between, she stands balletically in fourth position, looking, in her pleated skirt, like Rodin's Little Dancer. "The 2013 harvest was the latest in Chassagne since the '80s," she says. "And this year, one month ago the vines were one week ahead compared to 2007, and now they're two weeks later than 2007. But they're still earlier than usual. We thought we would be picking in August, but now it looks like early September."
And the size of 2013? "We made two barrels of Bâtard in 2012 when normally, from a third of a hectare, we would have five to seven barrels. In 2013 we made half a barrel more than in 2012. We thought 2012 was difficult until we had 2013. In 2012, we had bad flowering, rain, hail three times in June, July, and August, and late frost that affected the lowest part of Chassagne, where it's village-level wine. In 2013 we had no hail but a lot of rain. We had to spray copper by hand because the vineyard was too wet for the tractor." She can't see too many bunches on the vines for 2014 either.
"The 2014 crop looks good-way enough," says Dominique Lafon of Domaines des Comtes Lafon, our next stop. "If all goes well, we'll have to thin. It's easier than sticking them on […]. It will be an early harvest, so the vines can carry a bigger crop; it will ripen. I haven't seen a year like this for a long time. But if we have this kind of weather, we'll lose half of it."
Tasting the 2013 wines, here as everywhere, is complicated. This barrel is just starting malo, this is mid-malo, this is just finishing but still full of gas; this is in new oak, this in old; this barrel is from one cooper, that one from another; this one has just been sulfured. It's not so much a snapshot of a vintage as a series of pixels. Lafon, however, has it in focus. "The 2013s could come out better than the 2012s. The balance is a bit better, and they're more elegant." The 2012s will be racked off their fine lees tomorrow. "We did really light extraction in 2012. And it was difficult to find the right tanks for such small quantities. We had to makes Champans in the Clos de Chêne tank, and Clos de Chêne in a smaller tank, and Monthélie in the Champans tank. If you have a half-full tank, the pigeage has more impact, and you get more extraction without meaning to." Burke-Gaffney says he's tasted a few 2012s with a dry finish. "That's why," says Lafon. "And by the way, remind Hew…" Hew Blair of J&B has promised him some grouse shooting, and Lafon is keen. "I've just been in Norway, shooting white grouse. They're fast."
Aloxe and Nuits
On to Aloxe, and Franck Follin-Arbelet. "We buy from him via Roy Richards [of Richards Walford, now part of Berry Bros & Rudd]," says Giles. "I'm pragmatic. I'll go through somebody else if I can get what customers want. We've shipped Lafon directly since before the 1980s; and Gagnard, too. We started with Follin-Arbelet with the '97 or '98 vintage. And it's a cold cellar."
It is cold; very. Ivy creeps down to the cellar floor, and when the wind gets up, there's a glimpse, in the square of daylight at the top of the steps, of tree branches thrashing in a sudden squall. The wines are less developed here, and even Franck Follin-Arbelet warms his glass in both hands before tasting.
His 2013 vintage will be another small one: Volnay, Savigny, and Beaune were hit badly by the July hail, which started in Aloxe and went down to Meursault. Franck lost about 30 percent. If 2012 worked out at 27 hectolitres per hectare overall, 2013 was 23hl/ha.
So far, though, Giles is pleased with 2013. He expected something leaner and meaner, with drier tannins-and then he rethinks. "I don't know why I expected that. But I'm pleasantly surprised."
Of course, he says, they could be saying they've only got two barrels of this, when actually they've got a bit more, "but I don't think they are. It'll be interesting to see what they say on the Côte de Nuits tomorrow."
"Brrr!" is what they're mostly saying on the Côte de Nuits. It's still gray, still spitting with rain, even colder, and they're looking anxiously ahead to the flowering. At Domaine Robert Chevillon, our first stop, Bertrand (who bears a more than passing resemblance to Berry Bros' Simon Berry) is ready with a taste of fresh, appetizing Passetoutgrains 2013: This plus coffee equals breakfast, he says. His story of 2013 is no easier than farther north: poor flowering, rot, rain everywhere, then a warm, dry harvest. He has a bit more-maybe one barrel more of some wines-than in 2012, but not much. Light extraction is the rule here: remontage in the morning, pigeage in the afternoon, and just 25 percent new oak for 18 months. To show us what we should be waiting for, he gives us two wines blind. The first is 2011 Pruliers, which we fail to guess. The second is 1994 St-Georges, truffley, rich, and long. And we don't guess this, either. France 2-UK 0.
Chambolle
Then to Chambolle-Musigny, and the creeper-clad Château de Chambolle of Jacques-Frédéric Mugnier, tucked into the pale eroded rocky slopes of the hills. "I hate tasting from steel tanks," Mugnier says as we taste the 2012s from steel tanks. "I find wines disjointed from tank, with a metallic taste, but it's probably psychological. I see metal; I taste metal. "But I'm confident of the 2012s.
They have the energy of a cold year and the rich texture of a warmer year. I can't think of any other vintage with such a combination. It was the earliest budbreak ever-there were leaves on the vines in March-but harvest began on September 20, which was average, and the duration of the growing season is a key point for Pinot.
"There was hail in Clos de la Maréchale and we lost two thirds of production there: We had two tanks, not full, instead of six. I was convinced that the effect of the hail would be green tannins, but it fell at the beginning of July, so there was no sugar in the grapes, and so there was no botrytis. The hail was dense, but the stones were small, so there was little impact on the wood, and even the leaves weren't too damaged-it was only the berries." There's no sign of greenness in Clos de la Maréchale or anywhere else: "I think 2012 is a gorgeous vintage," he says. "I try to keep it secret, though."
The 2013s, in barrel, are just starting the malo. "It was the latest vintage since 1984: October 5, and October 7 in Chambolle. There was a very narrow window for picking, especially in Chambolle, and it was difficult to decide on the date. A week before that, the grapes clearly weren't ripe, and they weren't developing very quickly, either. On October 5, a Saturday, we started in Clos de la Maréchale. In Chambolle, on Sunday at noon, the rot started, and you could see it developing during the day. We had to pick very quickly and on the right day. Two days later, and the result would have been different. We were concerned about the quality of the grapes in 2013, but we're very positively surprised by the wines. They're totally different from what we would have made 30 years ago. In 1984, they'd have been green and lean."
Quantities aren't that promising, though. There's a bit less Chambolle than in 2012, and a bit more Clos de la Maréchale. "The low yields in 2013 are the reason for the good quality. I'm not going to complain about low yields. I'd have been happy with higher yields in 2009, when I regret having done so much green-harvesting, but in 2013 it wasn't possible to ripen more grapes […]. I have learned that I can make good wine every year. I'm glad I can't control the weather."
Domaine Jacques-Frédéric Mugnier (to give it its correct name) was listed by Le Figaro in February as one of the five Burgundy domaines most in the sights of big-company buyers. And this is another conversation that erupts periodically as the pipette flickers to and fro: LVMH's purchase of Clos des Lambrays changes everything. What will happen to Burgundy?
Last of the family domaines?
LVMH is not the first big investor to move in: François Pinault bought Domaine Engel in 2006 for €13 million and renamed it Domaine Eugénie. Now LVMH has paid around €100 million for Clos des Lambrays, a figure that régisseur Thierry Brouin has described as "not excessive today." Frédéric Mugnier says, "They'll spend €3 on marketing for every €1 they spend in the vineyard. There'll be a change of style. It will have a big influence." Caroline Lestimé simply says that "family companies will end." Bruno Clair, our next stop, says that sort of valuation makes it impossible to pass a family company on to the next generation and pay 40 percent tax on it. "I'm the last generation to have a family domaine of grands crus."
There's no pleasure in having joined the luxury-goods market, only dismay. It will be all about image and branding now, they say; it will be like Champagne or Bordeaux. The other domaines in Le Figaro's list of top five targets are Domaine de la Romanée-Conti, Domaines des Comtes Lafon, Domaine Méo-Camuzet, and Domaine Jacques Prieur: all family-owned at the moment, but all presumably vulnerable to a tax regime merciless to family companies. For the moment, though, there is work to be done in the vineyards. Bruno Clair says it's difficult to know how much debudding to do this year: "In 2012, the flowering was poor, and I wished I'd debudded less."
Bruno is regarded as one of the great viticulturists of the Côte; his winemaker is not here today, thus depriving Bruno of their usual argument over which is better, Cazetiers or Clos St-Jacques. In any case, there's not that much of either in 2013: The harvest overall gave just 20 percent more than 2012 here.
Domaine Perrot-Minot, based in Morey-St-Denis
Vosne and Morey
On to Cécile Tremblay, where one would never guess that Cécile gave birth to a son just two days before. Everything is young here, except the vineyards: Cécile started her domaine in 2005, and Giles found her in soon after. She chooses her oak according to the appellation: Tronçais for the press wine of Chapelle Chambertin, Jupilles for others, a blend of forests for others again; and different coopers, too-Chassin, Atelier Centre France, Seguin Moreau. The wines are harmonious, aromatic; in 2013 she did no pigeage at all, and just one remontage. "The 2013s looked like the 2008s when we got the grapes in- there was the same acidity. But 2008 kept its malic acid; and 2013, at the end of the alcoholic fermentation, was all normal." She is pretty meticulous: In her halfhectare of Chambolle-Musigny Feusselottes, she did three tries over a week in 2013.
But quantities are big nowhere. At our last stop, Christophe Perrot-Minot, 2013 is slightly larger than 2012, but again, not a lot. J&B has shipped this domaine for three years; they're transparent, expressive wines made with light extraction. Fermentation is with whole bunches but with the central stalk removed to reduce tannins; oak flavors are shrunk into invisibility. It's the modern way: The terroir, with its gray skies, its spattering rain, its lush greenness, and its chilly Saints-even its erratic flowering-must be expressed. In 20 years' time, will we look back and see this as Burgundy's golden age, when domaines were individual, when branding didn't matter, when a fly on the wall was permitted, and before the luxury-goods companies took over? Can the Ice Saints be propitiated with handbags?