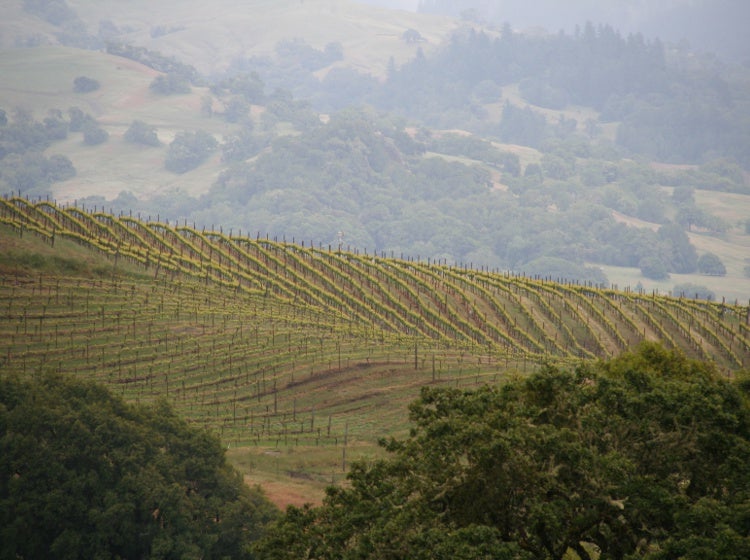 Wine journalists all know the kind of in-depth retrospective tastings winemakers usually put on for the press — verticals showing how a single wine plays out over a span of vintages.
More interesting to me is the evolution of a winemaker, from his early formation (as the French call it) to the path he ultimately adopts in his own vineyard and winery.
At a tasting hosted in June at New York's Per Se restaurant by Ted Lemon, founder of Sonoma winery Littorai, the selection of bottlings amounted to his autobiography in 34 glasses of wine, from a 1980 Domaine Dujac Echézeaux he helped make as an apprentice in Burgundy to the most recent Littorai release, a 2013 Vin Gris of Pinot Noir.
Lemon likes to say: "Winemakers should leave behind in the bottle no trace of their failings, but only the pure expression of the places where they have been."
It turns out he'd been to more places than I realized. The five flights of reds and whites also included a couple of wines from Oregon (he made Archery Summit's first two vintages) and some surprising Napa Valley wines — Cabernets from a stint at Howell Mountain Vineyards and a mix of varietals (Roussanne, Cabernet Sauvignon, etc) from Reverie winery on Diamond Mountain, where he's long been a consultant. A cherry-scented, earthy 2004 Reverie Barbera was rich and tobacco-y; the 1999 Howell Mountain Vineyards Cabernet Sauvignon was dark, mineral-tinged, and wonderfully balanced; and I especially liked the elegant, soft 1999 Reverie Diamond Mountain Cabernet.
As soon as Lemon established his own label in 1993, though, he embraced Pinot Noir and Chardonnay. Clearly Burgundy was a huge influence. He studied winemaking at the University of Bourgogne and became the winemaker at Domaine Guy Roulot in Meursault when he was only 24. A wine from his first vintage, 1982 Roulot Meursault Perrières, was still vibrant and lemony and seemed like a reference point for the six Littorai wines in the Chardonnay flight.
All were from vineyards that Lemon discovered in the coolest corners of Sonoma and Mendocino. (He adopted the ethos of terroir long before it had any real traction in America.) The standout for me was the round, lush, lemon and cream 2002 B.A. Thieriot, a Sonoma Coast vineyard he started using in 1997.
His best wines, though, were the two flights of Pinot Noir, especially the vintages from 1999 on. The 2000 Thieriot Vineyard Pinot, with its soaring bouquet and taste of cherries and bright red fruit, simply sang. The 2004 and 2003 Hirsch Vineyard were dark, intense, rich, with expansive warm fruit and deep, deep structure. Starting in the mid-2000s, the wines are more complex, their distinctions from one another more apparent.
None of these taste like copies of Burgundy. They're fruitier and plusher but have a Burgundian refinement and longevity that Lemon aspires to. He says he eventually realized that there can be no great American wine until we listen to sites and appreciate them for what they are.
It seems astonishing now that Lemon worried about selling his wines in the 1990s. He launched them when big, flamboyant cult Cabernets were becoming the new hot thing. Once again, he took inspiration from Burgundy. When Burgundians began to estate bottle instead of selling to négociants, they sold direct to restaurants. So did Lemon, and most of the tasters in the room at Per Se — chef-owner Thomas Keller was an early fan — were sommeliers who'd supported his wines. Today's demand shows just how much American taste has shifted.
Lemon, once obsessed with soil, now thinks of himself as a farmer with a wider view."In the 20th century we discovered the biology of soil," he says. "In the 21st century, we'll discover the complex biology of true terroir — it will make a revolution in the way wine is made."
I'm looking forward to the next installment in his autobiography.