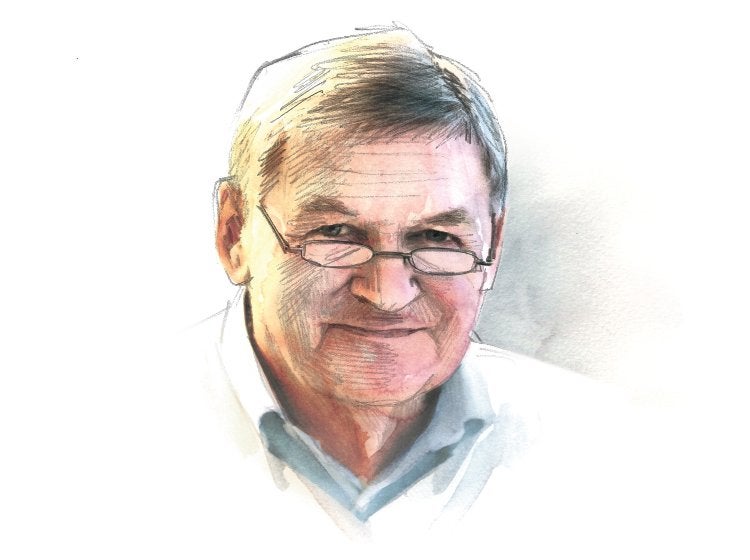 Yes, it's chauvinism. But there is a deeper explanation. Jean-Robert Pitte spells it out in his masterful Bordeaux/Bourgogne. Certainly wine is a product of terroir, but terroir itself belongs to the broader realm of culture. History, race, centuries of politics and trade, and taste in its broadest sense have resulted in the two sides of France occupying different spheres. Bordeaux looks out to sea and its customers beyond, growing vines of exotic provenance; Burgundy looks north and east, to Paris and the heart of Europe. Its vines originated on its doorstep.
The two sides of the Atlantic have different tastes, too. A wine grower in Pauillac said to me, smiling, as we talked about the 2014 harvest coming in, "Perhaps it will be the sort of vintage the English like." He meant medium-powered, more juicy than meaty, with fresh acidity and a tannic nip. It has been what the English have wanted, I suppose, since the days of funny little round sailing ships. Some 80 percent of the wine drunk at my London club is claret like this. As the chairman of the wine committee says, "We've always been a Left Bank club" (for 250 years, that is). Pomerol? We have a few bottles. Aren't we lucky our American friends are looking for something different? And aren't we lucky we weren't born in France?
I have always been flighty, I fear, whipping out corks with no noticeable loyalty. Yes, I have more Bordeaux in my cellar than any other wine; there's more of it, I love the taste, and it's relatively easy to keep track of — the château is such a convenient unit. But it's also true that my interest quotient rises when I see a wine I don't know (if, that is, I have reason to think it might be good).
Close-harmony Latour
I feel sorry for people who pursue perfection — especially when they think it can be found only in grands crus. Voltaire was right: Le mieux est l'ennemi du bien ("The best is the enemy of the good"). It is the recipe for missing half the fun in life. Teddy Roosevelt apparently agreed, if he said, as he is quoted, "Comparison is the thief of joy."
Or is he? On a nostalgic visit to Château Latour the other day, we tasted the property's three wines in a sequence designed to show each at its best and reveal their relationships. It worked perfectly. Allowing for the different styles of the vintages (they are all "classic"), the 2004 grand vin, the 2006 second wine, Les Forts de Latour, and the 2008 third wine, Pauillac de Latour, were a close-harmony trio. The Pauillac introduced the theme, the unique earth/iron/air flavors that only Latour achieves, more energetically than emphatically. Six years seemed to have opened the wine without compromising its freshness. Les Forts at eight years was more emphatic, a tenor with piquant high notes but a more sonorous roundness of tone, at I should say the very same stage of development. Clearly there was more intensity and excitement. But the tune was unmistakably the same. I could see a different role for it at the table — a more serious context, perhaps — but did I love it more?
It was the nose of the grand vin that stopped me before I began to taste it. It came surging from the glass while it was still on the table. The sequence of notes that the Pauillac had set out like the pianist starting a concerto swelled like the ranks of the orchestra joining in. Strings and woodwind, brass and bassoons at first in unison, then playing in intricate harmony. Tone, volume, emotion, and expression were different; the theme was the same.
Was the best the enemy of the others? Only in the sense that going back to them pointed out their relative lack of concentration. (They are the fruit of young vines.) You can play the scales like this in Burgundy, with a village wine, a premier and a grand cru from the same producer. Perhaps I am alone in finding so much intrigue and pleasure in the message a fine wine enunciates at whichever level.
What eventually separates them, of course, is the passage of time. The Pauillac will fade at perhaps 15 years, Les Forts at 20 or 25, but the grand vin will change into a higher gear and cruise effortlessly for decades. At a London dinner recently, a generous friend replayed a classic vintage comparison: Pichon-Lalande 1983 and 1982. The 1982 was as rich and round and robust as you would expect from this heroic vintage. The '83 was, as ever, almost a caricature of the Lalande style, leafy Merlot sublimated into an intense exotic perfume. As usual, preferences were divided. Some loved the piercing fragrance; I preferred the solid comfort of the '82.
The bonne bouche, though, and the reason I mention this delicious evening, was a bottle of Château Latour 1966. The '66 was always a charmer rather than a blockbuster. It was, incidentally, the first vintage of Les Forts de Latour — which was put on the market in 1972, "ready to drink" at six years.
I was moved to profound silence, nearly to tears, by this almost 50-year-old wine. Its nose was so sweet, its texture so fresh and gentle, its complexity endless — and its flavor so quintessentially Latour.
Châteauneuf to Cassis
What else has moved me since I last wrote? Does this fellow only ever drink claret? No, he explores the highways and byways — particularly, recently, of white wines from off the beaten track. From the south of France, for example, where there is little history of fine white wine.
Beaucastel's Roussanne Vieilles Vignes is hardly a new discovery. We drank the 1986 vintage at dinner at the château the evening when the Perrin brothers were named Decanter magazine's joint "Man of the Year." I wrote on my menu, "incredible; so fresh you still taste green herbs. Smells of sour plums; texture utterly suave. Unique." We went on to drink (with veal carpaccio and figs) the mighty Beaucastel Hommage à Jacques Perrin, the 2009 and magnums of the 2005. I was astonished, again, at their precision and freshness. Châteauneuf can produce clodhoppers; these are (male) dancers.
From Châteauneuf, I went on to Cassis, curious to visit the one Provençal appellation dedicated to white wine. Vineyards still lie at the heart of this little resort in its yacht-filled bay, sheltered by massive cliffs. They grow (in various proportions) Marsanne for body, Ugni Blanc and Clairette for freshness, and sometimes the late-ripening Bourboulenc, sometimes Rolle (the alias of Vermentino) for a lively lift. Freshness (which is what the fish eaters in the port are after) they achieve quite easily. But the possibilities of development are there, too — as I saw in the white wine of the deeply red Château de Pibarnon along the coast to the east in Bandol. A 2010 (one third Bourboulenc) was in the moelleux stage, soft and mellow. A coup de coeur? Not quite yet — but certainly one to follow.
Fairies' gold
My Provençal white coup de coeur came unexpectedly in a village known as much for its film stars (Mr & Mrs Brad Pitt) as its wine. Correns claims to be the first bio (organic) commune in France — largely, admits the mayor, because the farmers couldn't afford the produits others spray on their vines.
Correns lies up in the pine-green hills known as La Provence Verte, where the silvery River Argens winds among limestone outcrops — a climber's heaven. The altitude is high enough here for cool nights, and water is not lacking; the village has 17 sparkling fountains. They grow Vermentino (here known as Rolle) in a limestone vineyard haunted, in local folklore, by fairies. L'Or des Fées is the sort of wine I am always looking for in the south — something that combines freshness and the scent the French call fleurs blanches with depth and intensity, developing, in three or four years, the precious quality of moelleux. Dry (bone-dry) though it is, foie gras would match it well. The limestone massif of La Clape in the Languedoc can make similar wine — also of Rolle/Vermentino. I love it.
English bubbly
I am no chauvinist. London may be where I first opened my eyes, but this has nothing to do with the coup de coeur that has excited me most this year. I call it "bubbly." Less romantic souls call it "English fizz." It is the sparkling wine of southern England — and it will cause Champagne the first jealousy of its long life. Prepare to hear more, much more, about Ridgeview, Chapel Down, Digby, Nyetimber, Hattingley Valley, Coates & Seely, Windsor Park, Wyfold, Gusbourne, Balfour, Camel Valley… Watch this space.