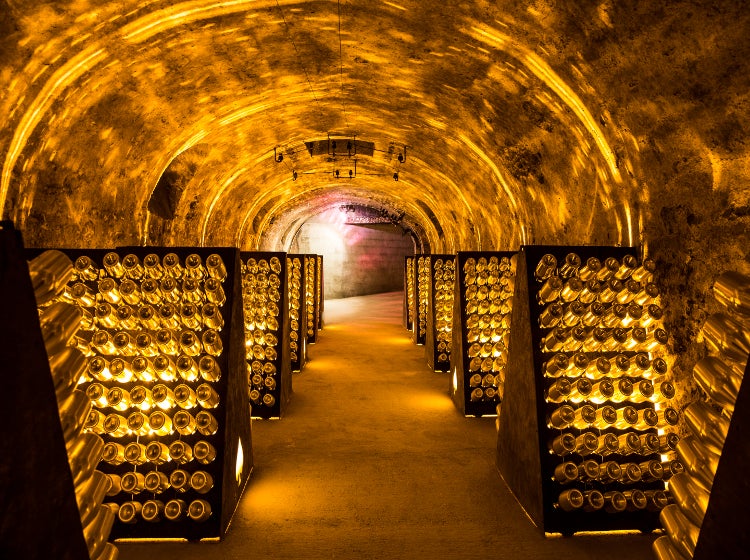 The Cattier family have been Champagne growers for 11 generations, based in the village of Rilly-la-Montagne on the Montagne de Reims. Drawing on more than 250 years of experience in the region, they challenged themselves to produce a cuvée of the highest possible quality. The first bottles of Champagne Armand de Brignac left the cellars in 2006.
Despite its apparently ubiquitous presence in the luxury nightclub arena and Jay Z videos, the production of Armand de Brignac is just 100,000 bottles per year —a mere drop in the ocean of Champagne's annual 300 million bottles. The estate is proud of its small volumes and dedication to high quality with minimal intervention. From harvest, to pressing, riddling, disgorging, and labeling, each step of producing a bottle of Armand de Brignac is handled by a team of 14 people.
Top-quality Chardonnay, Pinot Noir, and Pinot Meunier are sourced from the best villages of Champagne, including Avize, Verzenay, Bouzy, Rilly-la-Montagne, Chigny-les-Roses, and Ludes. Their selective policy on juice extraction means only the first portion of the gentle cuvée press is used for Armand de Brignac, ensuring pristinely pure fruit flavors and very high acidity.
Five different cuvées are produced through fine-tuned blends of grape varieties, villages, and vintages: Armand de Brignac Gold Brut (which is the bulk of theproduction at about 70,000 bottles per year), Rosé (considered a pair with the Gold in terms of approachability and style with a dosage of 9g/l and 8.5g/ lrespectively), Blanc de Blancs (the Chardonnay sourced equally from the Côtedes Blancs and the Montagne de Reims), Blanc de Noirs A2 (the most limited with only 2,333 bottles per year) and Demi-Sec (tiny production and perfectly balanced with vital acidity and 33g/l dosage).
Last week saw the launch in London of the latest Blanc de Noirs Assemblage Two (A2), which marks an important turning point for the brand. The 100% Pinot Noir, from a blend of grand and premier cru villages across the 2008, 2009, and 2010 vintages, is perhaps the most intense in the range: dry (it has the lowest dosage of all the cuvees, at 5g/l) and nuanced, its layers of honeysuckle, peach, and peppermint add interesting complexity. It is serious and seriously good, if not wildly expensive. But with such small volumes there is sufficient global demand to justify it. With this latest cuvée, the intention is to reposition Armand de Brignac from nightclubs to restaurants, encouraging wine connoisseurs to appreciate the meticulous quality and seamless blending in each bottle.
Available at Harrods and Berry Bros and Rudd 750ml RRP £675