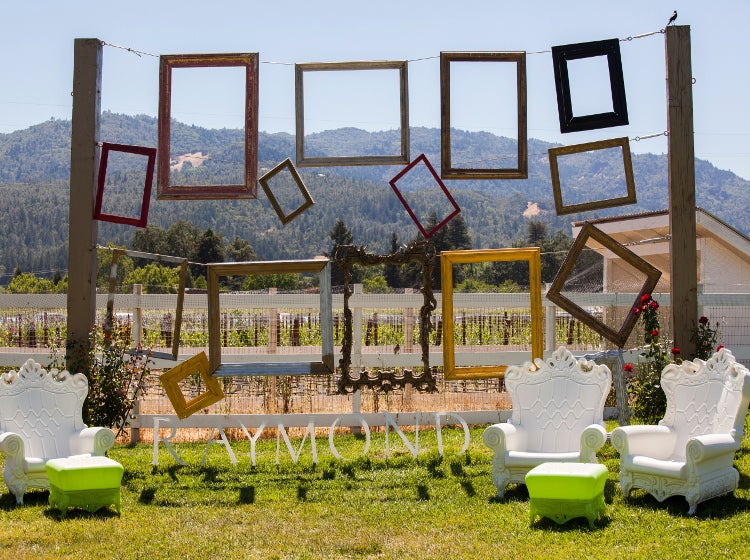 On June 1, 2013, 1,000 auction goers-including me-were all sitting in a huge air-conditioned tent on the lawn of Napa Valley's Meadowood Resort, for the glamorous live sale at Auction Napa Valley 2013. The casually dressed attendees were bidding serious money on 46 lots featuring packages of lavish trips, sexy sports cars, even courtside seats at a Shanghai Sharks game in China. All of the lots also included, of course, some of the Valley's most expensive, hard-to-obtain wines.
That was the spending climax of the wine-soaked event, held from May 31 to June 2, 2013. It started with vintner-hosted dinners on Thursday, followed by a 100-lot barrel auction and 170-lot e-auction at Raymond Winery on Friday, a $1,000-a-ticket raffle for an Audi R8 Spyder, and Saturday's live auction. Put on by the Napa Valley Vintners, this year's weekend cost $2,500 to attend and raised a record-breaking $16.9 million for three dozen Napa charities. The live auction's top single bid was $800,000, for Lot #20, Harlan Estate's "The Works." The package for eight people included a two-night stay at Meadowood and a first-ever comprehensive tasting of all 20 vintages (1990-2009) of Harlan's Cabernet. The winners were Yucca and Gary Rieschel, founder of Shanghaibased Qiming Venture Partners, who was wearing shorts and pink socks.
Attendees at the first Napa Valley Auction in 1981, when temperatures soared and ice had to be fetched from Sonoma to keep the beer, wine, and water cool
As we all chowed down on a post-auction Southern-style dinner of fried chicken, ribs, soy-glazed okra, and more at long tables under an open tent, auction co-chair Garen Staglin announced the final dollar tally to cheers.
Remembering the first time
I was comparing the whole event to my memories of the valley's very first auction, held at Meadowood in 1981, when it was called the Napa Valley Wine Auction.
Back then, the temperature under a much smaller white tent soared to 105°F (41°C). To keep cool while banging down the gavel, auctioneer Michael Broadbent MW rolled up his trousers and immersed his bare feet in a tub of ice and water, just visible because the white sheet draped on the table in front of him was a little short. Purple balloons arranged to look like giant grape clusters hanging from the tent ceiling had been only partially filled with air to make sure they wouldn't expand in the heat and pop.
And instead of sipping the valley's great Cabernets, everyone grabbed cold bottles of water stashed in ice-packed buckets and barrels. Key organizer Molly Chappellet, owner of Chappellet Winery, reminded me recently that the ice kept melting and they ran out of water, so volunteers were hurriedly dispatched to shops as far away as Santa Rosa in Sonoma to bring back more ice, water, and even (gasp!) beer.
The numbers, always the main goal at an auction, were considerably smaller. The 260 attendees paid $100 each to bid on 44 lots of wines, including six magnums of the nowfamous 1974 Heitz Cellars Martha's Vineyard Cabernet. The Chappellets were jubilant that a jeroboam of their 1969 Cabernet pulled in $6,000, said Molly Chappellet. The highest bid, $24,000, was for a case of the then-unnamed Robert Mondavi/Baron Philippe de Rothschild Cabernet that became the first vintage of Opus One.
The auction's final take of $324,142 was considered to be a huge success, according to Stacey Dolan Capitani, current managing director of marketing and promotions for Napa Valley Vintners.
The contrast between the two auctions shows just how much the valley has changed over the past 30-odd years. In 1981, it was a very different place, with no Ferraris or private jets, more innocence, less money, and few international visitors.
Bidders at the first auction, conducted by Michael Broadbent MW, which managed to raise an impressive total of $324,142 from the sale of Napa wines alone
Vineyard land was a mere $15,000 to $30,000 an acre, and despite the electrifying results of the 1976 Paris Tasting and their effect even on the vintners themselves, the four dozen or so winemakers hadn't yet quite convinced the world that their own country made wines that were as good as those from France. The valley had not yet become a mecca for the world's wine lovers.
Since then the number of Napa Valley Vintner members has climbed to more than 470, an acre of vines costs as much as $300,000, visitors hit the 3 million a year mark, and in 2012, the Chinese gave the valley Geographic Indication status, the first time it has granted a GI to any wine region outside its own borders.
The Mondavi factor
Not surprisingly, the backstory of the first auction involves the ultimate Napa wine cheerleader Robert Mondavi. He hatched the idea in 1979 with Margrit Biever (soon to be his wife) and California socialite (and later, humanitarian activist) Pat Montandon, believing that this would "advance the unique image" of the Napa Valley and bring attention to its wines, as well as raising money for two local hospitals.
"Bob hoped it would be like the Hospices de Beaune," recalls Martha May, head of the food committee and co-owner of Martha's Vineyard, immortalized as the source of Heitz Cellars' iconic Cabernet. "But we really didn't know what we were doing." Since the budget was slim, local volunteers did everything themselves. Chappellet says she soaked grape vines in her hot tub so her committee could weave them into the picnic baskets that held the auction lunch.
"One of the big things we didn't anticipate was how it would energize the spirit of the community, by bringing everyone together," Bill Harlan told me as we sipped wine at this year's auction.
Some of the elements of that first auction are still part of the event today-though on a much grander scale. For 2013's barrel auction and e-auction, spread out in buildings and tents at Raymond Winery, now owned by the flamboyant Jean-Charles Boisset, I needed a foldout map. I wove my way around wine tastings, restaurant purveyors, and preview displays of live auction lots intended to spark interest. At one, for the Yao Family Wines' Lot #43, a looming full-size cardboard cutout of Yao Ming stood next to a photograph of the Great Wall of China. The next day, his wines and a trip to Shanghai and Beijing brought $240,000.
The stunning success of this year's auction owes much to the Staglin family, owners of Staglin Vineyards and auction co-chairs, who founded their winery in Rutherford in 1985. In February, over lunch at Redd restaurant in Yountville, Garen and his daughter Shannon described a pretty relentless two-and-a-half year campaign. "We had to build a syndicate of bidders," Garen Staglin explained, sketching out his three-phase plan.
The Staglins used vintner-hosted dinners in Texas, Shanghai, Hong Kong, New York, and Los Angeles to persuade potential bidders to commit to spending big and reached out to people who hadn't attended for the past few years with personal appeals. They persuaded one to bring his whole family to the auction to celebrate his 80th birthday. "We'll go into the tent knowing who is going to bid and how much they're willing to pay," Garen Staglin had predicted.
Another "phase" was insuring that the lots were "special enough." The first Napa Valley Auction was focused completely on wine, offering bottles donated by the 44 wineries that belonged to the fledgling Napa Valley Vintners. The idea of including lifestyle elements-travel, flashy cars, and so on-began only in the 1990s, said Capitani.
The Staglins also attended other important auctions, not just to meet and cultivate possible bidders, but also to purchase interesting lots that could be combined with wines into unique packages to create, in Garen Staglin's words, "buzz and irrational generosity" at this year's live sale.
Cajoling strategy
As I watched three auctioneers alternate in cajoling enormous bids from the enthusiastic audience, it seemed that the strategy was working even better than expected. The Staglins' own offering, Lot #31, an epic golf holiday in Scotland and custom Taylormade golf clubs, plus double magnums of Staglin Cabernets, brought $400,000.
The appeal of Lot #45 for recent college grad Lloyd Rude from Houston was the 2006 Aston Martin that was thrown in with wines from three wineries. He paid $280,000. When two battling bidders pushed the price of Dana Estates winery's lot, a lavish seven-day trip to South Korea, to $510,000, the winery's owner Lee Hi-Sang doubled the take by offering a duplicate lot to the second bidder. "It's our first time to present our wines at this auction," he said. "We want to support the community."
Personally, I would have liked Dalle Valle Vineyards' trip to Japan, which included an introduction to the Way of Tea with a Buddhist priest in Kyoto, but alas, Red Adams of Louisiana, celebrating his 80th birthday at the auction, nabbed it for $340,000. At every possible moment, signs and people reminded you of just where all the money you paid out would go, so there were also plenty of tear-jerk moments, like cute children handing out homemade paper flowers and on-stage emotional appeals.
That clear connection to the beneficiaries was the third part of the Staglins' plan. To soften hearts and loosen purse strings for the final auction lot of the day, called "Marvels to Miracles," which offered nothing other than the chance to be generous, the Nashville singer-songwriter Billy Dean performed an original song, "Walk with me Napa Valley." That brought in another $3.7 million. Only a cynical churl could quibble or complain about such spectacular charitable results for worthy causes. But this year's lavish event, though totally enjoyable and successful, was so slickly orchestrated that it made part of me long for some of the authenticity and innocence of that first Napa Valley auction long ago.
As Gary Rieschel and I relaxed on the grass outside the tent after the auction, he waxed nostalgic as well. "I first came to the Napa Valley in 1977," he recalled. "Back then I was a kid with long hair and not much money, but Robert Mondavi still spent an extraordinary hour with me. I've never forgotten his generosity of spirit."