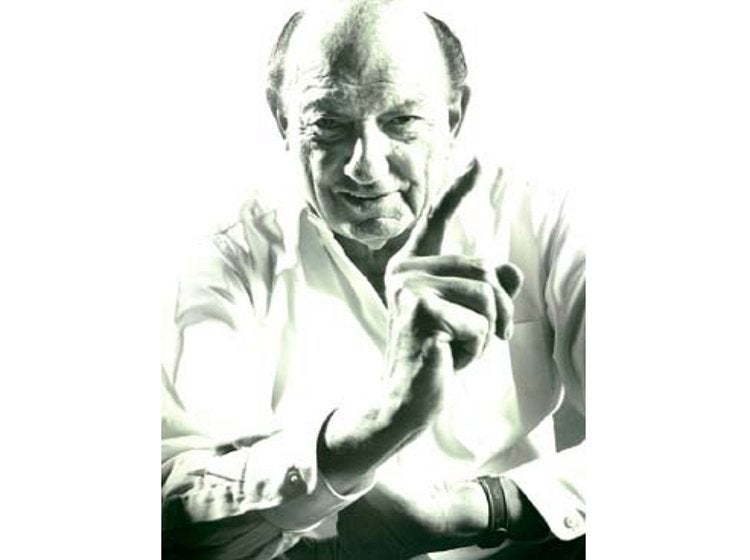 The bold and innovative head of champagne house Laurent -perrier led his family firm with principles drawn from his experiences in the French resistance
by Michael Edwards
Bernard de Nonancourt, who died on October 29, 2010, at the age of 90, was one of the greats of Champagne-"the last of the Mohicans" who shaped the postwar Champagne trade before the corporate world of today. In 1949, he took charge of the ailing family firm of Laurent- Perrier. Annual sales were then a modest 800,000 bottles-a hundredth of what they would become by the year 2000, making L-P the third most important Champagne house. This phenomenal success owed everything to the courage, entrepreneurial drive, and vision of BN, as he was affectionately known to his colleagues, who were inspired to believe that anything was possible.
The boss had the right genes. The Nonancourt family were patriots from Lorraine. BN's father was a World War I hero who had been badly wounded in the conflict. The voluntary nurse who cared for him was Marie-Louise Lanson of the dynasty of Rémois Champagne merchants. The couple married and started a family. Marie-Louise was widowed in 1924 and never remarried. All her energies and much of her capital later went into shoring up Laurent- Perrier, which she had bought in 1938 for her sons. Maurice, the eldest, was intended to head the firm. But as a hunted Resistance leader in the early years of World War II, he was arrested and sent to a German concentration camp, where he fell ill and was killed.
Feeling the family's loss and France's humiliation keenly, BN redoubled his efforts to join the Resistance. In late 1942, he crossed the line into the unoccupied zone (swimming at night across the River Creuse) and was put in touch with a Grenoble priest, Abbé Pierre Groué. He arranged for de Nonancourt to get into the Jeunesse et Montagne Maquis. Threatened with arrest, de Nonancourt switched to the Vercors Maquis, where he learned that to survive in situations of great danger, you had to surround yourself with comrades you could completely rely on-a life lesson he never forgot. He later joined the 2nd Armored Division of General Leclerc. As tank commander Sergeant de Nonancourt, he took part in the capture of Berchtesgaden, where his troops blasted the door to Hitler's eyrie at the Eagle's Nest. Inside, they found, among 500,000 bottles of the finest Bordeaux and Burgundy, a large cache of the legendary Champagne Salon 1928-a wine de Nonancourt had known well while working as an apprentice at Delamotte, the bijou house at Le Mesnil long associated with Lanson.
Drawing on his Resistance experience, de Nonancourt was always careful choosing colleagues to rebuild Laurent-Perrier after World War II. Despite being born into the noblesse and the Champagne establishment, he engagingly saw himself at L-P as a new boy outside the magic circle of the grandes marques. So, he set the bar very high and proved himself a courageous innovator. In a bold departure from convention, BN and Edouard Leclerc, his great chef de cave of the 1950s, created a multivintage prestige cuvée,
Grand Siècle. The wine, launched in 1959, came in a replica of a 17th-century bottle, celebrating the golden age of Louis XIV. BN believed that blending was what the Champenois did best, in this case by an assemblage of three fine vintages. Certainly, well into the first years of the 21st century Grand Siècle was one of the very best Champagnes. Alain Terrier, a Bordelais who joined the house in 1975, was the most creative and influential of BN's chefs de caves during his 30 years. He developed the hugely successful and innovative L-P Rosé, made by the saignée method of extracting color from the skins of Pinot Noir. L-P's Ultra Brut (non-dosé) cuvée introduced in 1981 set the trend for bone-dry Champagne.
The last word about BN should go to his longest-serving colleague, Bernard de la Giraudière. His association with the great man began in 1967, when, as a former broadcaster with the French section of the BBC, he was recruited by Laurent-Perrier to head the export department. He described BN as "a man so full of enthusiasm that you could not resist believing every word he said, and he made people work beyond what they believed to be their limits. He himself worked like a Trojan, but when I look back, I remember with great joy all that hard work, those long hours, those endless trips worldwide. We felt as if it had been a boy scout's game. With hindsight, he would have made a very successful politician, as, don't we know, promises are only binding to those who listen to them."
People listened to BN. Like many great men, he exuded simplicity and a gift for friendship.