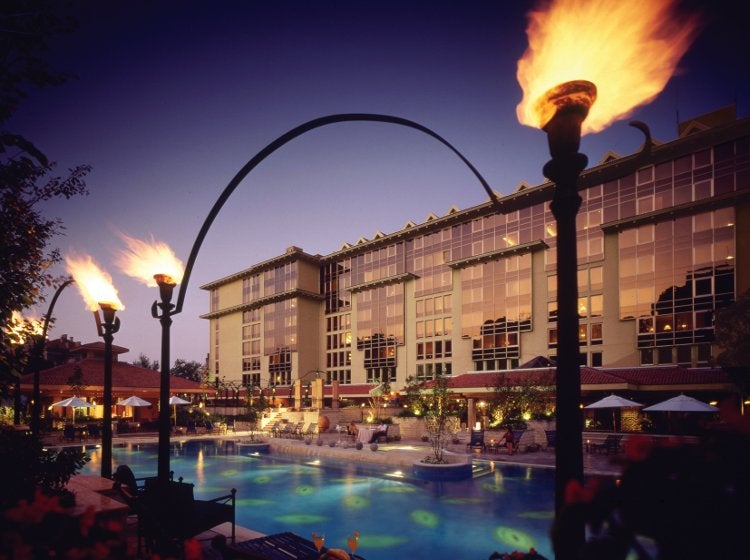 Grand Hyatt Istanbul
The Grand Hyatt Istanbul is located in the Taksim neighbourhood, an area also referred to as the epicentre of modern Istanbul. A short walk from cultural must-sees such as Topkapi Palace and Hagia Sophia. Dining options at the hotel include a Mezzanine Lounge and Bar where coffees and pastries are their forte, the Library Bar where whisky is the drink of choice and the poolside eatery, Gazebo. The main restaurant, 34, serves Turkish and Mediterranean food: from grilled halloumi cheese with smoked aubergine; classic Turkish lentil soup with chilli; pasta dishes such as Spaghetti Vongole; Urfa Kebab; and grilled octopus with lemon and oregano dressing. The wine list is notable; showcasing a great range of locally produced Turkish wines, including a 2008 Corvus Vineyards sweet wine, as well as better known European wines such as 2002 Lafite, and a 1997 Villa Le Prata Brunello di Montalcino.
Harbuye Mh., Taskisla Cd, 34437 Istanbul, Turkey; +90 212 368 1234; www.istanbul.grand.hyatt.com
Ibrahim Pasha
Located in the historical Sultanahmet district of Istanbul, Ibrahim Pasha is a hotel that has effectively combined traditional Ottoman fashion with thoughtful modern touches, creating an overall muted version of the lavish Ottoman style keeping the hotel fresh and stylish. The roof terrace is ideal for relaxing and gazing out over the magnificent views of the Sea of Marmara and the Blue Mosque. Despite having no in-house restaurant, Ibrahim Pasha serves a complimentary breakfast of fresh fruit, homemade pastries, breads and other fine Turkish dishes. The roof terrace does have a bar for guests to enjoy and there is a small selection of locally sourced wines available, including a red "Antik" wine. The selection of spirits covers all the bases from JW Red Scotch Whisky to Glenmorangie Malt Whisky, from Campari to Turksh Tekirdag Rakisi.
Binbirdirek Mh., Terzihane Sk No:7, Istanbul, Turkey; +90 212 518 0394; www.ibrahimpasha.com
Kybele Hotel
Another hotel found in the 'old city', Kybele Hotel, prides itself on how accessible all of Istanbul's key historical landmarks are from the hotel, including Aya Sofia, the Blue Mosque, Topkapi Palace, the Grand Bazaar and the famous Istanbul spice market.
The hotel's exterior is gilded peacock blue, and the interior is all rich reds, optical illusory patterns, meticulous mosaics and clusters of glistening coloured lights hanging from ceilings – enough to fool you into believing you've stepped back to the opulent Ottoman times. The hotel's restaurant serves some of the most authentic Turkish cuisine in the city, highlights include mücver (fried zucchini pancakes), Sigara Börek (fried filo pastry rolls stuffed with cheese), köfte (traditional Turkish meatballs), Ali Nazik (kebab served on aubergine puree with yoghurt and garlic) and traditional Baklava (sweet Turkish pastries). There is a small range of exclusively Turkish wines to choose from, and plenty of spirits and beers, including Hennessy V.S. cognac, and Johnny Walker Black Whisky.
Yerebatan Caddesi, 35 Sultanahmet, 34410, Istanbul, Turkey; +90 212 511 7766; www.kybelehotel.com
Pera Palace Hotel Jumeirah
With commanding views of the Golden Horn – an estuary in the Bosphorus – Pera Palace Hotel Jumeirah is located in Tepebasi neighbourhood and has Istanbul's key cultural and social sites on its door step. Built in 1892, Pera Palace is officially Istanbul's oldest European hotel, and pays tribute to its illustrious past guests by naming rooms after them, for example there is the Ernest Hemingway suite, and the King Edward VIII Presidential Suite. Additionally, one of the five restaurants and bars, Agatha, is a restaurant named after the famous novelist, Agatha Christie, and serves French, Turkish and Italian classics, such as beef carpaccio with aioli sauce, homemade veggie pickles and balsamic caviar; mixed beef kebab with pita bread, yoghurt and tomato sauce; and morel risotto with asparagus and black truffle. Other dining options include the Kubbeli Saloon Tea Lounge where both tea and simple dishes such as smoked salmon quiche or margarita pizza are available. Orient Bar serves a great range of wines, spirits and beers, including Lagavulin Single Malt, and Hennessy XO Cognac, and the sister eatery, Orient Terrace, which offers fantastic views of the Golden Horn as well as the stately exterior of the Pera Palace, serves small international dishes from Salmon tataki, to Shrimps tempura. The French inspired Patisserie de Pera is where guests can go to enjoy a charming setting and rich, indulgent homemade chocolates and pastries.
Evliya Çelebi Mh., Mesrutiyet Cd No:98, 80050 Istanbul, Turkey; +90 212 377 4000; www.jumeirah.com
Sumahan on the water
Once an Ottoman distillery producing the key ingredient for the famous tipple of that time, Raki, "Sumahan on the water" is now one of Istanbul's most appealing boutique hotels. Perched on the edge of the mighty Bosphorus, the modern feel of the hotel was conceived by architects Mark and Nedret Butler, who utilised the industrial feel of the building and transformed it using primarily wood, marble, steel and brick. The interior design was done by Yasa Butler, who cleverly used simple contemporary furnishings, or similar muted shades, to create a luxurious hotel led by design. When it comes to dining at Sumahan on the water, there is no other place to be than on the water's edge at Tapasuma looking out at the vast Bosphorus, enjoying authentic Turkish and Mediterranean dishes such as stuffed artichoke with herb rice, stuffed vine leaves, and homemade Börek (stuffed filo parcel) with anchovy. Clearly a bit of a theme in restaurants across the cultural capital of Turkey, the wine list has a great showing of locally produced wines, including wines from Cappadocia, central Anatolia and Trakya-Thrace. There are also the odd European showings, such as a Dom Perignon, and a Deor Prosecco from Italy.
Çengelköy Mh., Kuleli Cd No:51, 34684 Istanbul, Turkey; +90 216 422 8000; www.sumahan.com
The House Hotel
With no less than four outposts – Galatasaray, Karaköy, Nisantasi, Bosphorus – in Turkey's largest city, The House Hotel Collection is a reliable choice for the judicious traveller. An extension on the popular House Cafe chain in the city, The House Hotel Collection – from business partners Canan Özdemir and Ferit Baltacioglu – opened their first hotel, in Galatasaray in 2007. Within two years two more properties opened, and in the summer of 2013 the last in the quad opened, in the upcoming neighbourhood of Karaköy. The Nisantasi hotel is our top choice, but the affluent surrounding area is one of Istanbul's most fashionable, and is where Istanbul's more expensive shopping street, Abdi Ipekci Caddesi, is found. The Library Lounge in the House Hotel Nisantasi station is where guests can go to enjoy all-day dining of international, French and Turkish influence. The wine list has some local producers, but also some French imports, including
Abdi Ipekçi Cd. No:34 Nisantasi 34367 Istanbul, Turkey; +90 (212) 224 59 99; www.thehousehotel.com
Hotel Troya Balat
Over a century old and a former Greek-Ottoman house is now one of Istanbul's best kept secrets. Hotel Troya Balat is set in a lesser explored area of the old city in Fener which was once home to much of the city's wealthy Ottoman administrators. The hotel's restaurant serves fresh and traditional Greek and Turkish dishes, including Greek salad, calamari in white wine and Greek shrimp casserole. The wine list is generally made up of Turkish, Greek and French wines, including local wines such as Turkish red wine like Kavaklidere Prestige Bogazkere, and Tsantali Kormilitsa white wine from Greece, and the traditional spirits including Raki and Greece's famous, Ouzo.
Yavuz Sultan Selim Mh., Dr. Sadik Ahmet Cd No:12, 34087 Fatih, Turkey; +90 212 531 4858; www.troyahotelbalat.com