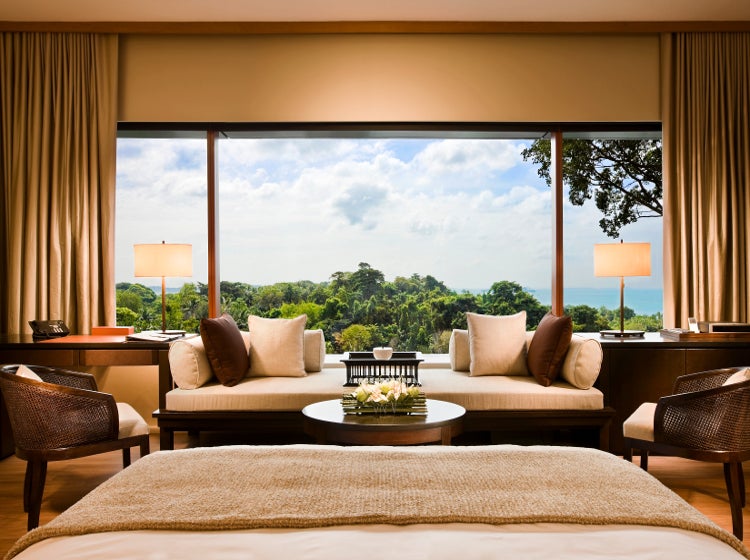 Capella Singapore
A romantic colonial building set atop a verdant rainforest, Capella Hotel Singapore, provides visitors with a stay in utmost luxury. An award-winning hotel that has won 4 prestigious accolades in the last year, including the 2013 "Best Hotel Experience" from Singapore Experience Awards and a "Five Star Hotel" and "Five Star Spa" rating from Forbes. With plenty of options for dining, guests can refuel at one of the three restaurants, the first being Cassia. Headed by celebrated Hong Kong chef, Andre Fu, Cassia offers fine Cantonese cuisine, including authentic, tasty dim sum. The second eatery is The Knolls where Mediterranean fare is their bag, and dishes range from Seafood Ravioli to Slow Cooked Wagyu Beef Cheek . The wine list at The Knolls is lengthy with great names such as 2005 Riesling from Georg Breuer, and a Quinta Do Vale Meao Meandro 2010. Bob's Bar is the informal spot where guests can enjoy smaller bites alongside an array of classic cocktails.
Singapore 098297; +65 6377 8888; www.capellahotels.com
Mövenpick Heritage Hotel Sentosa
Housed in what was once a British Army base is one of Singpaore's most luxurious hotels, the Mövenpick Heritage Hotel Sentosa. The first opening of the hotel consisted of just the 'Contemporary Wing' back in 2011, but was followed by the more recent opening of the 'Heritage Wing.' The Heritage Wing is inside a vestige of postcolonial architecture dating back to the 1940s. The interior of the wing has stayed true to the history of the building, but has been finished with essential modern furnishings.
When it comes to dining, the Mövenpick Heritage Hotel Sentosa has got it sussed. The flagship dining spot is Tablescape where guests can dig into tasty dishes of European and Asian influence. If guests are looking for a liquid lunch, the hotel has an impressive whisky bar called the World of Whisky, where more than 250 of the finest and rarest whiskies can be found. To line the stomach, the World of Whisky serves light tapas dishes throughout the day. There are whisky dinners for those interested in food and drink pairings and there is even the option of a cigar and whisky pairing. For lighter bites, pastries and sweets, guests can dine in The Galleria.
23 Beach View, 098679 Sentosa, Singapore; +65 6818 3388; www.movenpick.com
PARKROYAL on Pickering
Opening its doors in 2013, PARKROYAL on Pickering, has become one of Singapore's most talked about hotels. Conveniently located around the corner from the Central Business District – Hong Lim Park – and bustling Chinatown, the hotel is in perfectly situated to suit travellers of all dispositions. The hotel was built by celebrated architects, WOHA, who came up with the innovative concept of a 'hotel-in-a-garden' and decorated the hotel with verdant gardens, gushing waterfalls and wall-climbing plants all inspired by the rice-paddy fields of Bali.
The hotel has one restaurant – Lime – and one bar – Lime Bar – where local cuisine prevails and creative cocktails are king. As is often the case in hotel restaurants in Singapore, despite specialising in local delicacies, Lime restaurant also dabbles in international cuisine to suit the fussy globetrotter. Wine at both the restaurant and the bar is distinguished showcasing great bottles such as Piper Heidsieck Brut NV, 2011 Schloss Schonborn Riesling Spatlese Erbacher Marcobrunn and a 2009 Kaesler Old Bastard Shiraz.
3 Upper Pickering Street, Singapore 058289; +65 6809 8888; www.parkroyalhotels.com
Singapore Marriott Hotel
First opening in 1995, Singapore's Marriott Hotel, has long been one of the most central and stylish hotels in the city. Reopening after a S$35 million refurbishment in April 2012, the hotel has continued to receive praise as a highly luxurious hotel. The colossal lobby provides a dramatic entrance to the hotel and sets the scene for what's to come. For food, guests can choose from five different options within the compound: from the informal Marriott cafe, Crossroads Cafe, Java+, and the Pool Grill. The more special dining option is the Wan Hao Chinese Restaurant, where classic dishes such as Peking Duck and Dim Sum are perfectly executed. For those more concerned with the wines on offer, don't fret, the selection is exceptional. From a vertical of Yquem (1990 through to 1996) to a 1971 DRC or a bottle of 1996 Poderi Aldo Conterno Barolo; the wines are the Marriott are nothing short of spectacular.
320 Orchard Road, Singapore, 238865; +65 6735 5800; www.marriott.com
New Majestic Hotel
The inaugural hotel from hotelier Loh Lik Peng, the New Majestic Hotel in Chinatown, is the first design hotel to open in the Singapore. Incorporating colonial furnishings with modern design, the New Majsetic Hotel is a boutique hotel option for the more curious traveller. To decorate the hotel, Peng commissioned nine local emerging Singaporean artists to create pieces of work to fill the space, including works from Andre Tan, Lee Meiling and Tay Bee Aye. The artworks range from colour-popping pop art pieces, to Eastern-inspired murals. There are five design concept rooms which have been personally designed by professional creatives; Graphic Designer, Theseus Chan, from bi-annual arts magazine, Werk, designed the room 'Work,' a room made completely from plywood that was inspired by the idea of 'living in a box.' Another room is from Daniel Boey, a Fashion Show Producer, who designed the room 'The Pussy Parlour' that is awash with fuschia and turquoise touches, opulent chandeliers, a brass bed and neon lights.
The Majestic Restaurant serves up modern Chinese cuisine and has won several awards for its cuisine. The man behind the menu, Yong Bing Ngen, skilfully adds French influences to traditional Chinese dishes. Think peking duck served with pan fried spiced foie gras; braised live lobster in a creamy milk and lime sauce; and grilled rack of lamb in Chinese honey accompanied with pan fried carrot cake. To drink, guests can peruse the lengthy wine list showing great references such as a 2006 Puligny Montrachet, a 2009 Trinity Hill Syrah and 2002 Epernay Dom Pérignon. There is also a small selection of Chinese wines, including one of China's most renowned rice wines, Wu Liang Ye.
31-37 Bukit Pasoh Road, Singapore, 089845; +65 6511 4700; www.newmajestichotel.com
The Fullerton Hotel
Named after the first Governor of the Straits Settlements, Robert Fullerton, The Fullerton Hotel was once the general post office, The Exchange, and the Chamber of Commerce. Built in 1928, the building underwent a drastic renovation in 2001 that cost S$400 million, and became what is now known as The Fullerton Hotel. The interior of the hotel was redesigned by designers, Hirsch Bedner andAssociates, who designed a sleek and modern interior. In respect of the importance of colonial Palladian architecture in telling Singapore's history, the hotel exterior has been renovated rather than redesigned. The Fullerton Heritage Gallery opened in 2010 inside the hotel and is an ongoing exhibition of Singapore's rich culture. The hotel has been showered with countless accolades, recent ones include Conde Nast Traveler USA, Gold List 2005-2010 & 2013 – Amongst Top 510 World's Best Hotels and Resorts and Top Rated Hotel in Singapore in 2013; Conde Nast Traveler ISA, Readers' Choice Awards (2004-2013), Tenth Best Hotel in Southeast Asia in 2013; Conde Nast Traveler UK, Readers' Travel Awards (2012 & 2013) – Top 20 Hotels in Asia & the Indian Subcontinent; The Asia Pacific Hotel Awards 2013, Best Hotel Architecture; and a four star rating from Forbes Travel Guide 2013.
The hotel has five restaurants, bars and lounges for guests to enjoy, the first of which is the Town Restaurant where brunch, buffets and a mix of local and international dishes can be found. Jade Restaurant serves Chinese cuisine, including excellent Dim Sum such as Steamed Char Siew Pau and Poached Shrimp Wanton with Chilli Vinegar Dressing. The Lighthouse Restaurant and Rooftop Bar offer guests Authentic Italian cuisine, including Linguine Alle Vongole (Wild Clams in white wine, garlic, parsley and olive oil sauce), and Beef Carpaccio. Post Bar is the hotel's charming cocktail bar, which serves canapés in either the grand hall or the lush outdoor area. The Courtyard is in the spacious atrium, and serves light food and sometimes a Japanese or Indian Curry buffet, there is also live jazz in the evenings.
1 Fullerton Square, Singapore, 049178; +65 6733 8388; www.fullertonhotel.com
Wanderlust
A stylish 1920s house in Singapore's Little India neighbourhood – a name given to the area because of the large Tamil population – is a hotel that has avant-garde design at its core. Founded by the owner of equally stylish and aforementioned New Majestic, Loh Lik Peng, Wanderlust is also focused around contemporary design. The interior of Wanderlust was designed by four different design companies, each having creative-rein over a whole floor. The lobby is designed by Asylum and is in the ubiquitous industrial style sweeping the design world currently, and is all dark wooden flooring and exposed light fittings with clashes of brightly coloured furniture scattered around the room. Other floors designed by different designers include: brightly coloured rooms conceived by Phunk Studio; DP Architects decorated the third-floor rooms white and printed bold drawings on the walls; and fFurious design group designed the top floor apartments, one of which has a giant typewriter that doubles up as a sofa.
This hotel is an exciting alternative to the other fine hotels in Singapore, not just because of the design, but the colourful, exciting and lively neighbourhood in which it sits. Run by chef Anthony Yeoh, Wanderlust's lone restaurant, Cocotte, serves rustic French fare such as Escargot Gougeres, Mussels Mariniere and Beef Bourguignon. The wine list is brief but decent – particularly the white wine – with bottles including a 2008 Domaine Billaud-Simon Chablis; a 2010 Marc Kreydenweiss Riseling Andlau 'Au Dessus des Lois'; and a 2008 Yalumba Viognier.
2 Dickson Road, Singapore, 209494; +65 6396 3322; www.wanderlusthotel.com
WANGZ Hotel
Coming into its fifth year as one of Singapore's finest hotels, WANGZ Hotel is a boutique hotel found in the historical epicentre of Singapore, Tiong Bahru. The modern barrel-like building that is WANGZ Hotel houses a lucrative collection of artworks, with an overall worth of up to S$400,000. All of the works were specially commissioned to flatter the floral theme of the hotel, with works from Singaporean artist, Andre Tan; Thai artist, Chamnan Chongpaiboon; and Azerbaijani artist, Hijran Seyidov.
When it comes to food, guests have two options; Nectar, the all-day restaurant serving both modern cuisine and local specialities, such as ink seafood linguine; chorizo, pork belly and chickpea casserole; and "Shandix" lamb rack. The wine list is modest, but highlights include Moët & Chandon Rosé and a Dona Maria Amantis. And Halo, the rooftop lounge, serves molecular cocktails and Spanish tapas in the evenings, Mediterranean Beef Tenderloin Skewers; Prawn a la Plancha; and Patatas Bravas.
231 Outram Road, Singapore, 169040; +65 6595 1388; www.wangzhotel.com