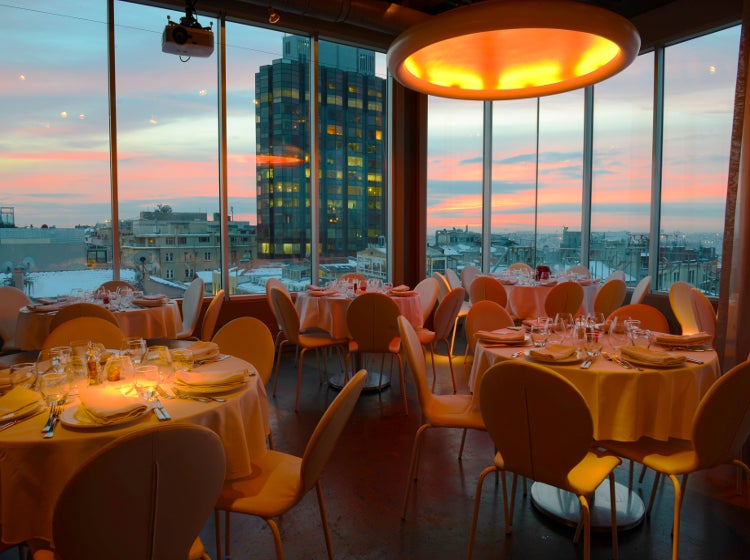 A common oversight of Turkish wine-makers has been to use powerful international grapes producing wines which are too oaky and big. From a flurry of fine dining restaurants showcasing international wines, to authentic Turkish or Aegean eateries serving unfamiliar Turkish wines, there's plenty to explore in the cultural capital.
360istanbul
The 360istanbul concept is simple, and to quote them, is an "artful combination of four core elements; cuisine, entertainment, vibe and ambiance." With a portfolio of three different 360istanbul destinations, all working to the abovementioned philosophy, the trio of entertainment venues have secured themselves a reputation as some of the liveliest spots to dine, drink and dance at in Istanbul. Nearly a decade old, 360istanbul is located in Beyoglu – a neighbourhood on the European side of the city – and occupies a penthouse space in a 19th century building offering 360-degree views surveying the former embassy row. The restaurant is all about traditional Turkish meze with a touch of contemporary European culinary influences, and at the weekend the space turns into the vibrant Club360. Some of the most popular dishes at the restaurant include grilled octopus shish with sumac molasses; wilted rokka and porcini served on a bed of cherry tomato rice; swordfish carpaccio with Tamara caviar, lime and cut chives; and smoked aubergine ravioli with yoghurt, parmesan and red pepper coulis. There are plenty of Turkish wines to dip into, but also a good selection of international bottles from Australia, Chile and France.
Istiklal Street, Misir Apartment, 8th Floor No: 163 Beyoglu, Istanbul; +90 533 691 0 360; www.360istanbul.com
Cipriani Istanbul
Widely considered one of Istanbul's finest Italian dining destinations, Cipriani Istanbul is housed within the acclaimed Istanbul EDITION hotel. An export of the renowned Harry's Bar restaurant in Venice, Cipriani was first founded in the Italian city in 1931 by Italian gastronomy tycoon, Giuseppe Cipriani. The unfussy interior sets the archetypal Italian attitude to dining leaving room for the exemplary food to take centre stage. Dishes are all as authentic as they sound, from the Gamberetti "alla Cipriani" with fried polenta, to the beef carpaccio with "sauce universal" and mixed leaf salad – both of which they are famous for. Other dishes include homemade white tagliardi with veal ragu and parmesan, and pizzas such as the Valtellina served with bresaola and rocket on top. Equally impressive is the wine list, showcasing an excellent range of champagnes including NV Cristal Rosé; an impressive selection of Italian wines, including a 2006 Frescobaldi Brunello; and some brilliant international offerings including some fantastic wines such as 2010 Puligny Montrachet, a 2011 Hugel&Fils Gewurztraminer, and 2008 Cantenac Brown from Margaux. The "Master Cellar Selection" is where the really spectacular, and pricey wines, lie, from a 1999 Latour, to a 2009 Ornellaia from Bolgheri.
Büyükdere Cd The Istanbul Edition No:136, Levent/Istanbul – Europe, Turkey; +90 212 317 7787; www.cipriani.com
FerahFeza
In the heart of Istanbul's most fashionable district, Karaköy, FerahFeza boasts unparalleled views over the old city Sultanahmet from the top floor terrace and the Galata Tower from the back bar area. There's a spotlight on fresh local seafood, highlights include lukewarm shrimp carpaccio with ginger scented orange marinade, grilled orange and basil; and pistachio crusted salmon with citrus tabbouleh. Choose from an array of great wines: 2004 Dom Perignon, or provincial Sulva from Gelibolu. International wines range from a 2008 Barbaresco to a 2009 Chateau La Pirouette Cru Bourgeois.
Kemankes Caddesi No.31 Kat: 5, Karaköy, Istanbul, Turkey; +90 212 243 51 54; www.ferahfeza-ist.com
Giritli Restoran
In the middle of the Sultanahmet district, Giritli Restoran, is one of Istanbul's finest fish restaurants. The delicate grilled octopus finished with a drizzle of olive oil is delicious, and the Kepoglu (fried aubergine with yoghurt, tomato and garlic) is fresh and filling, as are the warm, fluffy Turkish pitta which come served with herbs and cheese. Dine in the lush garden during summer months and sip on a glass of traditional raki or local wine.
Cankurtaran Mh., Keresteci Hakki Sk No:8, 34122 Istanbul, Turkey; +90 212 458 2270; www.giritlirestoran.com
Lokanta Maya
This informal bistro in the fashionable Karaköy neighbourhood of Istanbul serves contemporary Turkish cuisine to Istanbul's most stylish inhabitants. The food is uncomplicated and fresh, influenced heavily by foods of the seasons – choose the spicy sautéed shrimps with satsuma basmati rice, caramelised sea bass with orange, or the potato cakes with cardamom yoghurt sauce. The wine list is almost exclusively Turkish, showcasing indigenous varieties Öküzgözü and Boagzkere.
Kemankes Caddesi 35/A, Karaköy, +90 212 252 6884, lokantamaya.com
The Maiden's Tower
The Kiz Kulesi – otherwise known as The Maiden's Tower – was built over 2,500 years ago and is the poetic apogee of romance in Turkey. Originally used as a watchtower, The Maiden's Tower is one of Istanbul's most romantic dining destinations. Named after a popular Turkish tale, in which a beautiful Byzantine princess is banished to the tower by her father after being bitten by a snake. Authentic Turkish food is the the other reason why people go here: opt for the seasoned roasted lamb with thyme, mashed roasted aubergine and seasonal vegetables, or "Sultan's Pastry," a dish of vegetables and beef slices in a yoghurt sauce served with pastry. Arguably one of the longest wine lists in Istanbul, adventurous dinners can choose from locally produced Turkish wines or for more recognisable international wines such as Valdivieso from Chile or Borgo Sanleo from Italy.
Üsküdar Salacak Mevkii, 34668 Üsküdar, Istanbul, Turkey; +90 216 342 4747; www.kizkulesi.com.tr
Meze by Lemon Tree
This one room eatery in Istanbul serves seasonal Aegean cuisine, with a focus on seafood and fish caught nearby. The restaurant is certainly not restricted by the confines of its name and serve far more than just meze, such as shrimp casserole with ginger, paprika and coconut milk, and sea bass fillet enveloped in paper with apricots and almonds. There are also tasty meat dishes like pan-roasted beef slices served with fried shredded potatoes, yoghurt and tomato sauce. The beverage list is modest – with only a few wines to choose from – but they have litres of traditional Turkish Raki so we suggest you sip on that instead.
Mesrutiyet Caddesi 83/b, Sishane, Istanbul, Turkey; +90 212 252 8302; www.mezze.com.tr
Mikla
Coming into its ninth year, Mikla combines Scandinavian style and Turkish cuisine. The brainchild of Scandi-Turkish chef, Mehmet Gürs, Mikla sits on top of the Marmara Pera Hotel offering unrivalled views over Istanbul. Two years ago, Mikla launched its 'New Anatolian Kitchen' concept of cooking the freshest local ingredients using traditional techniques. The food is mouth-wateringly good: order Mediterranean dishes like crispy Hamsi (anchovy) with olive oil bread and lemon, and Turkish Trakya Kivircik Lamb Shank (a special breed of lamb which comes from Northern Turkey) served with smoked aubergine on a stew of Kayseri Sucuk (spicy Turkish sausage) and white beans. The wine list is probably one of the best in the city, with great international references and a curated selection of fine Turkish wines. Renowned wines include Champagne from Taittinger, Ruinart and Louis Roederer; whites from Louis Jadot, Hugel et Fils, Penfolds and Kamptal; reds from La Fleur-Petrus, Sassicaia and Musar; and dessert wines from Yquem and Klein Constantia. The selection of Turkish wines is vast and worth exploring. Try the 2008 Kavaklidere prestige Öküzgözü Elazig.
Mesrutyiyet Cad. 167-185, Istanbul, Turkey; +90 212 293 5656; www.miklarestaurant.com
Sunset Grill and Bar
Perched atop a hill in the smart Ulus neighbourhood, Sunset Grill and Bar offers remarkable views over the Bosphorus strait and the Asian shoreline. One of Istanbul's leading fine dining restaurants, Sunset Grill and Bar specialises in 'Californian' cuisine – seasonal dishes fusing international flavours and techniques, in particular Asian and South American. At the culinary helm is Hiroki Takemure – formerly of Nobu in London – who introduced 'New Japanese Cuisine' to Istanbul for the first time in 2006. From the sashimi with Yuzu soy sauce, to the Foie Gras served on tangerine flavoured brioche with citrus and aniseed dressing, each dish is a creative blend of unusual flavours. The modest selection of authentic Turkish dishes are worth a try, especially the Begendili Kebab (sautéed chunks of lamb served on a bed of pureed aubergine). A long list of both local and internationally produced wines will surely have something to suit, highlights include 1989 Cristal, several Pétrus vintages, and a 1945 Mouton-Rothschild. The 'Special Cellar Collection' – on which there is a 1997 Penfolds Grange, a 1998 Screaming Eagle, a 2010 Tenuta San Guido Sassicaia and a sweet 2005 Klein Constantia – blows the aforementioned out of the water. Now that's saying something.
Kuruçesme Mh., Yol Sk No:2, Istanbul, Turkey; +90 212 287 0357; www.sunsetgrillbar.com