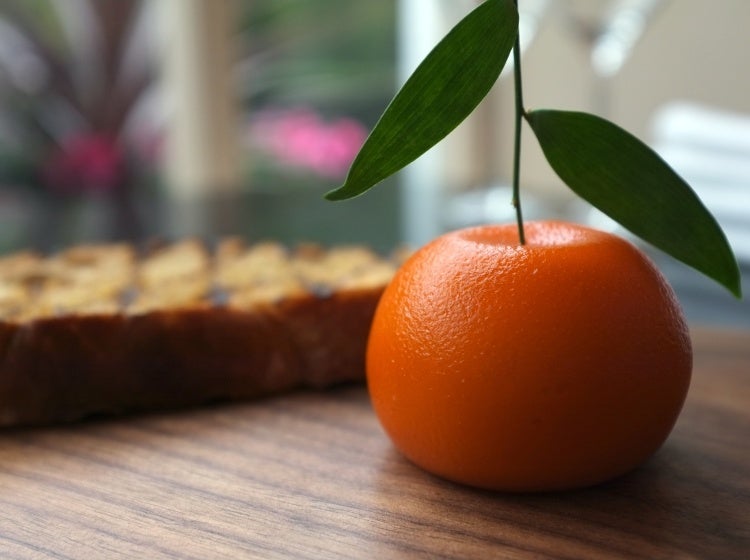 Dinner by Heston Blumenthal
Dinner by Heston Blumenthal – the restaurant at the Mandarin Oriental hotel in Knightsbridge – is widely considered one of the best restaurants in the world. Renowned mad professor-cum-chef, Heston Blumenthal – who is a regular face on British TV hosting weird and wonderful food programmes, including a Dracula themed banquet – opened its doors at the beginning of 2011. Dinner is the British chef's only London establishment – with his three other restaurants in Bray in Berkshire – and holds two Michelin stars. Heading the lab-cum-kitchen at Dinner is Blumenthal's longstanding protégé, Ashley Palmer-Watts, who now holds the role of Executive head chef for the entire Fat Duck Group (Fat Duck, Dinner, The Crown, and The Hinds Head). The menu is inspired by Britain's rich culinary history with dishes including curious concoctions like "Savoury Porridge" of cod's palette, smoked beetroot, garlic and fennel, or "Cod in Cider" with chard and fired mussels. Blumenthal and Palmer-Watts work together to create the innovative menu, and are equally dedicated to the use of local and seasonal ingredients in order to keep things as 'British' as possible. As one would hope, with good food comes good wine, and the fairly small but excellently chosen wine list at Dinner, includes bottles such as a 1998 Krug Brut, a 2007 Bienvenues-Batard-Montrachet Grand Cru, and for £7,550 a bottle of 1989 Pétrus.
Mandarin Oriental Hyde Park, 66 Knightsbridge, London SW1X 7LA; 020 7201 3833; www.mandarinoriental.com
Alain Ducasse at the Dorchester
Monegasque chef, Alain Ducasse, is a Michelin star himself holding 21 of the coveted accolades, and has an impressive portfolio of restaurants including Aux Lyonnais in Paris, and 3-star Le Louis XV in Monte-Carlo. A self-proclaimed "happy chef", Ducasse has been inspired by the foods of his travels, and despite a real focus on fine French dishes works to infuse techniques and flavours from other cuisines. Current dishes include sauté gourmand of lobster, and for the sweet-toothed diner, chocolate – from his manufacturer in Paris – served with praline and vanilla ice cream, and lime souffle with confit kumquats. The wine list at the restaurant is something of a wonder. The option of 'vin au verre' (or wine by the glass) gives guests the opportunity to sample an array of great wine, especially when bottles from Dom Pérignon, Fontaine-Gagnard Chassagne-Montrachet, and Cos d'Estournel Saint Estephe are on the list. On the 37.5cl carafe menu there is the option to splash out on nectarous 1998 Chateau d'Yquem at £145. With what is surely one of the most appealing wine lists in London, Alain Ducasse at The Dorchester, takes a well-earned place on our Best Restaurants in London round-up.
53 Park Lane, London, W1K 1QA; 020 7629 8866; www.alainducasse-dorchester.com
L'Anima
L'Anima is widely considered one of the best Italian restaurants in London, which is no surprise when looking at Head chef, Francesco Mazzei's, portfolio having previously worked at The Dorchester; Michelin starred restaurant, Eden Terrazza in Rome; Alan Yau's restaurant Yau and many more. Mazzei is besotted with the cuisine of his homeland; from the hearty dishes of the north of Italy, to the delicate dishes further south, the menu at L'Anima reflects this and celebrates the beauty of regional Italian cuisine. Think fresh succulent octopus on a bed of cannellini beans and ricotta 'mustia' (a more intense ricotta that has been lightly salted and smoked). Mains are equally mouth-watering: duck liver risotto, and sage and pumpkin tortelli with 'Famiglia Gottardi' balsamic vinegar, wood-roasted turbot with artichokes and Calabrian sausage. With such a fine take on Italian cuisine, it's unsurprising that the wine list has similar credentials. The sparkling wines section includes the much under-represented Franciacorta – Italy's equivalent to 'Champagne' – from great producers such as Casa del Boasco, Bella Vista and Bruno Giacosa. Other wines include a 2006 Gaja Costa Russi Langhe for £400 from Piemonte, and a more affordable 2007 Brunello di Montalcino Mastrojanni for £110 from Toscana. There is also a modest collection of French wines from Alsace, Burgundy, and Bordeaux regions, one of which is the elusive 1995 Pétrus for £2,200.
1 Snowden St, London EC2A 2DQ; 020 7422 7000; www.lanima.co.uk
The Square
Mayfair restaurant and 2 Michelin star proprietors, The Square, opened its doors in 1991 and has persisted in being one of the capital's finest restaurants. Co-owned by restaurateur, Nigel Platts-Martin and The Square's head chef, Philip Howard, the restaurant serves original French fare with a modern harmonious flare. Heading the menu development is Philip Howard, whose past accomplishments include training under the venerable Roux Restaurants, working under Marco Pierre White at Harvey's, and later at Bibendum with Simon Hopkinson. The menu is elegant and classic, with starters such as ballotine and tartare of pigeon served with raw and pickled vegetables, chestnuts and truffle, and main dishes such as loin of Fallow deer with a tarte fine of celeriac and pear, creamed polenta, beetroot and green peppercorns. Head Sommelier at The Square, Renaud Rolland, works closely with Platts-Martin to select wines, a hefty number of which are available by the glass, including a glass of 1998 Château d'Yquem for £75. The 94 page long list covers all price ranges, from affordable £24 up to £1,200, for which you can purchase a bottle of 2004 Corton-Charlemagne Grand Cru. The sparkling and white wines are well represented with fine bottles such as NV Bollinger Special Cuvée, 2011, and whites such as a Riesling from Egon Muller for £3,500. Reds are just as spectacular, covering all the top regions in France, as well as international spots such as Italy, Greece, Australia and the US, impressive bottles include a 1985 Chateau Latour, 1998 Penfold Grange, and a rare 1998 Screaming Eagle.
6-10 Bruton St, London W1J 6PU; 020 7495 7100; www.squarerestaurant.com
Benares
Re-opening three years ago Benares has propelled itself back on to the London Indian food scene, and is giving other fine Indian dining restaurants a run for their money. Head chef Atul Kochhar was awarded a Michelin Star in 2001 when working at Tamarind of Mayfair, which gave him the gravitas to pull away and open Benares just two years later, and was awarded his second in 2007. The refurbished restaurant now houses a 'Chef's Table' and a 'Sommeliers Table', as well as a new private dining space. The food at Benares is inspired by food from across the subcontinent, and has been infused together to create entirely original dishes. Starter dishes include Achari Kabuter – a grilled supreme of pigeon with pickled mango and vanilla beetroot chutney. For main course there are dishes such as Hiran Ki Boti – grilled Fallow deer fillet served with yellow pumpkin kedgeree and pear chutney. The Sommelier's Table invites guests to dine whilst sipping a curated selection of fine wines, including wines from Atul's very own Domaine du Grand Mayne. The Wine list is over 25 pages long, and has a newly added "SGC" collection of Grand Vin de Bordeaux Rouge, on which 2009 vintages of Médoc from Frédéric Anton, and Yannick Alléno's Pomerol are available at prices starting at £499. The wine list is extensive, and fine bottles range from a 1995 Cristal Rose Brut for £999, 1995 Charmes-Chambertin Grand Cri, Bernard Dugat-Py at £895, a 2004 Sori Tildin Gaja at £610 and a 1985 Château Haut-Brion Premier Grand Cru Classé at £1,599.
12a Berkeley Square House, Berkeley Square, Mayfair, London W1J 6BS; 020 7629 8886; www.benaresrestaurant.com
Gymkhana
Inspired by the British Raj's Indian Gymkhana gentlemen's sports clubs which saturated India during colonial rule, new London restaurant, Gymkhana, has received nothing but praise since opening in September 2013. The second endeavour from Karam Sethi, who received his first Michelin star in 2012 at Trishna London, Gymkhana works to deliver refined modern Indian food. The menu is focused around the iconic cooking tool, the tandoor oven, with signature dishes including Kasoori chicken tikka with sprouting Moong Kachumber, or Tandoori guinea fowl breast, leg and green mango chat with mint coriander chutney. The wine list is no shrinking violet next to these bold flavours, chosen by Trishna Sommelier, Sunaina Sethi it showcases impressive bottles from well-known vineyards, and equally interesting finds from more boutique wineries. Bottles extend from the high end, such as the 1990 Masi Costasera Amarone della Valpolicella Classico, and a 2010 Riesling Heimbourg.
42 Albemarle St, London W1S 4JH; 020 3011 5900; www.gymkhanalondon.com
HKK
Leading Chinese fine dining establishment, HKK, has adopted the traditional Chinese way of dining and serves banquet style tasting menus which develop and change all the time. Michelin star chef, Tong Chee Hwee, is heading the culinary aspect of HKK, and tries to combine authentic Cantonese dishes with a modern refinement, and the results are dishes like the Dim Sum trilogy of truffle har gau, pan-fried Szechuan dumpling, sour turnip puff, wok-fried lobster in yellow bean sauce with braised pan mee. There are other exceptional dishes such as deep-fried fillet of monkfish with goji berries sevred with champagne and rice wine sauce. Alongside this polished take on Cantonese cuisine, there is the option of opting for wine flights chosen specifically to match the chosen dishes. The wine flight for the regular menu includes wines such as a Chotoku "Heavenly Brew", Honjozo Genshu from Japan, and a 2012 Mosacto d'Asti, Vajra.
88 Worship St, London EC2A 2BE; 020 3535 1888; www.hkklondon.com
Le Gavroche
Le Gavroche first opened back in 1967 and was run by the revered Roux brothers, Albert and Michel, who gained three Michelin stars by 1982. Accruing countless awards and accolades from leading hospitality competitions across its entire 47 year life, from the Laurent Perrier Award of Excellence in 2000, to The Academy of Food and Wine Service (AFWS) for the Dalmore Award for Excellence, awarded to Le Gavroche's Sommelier, David Galleti in 2010. Albert's rising star son, Michel Roux Jr, too over the reins in 1991, after proving his abilities working at Maître Patissierin in Paris, Alain Chapel's restaurant, Commis de Cuisine in Mionay, and the Gavers in London. Roux Jr brought a new light touch to classic French cooking, introducing a lot more seafood dishes to the menu. Current plats include grilled scallops with crab and herb velouté; lobster mousse with Aquitaine caviar and Champagne butter sauce; and warm olive oil cake with lavender and roasted figs. Wines are equally rousing, with fine French bottles such as 2010 Pouilly Fumé, Pessac Leognan, and wines from Domaine Vincent Ogereau.
43 Upper Brook Street, London, W1K 7QR; 020 7408 0881; www.le-gavroche.co.uk