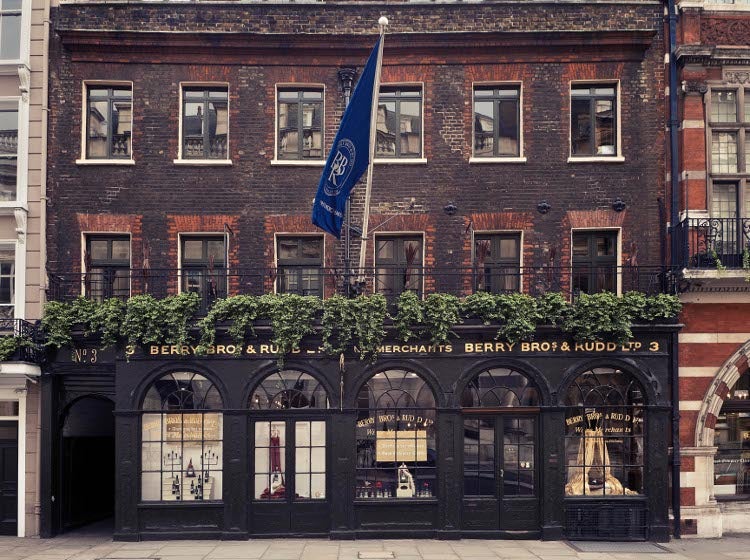 Berry Bros & Rudd
Berry Bros & Rudd have been selling fine wine since the late 17th Century, making the first stop on our Best Wine Destinations in London list something of a wine institution. The flagship store, still in the original building in St James, looks much the same as it did when it first opened all those years ago in the 18th Century. Bare wooden flooring, original windows, and Regency weighing scales could cause momentary confusion about what era you're in, and even more so if you take a trip downstairs to the cavernous cellars below. Supplying wine to British Royalty since King George III's reign in the late 18th century, Berry Bro's and Rudd's expanding selection of wine – from fine to affordable, Bordeaux to New Zealand – is phenomenal. Berrys' also host some of the finest wine events in the city including regular dinners and tastings.
3 St. James Street, London, SW1A 1EG; 0800 280 2440; www.bbr.com
Vinopolis
Vinopolis is located in the epicenter of London's thriving food destination, Borough Market, which was first recorded as a food market in 1014. One of the best wine tasting destinations in the capital, Vinopolis offers a casual 'Wine Tasting experience' for people of all levels of wine knowledge. There are more than 100 wines, spirits and Champagnes to sample from their modern enomatic machines (a wine dispenser that has the ability to preserve great wines for longer after they've been opened) and a swarm of wine experts on hand to take your questions and give you recommendations. A new addition to the tasting experience at Vinopolis is the 'Icon Wines' selection, which gives visitors the opportunity to taste a curated collection of wines from some of the world's finest wineries. Bottles popped of late include a 1999 Penfold's Grange and 1996 Chateau Cheval Blanc.
1 Bank End, London, SE1 9BU; 020 7940 8300; www.vinopolis.co.uk
The Quality Chophouse
The Quality Chophouse – owned and run by leading British wine writer Jancis Robinson MW's son, Will Lander – is both a restaurant and a wine bar with around 125 wines available by the glass or bottle. Featuring thoughtfully chosen wines from both the old and new world, the list is imaginative rather than definitive. We recommend trying the 1936 Château Sisquielle 'Rivesaltes,' a sweet nectar from Roussillon in the south of France, which is full of notes of candied citrus fruits. By the bottle opt for a powerful 2006 Domaine Dujac Chardonnay from Burgundy. The food at The Quality Chophouse is seasonal and British, from the special three-course dining menu, to the bar menu with charcuterie, and main dishes including a monkfish and shellfish broth. To top it off, Monday evenings see the team pull a prized wine from the cellar to sell by the glass giving guests the chance to sample something special and rare.
92-94 Farringdon Road, London, EC1R 3EA; 020 7278 1452; www.thequalitychophouse.com
The Sampler
With two stores in London – one in Islington and one in South Kensington – The Sampler is an independent wine merchant with a selection of more than 1,500 wines. Living up to their name, 80 of their wines are available to sample by the glass. Home to the first enomatic machines in London, The Sampler has catered for those wanting to try a fair few wines, or simply for those who want to "try before they buy", with a card that can be charged and used as credit to sample numerous wines, making for a very enjoyable and salubrious evening. The "Icon Machine" holds some of the most expensive and desirable wines in the world: past or current wines include La Mission Haut Brion 1966, La Conseillante 2009, and an Avery's Corton Clos du Roi 1959. Wines available to purchase include fine French wines such as 2001 Lafleur, 1990 Doisy-Védrines, and bottles from further afield, two of which are 2001 Musar Blanc from the Bekaa Valley in Lebanon, and a South African 2010 Sequillo.
266 Upper Street, Islington, London, N1 2UQ; 020 7226 9500 35 Thurloe Place Mews, South Kensington, London, SW7 2HP; 020 7225 5091; www.thesampler.co.uk
Sager and Wilde
New wine bar, Sager and Wilde, was started as a pop up not long ago by a young married couple, Charlotte and Michael Sager-Wilde. With an insatiable love of wine and determination to become a London fixture, the pair opened their inaugural permanent spot on Hackney road in East London this summer. On the short but impressive wine list – one which is already satisfying hoards of London's thirsty revelers – every wine is available by the glass. The highlight is a glass of 1998 Yquem – usually available only by the bottle – for a mere £14.50. An oenophile's dream come true.
193 Hackney Road, London, E2 8JL; www.sagerandwilde.com
28-50
The three restaurants in the 28-50 Wine Workshop & Kitchen group have become firm favourites of the wine-loving London diner. The newest spot can be found in the heart of Mayfair on Maddox Street, keeping true to the philosophy of fine wine and good food, with a French-bistro style menu and knowledgeable staff on hand to assist when choosing wine. All hold the name 28-50, which is a reference to the latitudes in which most of the world's wines are produced, but there is something that sets this particular space apart from the rest: it's the first to have a Champagne bar, stocking up to 50 champagnes, four of which are available by the glass, including Bollinger Special Cuvée, and Lallier Rosé Premier Cru. Maddox Street addition from entrepreneurs Xavier Rousset and Agnar Sverrisson has already proved a hit among London's fussiest oenophiles.
17-19 Maddox Street, Mayfair, London, W1S 2QH; 020 7495 1505; www.2850.co.uk
Hedonism
A treasure trove of fine and rare wines, Hedonism – a new fine wine and spirit boutique in Mayfair – is the home to more than 5,000 wines from over 26 countries. They have an impressive spirit collection on hand too, with around 2,000 spirits available to purchase. Noteworthy bottles include a Courvoisier 1976 Baccarat Decanter, and a 1999 DRC La Tache, and the team will happily try and source a specific wine that they may not stock. With wines of varying prices and sizes, and displays that are architectural and artistic feats, Hedonism is undoubtedly one of the greatest wine merchants in the world. Other rare bottles include Chateau d'Yquem 1811, and a full vertical of Screaming Eagle, enough to say they take wine extremely seriously.
3-7 Davies Street, London, W1K 3LD; 020 7989 0085; www.hedonism.co.uk
Fortnum and Mason
Fortnum and Mason, on Piccadilly, is a treasure trove of fine and rare wines stocking over 1,300 wines and spirits. The extensive 'own label' range includes excellent wines from Champagne, Bordeaux, Italy and South Africa. The rest of the wine is particularly fine: Champagne from houses such as Bollinger, Taittinger, Pol Roger and Charles Heidsieck; English sparkling wine from award-winning Nyetimber and other producers; plenty of fabulous Bordeaux including 1999 Chateau Mouton Rothschild; and outstanding New World wines, such as Giaconda, Estate Vineyard Chardonnay from Australia.
181 Piccadilly, London W1A 1ER; 0845 300 1707; www.fortnumandmason.com
Drakes Tabanco
At the helm of the sherry rejuvenation in London is new sherry tavern, Drakes Tabanco. Replicating the traditional taverns of Jerez in Spain, Drakes serves innovative and delicious Spanish cuisine alongside an impressive list of fine and rare Sherries, from producers such as El Maestro Sierra, Emilio Hidalgo, and Limited Edition Specialists, Equipo Navazos. Founders Tim Luther and Nigel Howell serve some of the most desirable Sherries in the world, including Sherry from top producer, Fernando de Castilla, which is served straight from mighty barrels sitting behind the rustic bar – the only place to do so in the world other than the bodega itself. There is even the opportunity to take home a bottle of famous Fernando de Castilla Sherry, poured into the bottle from the barrel in front of your eyes.
3 Windmill Street, Fitzrovia, London, W1T 2HY; 020 7637 9388; www.drakestabanco.com
Princess Victoria
In one of the rougher parts of town, this Uxbridge road pub could fool you into thinking it's nothing more than a drinking hole, with mixed clientele, and a kitchen outback. But take our word, Princess Victoria is a pub for the serious foodie or wine-lover. The back dining room is charming and warm and guests can tuck in to a range of hearty, but refined, seasonal plates – to start, make sure you give the scotch egg and the steak tartare a go. However the real surprise here is the broad wine list and the in-house wine shop that is the work of owner Nigel Sutcliffe, former wine director at The Fat Duck. There is a wide selection of SNOB (Sustainability – Natural, Organic and Bio-dynamic wines), and even an index to help guide the wine list loiterer, including a red wine section of 'Pinot Noir from Around the Globe' and a 'Aromatics; Germany and France' white wine part.
217 Uxbridge Road, London, W12 9DH; 020 8749 5886; www.princessvictoria.co.uk