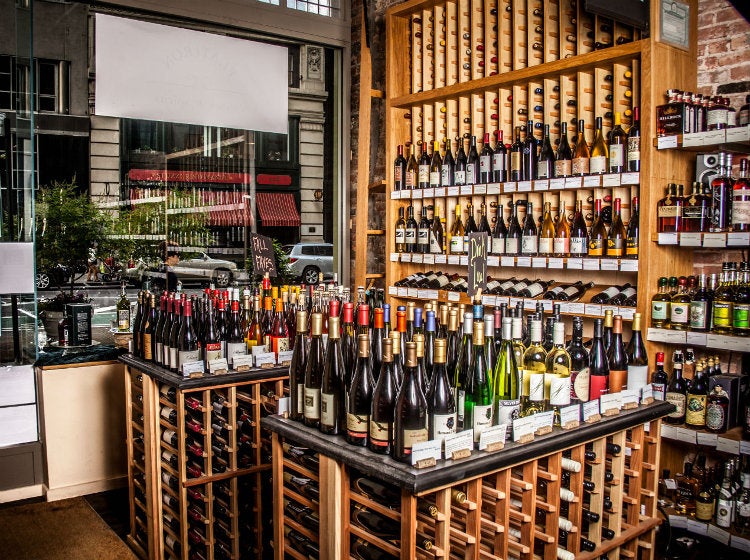 Flatiron Wines and Spirits
Wine treasures adorn the reclaimed bricked walls of Flatiron Wines and Spirits, one of New York's leading wine merchants and tasting destinations. The regular wine-tasting events are a hit with local oenophile's, with recent ones including a "Meet the Winemaker: Patrick Piuze Pours Chablis!" day and a "Sunday Spirits: Brooklyn Gin" masterclass. Browsing the wines at Flatironmay take a while, especially with such illustrious producers on their books: Château Margaux, Château Haut Brion, Château de Beaucastel and Billecart-Salmon, to name a few. There is also a 21 year Balvine Port Wood Single Malt Whisky and a 1972 Maison Surrenne Cognac Grande Champagne XO in the equally remarkable range of spirits. For those shopping with a smaller budget, Flatiron's regular wine installations display 100 handpicked bottles of red, white and rosé wines each for under $15.
By only featuring wines that are produced with local viniculture and terroir in mind, Flatiron can ensure that they are endorsing wines of supreme quality. And with no less than 1,500 wines of this calibre in store, it's no surprise they're considered one of the New York's premium wine merchants.
929 Broadway, New York; +1 212 477 1315; www.flatiron-wines.com
Pasanella and Son
Having been left devastated by Hurricane Sandy last year, Pasanella and Son has undergone a full architectural redesign headed by the architect-turned-vintner owner, Marco Pasanella. A vestige of Sandy remains – the bricked walls have chalky white residue from where the water level peaked – while the rest of the space has been restored to its former glory. Stacks of old wine bottles, wine-related artwork, reclaimed furnishings, and a disused car adorn the centre of the Lower Manhattan store. A thoughtfully curated selection of more than 400 wines include local producers, as well as more established wineries, including a 2010 A. J. Adam Hofberg Riesling Kabinett, a 2009 Bonneau du Martray Corton-Charlemagne and 2006 Cerbaiona Brunello di Montalcino. Futhermore, the stock isn't limited to just wine, as Pasanella and Son sell an assortment of wine accessories from crystal glasses to antique corkscrews. And if that wasn't enough, in the back there is a large tasting room that opens out onto a private garden for tasters to enjoy the fine wines on offer during the summer.
115 South Street, New York; +1 212-233-8383; www.pasanellaandson.com
Hearth
Manhattan's East Village is home to Hearth, a restaurant-cum-wine bar where wine and food pairings are their forte. Following in their renowned sister-restaurant, Terroirs, footsteps, Hearth pride themselves on helping diners choose the right wine to suit their chosen dish, and have been receiving recognition for this for ten years. The wine list, selected by Beverage Director Paul Grieco, is clearly the opus of someone with an appreciation for wine from smaller producers all over the globe. Grieco encourages guests to try unfamiliar wines, such as Slovenian Sauvignon Blancs or Uruguayan Tannats, thereby promoting great wines at a reasonable price. Such wines include a locally produced Finger Lakes Riesling, and an Austrian St Laurent.
403 E 12th Street, New York; +1 646-602-1300; www.restauranthearth.com
Astor Wines and Spirits
Inside a neo-Romanesque building in Noho is one of the city's go-to wine stores, Astor Wines and Spirits. The 57-degree, 70 percent-humidity cool room houses rare and fragile wines to ensure the valuable liquid is kept at an appropriate temperature for optimum drinking when the time comes. Equally, Astor Wine and Spirits is home to the biggest collection of Saké in the city, Astor Wines and Spirits regularly open their doors for wine-themed evenings and events, such as wine and food pairing classes, free tastings, and educatory evenings. Keen wine-drinkers could spend an evening last month "Deciphering the World of Fortified Wines." They also stock a large range of wine accessories from antique corkscrews to wine books and wine racks, while the tasting bar invites visitors to taste a selection of chosen wines, and is equipped with spittoons and glassware.
399 Lafayette Street at East 4th Street, New York; +212 674-7500; www.astorwines.com
Despaña Vino y Mas
Despaña Vino y Mas is New York's only specialist Spanish wine and spirit shop conveniently positioned in the creative hub that is SoHo. The Despaña Food Brands – the company behind the wine shop and tapas cafe – headquarters is housed in what was originally a chorizo factory, which had been producing chorizo from 1971. In 1989 Marcos Intriago and Jose Pernas bought the building and business and produced chorizo but with a far more lucrative return. Expanding to open wine and food stores, and a tapas cafe in the city, is an indication of a new found appreciation for Spanish cuisine. Increases in Spain's exports to the rest of the world have marked the rise of Spanish food in cities across the globe, openings from growing Spanish restaurant group, The Salt Yard Group, in London with Ember Yard, and equally the recent opening of acclaimed Spanish tapas eatery, Toro, in New York's Meatpacking District. Our favourite branch of Despaña, is undoubtedly the Broome street locale, which has a mouthwatering fine foods and tapas café attached to the Vinos y Mas (fine wine and spirits) store. The café serves authentic Spanish tapas, including our favourites such as tortilla queso, pulpo a la gallega (octopus, mashed potatoes with olive oil and pimento), Boquerones Pintxo (white anchovies and slices of tomato), and Mejillones Con Patatas Fritas (mussels in vinaigrette sauce served with potato chips san nicasio). Diners are invited to browse the connected fine wine store, where they can purchase a bottle of fine Spanish Albariño or Duero to drink with their meal. There is also "Wines of the Month Club" for which Despaña hand-pick six of their favourite wines to be delivered direct to the participator's door, or picked up in store, along with tasting notes and food pairing suggestions. Some of the excellent and affordable Spanish wines on the wine list include a 2009 Do Ferreiro Cepas Vellas for $49.99, and a 2003 Campo Eliseo for $39.99, both of which received 90 or over on wine searcher. More elusive and desirable wines include a 1964 Lopez de Heredia Vina Tondonia Gran Reserva Rioja at $878. Bueno!
408 Broome Street, New York; +1 212-219-5050; www.despanabrandfoods.com
California Wine Merchants
Representing the West coast all the way East, is the California Wine Merchants, founded by Taylor Senatore and Jennifer DiDomizio in November 2008. Meeting when working at Sherry-Lehmann, the pair mutually agreed that there wasn't a strong enough representation of lesser known Californian wines available in New York. Specialising in 'eclectic and under-the-radar California wines', this is a wine merchants who have found what they love and honed their interest around wines from this region. Whilst stocking producers of all types of fame and fortune from the Golden state, the founders are particularly proud and dedicated to unveiling unfamiliar wine producers, some of their favourites being wines from Broc Cellars, who produces wines such as Valdiguie and a carbonic Carignane, to wines from Massican or Arbe Garbe, who are both working with Italian white varietals.
15 Bridge St, New York, NY 10004, United States; +1 212-785-7285; www.cawinemerchants.com