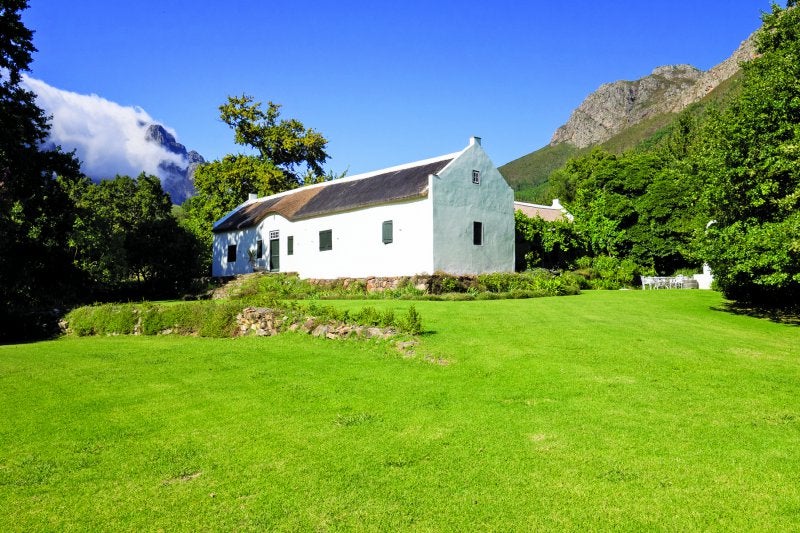 In the winery itself, the grapes go into an array of Italian-made concrete fermenters—up to 24 parcels of fruit can be fermented at once, allowing chief winemaker Gottfried Mocke great flexibility in later blending from, for example, subtly different wines bearing unique characteristics of soil origin or degree of ripeness. Gottfried is one of modern South Africa's most celebrated younger winemakers; he joined the team in 2015, having made his reputation at neighboring Chamonix.
Leading the team is Marc Kent, who has been here since Boekenhoutskloof's founding in the mid-1990s, initially as winemaker, increasingly an innovator and visionary, now with prime responsibility for directing its activities. The principles adopted by Marc from his earliest vintages remain guiding ones. He was among the pioneers in the Cape of such things as sorting tables, avoiding additives—including acid and inoculated yeasts—and of restraint in the use of new oak (the famous Boekenhoutskloof Syrah has always been matured only in older barrels).
Of the grapes that are vinified in the winery before the slow journey that leads to the bottle with the prestigious Boekenhoutskloof label, only a minority are grown here. Apart from other sources, Boekenhoutskloof has substantial holdings in inland Swartland, in Stellenbosch, and, acquired most recently, in the Upper Hemel-en-Aarde Valley on the Cape south coast.
Porseleinberg (it means Porcelain Mountain, the name of the dry, stony range of hills across which the vineyards stretch) has, in fact, two elements. The unique, challenging terroir provides mostly Syrah for the Franschhoek winery and the Stellenbosch facility where The Chocolate Block is made. But there is also a small winery here, where resident vigneron Callie Louw makes, in artisanal, hands-off fashion, one of modern South Africa's best-reputed Syrahs, going simply by the name Porseleinberg. Callie himself prints the labels (including personalized ones for clients) on an antique letterpress machine.
As yet there is no winery on the new Boekenhoutskloofowned farm (like Porseleinberg, to be a totally independent label) in the Hemel-en-Aarde, just inland from Walker Bay and the whale-watching resort of Hermanus. The project takes its name, Cap Maritime, from its coastal location. Chardonnay and Pinot Noir vines are being planted under the direction of renowned viticulturist Rosa Kruger; until they are mature, grapes are brought in from leased nearby vineyards. With construction of a winery on the site still pending (Marc Kent promises one will be built "sooner rather than later"), the grapes are vinified in Franschhoek by Gottfried Mocke, who showed his great affinity for Pinot Noir and Chardonnay at Chamonix. The maiden 2017 vintage was released in 2018, and well received by critics and customers.
These and the Boekenhoutskloof wines can be tasted at the home farm, some 3 miles (5km) outside bustling but picturesque Franschhoek village. Small, personal tastings for visitors are held twice a week, by appointment only. These bespoke tastings, often including older vintages, are hosted by one of the winemaking team—more often than not Marc himself. A visit to Boekenhoutskloof, if it can be arranged, is a significant experience, not to be missed by those seeking a deeper understanding of South African wine at its highest level.
Contact Boekenhoutskloof
Excelsior Road
Franschhoek 7690
www.boekenhoutskloof.co.za
+27 21 876 3320
info@boekenhoutskloof.co.za
Book Boekenhoutskloof