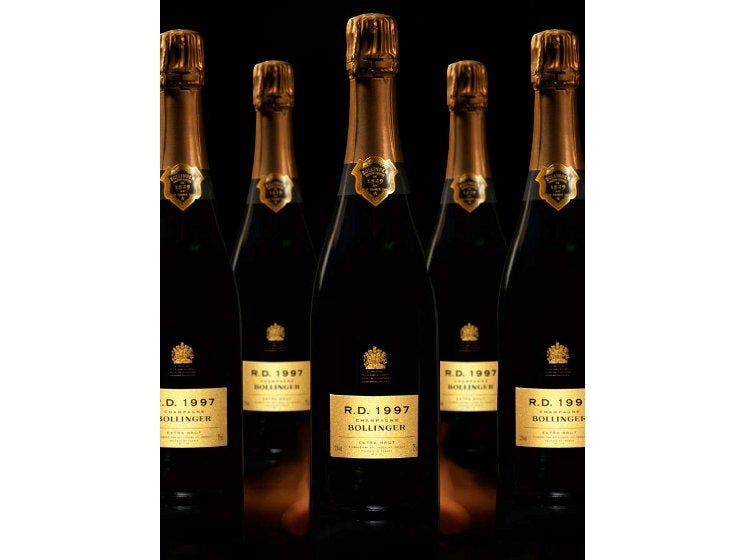 Bollinger's annual summer lunch for the British press — always an unmissable gastronomic date — had particular interest last year. For the first time, the six Champagnes shown were exclusively RD (recently disgorged) Vintages — a peep at Bolly's vinous history from 1997 back to 1959. And the innovative, award-winning Texture was the ideal restaurant venue.
It is the brainchild of high-profile French sommelier Xavier Rousset and Icelandic chef-patron Agnar Sverrisson. The duo, who first worked together at Raymond Blanc's Manoir aux Quat'Saisons, can be banked on to think seriously about the right texture of choicest ingredients to match fine aged Champagne. Texture is the restaurant in London to discover the best cuvées from great Champenois maisons and vignerons alike. RD is a concept unique to Bollinger.
Of course there are other houses that will very occasionally disgorge an exceptional Champagne quite late in its maturity, but none does it with quite the regularity and brio as this aristocratic firm has done since 1952 — a fabulous vintage that was still tasting wonderful in May 2009. As to the concept, before it becomes an RD, the wine is originally a Grande Année, the Vintage Champagne of Bollinger.
Crucially, in its reincarnation as RD, the same wine is aged for a much longer period, from eight to 20 years, sometimes more. The aim of this extended aging is to develop subtle, complex aromas, as well as a quite distinct vinous style that is inimitably Bollinger's own expression of great, dominant Pinot Noir, checked by fine, elegant Chardonnay, which usually represents about a third of the blend.
RD is naturally depicted as the flower of the Bollinger range — but it would be a mistake to claim that it is inherently superior to Grande Année. The two styles are very different; they are reverse sides of the same coin. It is all about individual taste: Do you value Grande Année's vigor, freshness, and purity of fruit, with no impairment of its ability to age gently and splendidly? Or do you prefer the highwire experience of extra, often exotic sensations of spice, wax, incense, and rancio that come from RD's longer time on its lees?
The other variable, of course, is the different character of chosen, successive vintages. Personally, I find that some years work better as Grande Année — 1997, for example — while others have even greater potential as RD. When conditions are exceptional, the latter can be spectacular, as in the muscular 1996 and the sumptuous 1959. RD Vintages have always been naturally very dry, having a very light dosage of 3-4 grams of sugar per liter of wine: true extra brut cuvées. Collectors should note that the disgorging dates prior to this tasting of the six Vintages varied from a brief two months to a very proper two and a half years; the results in the glass were predictably varied and were sometimes surprising.
Bollinger RD 1997
65% PN, 35%C; disgorged January 2010
The Grande Année '97 has always been a hard act to follow for its open, rich fullness and fine maturity. But this is the first time that this RD has started to put on flesh and show something of its junior brother's opulence and hedonistic pleasure in the glass. Much better and less lean than when first shown as RD in 2008. The effect of longer lees contact and aging in bottle is changing the hue to a lustrous gold, and there's a spiciness that worked very well with our gravlax. I still prefer the Grande Année for its tones of brioche and butter (longer post-disgorgement aging), but the RD is coming out of its shell. It's likely to taste different every time now. 17
Bollinger RD 1996
70% PN, 30%C; disgorged October 2007
Shimmering, deepening yet brightly fine gold, signaling all the power and complexity to come in the wine. As always with Bollinger, that wonderful bouncy acidity of 1996 is still fresh (unlike lesser Champagnes of the same year), the nose adopting controlled autolytic character. The mouthfeel is perfect, the mousse invigorating but not aggressive, the strong acidity melding beautifully with the wondrous vinosity of Pinot Noir very much in the driving seat. The postdisgorgement aging (nearly three years) shapes a very great bottle. 19
Bollinger RD 1995
63% PN, 37% C; disgorged May 2010
This vintage has more Chardonnay than usual and rightly so; it was an exceptional year for the great white grape. Also the malo was avoided for optimal freshness. Bright Welsh gold, with flecks of green. Chardonnay aromas of buttered toast lead on to an inherently harmonious mouthfeel, at once rich, elegant, and long. A classic Champagne and a personal favorite. In truth, though, its beautiful fruit profile is perhaps slightly less expressive on the day due to the very recent disgorgement. It might have tasted even finer if it had been allowed to recover for six months or so before being broached. 17.5 and will go higher
Bollinger RD 1988
72% PN, 28% C; disgorged May 2010
Vin surprise – and not a nice surprise when this RD Vintage was revealed as 1988, a great year. The gently, evolved color noted in 2008 has become a darkening gold, the touch of rancio on the nose mingling with advancing oxidation, the palate still vinous but with a worrying loss of freshness. I suspect either the very recent disgorgement has taken the wind out of the Champagne or that it is a rogue bottle. Retaste. NS
Bollinger RD 1976
65%PN, 35%C; disgorged May 2010
An object lesson in how careful selection of the grapes and winemaking "with feeling" can produce a Champagne from a heatwave vintage that still tastes good after 34 years. Very solid, sturdy character but miraculously with little loss of freshness and vitality. Brilliant match with the Icelandic salt cod and girolles. 18
Bollinger RD 1959
65% PN, 35% C; disgorged May 2010
The extraordinary luxuriance and glorious fruit of the vintage, shaped by the magnificent summer, is quite undiminished. A great bottle, with a unique Sauternes-like character. Great with Comté cheese. 18.5