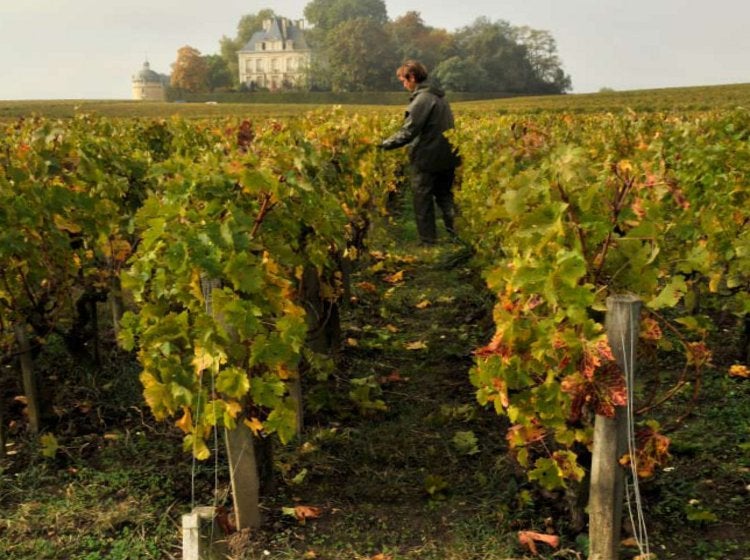 Sometimes, a tweet really does sum up the mood. On May 15, 2012, London wine merchant Berry Bros & Rudd's sales and marketing manager Simon Staples captured the feelings of most merchants involved in the 2011 en primeur campaign. "I rarely am on a low. I work with the most glorious product on the planet. Our customers love it BUT Bordeaux what on Earth r u playing at?" (sic).
Frustration, exasperation, dismay, and, despite everything, love. It was all there in Staples's 137 characters: a plea for sanity in a campaign that, as always in contemporary Bordeaux, has made headlines far beyond the wine publishing ghetto-though this time around, those headlines have told a somewhat different story from the soaring prices of 2009 and 2010.
Staples's coup de coeur was prompted by a day of frenzied activity, dubbed with all the usual en primeur hyperbole-"Super Tuesday"-a day when more than 40 châteaux released their opening prices. Coming after a long period of inactivity, with just a trickle of prices being released after the campaign got off to a relatively early start (including the release of Lafite) in early to mid-April, Staples was not the only merchant to express his dismay at Super Tuesday, a day that exemplified the stop-start nature of a campaign that also included a "Manic Monday," and whole weeks of lassitude. Indeed, one merchant, looking back on Super Tuesday later on in the campaign, told The World of Fine Wine, "The whole thing was ****ing ridiculous. What were we, as merchants, supposed to do with that?
How could we focus on more than three or four of those châteaux, given the trading conditions?" It was, he added, "complete madness," with the remaining châteaux simply lost in the mêlée.
But these somewhat technical trading details were far from the only issues making the headlines on the Place de Bordeaux this year. Though almost every château released at prices on average between 30 and 40 percent down on 2010, most were still higher than the release prices for the last comparable vintage in terms of perceived quality (2008), as well as being (and this is what really rankled) higher than the current trading prices of all other recent vintages bar the lauded quartet of 2009, 2010, 2005, and 2000. As a result, not only have many merchants around the world reported slow sales, but they have also raised serious doubts about the future of en primeur, their speculation made all the more plausible by perhaps the biggest news story to emerge in the 2011 campaign: the announcement by Château Latour that it plans to exit the en primeur market entirely from the 2012 vintage.
Some fine wine was made
As usual with Bordeaux en primeur, it's easy to overlook what should be the main purpose of the event amid all the grousing and speculation about prices-an evaluation of the wines. As reported in WFW 34 (p.18), this was a challenging vintage in many respects, with topsy-turvy weather patterns that saw a hot spring, a relatively cool, dry summer, a September that alternated between sunny spells and rain showers, and the curveball of significant hailstorms, on September 1, with the Médoc, Haut Gironde, and Entre-Deux-Mers particularly hard hit. As British critic Michael Schuster put it in his report on the vintage on www.finewinemag. com, the wines of 2011 were "born of a very dry and particularly uneven viticultural year, the red grape bunches at harvest had fruit colors covering the spectrum from green to black."
According to Schuster, the vintage conditions have led to much lighter, arguably more classic wines, than the preceding pair of vintages. "Assuming you selected only the fully ripe grapes," Schuster says, "these were small and thick-skinned, high in acid and potentially very high in tannin, but with much more modest sugar levels than the 14% to 15%+ of 2009/10. Alcohol levels average 13% to 13.5%, and the figure '12' is also sure to reappear on labels!"
But while the wines may be consistently lighter, in other respects there is great variation between properties, "hence," says Schuster, "the impossibility of useful generalizations and the need to look at the reds wine by wine." There are a number of "fresh, supple, elegant medium-term wines […]. But there are also numerous fairly long-term wines, red-fruit cored, with a considerable structure of tannin and acid, relatively austere, 15- to 30-year wines."
Robert Parker also remarked on variability from property to property as a signature of the vintage. "It was not an easy growing season, and in many vineyards, specially in the Médoc, it was a race between getting the grapes adequately ripe and the sinister rot stampeding through the vineyards," Parker said in his report on the vintage. "It is hard to get emotionally pumped up over the 2011 vintage," he continues, "[but] a lot of good winemaking has produced excellent wines throughout Bordeaux." Parker singles out Pomerol "as the most consistent appellation," just above "the prestigious appellations of the Médoc, as well as the better St-Emilion properties." Overall, he says "this is a much better vintage than I thought it was before my trip to Bordeaux and could turn out to be close in overall quality to years such as the underrated 2001 and 2008."
Where the red vintage eludes easy categorization, however, the whites, both dry and sweet, seem much more straightforward. For Schuster, "this is probably the best and most consistent vintage for both dry and sweet whites since 2007. Concentrated and vigorous for the dry wines; a freshly defined linear elegance for the sweet wines, without the sheer power of the many recent fine vintages of Sauternes- some relief there, then!"
Bill Blatch, who worked at Bordeaux négociant Vintex for 30 years before his retirement earlier this year, is just as effusive. Writing on his blog at www.bordeauxgold.com, he said, "There seems to be no doubt in anybody's minds, especially mine, that Sauternes is by far the best part of the Bordeaux 2011 vintage. The wines have superbly fresh acidity and beautiful fruit aromas yet also great sweet concentration and classic botrytis character, all totally in what we might call the modern style of great Sauternes. As such, I find it a superb vintage, not quite at the absolute level of 2001, or of the sheer opulence of 2005 and 2009, but not far off, and, by its remarkable freshness, very different in style to any of these."
Pricing problems
While it would be fair to say that most merchants shared the opinion that 2011 was a much better vintage than the pre-primeur publicity had led them to believe, most also insisted that its success depended on considerably reduced prices. In this, they were very much in agreement with Robert Parker, who wrote, "If prices do not drop dramatically for the 2011 Bordeaux, I do not think there will be any fine 'futures' wine market in the civilized world that will buy these wines for delivery in 2014."
Indeed, a broad consensus soon emerged that the wines would simply not sell unless they were released at prices lower or at least on a par with the current market value for the 2008s. "The crucial test for 2011 is that of the prices," said en primeur specialist Farr Vintners in its report on the vintage.
"Far too often in the history of Bordeaux en primeur, a decent vintage following a great one (or in this case two great vintages) has been priced incorrectly. This year we are totally adamant that (with the exception of maybe of a handful of the vintage's greatest wines) these 2011s must be sold to the consumer at a price that matches or beats the current market for the 2008 vintage."
Expectations were certainly raised when Lafite released its first tranche in mid-April. At €420 a bottle exnégoce, it was down by 30 percent on 2010, which, crucially for merchants, also meant it could be sold to punters at a lower price than other "physical" vintages available on the market. And after a frustrating lull as many châteaux delayed their releases until Parker had come out with his scores, by the end of May almost all the major châteaux had released-and all at considerable discounts versus 2010. Among the most substantial drops were châteaux Conseillante (down 52 percent from 2010, at €72 a bottle), Pavie (down 49 percent, at €114), and La Mission Haut-Brion (down 64 percent, to €216).
The problem, according to many merchants, however, was that, while prices may have been lower than 2009 or 2010, too few of the top wines went far enough with their discounts. Of the five Médoc first growths, for example, only Lafite and Latour (which released in late May at €440 ex-négoce) followed the conventional wisdom that only those wines released at prices lower than available physical vintages would find much interest. The remaining trio- Mouton Rothschild, Haut-Brion, and Margaux-all came out at €360 a bottle ex-négoce, making them, as Liv-ex pointed out, "considerably more expensive than other recent vintages" and, therefore, "seeming to offer limited value for money."
Merchants and-judging by the buzz on Twitter-potential en primeur buyers reserved most of their ire for three estates in particular: Cheval Blanc, Figeac, and Cos d'Estournel. While each came out substantially lower than 2010 (Figeac by 58 percent, at €71; Cheval by 48 percent, at €440; and Cos by 45 percent, at €107), all were still significantly higher than available bottled vintages. Using the drily humorous tone that made his daily email alerts one of the highlights of the campaign, Charles Lea of London wine merchant Lea & Sandeman summed up the general mood. "Cheval Blanc has pulled off a bit of a publicity coup of its own this morning, trumping Latour's move by withdrawing from the primeurs system a year earlier than Latour. Like Figeac yesterday afternoon, it has achieved this by pricing its wine at a level which means that there is no real reason to buy it en primeur. Nevertheless if anyone does want it, please please buy it from L&S, we will not be beaten on price!"
The result has been a campaign described by one merchant as "the worst I can remember." Joss Fowler, of Berry Bros & Rudd's fine-wine sales, was slightly more upbeat but told WFW, "Compared with the past two vintages, this year has been very, very quiet. Many 2011s were quite simply incorrectly priced, and there was little incentive for our customers to buy them. Moreover, the timing of many of the releases was terrible-more than 40 wines released in one day on [Super Tuesday]. This made it very difficult to pay the right wines the attention they deserved, and many just got lost in the rush."
Fowler singled out Pontet-Canet Lafite, Batailley, Lynch-Bages, and Branaire as wines that "worked," while Lea and others reserved praise for L'Eglise-Clinet-a wine that was fairly priced at €102 (down 63 percent on 2010) despite being widely praised by the critics as one of the stars of the vintage. "At last, someone who has listened to the market," said Lea. "This is offered at a price lower than any comparable vintage (2006 and 2008 are around £1,400, 2009 and 2010 are over £3,500)." But the general view was that L'Eglise was an exception. As Fowler says, "It was quite simple: Price your wine keenly, and it sold. The list of wines that didn't work is too long."
Whither en primeur?
As is often the case with a stuttering primeur campaign, the slow-moving 2011s have brought the very validity of this unique way of selling wine into question. This year, however, speculation about the future of en primeur was thrown into unusually sharp relief by Latour's announcement that 2011 would be the last vintage of both Latour and Les Forts de Latour to be sold en primeur. From the 2012 vintage on, the château would sell the wines when they were deemed to be ready: 10-12 years after vintage for Latour, and seven years for Les Forts.
According to Latour's president, Frédéric Engerer (below), the decision comes down to a mix of patrician concern about Latour being consumed too young and a desire to safeguard provenance. As Engerer put it to WFW 's Ella Lister via email, "Simplement c'est une décision avant tout 'technique' [Above all, it's simply a technical decision] (= don't drink your wines too young + optimizing quality of storage and provenance)." But most analysts believe it's more about Latour attempting to grab a greater slice of the speculative pie. "The unstated logic appears to be that this initiative will allow the château to keep the difference between the release price and the price of the mature wine for themselves, rather than sharing it with distributors and the consumer," said the Liv-ex blog. "It will also give them greater control over price, supply, and who actually buys their wine."
Latour may not be the first château to remove itself from en primeur- as wine writer Chris Kissack pointed out on www.thewinedoctor.com, "Jean-Hubert Delon of Léoville-Las- Cases refused to sell his wine en primeur for some time, and he seemed to do very well on it." But it is the highest-profile château to have done so. And coming as it did in the midst of an underwhelming campaign, where the reasons that have made buying en primeur compelling in the past- securing allocations of wines that will be hard to come by or considerably more expensive once they've been bottled-were far from evident, it's easy to see why Latour's announcement led some commentators to question en primeur's continued existence.
For all the tribulations and general lack of value to be found in the 2011 campaign, however, it's hard to see the end in sight for en primeur just yet. As Fowler says, "Those who could afford to withdraw from the system may well keep a close eye on how Latour's decision to withdraw from EP pays off, if it pays off at all," but it will take years before the experiment's success or otherwise becomes clear. Moreover, very few châteaux would have the financial wherewithal to hold on to stocks without the annual cash-flow injection and-crucially, uniquely- the publicity that en primeur provides. All the same, while few châteaux would welcome the end of a system that has worked so well for so many of them for so long, the relative lack of success of 2011 must surely prompt some soul searching on their part before the 2012 campaign begins. As Fowler says, "For an en-primeur campaign to work, there has to be an incentive to buy, there has to be a deal."
For the most part, 2011 did not do that. But rather than spelling the end of en primeur as we know it, maybe, just maybe, 2011 will mark the beginning of an era when the top Bordeaux châteaux realize that they can no longer take their buyers for granted.