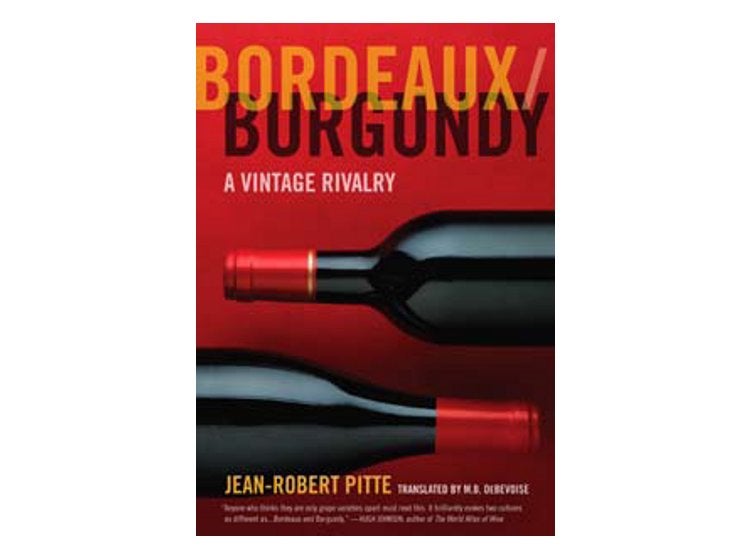 Jean-Robert Pitte
Bordeaux/Burgundy: A Vintage Rivalry (translated by Malcolm DeBevoise)
Published by University of California Press US $24.95 / £14.95
Reviewed by Stephen Brook
Regular visitors to either Burgundy or Bordeaux are often struck by the way each of these great wine regions ignores the other. It's not altogether surprising. When in Tuscany you don't expect to be served Barolo, and vice versa. You don't even expect a Tuscan grower to know a great deal about the wines of Piedmont, and vice versa. Of course there are exceptions. I know of a cool, damp cellar in the Côte de Nuits as richly stuffed with fine claret and Sauternes as it is with the best of Burgundy. Yet that is an unexpected bonus. Nevertheless, parochialism (and ignorance) are in decline as a new generation of growers and winemakers travels the world. Australians gratefully flock to Bordeaux to work a vintage; young Burgundians pitch their tents in the Yarra Valley or Stellenbosch for a few months. Their grandparents wouldn't even have tasted the wines of their neighbors and would only have left the region to hawk their wines.
Jean-Robert Pitte suggests that although the Bordeaux/Burgundy rivalry has deep historical and religious roots, it is really nothing to be proud of. His final chapter is entitled "Farewell to Parochialism." He acknowledges from the outset that both regions show a shared passion for excellence, but their cultures are too opposed to allow much mingling or exchanges of ideas.
Anyone who doubts that this cultural divide exists should reflect on the feasting traditions of each region. Dinners organized by the Confrérie des Chevaliers du Tastevin in Burgundy cram hundreds of guests into the great hall of the château within Clos de Vougeot. Not only is a stupendous quantity of excellent food served, but between, and sometimes during, each course, the assembly, led by the Cadets de Bourgogne, bursts into song, twisting their arms in the air and clapping.
It is impossible to imagine such a thing happening at a Bordelais feast such as the Fête des Fleurs. Any table erupting into song would be shown the door, while the other guests would mutter that the Haut-Brion had clearly been wasted on these vulgarians. Moreover, the Bordelais will eat well but less copiously, less imaginatively, than their Burgundian counterparts. Other than the lamprey, there are few dishes one could call truly "Bordelais," and a little lamprey goes a long way.
This relatively trivial example of the cultural divide, which Pitte discusses at some length, is nonetheless one that is unlikely to be bridged in a hurry. The historical origins of what has become a rivalry are not mysterious. Bordeaux was the creation of rich parliamentarians and, subsequently, of successful foreign merchants who settled in the city. The château served a dual purpose: as the HQ of a wine estate and as a country retreat where the prosperous bourgeoisie and nobility of the city could relax and entertain. Bordeaux has renewed itself by being open to outsiders, such as the Rothschilds and Foulds and other bankers who bought into the Médoc in the 19th century. To this day in Burgundy, the purchase of a property by an "outsider," such as the Freund family from Germany that now owns Clos des Lambrays, delivers a shock to the system. And no shock was greater than the acquisition of Domaine Engel in Vosne-Romanée by Francois Pinault of Château Latour.
The origins of Burgundy are ecclesiastical, and the monks' intimate knowledge of the vineyards of the Côte d'Or brought its viticulture to a pitch and exactitude rarely matched elsewhere. If Bordeaux found enormous favor in Britain, as well as elsewhere, Burgundy was the wine of French royalty. Napoleon, too, opted for Chambertin, even though, as Pitte informs us, he liked it with water and ice. Burgundy is the wine of sensuality.
Who would attempt to seduce a beautiful young woman with the aid of a bottle of Montrose? Pitte has found the one exception to this: Henri Dubosq of Château Haut-Marbuzet, who decades ago learned how to sex up his St-Estèphe with a good dose of Merlot and lashings of sweet new oak. Pitte quotes the great man: "I was the whore of the Médoc. I made the wine with the slashed skirts. After five or six years, I realized that my wayward girl would become a grande dame." No wonder he is still viewed with suspicion by his more conventional neighbors.
Patterns of ownership are different, too. Bordeaux estates, at least on the Left Bank, are large, whereas most of those in Burgundy can be worked by a single family. Patterns of commerce differ, also. The elegant owner of a Bordeaux château need not dirty his or her hands with the tiresome business of selling wines to consumers. All but the most sought after of Burgundian estates or négociants must still make an effort to sell their wines, but in the process they develop a loyal band of discerning customers. When the Union des Crus Classés presents the new Bordeaux vintage in London (or elsewhere), the proprietors in attendance face only the wine trade across the table. When the new Burgundy vintage is presented by British importers, the proprietors come to meet not only the trade and press, but their customers as well.
Cultural patterns vary, too. One time I wandered into Comtes Lafon in Meursault for an appointment, and saw Dominique Lafon in blue overalls clambering off his tractor. That sight would be inconceivable at a fine property in the Médoc. Bordelais like their sports: A few play polo, a majority sail at Arcachon. The Burgundians will tuck a rifle under an arm and go in search of the last extant pigeons. The Bordelais affect chic Anglo names such as William, Anthony, or Diane — hard to imagine in Burgundy.
Now all this is very true, and well explained by Pitte, but it doesn't come as a great revelation. If anything, the cultural gap is far narrower than 20 years ago. But there is a second theme to the book: a gentle debunking of the sacrosanct notion of terroir. Pitte points out that land, even the most revered soils of Burgundy, can be improved. "Indeed," he says with some exaggeration, "it has been exploited to such a degree by artificial methods over the centuries that one can no longer truly speak of nature at all."
Later in the book he stresses the relation of terroir to price. Low yields and exacting viticulture, as well as scarcity, ensure that prices for the grands crus of Burgundy will always be high. In subregions such as Mâcon, growers could never obtain comparable prices, so yields are higher and viticulture less perfectionist.
The valuation of a region and its wines, he seems to be saying, is manmade; commercial considerations affect how the land is cultivated and valued. He points to some of the top producers of the Mâconnais, such as Thévenet and Guffens-Heynen, noting that by taking pains they can produce remarkable wines and obtain good prices. The Bordelais equivalent would be bourgeois properties such as Sociondo-Mallet and Haut-Marbuzet, wines from supposedly lesser soils that nonetheless achieve excellence and are rewarded with high prices. Pitte concludes: "In the vicious circles of vinous mediocrity and the virtuous circles of excellence, the decisive factor is none other than the work of the winemaker."
This is true enough, though I doubt that he would want to deduce from this that a truly great wine can be made from a truly mediocre terroir. But he is right to point to the human interventions that have helped create the great terroirs. The vineyards of Latour, he notes, have been drained since the 18th century, while in Burgundy the higher slopes have been continuously "improved" by bringing in cartloads of soil from elsewhere.
There is more useful debunking when Pitte considers the commercialization of the wines. He points out that each region has successfully cultivated specific markets. "Even today more Bordeaux than Burgundy is drunk in the Flemish port cities, while the opposite is true in the interior of Belgium." What is more revealing is how the cultivation of specific varieties is not just based on some supposed liaison between soil type and grape variety, but because certain markets prefer certain grapes.
Thus, Pitte goes on, northern Europeans positively like the austerity of Cabernet Sauvignon (and thus of Médoc) wines and are happy to cellar them for years or decades in order to drink them at the right moment of complex maturity: "Merlot's suppleness made wines from the Libournais attractive to a clientele eager to surrender itself to their pleasures sooner." He documents how waves of fashion over the centuries have determined Parisians' preferences for Bordeaux over Burgundy, or vice versa.
Bordeaux has won, it seems. There is "not a single bottle of red Burgundy among the 6,500 laid down in the depths of the Quai d'Orsay." It should be clear that Bordeaux/ Burgundy is full of interesting and often entertaining material. But the material has been somewhat stretched.
What could have been a sparkling essay has been manipulated into a weirdly organized book. The substantial but hardly original chunks of history about each region don't contribute a good deal, nor do sections on winemaking tell us much that is new. Sections on glass manufacture, or underrated terroirs of southwest France, or label preferences, seem like padding. I can't make much sense of the way the book is organized. A section on the globalization of wine is followed immediately by a discourse on bottle types and glassware, in which the contributions of Georg Riedel don't rate a mention.
The author is a geographer, and although his knowledge of wine is wide and deep, the book is littered with errors. Smith Haut Lafitte is misspelled throughout (Lafite) and called a domaine rather than a château. Robert Drouhin would be gratified to learn that he "has the privilege of cultivating 2,625 hectares." Musigny is misspelled, as is Carruades de Lafite.
It is not true that only Yquem will sometimes refuse to bottle a vintage; Suduiraut did the same three years in a row (1991-1993). Amanda Jones, named as winemaker of Château Carsin, left the property in 2003. None of these errors is grave, but given the distinguished imprint of this university press, one has higher hopes.
Nonetheless, this book is well worth reading. It is full of anecdote and information, and some of its arguments are provocative, even if debatable. The organization is haphazard and some of the material somewhat attenuated, but for the most part it is entertaining and stimulating. In the final pages, Pitte returns to his iconoclastic questioning of the natural supremacy of terroir. "Far from harming the reputation and trade of good wines, a willingness to abandon the belief in the intrinsic and automatic virtue of grands terroirs should strengthen ingenuity and favor talent." Those are wise words.