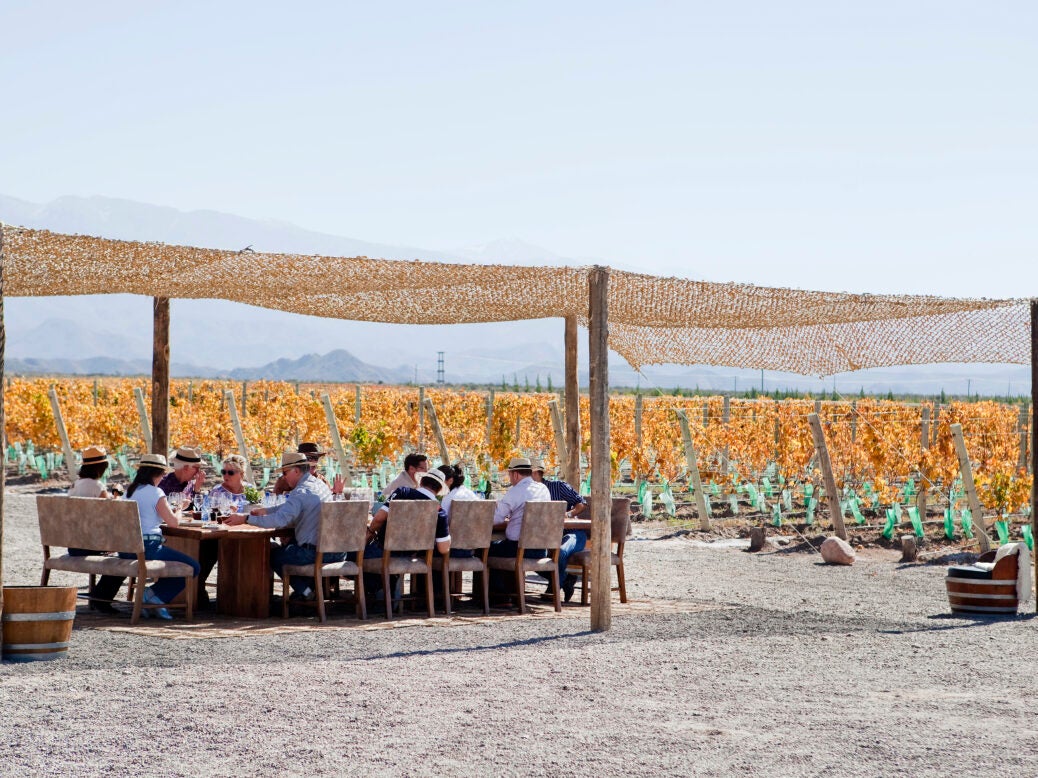 Situated across a 320-hectare estate, Casa de Uco is an innovative concept composed of the development of private vineyards, an incredible winery, an exclusive luxurious wine resort, and secluded villas constructed alongside the vines. Experience life on the vineyard surrounded by the majestic Andes Mountains, with superior services and amenities, and daily adventures.
We welcome all wine enthusiasts to unearth the magic of Mendoza's Uco Valley, experiencing the region's extraordinary wines, following the whole process from grape harvesting to the creation of a unique high quality wine brand, under the careful eye of the industry's top experts.
Private Vineyards
The combination of the ideal altitude at 1250 meters above sea level, a semi-desert climate with 330 days of sun per year, warm days, cool nights, alluvial soil with excellent drainage, and the purest aquifer in the region flowing freely to irrigate the vineyards of Casa de Uco, all result in the most ideal conditions for winemaking.
Make dreams come true owning a vineyard, in Uco Valley, Mendoza where alluvial soils are the main characteristic to produce high end wines with great personality. Vineyard plots starting at 7,000m2 , all managed by our staff who have years of experience working on the vineyard. Proprietors can decide the destiny of their grapes and get involve as much as they want every year on the vineyard or the wine production process. Italian Alberto Antonini is the head winemaker and Casa de Uco's team will guide you along the whole process according making this an eductational and fun experience.
Wines
Casa de Uco is producing single vineyard wines from its own estate. The philosophy is to produce wines which express the authenticity of its terroir. Chilean geologist Pedro Parra also has been working in order to have a complete study of the soils and have a better understanding of the different styles of wine you can produce in the estate. The heterogeneous soils of the estate makes plot and micro-plot selection very important. Stony soils and sandy soils are fermented in different vats in order to be able to identify the diverse styles of wine, which the soils will deliver.
Oak is used as a secondary element and it is preferred very light oak toast and even non-toasted barrels to preserve the authenticity of the fruit.
"For many years we have developed the expertise producing premium wines, so now we want to advise wine lovers who may not be wine professionals. Our private vineyard project was created for wine enthusiasts to get hands-on experience making their own wine. They can choose how much to become involved in the process, from the beginning stages of planting their grapes and working alongside our expert agronomists and enologists, to designing their personal wine labels. It's all about living the wine culture lifestyle with Casa de Uco."
Juan Tonconogy, Project Manager