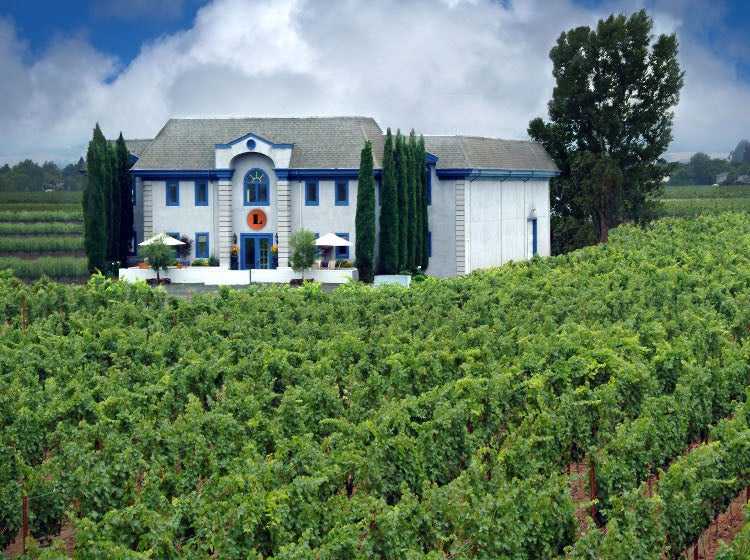 This however excludes a clique of celebrity vintner protégés, from pop stars to actors, film directors to businessmen, celebrities from all walks of the red carpet are putting their illustrious name to wine. Here are our top five celebrity winemakers, their beautiful vineyards, and the alcoholic fruits of their labour.
Angelina Jolie and Brad Pitt, and Château Miraval
There's certainly no denying the acting abilities of Angelina Jolie and Brad Pitt, and it appears that the same goes for their winemaking skills. Château Miraval, bought by the couple in 2008, is located on the French Riviera in the South of the country, and is surrounded by 500 hectares of budding vines. Once the famous recording studio 'Studio Miraval' – set up in the '70s by past owner and famous Jazz pianist, Jacques Loussier – the Château has long been a place dedicated to art and music. Some of the world's most celebrated musicians including Pink Floyd, Sting, Sade and the Gipsy Kings have recorded songs within the confines of the Château. Now in the hands of two of the world's most famous Hollywood actors, Château Miraval clearly has the arts rooted in its foundations.
With the help of the renowned wine-makers, Famille Perrin, Château Miraval now produces rosé wine of an infallibly high standard. Famille Perrin is known for producing highly revered wines including wines for Château de Beaucastel and Domaine du Clos des Tourelles. The vines surrounding Château Miraval grow on natural chalk and clay soil. This type of soil retains and drains water when necessary, for optimum grape maturation. The first vintage of Château Miraval was released in 2012, and has received stellar reviews throughout the wine world, scoring a respectable 90 on Wine Searcher.
Mick Hucknall and Il Cantante
Mick Hucknall – front man of 80's soul band Simply Red – turned his hand to winemaking in the late 1990s, and has been producing wine on the volcanic banks of Mount Etna ever since. His Sicilian estate, Il Cantante – 'The Singer' – has built a solid reputation as a source of reliable and robust Sicilian wines.
The agrarian site on which the vines are planted is an accumulation of centuries of magmatic residue, and has created a bio-diverse soil that is rich in minerals giving the wines a distinct characteristic flavour. The Etna D.O.C. region, where the vines grow, has a different microclimate to the rest of Sicily, one that even varies within the region across the slopes of the volcano. The conical shape of Etna sees the vines trace down the banks of the volcano, which means the plants are at varying heights and proximity to the sea surrounding them. These different altitudes and exposure levels are also dependant on the cardinal direction of each planted vine, as certain natural elements will be closer and thus more efficacious in the maturation of the grapes. The cooler nights and warmer days, and high precipitation in the winter, mean that Etna cultivation is entirely different to the rest of Sicily and produces very distinct wines.
The wines from Il Cantane are produced carefully and as true to the traditional viticulture of the region as possible by using limited tools and techniques. Three wines are produced at the vineyard, a Nero d'Avola, which is one of the most popular red grapes in Sicily, and is sweetly tannic and drinkable at a young age. The most famous of the wines produced at Il Cantante is the Etna Rosso, a spectacular wine produced primarily from the Nerello Mascalese grape. The final wine is a bianco variety, made from the native Carricante, Grecanico and Minnella vines grown in a mineral-rich, sandy terrain.
Sir Cliff Richard and Adega do Cantor
Sir Cliff Richard has loved, and traveled to, the Algarve in Portugal for years, and so choosing a spot for his wine estate proved an easy task. Located in Guia, near Albu feira, is his privately owned winery, Adega do Cantor (Winery of the Singer). Surrounded by three vineyards – Quinta do Moinho, Quinta do Miradouro, and Vale do Soberiro – Adega do Cantor primarily produces Vida Nova and Onda Nova wines using a mixture of traditional and modern wine-making processes. The grapes are picked and pressed by hand by means of keeping up the quality of the wines.
Quinta do Miradouro vineyard was used as a testing spot for an innovative seven wire Amart Dyson trellis system, designed by Australian viticulturist, Dr. Richard Smart, which cleverly works to open up the vine canopy increasing the surface area of the leaves, and thus improve the light conditions in the fruiting area, which has helped produce a lush, ripe crop year on year.
The wines vary from a sparkling rose to serious reds, with awards ranging from a Gold Medal at the Berlin Wine Trophy 2011 for his Vida nova Branco 2010, and Gold Medal at the Melhor Vinho do Algarve, Fatacil, August 2010 for his Videa Nova Reserva 2008. Overlooking the winemaking process is the winery's Consultant winemaker, David Baverstock, who has previously won Portuguese wine maker of the year in 1999, and in 2002 his Esporão Touriga Naçional 2001 was awarded the trophy for best Portuguese red wine at the London International Wine Challenge in 2002.
Donald Trump and Trump Winery
He's a man who's got it all – financially speaking – and so a vineyard as one of his numerous assets seems to make sense. The Trump Winery, purchased back in 2011, has become a rising star in the American wine polls winning two gold medals at the 2013 San Francisco International Wine Competition for the 2008 Blanc de Blanc and the 2012 Viognier. Run by Trump's vintner son, Eric, a recent nominee for Wine Enthusiast's 'Rising Star' category for the upcoming 2014 awards.
The winery itself is set in the heart of the Monticello wine trail in Charlottesville, Virginia, which puts it in very good company, as Thomas Jefferson's famous Monticello is just a few miles away. Adopting Old World winemaking techniques, inspired by the esteemed regions of Bordeaux and Champagne, the wines are produced to replicate fine European wines. The red vineyards are planted with French varietals including Merlot, Cabernet Franc, Petite Verdot, Cabernet Suvignon and Malbec. The Sparkling and White vineyards are planted with Chardonnay, Pinot Noir, and Pinot Meunier, and the cooler climes of this vineyard means these grapes mature slowly, and so preserve a natural acidity, making for an exceptionally crisp sparkling wine.
Francis Ford Coppola and Francis Ford Coppola Winery
American screenwriter and film director, Francis Ford Coppola, has a plethora of remarkable films behind him, including award winners such as The Godfather and Apocalypse Now. But there's something else this silver screen genius is adept at, and that's wine making. Wine has long been a part of Coppola's life, with his grandfather, Agostino Coppola, making his own in the basement of his New York apartment when Coppola was young. Buying his own vineyard in Rutherford, California in 1975, Coppola has carried on the family tradition of winemaking, just on a bigger scale and no doubt to a higher quality.
Producing over forty wines on the estate, there is also a restaurant, swimming pool, and a Movie Gallery – in honor of Coppola's enthralling movie career, which displays a massive collection of years-old movie memorabilia. The estate also hosts regular events, including productions at the performing arts pavilion on the grounds.
There is a limited collection of Reserve wines from the winery, which have been meticulously made by the Director of Winemaking, Corey Beck, who hand-picks the ripest fruits for these wines. The Reserve range includes Cabernet Sauvignon, Chardonnay, and Pinot Noir wines. The artwork for each bottle has been designed by film production designer, Dean Tavoularis, who previously collaborated with Coppolla on other artistic projects including several films, and the interior and exterior design of Francis Ford Coppola Winery in Sonoma County.
Randy Lewis
Professional race car driver, Randy Lewis, knows how to handle a road, and since 1999, knows how to handle a vineyard. The small family winery, Lewis Cellars, is in the bountiful Napa Valley, and produces Cabernet Sauvignon, Merlot, Syrah, Chardonnay and Sauvignon Blanc. Competing in some of the biggest racing competitions, from the Formula Three in Europe, Formula 5000, Can Am, and Indy Cars in the states, with a career spanning over two decades.
Lewis realised his passion for wine when he decided to make a few hundred cases of wine with his vineyard owning friend in 1989 to 1991. This led to Lewis and his wife, Debbie, launching their eponymously named wine producing company, Lewis Cellars, with the 1992 vintage. Buying a vineyard is a massive expense, and often quite a precarious one, and so instead Lewis began producing his own wines by sourcing grapes from local vineyards and making his own wines. Eventually, after realising his passion for vintnering, Lewis decided to rent a vineyard and the expertise of cult winemaker, Helen Turley, who helped source fruits from fine vineyards such as Rutherford and Pritchard Hill. This investment clearly paid off as these days many of Lewis's wines score above 90 in top wine publications tastings, such as Wine Spectator.