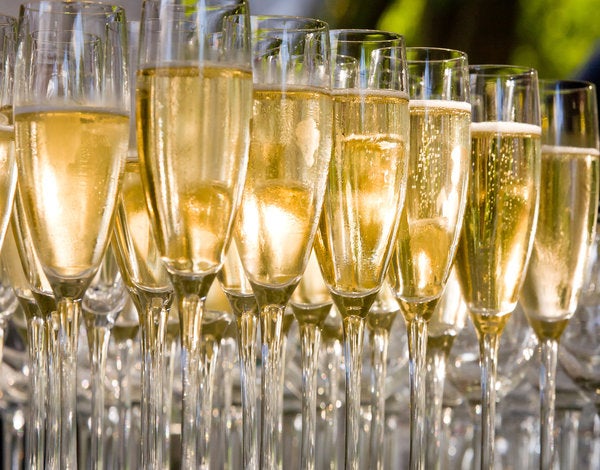 He admitted ruefully however he may have to leave policing the rest of the galaxy to future generations (especially while back on Earth US-made fizz labelled Champagne still sells locally three times as much as actual Champagne). Whilst hunting down small producers in Chile misusing Champagne's name clearly continues to be necessary, it was suggested that in its biggest export market (the UK) the policy of deep discounting in supermarkets is as damaging to the brand, especially as an estimated 65% of the off-trade is through the multiples. Meanwhile everyone in London restaurants is guzzling champagne like Wolf of Wall Street actually won some Oscars leading to a boom in the on-trade accounting for 35% of UK sales. It was suggested the remaining percentage is split between independent merchants, the staunch champions of grower champagnes, and bottles in the luggage of fleeing French tax exiles, the UK's other number one import currently.
Paillard revealed that in 2013 Chardonnays were particularly impressive, which is encouraging given the increasing popularity of Blanc de Blancs cuvées (vintage and non-vintage) we have been witnessing over the last couple of years. Nick James, deputy chair of the Champagne Agent's Association suggested the year had finished strongly in the UK and that the top end of the market has historically been less affected by recession, any uplift being an early indicator of economic recovery. The increasing inclusion of prestige cuvée Champagnes in investment portfolios was not considered of major significance, rather the hope was expressed that Champagne would remain the province of drinkers rather than speculators.
The challenge of elevating Chinese buyers from brand obsessives in to Champagne lovers was touched upon and then followed a discussion about the problem of TCA and cork taint, Paillard pooh-poohing the idea that artificial seals were more environmental, arguing that without the cork industry the forests would no longer exist. (Estates in the UK argue similarly regarding copses full of grouse. In the case of the latter at least they would probably not be abandoned holiday home construction sites if it were otherwise.) Clearly an unwelcome guest, Prosecco and it's increasing market share entered the discussion which became a touch heated (or perhaps it was just the lack of snow this year?) but just as we were in danger of getting lost in restatements of Champagne's noble and ancient history, Paul Beavis (CAA Chairman) succinctly summarised that the preferred policy should be to defend the price rather than apologise for the quality.
Some notable wines (from 190+):
Non and multi vintage
Armand de Brignac, Brut Gold NV – disappointingly not served in a bottle the size of warhead. NB – rumours of a vintage launch anon, speculatively based on 2004…
Billecart Salmon Blanc de Blancs Grand Cru. NB – we await the launch of Nicholas Francois Billecart 02 in June, one of the last prestige cuvees from this heralded vintage to be released.
Henri Giraud, Homage a Francois Hemart Ay Grand Cru
Jacquesson Cuvée 736 (based on 2007, rather more creamy and relaxed than the undeniably impressive but austerely structured 735 – based on 2006)
Eric Rodez, Cuvée des Grands Vintages (previously at Krug – Eric was my discovery of the tasting), In a see of Blancs his, Grand Cru Noir cuvée is also worth a mention).
Vintage
Andre Jacquart Le Mesnil 2006 (a favourite & richly vinous)
Le Mesnil Blanc de Blancs Grand Cru 2005 (the best showing from this rather blowsy vintage)
Bollinger Grande Année 2004 (not drunk at tasting but at client's house later in the evening). NB – launch of R.D. 02 this month another eagerly anticipated release.
Gosset Grand Millésime 2004
Pol Roger Blanc de Blancs 2004 (and even more so 2002 served at lunch)
Dom Ruinart 2002 (beginning to open up again, a class performer)
Charles Heidsieck Brut Millésime 2000
Value Options:
Paul Dethune, Ambonnay Grand Cru Brut NV
Castelnau Blanc de Blancs 2002
*Comité Interprofessionnel du Vin de Champagne
Writer: Tom Harrow of WineChap