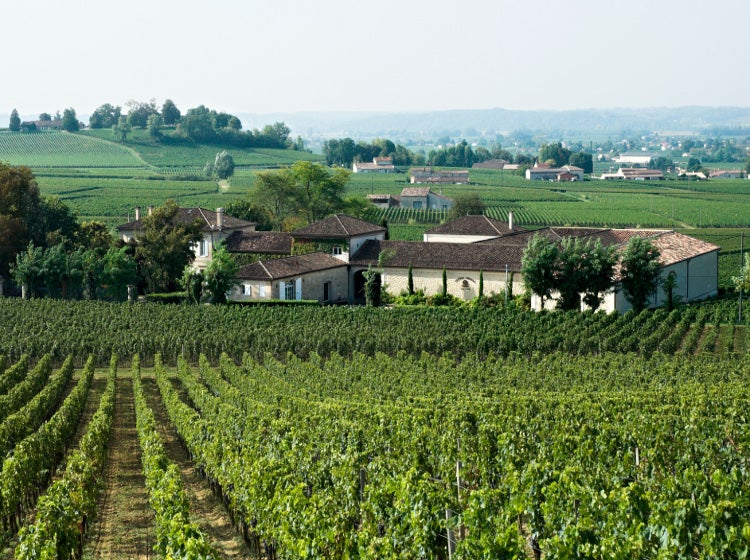 To one side of the best part of the Côte, away from Magdelaine, a little family of generous, mellow, and most agreeable wines make their home around L'Angélus, the best known. This is balanced wine but without the drama of great power or the mystery of great finesse. Its aroma and bouquet represent the tasting qualities well: hearty, of definite appellation character, untroubled by some of the more elusive ups and downs of properties that aim for more complicated results. A medium red color, clear rather than brilliant, announces a sound wine."
So wrote Steven Schneider, Bordeaux merchant, broker, and discriminating palate, in the mid-1970s (The International Album of Wine). His paragraph encapsulates, by implication, what we all recognize about a fine terroir-namely that, just as a musician can make or mar the possibilities latent in a fine score, what you make of a vineyard's potential depends on how ambitious and how good you are as an interpreter and performer, viticulturist and winemaker.
A decade later, in 1985, Hubert de Bou¨ard de Laforest took over the management of Château Angélus from his father, and the story of this tasting is that of an ambitious young owner-manager who was troubled by those "more elusive ups and downs," who aimed for precisely those "more complicated results." And who, by so doing, changed the wines of Château Angélus from "sound," to a quality level that sits consistently just behind the top wines of the appellation.
De Boüard was among the first proprietors to start concentrating on improvements to the vineyard: minimal chemical treatments, organic compost rather than chemical fertilizers, green-harvesting, and so on. He reduced the yields, harvested riper fruit, introduced new barrels for aging (there had been none under the previous generation), and the results started to show immediately, with his first vintage, 1985. But of course the process of change takes time, as does the winemaker's understanding of his vineyard and his vines. He gets but one chance a year to perform, to make a definitive expression of a whole season's decisions in the vineyard and chai, and he doesn't really find out whether they were the right ones until the wines have had a decade and more in bottle. It is a mightily extended learning curve.
As a winemaker, your decisions are based on a style that you have in mind, resulting from a combination of the potential of your terroir, current fashion, the pressures of commerce, perceived consumer tastes, and your personal preferences. De Bou¨ard's take on all of these makes for an Angélus that has been, for at least 15 years, both very fine and an archetypal modern St-Emilion: deep in color, rich in flavor, concentrated, structured-the issue of low yields, very ripe fruit, and long aging in (mostly) 100 percent new oak. It is a tribute to his ambition, his care, his palate, and his flexibility of mind that one can clearly taste the improvement of the wine over that quarter-century of winemaking. The finest wine in each decade (1989, 1998, 2005) exceeds that of the previous decade; the consistency of increasingly good quality since 1997/98 is notable, and perhaps most of all, there has been a clear, gradual change toward a wine that is both more subtly complex in taste and more refined in texture-overall more complete and harmonious, that is. It's a move away from the rather heavier, extractive, tannic hand, the trying-a-bit-too-hard style of the first ten years or so under his guidance-a direction that appears to be confirmed at the start of the new decade, with a beautifully balanced, graceful 2011.
It is Bordeaux's advantage to be a blend (because of the choice it offers the winemaker), and the Angélus team rightly makes much of its Cabernet Franc component, much of it very old vines. The grape accounts for 47 percent of the vineyard (the balance 50 percent Merlot, 3 percent Cabernet Sauvignon), the third-highest Cabernet Franc proportion after Cheval Blanc (58 percent) and Ausone (55). It is Angélus's advantage to have a location that can regularly fully ripen this often tricky varietal. For when it is fully ripe, it makes wines of remarkable finesse and fragrance, attributes of Cheval Blanc and Ausone, as well as the best of Angélus. The vagaries of Girondin weather mean that its proportion in the wine varies considerably-57 percent in 2003, 10 percent in 1991-though the ideal blend, that of the finest vintages, seems close to the vineyard mix: 40-50 percent Cabernet Franc, 50-60 percent Merlot. And increasingly ambitious pricing has allowed for substantial investment to support improvements in vineyard and winery. Bordeaux is business, as well as art!
This tasting demonstrated De Bou¨ard's ability as a winemaker not only with the great vintages but also with the lesser ones, many of which are remarkably pleasing. And it showed that if the wines are flattering in their fruit opulence when young, they develop really fine bouquets with age as their showy primary fruit mellows and retreats, and attractive tertiary characteristics appear: mineral, undergrowth, truffle…
Although de Bou¨ard claims not to make his wines overoaky, it is a criticism that has been leveled against them. It is (it has been?) an oaky style, and if you are sensitive to the presence of new wood (I clearly am), whether as an aroma or, more importantly, as an almost chalky mouth-coating dryness of texture from oak tannin, then you do notice it as a feature of the wines, to a greater or lesser extent, and one that tends to linger over time. This is, of course, eventually a question of taste, but it would be interesting to compare, at maturity, a fine vintage that had been aged in only half to two thirds, rather than a totality, of new oak.
That said, this generous vertical demonstrated how the Angélus wines under Hubert de Bou¨ard's stewardship have become beautifully expressive of their high proportion of Cabernet Franc in particular and of their St-Emilion origin in general, in a fine, "modern" style, one that evidently appeals to many drinkers. With clear elements of Schneider's "drama of power" and "mystery of finesse," they are now a far cry from the "mellow agreeability" of the '60s and '70s.
These wines from 2009 back to 1985 were tasted from undecanted magnums, in flights of five, at Farr Vintners, London, on October 25, 2011. (I have included my barrel tastings of the two most recent vintages simply for the sake of completeness.)
2011 Angélus
(Barrel sample, March 2012; 60 M/40 CF)
A fine minerally nose; a beautifully balanced, beautifully made wine, with very fine-grained tannins and a fresh, non-intrusive acidity; freshly sweet, pure, gently minerally fruit, juicy, classy, long, and graceful across the palate, no excess firmness on the finish, and fine, fragrant length. Shows the quality of 2011 Cabernet Franc: a really lovely Angélus, very harmonious in the context of the year and likely to come around relatively quickly. 2019-30+. 17/17.5+
2010 Angélus
(Barrel sample, March 2011; 55 M/45 CF)
Intense, almost raisiny ripe to smell; elegantly balanced, full without being heavy, a concentrated core of very pure fruit, within the characteristically firm, dry oak-tannin-dominated texture; long across the palate, a sort of warm and spicy black-cherry flavor, lightly mineral-tinged, and a long, warm finish. Considerable finesse, fresh and harmonious in its style. As usual, I wish there were less oak-tannin dryness of texture. 2020-30+. 16.5/17.5
2009 Angélus
(14.5% ABV; 60 M/40 CF)
Ripe blackberry-and-new-oak nose; rich, fullish, finely, firmly, oakily tannic, with a lively acidity; dry texture dominates at the moment-very ripe blackberry-fruit flavor, minerally underneath, long and warm, with excellent length of fruit and aroma. 2016-30+. 17.5
2008 Angélus
(14% ABV; 62 M/38 CF)
Sweet, oaky nose; elegantly balanced, fresh, finely tannic medium-full-bodied wine; a crisp acidity defining a fresh, ripe red-berry fruit, quite complex and well sustained across the palate, long and fine and even, with excellent persistence. Classic proportions and style. 2015-25+. 17+
2007 Angélus
(13.5% ABV; 65 M/35 CF)
Full, fresh, ripe, oaky, a very pretty nose; nicely balanced in a crisp, medium-full style, with a very fine, if slightly oak-dry tannin; refreshing red-cherry claret flavor; ripe and flowing, with no lack of substance, though clearly in a lighter style than 2008/9; excellent, oak-tinged, fruit and mineral length. Very nice, stylish wine that will be accessible relatively early. A most successful 2007. 2014-20+. 16.5
2006 Angélus
(14% ABV; 58 M/42 CF)
The least harmonious to smell for the moment, with just a hint of volatility; medium-full wine, with a marked, dry-textured wood tannin and a fresh to vital acidity; a flowing character, moderate complexity and medium length; elegance rather than scope. Good but, although fuller, not that much better than the 2007, and certainly drier. Currently awkwardly adolescent and will need a good decade in bottle. 2016-26+. 16/16.5?
2005 Angélus
(14.5% ABV; 55 M/45 CF)
Dark, narrow-rimmed red; noticeably ripe to smell. Beautifully balanced, full-bodied, elegantly concentrated wine, with a very fine tannin and fresh acidity; long, fine, and even to taste, with a particularly refined flavor, intense and complex, minerally and aromatic, graceful and surprisingly delicate within the firm frame. Notable length, and a slight alcohol warmth on the finish. Will need plenty of time and will be very good. Lovely wine, a great Angélus. 2016-30+. 18
2004 Angélus
(14% ABV; 60 M/40 CF)
Deep color, milky oak clear to smell; very nicely balanced, relatively supple wine, finely tannic, quite rich in the year, sweet, ripe, and elegant, graceful and harmonious, with a moderate complexity and length. No great depth, but a stylish wine with a lovely balance of freshness to ripe fruit; approachable now, even if the tannin is a touch oak-dry. Drink now to 2020. 16.5
2003 Angélus
(13.5% ABV; 43 M/57 CF)
Less inky color than the norm (that 57 percent Cabernet Franc); a fine, oaky nose, with no hint of the year's excess; elegant and graceful and fragrant within the rather dry tannin; not the matter of many of the wines here, but long and sweet-cored and aromatic-marked, that is, by the class, freshness, and fragrant character of its Cabernet Franc content. Tastes quite counter to one's image of the year! Very good in a different Angélus style from usual. An excellent wine in a challenging vintage, where a high proportion of Merlot would have made for too heavy and exotic a wine. Now to 2020+. 16.5+
2002 Angélus
(14% ABV; 45 M/55 CF)
Dark narrow-rimmed red; warm, gentle, if slightly neutral nose as yet; fullish wine with no weakness but without much complexity or reach to it; like the 2003, aromatic from its high proportion of Cabernet Franc, along with the oak dryness that is part of the wine's style and finishing medium length. Leanish, of course, but good in a slighter vein. Drink now. 15.5
2001 Angélus
(13.5% ABV; 60 M/40 CF)
Dark red, brick rim; the first wine really to show a bit of bouquet; rich and fleshy, very nicely balanced, still with a fine tannin that is nicely integrated; very drinkable at ten years, fleshy, even, subtle, with a nice aromatic complexity and good length; the dry wood tannin shows a touch on the finish. Delicious early maturity. Now to 2020+. 16.5+
2000 Angélus
(14% ABV; 50 M/50 CF)
Dark red, just beginning to show a bit of age, though still quite dumb and youthful to smell; full, tannic, muscular wine, lumpy and adolescent at the moment, with the very firm tannin dominating its sweet-fruit core; less aromatically complex and long than one might expect for the vintage. The dryness of the year is clear in the very dry texture. Currently an angular, challenging wine, a tough prospect that will need years to harmonize. Much less successful, at least for the moment, as an example of a great vintage than the 2009, 2005, 1998, or 1989. Food would allow its fruit through, but there's not much pleasure on its own. 2016-30? 16.5?
1999 Angélus
(13.5% ABV; 80 M/20 CF)
Dark red, brick rim; early bouquet of ripe, plummy fruit; oaky and earthy, too, with a very slightly stewed character; medium-full, fresh wine, with a light, firm tannin; a straightforward, lean flavor, with limited complexity and medium length. Clearly, the most difficult vintage in the tasting so far, as a consequence of a hailstorm just prior to harvest. Not bad, just not much to it, and clearly missing much of its ripe Cabernet Franc component. Drink.
1998 Angélus
(13.5% ABV; 60 M/40 CF)
Brick-rimmed red; a fine, sweet bouquet emerging, complex, subtle harmonious; very nicely balanced wine, both concentrated and fresh, with a fine dry tannin; sweet-cored, freshly fruited, elegant, long, complex; subtly minerally, with a fine aromatic aspect and excellent scented length. A rich, harmonious beauty, if without the absolute scope of the 2005, and a first-rate example of this lovely Right Bank vintage. Now to 2020. 17.5+
1997 Angélus
(13% ABV; 75 M/25 CF)
Dark, brick-hued red; light, gently plummy, sweet, vanilla-tinged nose; light to medium-full wine, with a distinct freshness and moderate complexity; an excellent 1997 nonetheless, easy, sweet, flowing Merlot, still fresh and attractive, and with goodish length. Drink. 16
1996 Angélus
(13.5% ABV; 55 M/45 CF)
Mature dark, brick-edged red; early bouquet of sweet fruit, with a vanilla-cream oak topping and gentle minerality; medium-full, dry-edged, rather hard and chewy and lacking fruit core to balance the tannic frame finishing dry and short, too. Odd. Not bad, but without much to say for itself after its pretty bouquet. May keep, doubt it will improve much. Drink. 15
1995 Angélus
(13.5% ABV; 60 M/40 CF)
Mature brick-rimmed mahogany red; sweet, scented early bouquet, oak clear but not dominant to smell, and with a touch of Brettanomyces; robust like the 2000 and remaining hard, especially for a 16-year-old; this tastes of the dry, arid character of the year, lean and mean, with the wood and fruit-extracted tannins dominating the fruit. Moderate complexity, medium length, austere and sinewy. Difficult and lacking charm: I'm not sure this will ever harmonize. Drink with robust food, which will mollify it. 15.5
1994 Angélus
(13% ABV; 70 M/30 CF)
Mature mid-red; fine "old mature claret" nose, gravelly, minerally, Médoc-like! Well enough balanced, fairly crisp, lightly, drily tannic, but all up front in flavor, a bit lean and dry and finishing short. A good fist in a difficult vintage, but likely to dry out now; indeed, it was more pleasurable younger. Drink up. 15
1993 Angélus
(12.5% ABV; 75 M/25 CF)
Dark ruby; very lightly gravelly to smell, but not much there; light, fresh, dry, luncheon-claret character, with a gently dry oak texture. A touch less edgy and tannic than the 1994 but at a similar level. Limited. Drink up. 15
1992 Angélus
(12.5% ABV; 80 M/20 CF)
Mature brick-hued mahogany; a sweet, pleasing bouquet of oak and gravel; a bit fluid (all that rain!); slightly edgy but with a pleasing, light, ripe fruit in a nice, light luncheon-claret style. Very drinkable and a pretty good '92! Drink up. 15+
1991 Angélus
(12.5% ABV; 90 M/10 CF)
Mature brick-edged mahogany; light, sweet, gently earthy, old-claret nose; a pretty, mature bouquet, light but fine, with sweet oak, fine gravel, mineral, and mushroom aromas; lean and thin and tough to taste, though. Again, all that rain. And again, like the 1992, much more pleasing to smell than to taste. Drink up. 14
1990 Angélus
(13.5% ABV; 50 M/50 CF)
Dark, brick-edged mahogany; a dense, sweet-cored, persistent bouquet of minerals, undergrowth, gravel; heady and seductive to smell, if with just a touch of Brettanomyces; rich, generous, beautifully balanced, fleshy wine; deep, sweet, and even; moderately complex, still with its slightly dry tannic edge and with good, if not exceptional, length. Seductive as this is, it doesn't have the harmony, complexity, and completeness of the later fine vintages, and the dry tannins taste as though they will always be present. A very good but not great 1990, at least on the evidence of this magnum; not up to 1998, 2001, 2005, 2009. Now to 2020? 16.5+
1989 Angélus
(13.5% ABV; 50 M/50 CF)
Mature, brick-edged mahogany; sweet, minerally, and fine to smell, with just a touch of volatility; perfectly balanced middleweight, still with a nice defining freshness; harmonious, sweet-cored, complex, and lightly minerally under the warm, ripe flavor, and very good length. Much more harmonious tannins than the 1990-long, elegant, even, without being particularly grand, and with lovely aromatic persistence. At its peak now, with a sweet, easy, mellow maturity, and still that very slight oak-dry edge. A deliciously complete wine, if not the absolute complexity and scope of the finest vintages from 1998 on. Now to 2020. 17+
1988 Angélus
(12.5% ABV; 60 M/40 CF)
Dark red, less mature in appearance than the 1989; mineral and game to smell; medium-full wine with a firm acidity and fine, firm, dry-edged tannin, showing the characteristic austerity of 1988; lacking a bit of charm-but that said, this is a faintly earthy, red-fruited, old-fashioned, claret lover's wine that needs the benefit of food. Drink, though it will spend a long time dying! 16+
1987 Angélus
(13% ABV; 75 M/35 CF)
Mature brick-hued ruby; light, still a bit oak-dominated to smell, with the earthy, leafy character of cooler, slighter years; "old claret," but a touch of sweetness to the bouquet and to the flavor. Supple, easy, medium-full wine, with a light, dry, oak tannin still there; a touch sweet and sour, but not mean, indeed flowing, pleasant, if brief. Much more beverage pleasure than the 1986. Drink up. 15+
1986 Angélus
(12.5% ABV; 60 M/40 CF)
Mature brick-hued ruby; fully developed, earthy, truffley, mushroomy bouquet. Lean and chewily tannic to taste, tough, short, and charmless, where the dry tannins really do dominate the fruit. Little amelioration in prospect. Few virtues beyond the bouquet. Along with 1991, my least favorite of the 25-year lineup. 14
1985 Angélus
(12.5% ABV; 55 M/45 CF)
Bright, mature, brick-hued ruby; a nice, if simple, bouquet; a pleasing, flowing, ripe-fruited wine, straightforward in character, of only modest complexity; finely dry and tannic, more old-fashioned than all the other wines here, clearly without the class (in a fine vintage) of the later wines, and with an astringent quality to the tannins. Finishes a bit short. Nice enough in its old-fashioned way, but a claret from a different age. Beginning to dry out. Drink. 16