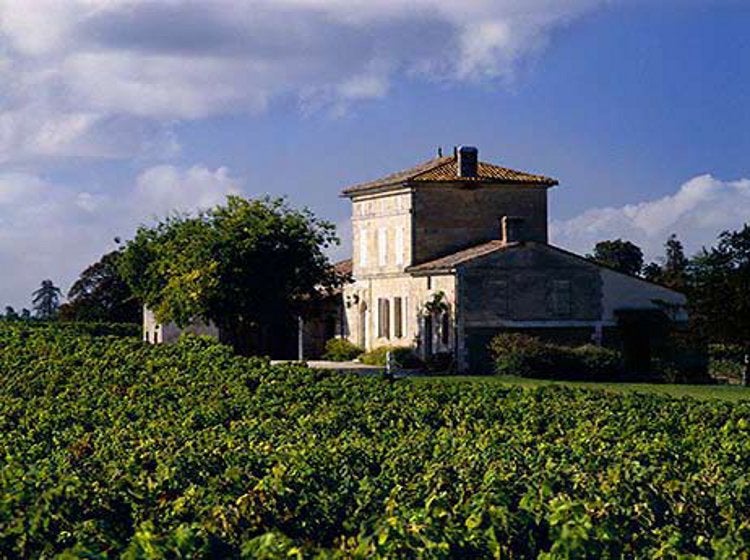 by Stephen Brook
Even Pomerol enthusiasts might have a hard time locating Château Lafleur. The "château" is a small stone house and chai unremarkable even by Pomerol's rustic standards. You used to be able to identify Lafleur by the chicken run alongside the chai, but a few years ago this was replaced, predictably, by a few rows of vines, which in these parts, are worth rather more than a dozen chickens.
Most Pomerol properties are very small, at least in the choicest locations, and this is certainly true of Lafleur, which consists of 4.5 hectares (11 acres) in a single parcel that adjoins Pétrus, Vieux Château Certan, Hosanna, La Fleur de Gay, and other prestigious estates. There are five different terroirs on the property, all picked and vinified separately of course, and the vines have an average age of around 35 years. Half of them are Cabernet Franc, the remainder being Merlot, and it is this unusual varietal mix that, as owner Jacques Guinaudeau confirms, gives Lafleur more in common with Cheval Blanc than with its neighbor Pétrus.
The property dates from the mid- 19th century, and was under the same ownership as La Fleur-Pétrus. Indeed, the two houses are architecturally identical. By the late 19th century, Lafleur's wines were already highly regarded. It remained in the original family, and in 1947 two sisters, Thérèse and Marie Robin, inherited it, though they continued to live at their other property, Château Le Gay. There were certain alliances with Maison Moueix, and the 1983 and 1984 vintages were vinified by Jean-Claude Berrouet.
Thérèse Robin died in 1984, and Marie leased the property to her second cousin, Jacques Guinaudeau, who had his own property north of Fronsac. After Marie Robin died in 2001, Jacques had the opportunity to buy the property outright. He was well aware that there were many other covetous eyes on Lafleur, mostly from men and women with large fortunes that he could not begin to match were any bidding war to take place. Fortunately for Lafleur, Jacques Guinaudeau, who had been making the wines since 1985, was able to secure control of the property.
The vinification is unremarkable, as the focus of Guinaudeau's attention is the vineyard. He and his team seem to know each vine individually and have a detailed understanding of the variations in the terroir. There is selective harvesting, with numerous passages through the rows in search of perfectly ripe, but not overripe, fruit.
Destemming has been practiced since the 1980s. The wine is aged in 50 percent new oak. In 1987, Guinaudeau introduced a second wine, Les Pensées de Lafleur, and in most vintages some lots are sold off entirely. This means that the wine is scarce: about 400 cases of Les Pensées and 1,000 of the grand vin. Lafleur is very long-lived, and even vintages from the 1980s seem far from maturity. That is not to say that Lafleur can't be enjoyed relatively young, but those lucky enough to have some bottles from good vintages in their cellar need be in no rush to drink them.
The following were all tasted from magnum at Christie's in London in November 2007. In color the wines were all a deep but not saturated red, so color is not remarked on in the notes that follow unless it deviates from that standard.
The tasting
1986 The last vintage before Pensées was introduced, and thus the last to contain almost the entire crop. Still deep red, but subdued on the nose, though there are aromas of cherries and violets; perhaps a slight stalkiness disturbs its purity. The attack is rich and succulent, the flavors highly concentrated, and the wine remains fresh with ample spice and vigor. It is, however, markedly tannic, and there is a touch too much grip and rusticity for a 20- year-old wine. But it finishes sweet and long. No rush to drink up. 17
1988 A vintage with merits usually obscured by the spectacular 1989 and 1990 wines. Lafleur demonstrates that it would be a mistake to underrate 1988 in Pomerol. Initially muted, dense, and chalky on the nose, aeration persuaded some lean cherry aromas to emerge; but the nose is elegant rather than opulent. The palate has a fine attack, still fresh and lively; concentrated, of course, but still tight. It may be less complex than the 1989 or 1995, but this has beautiful poise and elegance and a startling brightness of fruit. It's balanced and harmonious, and very finegrained tannins secure a long finish. 18
1989 A sensational nose: plums, woodsmoke, tobacco, coffee, and fruitcake, all leaping from the glass. Yet there is nothing flashy or vulgar about this panoply of aromas. On the palate it is relatively open, but also lush, voluptuous, and seductive, and fine acidity means there is no trace of heaviness despite the density of fruit. This 1989 is not super-ripe nor super-concentrated, but it radiates energy and has precisely the sexiness one yearns for in a top Pomerol. Although relatively forward, it should keep well, but perhaps not quite as well as some other top vintages of Lafleur. Irresistible and very long. 19
1995 Just a hint of evolution in the color. Dense nose of plums and black fruits, but there is also an enticing if discreet floral quality, suggesting crystallized violets. Very rich, with amazing fruit intensity, highly concentrated, with plenty of vigor and pizzazz, but still tight as a drum. A perfect marriage of power, tannic force, and gracefulness. Already complex and invigorating, the wine should age effortlessly for decades, since the balance seems impeccable. Exceptional length. 19
1996 Muted nose without the immediacy of the 1989, for example, but there are discreet aromas of black cherries and mint, and there is considerable oak influence. Although fresh, concentrated, and spicy, this is a medium-bodied wine. It may be slightly lacking on the mid-palate, but there is ample acidity to keep it vibrant. Relatively lean, this 1996 also has subtle tannins that nonetheless carry the wine to a long finish. This was not a particularly easy vintage in Pomerol, but this is a success for the year, and still seems adolescent. 17.5
1998 Aromatically, this is already very complex, perfumed, and forceful, with a surprising red-fruits character and a light smokiness, perhaps from the oak. It doesn't have the fat and opulence of the 2000, but it's very concentrated, the acidity is bright, the tannins fine-grained, and there is excellent lift on the mid-palate. The Cabernet Franc seems very marked in this wine, although Jacques Guinaudeau admits it was not quite as ripe as he would have liked. However, this gives the wine considerable length and finesse rather than meaty power, and is none the worse for that. 17.5
1999 The nose is quite marked by oak, but shows raspberry and cherry fruit; although delicate and charming, there is a slight stalky character (though the bunches were destemmed!) that suggests a lack of optimal ripeness. The wine is medium-bodied, sweet, and stylish, and already showing gentle signs of evolution, though it is far from flagging. Indeed the tannins remain robust and still need to soften so as to march in tandem with the intense fruit. Just a hint of rusticity here, but it may well wear off, and good though not exceptional length. 17
2000 Pensées More open aromatically than the grand vin, with some sweet cherry fruit and a whiff of oak. It's still quite austere, as is the palate. It's concentrated and has fine acidity, the tannins are well below the surface, but it's still a taut and rather edgy wine. It shows satisfactory length, but there's a slight lack ofharmony and finesse. A perfectly acceptable wine, but alongside the grand vin, you can understand why Guinaudeau separated this out. 17
2000 This has the deepest color of the series. The nose, while reticent in fruit expression, shows real aromatic power, with plum-skins and other black fruits lurking in the glass. Far more sumptuous and opulent than the 1998 (which is not always the case in Pomerol), it has breadth of flavor without any heaviness, and a thread of underlying acidity gives exceptional persistence. This is still an infant of a wine but has evident structure and tannic grip, and is built to last. The finish is very long and very graceful. Should be confined to the cellar for many years more, when the wine is likely to show a flamboyant voluptuousness along similar lines to the 1989 now. 18.5
2001 Initially closed on the nose, though after aeration discreet plum and cedar aromas emerged. The palate shows immediate richness, a velvety texture, fine acidity, immense concentration, and remarkable freshness. At present the wine is persistent but linear, so that although it seems complete, it is evidently undeveloped and the fruit remains somewhat suppressed. Bright and stylish now, and showing terrific length, it will need many years to open up. 17.5 (now)-18.5 (potential)