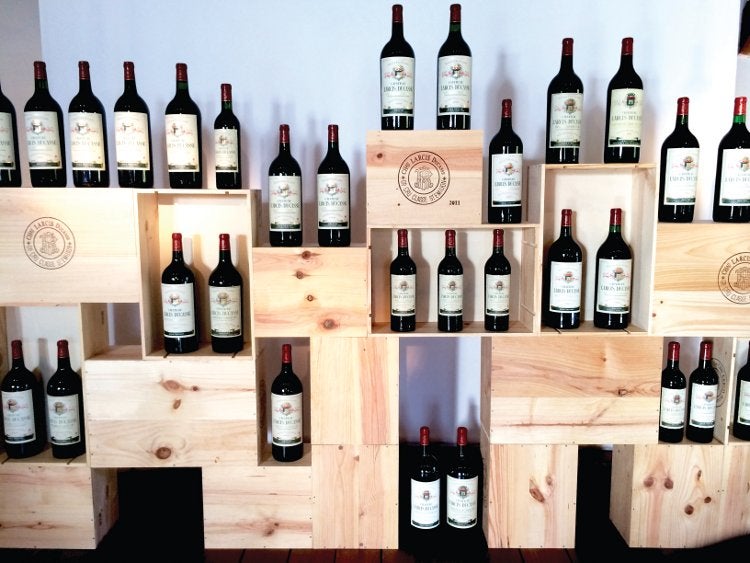 Larcis Ducasse is one of the few St-Emilion châteaux to have been in the same family for more than a century. It was purchased by a local négociant, Henri Raba, in 1893. His son, André, took over the management of the property but then was imprisoned, as a Jew, in 1940. He died a year later, childless, and the estate was inherited by his niece, Hélène Gratiot-Alphandéry, a professor of psychology.
The current owner is her son, Jacques-Olivier Gratiot. He holidayed at château Larcis Ducasse from a young age. He remembers that the property made so little money in the 1950s that peach trees were planted to bring in extra income. He didn't inherit the property from his mother until 1990, when she was 80. "One should never leave it so late," advised Gratiot. "I realized my knowledge of viticulture wasn't sufficient; it was superficial." He is already in the process of passing the flame to his daughter Ariane Gratiot-Vacheron in a more timely fashion.
"I had limited competence, and a certain age," says Gratiot, who, like his mother, has never played an active, day-to-day role at the château. Based in Paris, he ended his career as creative director at L'Oréal and now writes books "for a hobby." A collection of philosophical musings, Tu Renaîtras, was published by L'Harmattan earlier this year. In a chapter titled "The Child of the Vines," Gratiot recounts the first harvest where he was allowed to take up the secateurs, aged ten, in 1948, concluding, "My past is made up of this soil, this sky, this bedrock that has penetrated my mouth, my eyes, my skin."
Letting the terroir shine
Since World War II, Larcis Ducasse has always been essentially managed by someone from outside the family. This was the energetic Pharaon Roche until 1978, then the loyal Philippe Dubois. Roche "gave everything to the property," recalls Gratiot. "He stayed up all night doing the fermentation, but the vinification methods were nothing like they are today."
Since 2002, the estate has been managed by Nicolas Thienpont with Stéphane Derenoncourt as consultant. "They came as a team," explained Gratiot, referring to their successful collaboration at Pavie Macquin, and it's thanks to them, he adds, that the château has now been promoted to premier grand cru classé. Some 15 percent of the vines are planted on a plateau made up of calcaire à astéries (limestone containing starfish fossils), with a layer of dark clay on top. The rest are on south-facing, terraced slopes of chalky marl, a mix of limestone and clay that gives a very white soil, reflecting the sun and keeping the roots cold and humid while the leaves bask in the heat of the sun. "This gives exotic aromas and a very present acidity," explains David Suire, the current winemaker.
The Thienpont/Suire/Derenoncourt team has made a gradual series of changes in the vineyard and winery that amount to a huge difference. For example, they spread out harvesting over two weeks instead of three days, increased sorting, and started keeping the grapes whole instead of crushing them, to minimize oxidation, with the added benefit, according to Suire, that any "unripe grapes stay whole." During a longer fermentation period, the must now undergoes punching down, as well as four shorter periods of pumping over (as opposed to one or two extended periods per day under the old regime).
In the winter of '02, they installed a drainage network to capture all the little streams created as water hits the impermeable layer. In terms of the location of the different grape varieties, they have changed it "bit by bit since 2002," says Suire, "now that we understand the terroir better." For example, they've swapped Cabernet Franc for Merlot on the plateau, which was too dry for the former. The effect on the soil was apparent from 2004, but "from '08 we really felt a difference," enthuses Suire. "The vineyard had responded to our work." It's not all about short-term gains, though; they have devised a 40-year replanting plan.
Crucially, as soon as the new team came on board in 2002, they started selling off any inferior lots en vrac, until eventually in 2010 they convinced Gratiot to introduce a second wine, Murmure de Larcis-Ducasse. "This allowed us to further refine our assemblage," recounts Suire. "If we were in Burgundy, we'd have five or six different wines," says Suire, describing the way each lot is worked separately — from vineyard, through vinification, to aging.
These changes are manifest in the wines from the 2002 vintage onward, which reflected a rather sudden lurch toward a modern style, before, from 2004, the wines settled into their new rhythm while letting the ancient terroir shine through. In November 2013, the château hosted an unprecedented retrospective tasting of 32 wines from 1940 to 2012, most from magnum. Some vintages were retasted afterward at a typical Bordeaux feast of yore, and matched well with the richest and most hedonistic series of dishes I have ever eaten, including pibales (elvers, or baby eels), alouettes (larks, bones 'n' all), and lièvre à la royale (hare with foie gras, truffles, and an immensely rich blood-wine sauce).
Tasting
1940
Pale terra cotta with a light orange rim. Rich fruit, pinoté. More seductive power than a wine of this age should rightfully possess. Red fruit: plum and tarter early-season raspberries. Light, with some decaying forest floor, mushroom, and wet leaves, but a growing core of fruit that wins out on the finish. | 15
1945
Slightly cloudy russet color. Very medicinal nose, with some farmyard (Brett?), as well as a touch of licorice. A bit more presence in the mouth — more sinewy with some tannin still just detectable, and lingering acidity on the finish. Much more alive than the 1940 but nonetheless giving off wafts of medicine and bandage. (This was the first vintage after Gratiot-Alphandéry took over the property.) | 17
1952 (magnum)
The color of weak-brewed filter coffee. Sweet, sugared figs. Maderized, overpowering scent. More animaly, savory notes than the older two. Leather. Impressive juiciness but the sous bois is too much and too decomposed. | 13.5
1955
Mid-amber with a red hint. Soft, enticing nose of tobacco. A little smoke (more incense-smoke than tobacco-smoke). A fresher green note also showing through on top — lifted. Nice purity. Linear, elegant. | 16
1959 (magnum)
Limpid. Sugariness — sugared black fruit, but with a mineral, wet-stone note, and dried-flowers and orange-peel to lift it. Lovely sweetness and freshness of fruit not present in the older wines. Nice mouth-filling texture — a bit weightier, but with lively acidity. | 18.5
1961
Soft scarlet with a caramel rim. Gentle, sensual bouquet with a memory of bonfire night: toffee apple and parkin. Fabric plasters on just-grazed knees. Possesses a freshness and lightness of touch, yet with a core of fruit to the aromas — just a touch cooked and leathery. Airy and racy, with a juicy, acidic thrust. | 19
1962
Vibrant robe. Alluring seducer of a wine, promising luscious, ripe fruit and mysterious forest adventures. Some classic Cabernet bell pepper and mint. Rich and ripe but not oversweet. Good fruity oomph in the mouth. (A less fresh bottle with lunch: soft, pastelly nose. Medicinal in the mouth. Aged but living — just.) | 17.5
1964 (magnum)
Velvety red (or red velvet). Sweet, roast fruit. Port on the nose but retaining classy fresh overtones. Far fresher than expected in mouth — impressive youthful direction. Still some tannins lending structure. | 17.5
1966
Attractive, more restrained, cooler nose — leafiness, tobacco-leaf, smoke, cassis. Powerful, masculine dark fruit on the palate. Vigorous, with good length. | 18
1967
Limpid. Buttered toast, a little chocolate, slightly reticent/mysterious on the nose. Chalky tannins alongside energetic, fresh ripe fruit. Moreish. | 18.5
1970 (magnum)
Opaque reddish brown. Green overtone to a nonetheless sensual and ripe red-fruit bouquet, with tea leaves and dried flower. Some taint? Perhaps, but it dissipates to leave rich fruit mid-palate. Ends with drying tannins. | 14.5
1971 (magnum)
Slightly cloudy russet brown-like looking into a pond on a hazy day. Teasing nose of tart raspberries and a touch of violets, with a promise of richness. Opulent, open, yet sculpted, chewy — excellent. | 19.5
1975 (magnum)
Cooked, almost burned, overripe fruit on the nose, belying freshness in the mouth. A little disjointed and loose on the finish. | 14
1978 (magnum)
Vegetal — tinned asparagus — and herbaceous. Tart, bitter. Some fruit and freshness, but a dry, over-acidic finish. (The first Dubois vintage.) | 13
1982 (magnum)
A deeper blood red than any preceding vintage. Riding tack, hay, piercing bright fruit. Sweet licorice and Christmas spices. A touch of TCP. Hint of cork taint, now lost. Truffle. The cork taint returns on first meeting with the tongue. Lacks ballast. Interesting. Lasting acidity. Low new-oak proportion. | 15 (without taint, 16?)
1983 (magnum)
Red-brown. Same undefinable something as '82. Violets and tar? Not quite. Blood orange? Juniper? Alongside blackberries. Powerful acidity, racy, and with youthful with vigor. A touch of boiled sweets. Life in it yet. | 16
1985 (magnum)
Orange-red. Pomerolesque, carnal scent. Dulled, falling apart at the seams somewhat. Overripe? Lacks definition. | 14
1988 (magnum)
Maroon-brown. Classy, black-fruit nose, hint of tobacco and chocolate alongside autumn fruits. A bit loose, dull and hollow and this first bottle would merit only 14.5. A better bottle with lunch, however, gave a better impression of the wine. An attractive nose and autumnal forest floor on the palate, but still with a loose structure. | 16
1989 – 1 (magnum)
Pretty, wildflower nose. Delicate, light-touch, but not feeble. Floral, rich, gentle, caressing. Would benefit from more fruit precision but has soul. Nice fresh finish. | 17
1989 – 2 (magnum)
Still a shy and girlish nose, but fuller, rounder. More presence in the mouth, too. More power. More red fruit. Drier tannins, though, showing up on the finish. | 17
1990 (magnum)
Red with a pale scarlet rim. Cassis, plum, a touch of red licorice. Still on primary aromas. Lively, lithe; crunchy fresh-yet-ripe red fruit. Quite a lot of acidity but just in balance. | 16
1995
Mmm, beautiful silken nose of chocolate and soft fruit. Touch of wet wood though? Again a softness, and seamlessness of flavors mirroring the nose. High in acidity to lift. | 15.5
1997 (magnum)
Nice, rich red with sparkling reflections. Lovely vibrant nose of sweet summer Fruit — strawberries and redcurrants. Juicy and delightful. Forceful acidity and tannins but contained. Rich fruit. Finish comes up short. | 16.5
1998 (magnum)
Sweet, enticing fruit with a hint of (good) jam. Pure, sweet, precise fruit. Great finesse and juiciness. Time yet to soften. | 17.5
2000 (magnum)
Deep ruby. Smudgy, mocha nose. Withdrawn, woody. Thin, yet a hint of rich-tasting fruit. Acidity dominates for the moment. | 14
2001 (magnum)
Clear ruby-red robe. Lovely, pure red fruit — sweet, ripe strawberries and cherries, with a mineral freshness. Sweet, powerful, energetic. Very clean and frank. (Assemblage by Thienpont and Derenoncourt.) | 16
2002 (magnum)
Blood-red. Intensely gourmand, sensuous, perfumed nose (musky), bordering on overripe fruit. Rich, dark fruits — mulberry, damson — on the palate as well. Silky, and the idea of voluptuousness but actually not very full in the mouth. Overworked? (Thienpont and Derenoncourt's first vintage; for me this wine seems to be the result of a new team finding its feet. It is modern to the point of having lost its roots and I found almost no trace of the previous 26 wines. Tasted again with lunch, it was too funky, overripe, not for me — though I seemed to be in the minority.) | 14
2004 (magnum)
Dark red. Gorgeous balance between the classic, honest purity of Dubois's '01 and the sensuality of the Thienpont/Derenoncourt '02, as though they pulled back a notch. Pure, dense, red fruit with an undertone of voluptuous black fruit. Same pattern in the mouth — more precision, acidity, and elegance than the 2002. Tannic finish. (This strikes me as the first vintage to mark the new direction of the property.) | 17.5
2005 (magnum)
Seductive, black fruit and spiced plums on the nose. Classy, black-purple fruit, with violets in the mouth. Refined. Chalky tannins. A baby. | 18
2006 (magnum)
Back to the more sensual, Pomerol-like red-fruit character, but more restrained than the 2002. Open, elegant at first and then taut and a little austere on the finish (unexpectedly). 16.5
2007 (magnum)
Jammy, with rhubarb-and-custards (the boiled sweets) and a little undergrowth. On the palate, well heeled, well defined, and refined. 15.5
2009 (magnum)
Sparkling ruby red. Hedonistic bouquet of spiced dark fruit, leather, and a bit of animal. So young and concentrated — unlike many '09s, this is still forbidding. Almost bitter, blue-fruit tannins. | 16
2010 (magnum)
Deep maroon. Sumptuous cocoa-powder, ink, graphite, blackberry, and mint. Class and breed. Taut yet rich. Lifted, pure, complex. Delicious. | 18.5