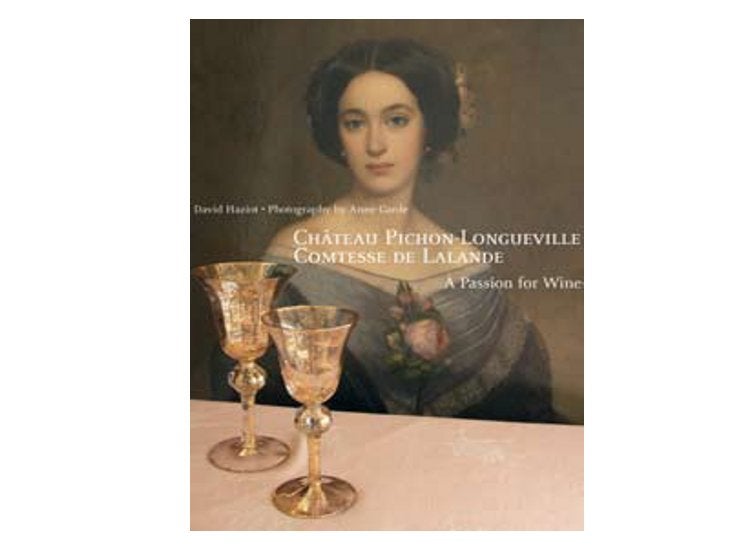 David Haziot (Photography by Anne Garde),
Château Pichon-Longueville Comtesse de Lalande: A Passion for Wine
Published by Editions de La Martinière £20, US$40
Reviewed by Stuart George
The story of Château Pichon-Longueville Comtesse de Lalande is intriguing, and one that often has a strong feminine presence. For most of the 18th century, the property was overseen by women-a tradition that culminated in the early 21st century with the distinguished May- Eliane de Lencquesaing, who worked at Pichon-Lalande for 30 years.
Pichon-Lalande traces its origins back to Pierre Rauzan, one-time owner of Margaux and Latour. Land surrounding Latour was turned into an estate that became known as L'Enclos Rauzan and formed the basis of Pichon-Longueville.
Like something in a Balzac novel- albeit one with a relatively happy ending -the Baron Joseph de Pichon- Longueville decided to share the domaine among his five children. In the absence of descendants, however, only two children finally inherited the property: Raoul inherited the part destined for the sons (which became Pichon-Baron); Virginie that for the daughters. It took Baron Joseph 70 years to create Pichon-Longueville as it then was, but only six years to divide it in two. The sisters Virginie-the beautiful Comtesse de Lalande, as she became after marrying Henri Comte Raymond de Lalande-and the remarkable Sophie, a promising painter and poet, founded Pichon-Lalande. Directly or by marriage, the same family governed it from 1685 to 1925.
The Mialhe family took the reins from 1925 to 2007. "Should you ever leave what you love?" May-Eliane asks herself. "Perhaps […]. If it is for its own good." And so the Rouzaud family of Champagne Louis Roederer became owners of Pichon-Lalande in December 2006.
Serena Sutcliffe MW contributes the introduction and some pithy tasting notes to this book. As she writes in her introduction, "the story of Pichon- Lalande […] is also the story of Bordeaux". Pichon-Lalande was badly affected by the powdery mildew crisis and phylloxera in the late 19th century-to the extent that the estate might have stopped producing wine altogether.
Edouard and Louis Miailhe, descendants of an old Bordeaux family of vineyard owners and wine merchants, bought Pichon-Comtesse in 1925 and slowly but surely made improvements over the years. There is a delightful photo of the two brothers on p.114.
This is a beautifully illustrated volume, with lots of old paintings and photographs to accompany the sometimes uneven prose, which, on more than one occasion, descends rather uncomfortably into hagiography. In the acknowledgments, for example, Haziot "would like to thank May-Eliane de Lencquesaing, who wanted this book, who entrusted me with the writing of it […]"-which doesn't really suggest much journalistic objectivity. Earlier in the book, Haziot describes-among many other personal qualities-how "this devoted Christian strives to aid the weak and poor" (p.140)-laudable, of course, but all described rather cloyingly. Nevertheless, this book affords a detailed history of a distinguished Bordeaux estate and is very well priced given the high production standards throughout. For these reasons, it may be warmly receommended.