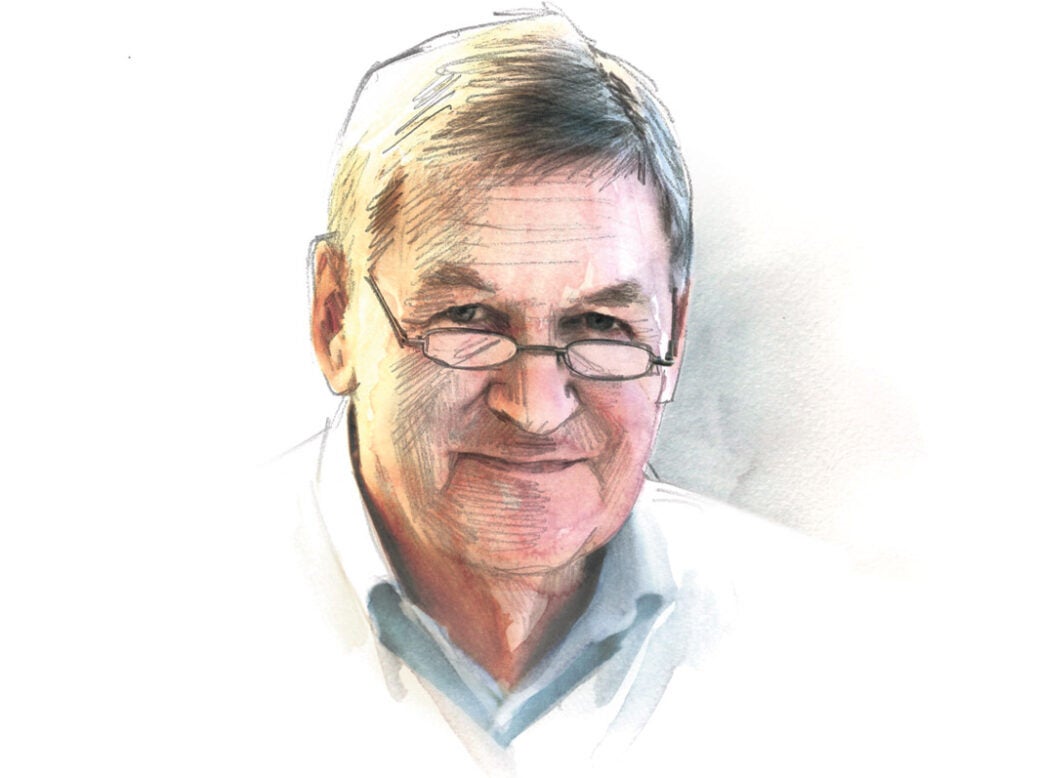 Sentiment, of course, should never affect our judgment. It certainly did, I'm afraid, when we drank a bottle of Château Musar 1991 in memory of its late and truly lamented maker, Serge Hochar. Not that it needed a sentimental crutch: It was love at first sight. Bordeaux just doesn't do darkeyed houris like this.
Musar is sui generis. Serge's father Gaston intended to make claret in Lebanon. He was inspired by Ronald Barton at Léoville Barton and sent Serge to Bordeaux to study under Emile Peynaud. (His other son he named Ronald after his inspiration). A vine-forvine copy of Bordeaux, though, would have been too much in the conditions of the Bekaa Valley. At a guess, the wine might have more in common with the Napa Valley. At Musar, Cabernet Sauvignon is diluted, if that's the word, with the less pungent Carignan and Cinsault. There is nothing in this recipe to suggest an oriental influence (unless you insist that a little Syrah gives it Persian blood).
Our '91, in any case, introduced itself with a bow to Bordeaux, in color (dark brick with a clear rim), texture (firm and attractively astringent), and a Médocain scent of Cabernet. From the word go, it was a vin de méditation; your nose was too intrigued to let you dive straight in without pondering. As we sipped, it was slowly growing in the glass to a Port-like warmth, that glow of perfect ripeness — a quite different thing from alcoholic heat.
Then suddenly it was as though someone had rubbed the lamp; oriental spirits appeared with a swirl of spicy sweetness. Its flavors took on the colors and intricacy of a carpet — something Ottoman in opulence, yet fresh with a squeeze of orange or lemon. Never was a wine more pictorial: I could see its flavors; they swayed their hips before my eyes.
"Bekaa terroir?" I wondered. Then I pictured Serge's creasing smile, and I swear he gave a conspiratorial wink. His wines followed no models; judges would fault them as clarets, as Burgundies, or in any other class. Their 100 points would come from two qualities that hardly belong together: originality and typicity. Sui generis, in fact.
Categories of pleasure
We "enolectuals" are always debating whether quality is an absolute, whether its judgment (or rather our judgment) can be truly objective. We assume — don't we? — that there is an existential link between quality and enjoyment. Nor can we easily decouple the ideas of pleasure and expense. Try to analyze, though, the extra pleasure you are paying for when you order from lower down the list. Your motives may be pure; you may see the grander cru or the better vintage as a pleasure precisely measurable against specie. I cynically suggest that for the majority of us, spending more, if you have the means, tickles a different pleasure receptor.
What categories of pleasure can different wines offer us? Display, I have suggested, is certainly one. Others lie in the nature of the wine itself. You don't, for example, drink Napa Cabernet to quench your thirst, nor go home to a Mosel Kabinett on a frosty night.
There are prologue wines and epilogue wines. Champagne, all brightness and bubbles, is surely a prologue (to many pleasures); Port, with its sweetness and strength, an epilogue. This seems a self-evident truth, does it not, in the modern wine world with its Anglo-angled tastes and habits? Not so, though, in France, where Port is considered an apéritif and Champagne is commonly served as a (rather indigestible) vin de dessert.
Parisian beauty contest
The Villa d'Este is the most beautiful hotel on the most beautiful lake in Europe. For one weekend in November, it also becomes a theater like no other for the different pleasures of wine. The impresario is François Mauss, the creator of the Grand Jury Européen. He takes what I would call the humanist view of wine, as distinct from the technocratic. It's no surprise, then, that last November I became a willing participant.
The parameters for a coup de coeur must be flexible when almost every wine in sight is a laureate in its own right. In a vertical tasting of Haut-Brion and La Mission, for example, one is in the position of Paris faced with the three goddesses. If you remember the story, Zeus was asked which of three young (and immortal) ladies was the most beautiful. He chickened out, passing the buck to the young Trojan hero Paris (himself, one imagines, pretty dishy). When Aphrodite promised him the most beautiful mortal as his bride the poor chap was, shall we say, compromised.
Helen, you remember, was not unattached; her abduction led to the whole messy business of the Trojan War, which, incidentally, you could say, led to the founding of Rome — a result by any standards. But we were in Bordeaux, and specifically in Pessac-Léognan.
The beauty contest brought on four vintages the French would call incontournable. No argument; these are — like Aphrodite, Hera, and Athena — the region's top lineup: 2000, 1989, 1975, and 1961.
To my surprise, the 2000s were both still too young to be truly lovable. In my view, La Mission has more early allure, but both are sternly structured, to be kept for several years yet before emotion enters into it. How different the '89s. The Haut-Brion had every quality, a sense of perfect poise, its self-control (it is still firm) expressed as gracefulness, as cool fluidity and exceptional length. Elegance and embonpoint are not mutually exclusive. In comparison, the La Mission was light and green-smoky — fine but not, I thought, so perfectly ripe.
1975s from Bordeaux (the reds, at least) are always at a disadvantage in a beauty contest; their bloom has gone — bone structure and personality are what they offer. Many Médocs still have hard tannins. Here the core is a grainy texture typical of Graves, more appealing to me in La Mission where it smells frankly and simply of honey.
The eloquent director of both châteaux, Jean-Philippe Delmas, was orchestrating the tasting, though leaving the tasters entirely to their own thoughts until the end, when he and Robert de Luxembourg answered questions. You take a chance with wines that are more than half a century old; the cork and bottle are as much under scrutiny as the wine itself. In this instance (and in the bottles I tasted), chance had favored La Mission. The honey smell that I ascribe to Merlot on the warm soils of Pessac was joined by the smell of cream and a dusting of white pepper — even a hint of eau de cologne. It was this superficial impression that hit me first: aromas more accessible and more fascinating than the palate. At this age, you expect a flicker of weakness: There was certainly no more than that. What there was was enigma — as in all greatness facing the twilight.
As Jean-Philippe expressed it in summing up, "When we don't know, we say 'terroir.'"