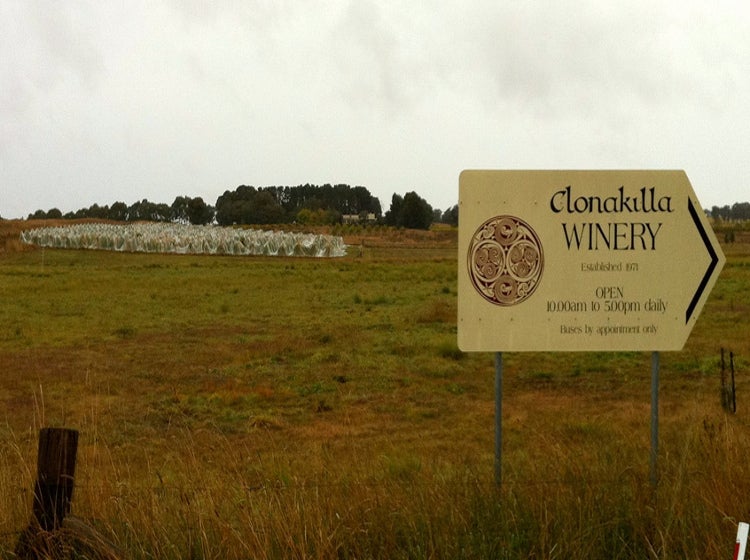 Wine and politics should never mix. Perhaps that is why the wineries from the Canberra region in New South Wales have not grabbed public attention in quite the manner that many surely deserve.
Canberra is, of course, Australia's capital and therefore viewed with ever-increasing suspicion by almost every Australian who doesn't reside there. Located in a separate territory (some would say "quarantined"), the Australian Capital Territory, it is found way out west in what is fondly described as "No-Man's Land." The reason? Because, so we were told as schoolchildren, at the time of federation, neither Sydney nor Melbourne would agree to the other being named as Australia's capital, so a strange and inconvenient compromise was reached. A new town founded in the middle of nowhere, though equidistant between those two major cities — the sort of decision destined to warm the hearts of the production line of bureaucrats who now populate the place. Fortunately, it has a sprinkling of wineries to alleviate the gloom. And if one winery in particular soars above the mire of grubby dealing, media intrigue, and political back-stabbing that is the region's hallmark, it is undoubtedly Clonakilla. Its profound Shiraz/Viognier is one of Australia's most admired and exquisite reds.
The region boasts almost three dozen wineries, surprisingly, though no doubt many exist only to cater to tourists. They are supported by around 140 vineyards, and both wineries and vineyards spill over into neighboring New South Wales (while remaining as part of the officially designated region). A handful are well known to Aussie wine lovers — among them, Helm Wines, Mount Majura, Lark Hill — but the undisputed heavyweight titleholder is Clonakilla, now presided over by everybody's favorite nice guy, Tim Kirk.
The region sits around 2,000ft (600m) above sea level, though there is considerable variation. Key to its success has been the wide fluctuation in daily temperatures, the much-desired warm days and cool nights, retaining natural acidity. It is not uncommon for picking to extend well into May.
Tim originally intended to follow a life of religion, to join the priesthood, and he did indeed study theology. Listening to him speak of his wines and his vineyards, in his quietly modulated tones, it is impossible not to envisage just how inspirational he would have been in a pulpit, where his devotion and dedication to the cause would have been very much at home. Indeed, had he been born a century or two earlier, it is not completely beyond the realms of fantasy to imagine that Henry Morton Stanley's famous quote might have been, "Dr Kirk, I presume."
How then did Tim, one of numerous siblings from an Irish family, end up running one of Australia's finest "cult" wineries (indeed, finest wineries, cult or otherwise), making one of the country's most iconic reds — a wine that is spoken of in the same breath as Penfold's Grange, Henschke's Hill of Grace, and Cullen's Diana Madeline?
Tim's father, Dr John (a not unfamiliar moniker in Aussie wine lore), was an Irish biochemist working in England in the 1960s, with experience at both Cambridge and Oxford. Family holidays were spent back in Ireland, in County Clare, on the Kirk family farm, called Clonakilla. Although a renowned scientist, Dr John had always "had a desire to be a farmer," as he put it when the clan and friends recently assembled to celebrate 20 vintages of their iconic red. He'd been introduced to wine after World War II when, aged just 14, he worked in the family pub, the Hydro Hotel in Lisdoonvarna, County Clare, and was given the task of running the cellar. Entrusted with such an important position, the young John decided he had better learn something about this stuff called wine, so he went and bought "the best book on wine available." At the time, that was one written by André Simon. He became, "a non-drinking teenage expert."
The Kirk family did have relations who had emigrated to Australia (more than a century earlier, during the gold rushes), and in 1968, when a research position became available with the CSIRO (Australia's national scientific and research body), in its Division of Plant Industry, Dr John, his wife, and their four children, packed up and headed to Canberra. At the time, there were no vineyards in the district, locals believing winters were far too cold for growing grapes. Dr John believed that conditions were, in fact, ideal for grapes, and so, in 1971, on a farm at Murrumbateman, a little to the north of Canberra, he planted Cabernet Sauvignon and Riesling. The choice of varieties was no surprise. At the time, Cabernet was considered the king of grapes in Australia, and Riesling the most prolific quality white; Chardonnay was almost unknown, the first commercial release being from the same year. He did add a little Shiraz — seen then as little more than the workhorse of the industry, a variety suitable for fleshing out the regal Cabernet (and for use in rosés, fortifieds, cask wines, and even muffins).
The first vintage was 1976, with a Riesling and a Cabernet/Shiraz. It was not until 1990 that they actually tried their hand at a straight Shiraz, though in such small quantities that it was not even eligible for entry in the Sydney Wine Show. They did, however, submit it to the Griffith Show, where it won Best Wine of the Show, to everyone's surprise. "And that," as Dr John put it, "was the end of the Cabernet /Shiraz."
Tim's brother Jeremy was keen for the family to establish a niche in the market and, in 1986, persuaded his father to plant Viognier. At the time, it was virtually unheard of in Australia. They discovered that there was a grand total of two vines at nearby Wagga Wagga — where most Aussie winemakers were trained — and obtained some cuttings.
A few years later, in a moment of serendipity, Tim decided to visit the Rhône Valley to learn more about Shiraz. Aside from a long-remembered encounter with the magnificent 1990 La Chapelle from Jaboulet, he was most impressed with the Côte-Rôtie wines of Guigal. Suddenly, those Viognier vines had a reason for being. Clonakilla's first Shiraz/Viognier — almost, but not quite the first in Australia, that honor going to Yarra Yering in the Yarra Valley — was made in 1992. And the rest, as they say in the classics, is history. Clonakilla immediately established itself as the leading maker of this style and rode that wave as the popularity of the blend exploded. At one stage, it seemed every winery in Australia was keen to try its hand at one, though some went way over the top, with wines tasting distinctly of apricot juice. The fashion has faded, with most returning to straight Shiraz or other blends. Indeed, nowadays, to include "Viognier" on the label of a red wine is considered the marketing kiss of death. Fortunately for all, those few that did it well have stuck at it, none more impressively than Tim Kirk and his team. A dazzling array of awards and trophies confirm how high it is held in local judges' estimation.
Tim's view of this wine is that he "wants to hear what the vineyard has to say." He hopes "that all the wines have something interesting to say," but is especially keen that the Shiraz/ Viognier "capture the gift." It is worth noting that in the early days, the wine also had a reasonable dollop of Pinot Noir. (The 1992 even had a splash of Mataro.) I asked Tim what had happened to the Pinot, and he replied that, "just to make certain it isn't possible to make a good one in Canberra," he has planted a little more. The first of the wines should be released soon.
Clonakilla also makes a Viognier, one of the more refined in Australia, and a joyous "Viognier Nouveau," obviously intended for immediate drinking. It offers several versions of Shiraz, aside from the Shiraz/ Viognier: Syrah (Tim's take on "pure Shiraz," with extended maceration of between three and four weeks, natural yeasts, everything in a single fermenter leading to a total production of just 300 cases, and 20-22 months in oak. Tim sees the Syrah as their Hermitage, and the Shiraz/Viognier as their Côte-Rôtie); Hilltops Shiraz, from the Hilltops region of Western NSW; and O'Riada Shiraz, a spicy style co-fermented with a small amount of Viognier, which honors Sean O'Riada, an apparently famous Irish musician and cousin of Dr John, who died in 1971, Clonakilla's first year. There is a Bordeaux blend called Ballinderry; a Semillon/Sauvignon Blanc blend; and the long-lived Riesling.
As fine as many of these wines are, it is the Shiraz/Viognier that has cemented Clonakilla's position as one of Australia's finest producers. To celebrate the release of its 20th vintage, Tim, Dr John, their families, and a collection of trade, media, friends, and assorted hangers-on gathered for dinner at Circa in Melbourne, where we worked our way through all 2o wines plus a supporting cast and a surprise or two.
There are few greater thrills to be found in the world of wine than when the unexpected collides headlong into the very special. The quality of wines of Clonakilla, especially its profound Shiraz/Viognier, is hardly unexpected for anyone who has followed them for any length of time, but the fact that it hails from one of Australia's lesser-known regions surely is. For Aussie wine lovers, this is the best thing ever to come out of Canberra.
1992 The Shiraz was co-fermented with a few friends: a little Pinot Noir, Mataro, and Viognier. Destemmed, crushed, and the fermentation finished in barrel. Matured in used American oak barriques for 15 months. 12.5% ABV.
Quite extraordinary to think that this first attempt is still fresh and vibrant. Bright hue. Aromas of cherries, with a tiny note of roasted meats. Hints of spices. Very fine tannins and seriously impressive length. In comparison with what followed, perhaps a little straightforward. A lovely drink and one where there is no need to rush. It still has time ahead of it. 17.5
1993 A tiny amount of Viognier and some "very ripe" Pinot Noir included. Tim was seeking a change "in the texture of the tannins" and, inspired by Burgundy, co-fermented the Pinot and one third of the Shiraz as whole bunches, which were then "foot-trod." The rest was crushed and destemmed. Fermentation finished in a mix of French and American barrels. No fining or filtration. 12.7% ABV.
Pleasant, but a slight step backward after such a promising start. Deep red, with the aroma more into the herbal and even slightly "chemical" spectrum. Red-berry notes. Solid tannins and quite an abrupt finish, leaving an impression that a little more length would have helped. 14.5
1994 A very small crop due to severe frosts in October 1993, with yields of less than one ton per acre. 14% Pinot Noir and 4% Viognier. 100% whole-bunch, foot-trod (Tim's own feet) and fermented in a one-ton open fermenter. Matured in French oak (Seguin Moreau), but the total production was a mere three barrels, two thirds of which were new, for the first time (so, two new barrels and one aged). No fining or filtration. 13.7% ABV.
The first time we saw Viognier mentioned on the label. This was a stunner. A deep, dark, brooding red, it exhibited a slight stemmy note not all that distant from some Dujac Burgundies. Fragrant, layered, complex, and elegant. Florals and herbs with flavors that linger endlessly. Cashmere-like tannins. Really impressive. 18
1995 The Viognier vines were now ten years of age and finally producing a reasonable quantity. The blend was 80/10/10 Shiraz/Pinot Noir/Viognier. The Pinot and one third of the Shiraz were fermented as whole bunches. Maturation in a mix of old and new French oak from a range of coopers, with a small amount of older American oak. No fining or filtration. 13.0% ABV.
Unfortunately, the ugly side of yeast infection interfered. There was a smidge of Brett spoiling the wine, scalping the finish and detracting from the flavors. Underneath, the impression was that there had been good fruit here, but unhappily this is one best avoided today. 13
1996 6.4% Pinot Noir and 10% Viognier. Ten days on skins; 12 months in oak. 12.5% ABV.
Again, a note of Brett, coming through more strongly here. Dry, herbal, capsicum, and mushroom notes weave throughout. A harsh finish. Disappointing. Fortunately, the problem was identified and rectified, since there was no hint of any further Brett issues after this vintage. 12
1997 5% Viognier co-fermented. Also 6.5% Pinot Noir made separately and blended in at a later stage – for the last time. One third of the Shiraz was whole bunches. 12 months in oak, 30% new (Sirugue). 14.0% ABV.
One of the very best, and a superb wine by any standards. Still exhibiting slight purple notes. This is a complete and complex wine. Dark berries, truffles, florals, spices, a hint of lavender. Enticingly perfumed, with every sniff revealing a new layer — so much so that it was one of those rare wines where smelling it was almost enough, and one was reluctant to taste in case it didn't reach the exalted heights the nose assured us it would. When one finally conceded and sipped, it unveiled everything that one could wish for, in ever-evolving waves. A supple, velvety texture and soft, almost transparent tannins. Great persistence, fresh acidity, but everything in perfect balance. Wow! 19
1998 The harvest was from March 13 to 17, the earliest on record at that time. 5% Viognier co-fermented, one third whole bunches. 12 months in oak, with 30% of that new Sirugue and François Frères. 14% ABV.
My glass presumably came from the end of the bottle, since it had plenty of sediment swirling about, though it seemingly imparted no ill effects at all. Otherwise, crimson notes. Dark fruits and florals. A hint of chocolate. There was also a meaty/gamey note. Supple texture, but it fell away on the finish. Just disappeared but left the slight impression of alcohol — in a manner not seen with any of the other wines. 15.5
1999 Frost in October 1998 meant that this wine was made from "second-growth fruit." 5% Viognier co-fermented; one quarter whole bunches; 12 months in 36% new Sirugue and François Frères barrels. 13.5% ABV.
There was near-universal agreement — or as near to universal as one could hope for in a room of opinionated wine lovers — about most of the wines, but this was one that split the crowd. Behind the gamey/ truffley tones, there appeared to be a whiff of VA. Some felt it lifted the wine; others were more sensitive, believing its presence marred the overall impression. I suspect it comes down to the level of VA each individual finds tolerable. Penfold's Grange has often been used as the example of a wine where a slightly more elevated level than that found in many wines has long been considered a positive. Personally, it was not at a level to cause any problems for me, though I felt that the finish was a little curious. In addition, there was a peppery note, presumably the result of the cool and wet conditions. The pickers had been led a merry dance by intermittent rain. All up, even if one didn't have any issues with the VA or anything else, not top tier. 15?
2000 (magnum) Cold and wet conditions in March and April, together with an outbreak of botrytis in the vineyard, meant careful selection was necessary and led to Tim dubbing this "a more 'European' vintage perhaps." 6% Viognier, co-fermented with the Shiraz; one third whole bunches; 12 months in oak, 30% new. 12.6% ABV. Reds and purples here. Hard to imagine anyone would identify this as more than a decade old, if served blind. Indeed, it seems so young that there is an impression of a note of oak still integrating. Certainly not something that causes any problems. Cherry notes, florals, spices. Offers an appealing elegance. It is balanced, tight, and linear. A lovely wine. 17.5
2001 (magnum) The first in a long run of warm vintages — nine in a row. 7% Viognier; 305 whole bunches; three days pre-ferment maceration and then 9-13 days on skins; 12 months in oak, 30% new (from François Frères, Sirugue, and Bossuet). 14.1% ABV. It was the last "wet" year for a decade.
Received a Wine of the Year award on release (there are plenty of these awards strewn around in Australia, but that in no way diminishes the achievement) and looks just as good, if not better, now. Bright, vibrant colors. A fresh, clean wine, wonderfully balanced. There are red jujube-like notes and hints of raspberry coulis. A silky, persistent wine. Lingers in the mind like a rare sunset. And it still has decades ahead of it. 18.5
2002 (magnum) The first time that Tim incorporated fruit from the new northeast-facing T&L Vineyard, which had been planted by the family. 6% Viognier; 30% whole bunches; two weeks on skins, with 2-4 days pre-maceration; 12 months in oak, 30% new (from François Frères, Sirugue, and Bossuet). 14.2% ABV. Tim believed this to be his "most Burgundian vintage," and it is one that he has always loved, describing it as "red fruits with mulch." He provided three magnums for the event. Sadly, cork taint ruined two of them.
Fortunately, the one magnum not destroyed by errant tree bark was in great form. It opened a little reticently but soon blossomed. Red berries, raspberries, liqueur cherry notes. There are plenty of tannins but they are satiny soft. Nicely balanced and with decent length. No rush to drink this, though dodgy corks may impose a different view. 17.5
2003 The year that cork was replaced with screwcap, though certain offshore markets, including the UK, had their wines bottled under cork up to the 2007 vintage. Drought, yet Tim avoided many of the issues that beset so many other wineries around the country. 6% Viognier; 30% whole bunches; two weeks on skins with 2-4 days pre-maceration; 12 months in oak, 30% new (from François Frères, Sirugue, and Bossuet). 14.2% ABV.
Given the conditions, this is a very fine effort. A little foursquare in comparison with some but offers other charms. This is a darker, more brooding style. Richer and fuller. There are notes of leather, fungals, and warm earth. Floral notes then do emerge. A wine that lingers. Very pleasant, though falls a little short of the best. 16.5
2004 Superb conditions. 3-4 days preferment maceration, with the total for the various batches extending from 9 to 16 days. 7% Viognier; 23% whole bunches; 12 months in oak, 35% new; coopers included Sirugue, François Frères, Taransaud, and Mercury. 14.3% ABV.
For Tim, this vintage looked good from the very moment it went into barrel. He has always found it "seductive." Aussie Shiraz may have a reputation for being big, bold, ripe, lush, and turbocharged, but this is far from that, even if it is probably the closest thing Clonakilla has made that could be tagged with the plushness badge. Fortunately, it works wonderfully well. A gorgeous nose. Juicy black cherries, spices, game. It manages to walk the tightrope of cuddly and elegant. Supple fine tannins, well balanced, and a wine that maintains its intensity on a very long finish. Still has years ahead of it. Love it! This was the first in a run of stellar wines. 18.5
2005 The fruit contributed by the T&L Block was fermented by native yeasts. There was a 3-4-day pre-ferment maceration, which was achieved by chilling the fruit immediately after destemming. Two to three weeks' total maceration, which was now the norm. 6% Viognier; 20% whole bunches; 14.2% ABV.
The main criticism of many of the local Shiraz/Viognier wines (other than that the Viognier may have been added more for marketing purposes than quality, in many cases — something that has gone full circle these days) is that a heavy hand leaves the wines with stone-fruit/apricot notes — hardly ideal in top reds. It is almost never an issue with Clonakilla, but this wine may be the exception. That said, the stone-fruit note is present only in the most minor way and really does not impact adversely at all. Rather, it would seem to contribute to the rounded, mellow character of the wine. There are also spice, game, and red-berry touches. The finish is perhaps a little firmer and more tannic than one expects, but this is a lovely wine. Good future — indeed, it should look even better in a few years and go on for many more. 17
2006 For this vintage, the maceration time approached three weeks. 6% Viognier; 32% new oak; coopers, as usual by now, Sirugue, François Freres, Taransaud, and Mercury. 14.5% ABV. Worth noting that, although the alcohol levels are often at the upper limit of what many would find acceptable, the balance in the wines is so impeccably good that it almost never intrudes in any adverse way, the 1998 a possible exception.
One of the hallmarks of Clonakilla's Shiraz/Viognier is the clarity and purity it so regularly offers, and this is a very fine example. Dark berries, spices, florals. Juicy flavors throughout. This is wonderfully long and maintains intensity with nary a blip. Tannins as soft as a cloud. This is very moreish. I really like this wine. How could anyone not? 18.5
2007 A very late frost — November 16 — inflicted severe damage. Temperatures plummeted below zero for hours, and only two small sections of the vineyards escaped the destruction. It meant a tiny harvest, seven barrels in total, resulting in just 1,800 bottles, rather than the usual 2,000-2,500 cases. 6% Viognier; 70% new oak; 22% whole bunches. 14.1% ABV.
Dark fruits here, dark cherries. The concentration has been revved up a notch, yet those deceptively fine tannins are still evident. Great intensity of flavor, supple texture, fine balance, and giving every reason to believe that it has a brilliant future ahead of it. Shame that there are so few bottles to make the journey. Beautiful wine. Tim believes the wine is still in a "closed" stage — if so, then who knows what heights it will scale in time? 18
2008 A warm March helped the vines respond in spades to the damage endured the previous vintage as a result of the frosts, with large crops of ideal fruit. 6% Viognier; 20% whole bunch; 3-day pre-ferment maceration, "largely uninoculated ferments"; 12 months in oak, again with coopers Sirugue, François Freres, Taransaud, and Mercury. 14.3% ABV.
Blood-red color. This is a more burly, muscular wine than most but still alluringly enticing. There is the merest hint of oak apparent but all in the process of integration. Quite lifted acidity. Appealing fruit fragrances and a hint of leather in the background. Has a long life in the making. Indeed, one of the few where the immediate impression is of a wine best cellared for a few years. Others will certainly age, but they are also drinking beautifully now. 17
2009 Tim believes this vintage to be the best yet seen in the Canberra region. Elsewhere in parts of Australia, horrendous bushfires and heat caused immense problems, though these did come a little earlier than the heat endured the previous year, so the damage was not as great as incurred in 2008 in places. It was a year where the region's typically large diurnal temperature fluctuations (15-20 degrees) gave it a real advantage, maintaining the requisite natural acidity. 5% Viognier; 22% whole bunches. 14.2% ABV.
Tim has no hesitation in describing it as "the greatest wine we've made." No one was arguing. And with good cause. This is a world-class wine, by any standard. Neon cherry red, with flecks of purple. Perfectly balanced. Spices, red berries, liqueur cherries, a pleasing and appealing ripeness. Silky tannins on an extremely long finish. A brilliant, transcendental wine, which will be providing pleasure for many years to come. 19.5
2010 Finally, the long drought broke — on Christmas Day 2009. 5% Viognier; 20% whole bunches. 14.3% ABV. Tim later described his 2011 as "a pretty wine," which was exactly what I had said about this wine, before getting to the 2011.
The color is a forceful purple. The nose is a mix of raspberry and cherry notes entwined with a slight confection character. It is bright, fresh, aromatic, and lively. Velvety tannins. For me, this is one for earlier drinking, while waiting for wines like '08 and '09 to mature. 16.5
2011 This has been described as a horror vintage for much of Australia, and Canberra was no different. (In most regions, the advice is very much to hang on to your money for the brilliant 2012s — as special as the '11s are not — but inevitably, there are plenty of exceptions in 2011, and it would be wrong to condemn the entire year en masse.) Tim described it as "the most challenging year we have had to deal with. A number of blocks, totaling at least half the usual production, were left unpicked as they were not going to achieve the standard required." Mildew and botrytis invaded the vineyards. Nets would go on and off, time and again. "Experimental" sprays were therefore required. Almost all of the ferments proceeded without any whole bunches or stems. The proportion of new oak was a little less than usual: 28%. 5% Viognier. 13.1% ABV. Only 1,000 dozen made — a little less than half of the usual production; a good year will see 2,500 cases. All of the quality fruit went here — no Syrah was made. Given all this, Tim is very happy with the result, describing it, as mentioned, as a "very pretty wine."
Pretty indeed, with some spice and pepper notes. Plum color. It lingers nicely and is quite stunning for the vintage. (2012 is still evolving and won't be bottled for months. Tim made very little reference to it, but given how good the vintage has been in so many regions, expectations could hardly be higher.) Look hard, and there is a fleeting glimpse of stone fruit — but put this down to the exuberance of youth, and don't expect it still to be there in a year. 16.5