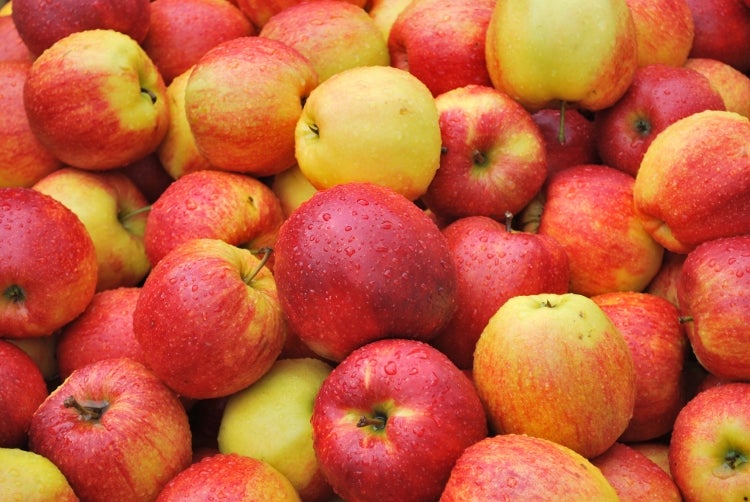 Among all the world's fruits, only grapes get broad respect in their fermented form. Berry wines and the like are largely (and deservedly) confined to farmstands and rarely, if ever, demonstrate sophistication or complexity; a strawberry wine tastes more or less like strawberries, whereas a grape wine tastes grapey only in the rarest of cases. If there's one fruit that approaches the grape's ability to yield a fermented product worthy of connoisseurship, it's the apple (and its close relative, the pear) — in its fermented form, cider.
Did you pull up short at that statement? My fellow Americans may be wondering where the fermentation comes in. For many of us, cider is not an alcoholic beverage at all; rather, it means unfiltered, fresh apple juice and triggers a wave of childhood nostalgia: As a kid, a visit to the cider mill meant a walk in the woods to enjoy the brisk autumn air and vibrant foliage, followed by fresh, quite possibly hot, but decidedly unfermented cider, accompanied by donuts made with the same (and both cider and donut liberally accented with cinnamon). One must specify "hard cider" if one means the alcoholic variety, and a couple of decades ago even that would call for explanation. British readers, on the other hand, will be readily aware of cider's alcoholic qualities but might be quick to question the merit of the beverage. The UK has long been the world's . largest consumer of cider, but there it is generally a pub staple, sweet, alcoholic, and often associated with mindless overconsumption
In both countries, cider's place is changing, and if you're familiar with Normandy or Brittany, you may already have seen the potential in cider. In those areas, cider has a strong historical and regional identity, even if the products weren't being exported abroad or even to other parts of the country. Normandy and Brittany are replete with orchards, and not one apple is intended for tarte tatin. In fact, most of the apples would be unpleasant to eat, raw or cooked. Instead, they are destined for cider or distilled into Calvados. The locals traditionally considered the latter like a savings account; they drank and enjoyed it, yes, but aged for years in barrels it was also well preserved and could be sold when capital was needed — a liquid form of liquidity. Cider was the everyday drink and the "wine" of a region considered too cold and wet for wine growing. As a contribution to the gastronomy of France, cider might appear in the bistros of Paris as an accompaniment to crêpes or, in drier cases, galettes — the savory, buckwheat equivalent.
For a long time, Norman and Breton cider production has followed tradition and been relatively unexamined, much like wine production in some regions. The traditional Norman apple tree is tall, with no branches below 6ft (1.8m) or so; called haute-tige, they're trained this way to allow the Normande cows to graze underneath them. These orchards can be quite spread out as well, with 70 to 180 trees per hectare. The monoculture orchard is newer and less common. In these cases, the trees are typically trained lower and produce usable apples much earlier; an haute-tige tree might not generate useful fruit until it is seven years old, whereas these basse-tige trees start contributing around the age of three. Basse-tige orchards are also more densely planted, with several hundred trees per hectare. Apple trees can live and fruit for decades, much longer than grapevines. The average apple tree makes it to the 100-year mark, and some, 200 or even 300 years, still producing apples.

Vin de pays de pomme
Forward-looking cider producers in France have been quite naturally turning to wine for inspiration. Guillaume Drouin studied as an enologist before taking over production at the family estate, Calvados Christian Drouin. "The level of science was not very high," says Drouin, but he also feels that even without the science, the locals knew what they were up to. He says his efforts to reinvent the wheel didn't take him very far, and instead enological training has helped him fine-tune things and address problems without changing the basic approach to production. Temperature control during fermentation, for example, was one area where he felt he could make a difference.
Another producer inspired by wine is Eric Bordelet. A friendly, intense man with a remarkable mustache that should endear him to hipsters, Bordelet worked as a sommelier at L'Arpège, the Michelin-starred restaurant in Paris. Like many sommeliers, he longed to make his own wine. However, his friend Didier Dagueneau steered him back to his Norman heritage. Bordelet's parents had bought a farm in the southernmost part of the region, complete with apple and pear orchards, in 1963; the farm itself dates back to 1922. So in 1992 Bordelet bottled his first commercial ciders; that year's 200 bottles have grown to 95,000, and he eventually aims for an annual production of 120,000-140,000. Dagueneau consulted on and guided the project until his untimely passing in 2008.
Bordelet works with both apples and pears. "Cider [from apples] is like red wine, with its tannins," he says. "Pears have double the acid so are more like white wine." That's just one simple way in which wine has influenced his views on cider. He says the best orchards lie on the middle of the slopes in the local hills, as in the Côte d'Or. He examines the soils, and plants and regrafts his trees to match variety to terroir. Schist and granite dominate in his orchards, and two of his products are named for their soil types: the Sydre Argelette, an apple cider grown on argillaceous soils, and the Poire Granit. He aims for "less fruit and smaller fruit," just as a wine grower looks to control yields — and of course, as a Dagueneau acolyte, everything is farmed biodynamically.
Bordelet is hardly alone for focusing on cider rather than Calvados in Normandy; an even more recent newcomer, Cyril Zangs, got started in 2003 and went full time only in 2010. When I visited Bordelet, he enthusiastically opened ciders from colleagues farther abroad: Andreas Schneider, who's bringing an artisanal approach to the Apfelwein tradition around Frankfurt, Germany, and Cidrerie de Vulcain, which works with apples, pears, and even quince in Switzerland. All of these producers farm organically, and their vocabulary as they talk about their products will be completely familiar to wine drinkers. (Exploring these ciders with Bordelet distracted me from the fact that Bordelet does actually make Calvados as well. He only recently decided that his first vintage, the 1992, was ready for sale. In my Anglo-Saxon urgency to be on time — or at least, not as late — for my next appointment, I missed the opportunity to taste it, to my chagrin.)
One thing neither Bordelet nor Zangs does is produce and bottle their ciders according to the local AOPs; only a relatively small number of cideries do, because many have orchards outside the AOP zones in Normandy or Brittany. Cider has two French AOPs, which were established in 1996: Cornouaille, on the southern part of the Breton peninsula, and Pays d'Auge, in the heart of Normandy, more or less overlapping the Calvados AOP of the same name. Zangs's orchards lie within the latter; Bordelet's, outside and almost equidistant between the two. In addition, the Domfront Perry AOP covers pear ciders. The Interprofession des Appellations Cidricoles (IDAC) oversees and promotes all three appellations; one could easily think their outline of Cornouaille cider described a wine — perhaps a crémant Champagne (if the term were still allowed there) or a satèn Franciacorta, since these ciders are made according to the méthode ancestrale, achieving two or three bars of pressure after fermentation finishes: "To the eye, it has a limpid appearance, a golden-orange color, a generous foam in the glass with tiny, fast-moving, and long-lasting bubbles. To the nose, after some good, engaging first impressions, you discover its aromatic complexity with floral, fruity, or slightly spicy flavors. In the mouth, sweet-tasting at first, you then discover its full body with a beautiful amplitude, becoming round in the mouth, with bittersweet the dominant note. The end of mouth is fruity with a very slight astringency."

The sidra tradition
France is not the only place where the ciders take on such a vinous quality, but it's not common. Spain is the only other country where that character is cultivated as an expected part of the cider's identity. In Asturia and the Basque Country, cider (sidra) is a popular local drink, with orchards planted not far from Txakolina vineyards in the latter case. Bottled exports are a relatively recent phenomenon, and the protected denominations of origin are even newer than those of France — just a dozen years old in Asturias, which makes up 80 percent of Spanish production. Consumption is focused on the cider house, in lieu of the pub — cidreria, or in Basque Country, sagardotegi. At the latter, the traditional set menu for a cider dinner includes salt cod, cheese, and an ox or ribeye steak. If one doubts Bordelet's comparison of apple-based ciders to red wine, here's one place where those tannins get put to work.
Spanish ciders are still and, when served, are poured from a height — hold the bottle as high as possible in one hand, the glass very low, and pray for good aim — to "carbonate" the cider by splashing it into the glass. This also brightens the freshness of the cider. Rusticity is the norm for Basque and Asturian ciders, and they are quite funky and earthy. There is some of this character in French ciders, too, but in Spanish versions it often dominates, even incorporating notes of Brettanomyces or volatile acids. As with Spanish wine and its new-wave styles, however, there is a number of "new expression" ciders designed for the export market — filtered, cleaner, and fresher. If there is an international style, these ciders fall in there, alongside many of the craft ciders in the USA and elsewhere.
These are strong, albeit localized traditions. At one time, the United States had a similar, even more widespread cider culture of its own, one that predates the founding of the country. Cider was so popular with colonists that licensing laws were put in place in New England as early as the 1660s. Settlers may have had trouble growing European grapevines but faced no such troubles with apple trees. Cider was the most consumed fermented drink in the young United States going into the 19th century, when beer gradually took its place. Today, American politicians opt for beer when they want to demonstrate their working-class bonafides; in the 1840 presidential election, cider was the right drink for the job. In an attack on the Whig candidate and rather elderly war hero William Henry Harrison, a Democraticleaning paper suggested that he best be pensioned off with some cash, a log cabin, and a barrel of cider. The Whigs turned the attack on its head when they took that image and ran with it, calling Harrison "the log-cabin and hardcider candidate" to let voters know he was "of the people" (despite a wealthy family background). Harrison won, although the Democrats, wrong about cider, were right about his age: He passed away a month after taking office.
By the turn of the 20th century, cider was struggling in the USA. It seems to have been largely a rural tipple, whereas beer was the drink in the nation's growing cities, often populated by immigrants from European countries where cider was less known. Grain for beer was also more readily available than it had been a century earlier, and while apples are easier to transport than grapes, barley moves more easily still; cideries remained on the farm, whereas brewing could be an urban affair. Some commentators extolled cider (perhaps alongside wine) as a healthier drink than distilled spirits, in an environment where all forms of alcohol were taking heat from the Temperance movement. These cider and wine fans aimed to throw spirits under the bus in the hope that it would satisfy Temperance advocates, allowing their preferred drinks to go untouched. That argument wasn't always explicit; consider the 1886 New York Times profile of Connecticut's oldest living woman, the 105-year-old Clarissa Davenport Raymond: "Mrs Raymond likes cider, and she likes it hard. The beverage warms her and puts life into her and makes her feel young again. When anybody gets to 100 years old people call that person remarkable, but when a centenarian enjoys hard cider and buckwheat cakes, it shows that old-fashioned New England constitutions and digestions were built to last." Or is it the cider?
Despite a fading — and apparently aging — market, the US Department of Agriculture nonetheless saw enough potential in cider to send a Mr William B Alwood to Europe to study cider production in France, England, and Germany in the hope of improving and commercializing American production. Cider was, in fact, doing well in Europe. With wine production down due to phylloxera, apples were filling the gap even into the 1890s. After several years of research, Alwood submitted his report in 1902. "The manufacture of cider is an important adjunct to fruit growing in the United States," writes HW Wiley, chief of bureau for the Department, in the preface. "A well-made cider is a beverage which is appreciated by all and one which is within the reach of any possessor of an orchard. Cider is also a beverage which may be manufactured without the supervision of excise officials. It is thus an industry which can be extended and whose development will make the growing of fruits more profitable." From his preface, it seems clear that Wiley considered cider a use for lesser or damaged fruit; Alwood's report, on the other hand, rebuts that conception, emphasizing the need for quality fruit, attention to apple varieties, and in particular for hygienic fermentations and careful yeast management. He clearly felt European cider was quite advanced compared to contemporary American production in these regards. Interestingly, he also goes out of his way to rebut an apparent belief that dried American apples were sent to France to fortify French wines, echoing similar newspaper articles claiming that cider was being passed off as Champagne or, when blended with flavorings and beet juice, as Port.
Alwood's report, if it had any impact on the cider industry in America at all, turns out to have been a last-ditch attempt. In less than two decades, Prohibition would draw a line between apples and alcohol that would last most of the century. Previously cider could be hard (alcoholic) or soft; now the former had disappeared.

Craft-inspired rebirth
That cider in the USA has enjoyed a rebirth alongside craft beer is in some ways in keeping with the latter's roots. The earliest American craft brewers were inspired by British ales — not for nothing did Jack McAuliffe, considered America's first microbrewer, name his project New Albion Brewing — and the places that served them often imitated British pubs. Cider having survived in the UK, it therefore found a place alongside American porters and IPAs. Woodchuck Cider, one of the first large American brands, got its start in 1991; by 2007 it had become the first cidery in America to clear a million cases.
Whatever the virtues of Woodchuck's products — or Crispin's, or for that matter, any of Bulmers' brands like Magners, Woodpecker, or Scrumpy Jack — it would be fair to say they are less "crafty" than the beers they were sharing shelf space with. Craft beer makes a point of its artisanal origins. For example, adjuncts are allowed for creative purposes but not for purposes of economy or as an extender; Budweiser's use of rice to lighten its beer places it outside the pale. But according to British law, cider need only be 35 percent apple or pear juice to bear the name of cider. Chaptalization can therefore run rampant, and the use of some colorings and sweeteners (aspartame, for example) is permitted. Flavorings like honey and spices are also a possibility, though under slightly different labeling and classifications. Working from apple concentrate is the rule at this level of production — an unthinkable idea in the world of wine. US law is similarly open-ended. So much for a simple "apples are to cider as grapes are to wine" analogy, then.
In terms of volume and marketing, the mover behind cider is the beer industry. In 2011, the Boston Beer Co rolled out the Angry Orchard cider brand, which then exploded from 40,000 cases to 2.2 million the following year. Given the connections between craft beer and cider, it should come as no surprise that the creativity of the former has bled into the world of the latter. The Angry Orchard portfolio includes a spiced version (Apple Ginger); a hoppy cider (Hop'n Mad Apple, made with Strisselspalt and Galaxy hops); a premier line called the Cider House Collection, bottled in Champagne bottles, much as French ciders routinely are; and seasonal offerings — all techniques or marketing approaches that craftbeer drinkers find reassuringly familiar. Woodchuck, similarly, offers pumpkin, ginger, and barrel-aged versions. Cider typically clocks in at 4-8% ABV, much like beer. In keeping with another craft-beer trend, two bottlings in Angry Orchard's Cider House Collection push the alcohol up to 10%.
For all those similarities, one of the cornerstones of marketing cider revolves around one big difference between the two: Cider, unlike beer, is gluten-free. Scientists seem fairly convinced that there are no health benefits in avoiding glutens for those who don't suffer from celiac disease or a wheat allergy, but gluten-free diets have become immensely popular; as many as 30 percent of people surveyed in recent years have indicated they are trying to avoid glutens. This is a huge dilemma for beer (even though gluten-free beers are being produced and improving in quality). For the pub owner, cider is an obvious alternative offering, and its popularity helps ensure that the wine bar down the street won't steal these gluten-free customers.

A cider boom
Cider sales in the USA grew over 400 percent from 2008 to 2013, and experts expected growth of 43 percent in 2014. (Actual figures for last year are not yet available.) This is not all mainstream brands, since a great many smaller, new cideries are appearing in the USA and other English-speaking countries as well. In the UK, the National Association of Cider Makers attributes the spurt of growth between 2003 and 2009 to "premium ciders and new entrants." The latter are legion in the USA. In Michigan, the JK Scrumpy brand was born just after the turn of the millennium, when Almar Orchard's owners found themselves being sorely squeezed (pressed?) in the apple-juice market, undercut by Chinese imports. Cider production had been a feature of the farm pre-Prohibition, and returning to cider meant they could step outside the commodity market and instead sell an addedvalue product at a price that would actually be profitable. Elizabeth Ryan at Hudson Valley Farmhouse Cider made her first barrel in 1980 after studying cidermaking in Hereford and Somerset; with postmillenium growth, their three orchards produce more than 100 varieties of apples, and they recently planted an orchard solely to heirloom cider varieties including Dabinett, Chisel Jersey, Ashmeads Kernel, and others.
That's because not just any apple lends itself to cider production. One could say eating or dessert apples are too sweet and lack the tannins needed for cider production; at the very least, they limit one's stylistic choices. Wandering Aengus in Oregon began in 2000 but took in its current name and style only in 2005, when they began working with cider apples specifically. James Kohn, the cidermaker at Wandering Aengus, equates making cider from dessert apples with producing wine from hybrid grape varieties. To be exact, he compared it to the difference between working with Pinot Noir or Niagara — which may tell wine drinkers that they want no truck with ciders made from dessert apples at all. Kohn has hunted down orchards that still grow cider varieties for Wandering Aengus, but the company also has a second brand, Anthem, where they work with dessert apples. Given that many cider orchards were abandoned or grafted over to dessert apples prior to or during Prohibition, there aren't really enough cider apples to go around, and demand means these varieties can sell for up to ten times the price of eating apples.
Angry Orchard, drawing on the Boston Beer Co's capital and experience sourcing hops overseas, buys apples in the Pacific Northwest but also in France and Alto Adige: France for tannins, Italy for acidity (dessert apples, since these are higher in acidity to balance with their sugars). Despite seeking out apple varieties traditionally used for cider, much of what they buy is concentrate, which allows them to produce yearround and rack up those sales numbers. There's nothing devious or unusual about this. When I asked an IDAC representative about numbers for AOC Cider sales in the USA, he conceded that increases were "modest" but then volunteered, "France is already significantly present and a growing actor as a provider of bases for cidermaking in the USA. Concentrates of bittersweet apples are needed to produce cider (need for high tannin content), and France is the main producer of specific cider apples that offer the requested characteristics."
The wide range of apple varieties is an area that's just begun to be explored; compared to wine-grape varieties, it's the Wild West. Eric Bordelet has about 40 apple varieties planted, and the same number of pear varieties. Typically, 20 of the former and 15 of the latter end up in his ciders. An orchard may be planted with five or six varieties scattered among the rows, with no apparent rhyme or reason. In fact, multiple varieties may even be grafted on to a single rootstock, so that individual varieties grow on each branch of the same tree. In the Pays d'Auge, the AOP permits only 50 apple varieties out of 750 grown there to be used in cidermaking — another significant factor, it seems, in explaining the large number of non-AOP ciders being made in Normandy. Asturia permits 22, out of a potential 250 or so.
This plethora of apple varieties can be divided into four categories generally recognized as useful in cidermaking: sweet, bittersweet, bitter, and acidic (in British cidermaking termed sweet, bittersweet, bitter-sharp, and sharp). Bordelet divides them in three; he describes the typical mix in his ciders as 40 percent bitter, 40 percent sweet, and 20 percent acidic apples. On its website, Virginia's Foggy Ridge specifies apples in their blends by variety, but hedges its bets. "Serious Cider mixes traditional English cider varieties like Tramlett's Bitter and Dabinett with tart American favorites like Ashmead's Kernel and Roxbury Russett." (The italics are mine.) "Our Sweet Stayman Cider blends the original Stayman apple with heirloom varieties like Grimes Golden and Cox's Orange Pippin to create a lightly sweet cider […]."
Blends are the norm in cidermaking worldwide, because of the wide-ranging character of cider apples, few of which are in a position to create a balanced cider on their own. A few producers do market single-varietal ciders, once again inspired, it would seem, more by craft beer than by wine; single-hop beers have been popular for several years. New Hampshire's Farnum Hill makes its Kingston Black Reserve from a variety by that name, one of the few single-variety ciders done in a dry and more acid-driven style; most, like Weidmann & Groh's Trierer Weinapfel, are slightly sweeter. There doesn't seem to be any broad interest in the cider world in promoting single-varietal ciders — largely because no one has enough of any single variety growing to make it worthwhile on a significant scale. It also only rarely yields ciders that are as good as the blends.

Cider: more like wine or beer?
The attachment between beer and cider is baffling at times, especially when one considers how much cider resembles wine in its production: A fruit is picked and fermented; the sugars are ready and willing, and there's no call for malting or any other intermediate process to convert starches or the like. Nevertheless, cider has never been a prestige beverage; has never been introduced by an empire of efficient Italians (a confusing image — I mean the Ancient Romans) to barbarian societies who wished to emulate them; has never been cellared and collected, or auctioned. Even in places like Normandy where it is highly regarded, it's by and large considered a drink best served fresh: Aging, the Normans would argue, is what Calvados is for. Cider's association with beer in Anglo- Saxon countries in particular seems wrapped around price points, alcohol levels (wine at 13%, beer and cider at 4-8%), and the culture of pub drinking.
I'm not about to argue that this is any sort of injustice. On the other hand, thanks to intrepid boutique producers and importers, cider's range, in terms of both quality and style, is a lot clearer to curious drinkers now than it has been at any time in its history. Sommeliers, too, have embraced the category; lists like the extensive selection at Gramercy Cellars or the Terroir Wine Bars in New York are stripping cider of its down-market reputation, at least in the USA. Several beverage directors have told me that in 2012 cider moved from being a sommelier's darling that called for a hand-sell to a product that took care of itself. If pubs have gone gastro, so has cider.
The foundation of cider sales nonetheless remains products that, properly speaking, rate little better than the wine of other fermented fruits (excepting grapes) — ciders that taste more or less like apples, as we know the fruit from its juice or eating it raw. It's ironic that these mass-produced ciders are often the most processed of the three categories, or levels, of cider I'm setting out to describe; in their production they're the most removed from the original fruit, in an effort to replicate consumer conception of that more familiar taste. They're chaptalized, pasteurized, made from concentrate, or otherwise manipulated to tame and turn an agricultural product into an industrial one, and their taste taps into childhood memories and an affection for sweets that also characterizes our early years. There are plenty of commercially designed wines that target the same palates, though the limits placed on wine production are stricter.
Many of the above ciders occupy shelf space alongside craft beer but don't really belong there. Most logically, that space should be the home of most craft ciders, the many brands that have appeared over the past dozen years. In style there's a tipping point where concentrates and dessert apples disappear, and cider varieties begin to express themselves. These ciders often still taste like apples, but not the apples of childhood memory. These possess the aromas and flavors of tannic, acidic apples that one would never care to eat. They may be sweet or dry, but the balance endeavors to appeal to an adult palate, not a sweet tooth. The approach of these cidermakers resembles that of craft brewers, too, eschewing adjuncts and extenders but indulging in some of the extremes of expression for which craft beer is known.
At the top of this pyramid are the cidermakers who think like winemakers, where tasting like apples is incidental to the aromas and flavors developed during fermentation, where even terroir can manifest itself. These are ciders where a vinous vocabulary truly comes into play: acidity, sugar, tannins. As per the IDAC: "Pays d'Auge cider has a fine, white, long-lasting froth and an intense, shimmering color varying from orange-yellow to amber. Its fragrances are complex and varied. A young cider may have a fruity (apples and citrus), floral (linden and aniseed), sweet (honey and toffee) or even milky bouquet. In a mature cider, the aromas will be greener, with woody or spicy undertones. Pays d'Auge is a robust cider with an agreeably round and slightly astringent taste. The powerful flavors linger in the mouth, the bubbles bringing an invigorating freshness."
Such a description need not be confined to Norman ciders today. Spain's scene pushes even further away from the aroma of apples as we know them — sometimes a little too far for most palates. Aspall Cyder, in Suffolk, England, works in a style that producers across the Channel would recognize, albeit generally a bit lighter in body and cleaner in flavor. Cidrerie de Vulcain, Schneider, and Weidmann & Groh are exploring this style elsewhere on the continent, as are many cideries in the USA. The generic term that seems to be coalescing around this complex, earthy, often tannic style is "farmhouse," although, with no official definition or protection for the term, there are farmhouse ciders and then there are farmhouse ciders. There's obviously a place in the market for each of these types — mass-produced, craft, and farmhouse. But if you like your cider the way you like your wine, it's probably best just to ask for the cider that doesn't taste like "cider."