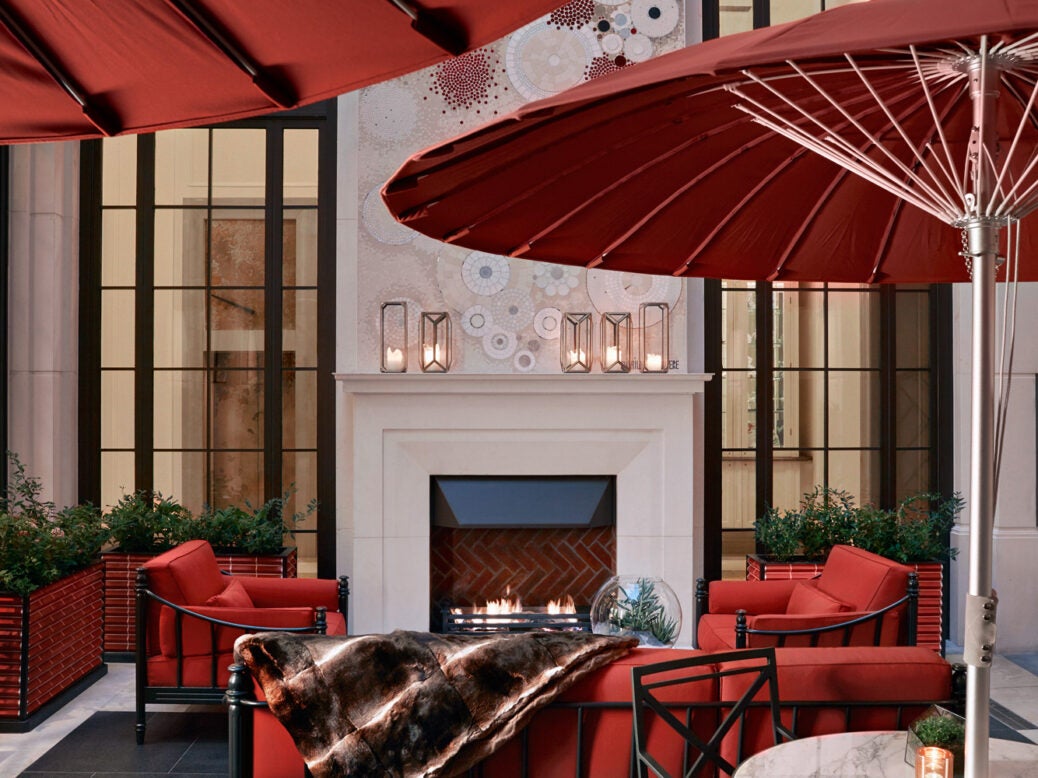 A dazzling array of gold, cream, red, terracotta and grey handcrafted mosaics by leading French artist Mathilde Jonquiere adorns columns and plinths, an elegant glass canopy provides cover, and an exotic mix of terrarium plants brings nature to the heart of the hotel.
Two fire places either end of the Garden Lounge make for cosy intimate seating and fire-side chats, while elegant circular tables with umbrellas and comfortable chairs offer the perfect outdoor garden environment, yet close to Whitehall, the Houses of Parliament, the City and only minutes-walk from Trafalgar Square.
A well-stocked Humidor offers over 53 varieties of cigars and a new bar area offers a substantial spirits and wine menu, including 62 varieties of whisky. Also available are a rare selection of the Symington family ports including the Graham "Ne Oublie" 1882 port. A mouth-watering all-day-dining menu offers meals and snacks throughout the day and late into the evening.
The Garden Lounge is the only outdoor space designed by the world-renowned David Collins Studio in London and is open Monday through Sunday serving breakfasts from 7am to noon, morning coffees, lunches from 12noon to 4pm and evening drinks, snacks and suppers from 4pm to 1am.
Simon Rawlings, Creative Director, David Collins Studio says: "A living bar, intricate mosaic art, a new signature palette, makes the Garden Lounge a wonderful outdoor space in the centre of London, and give the Corinthia Hotel a very special environment in which to socialise."
Well known female cigar sommelier, Paola Paolillo, will oversee both the Garden Lounge and The Lobby Lounge. Paola is a Master of Havana Cigars, of which there are only 16 in the UK.