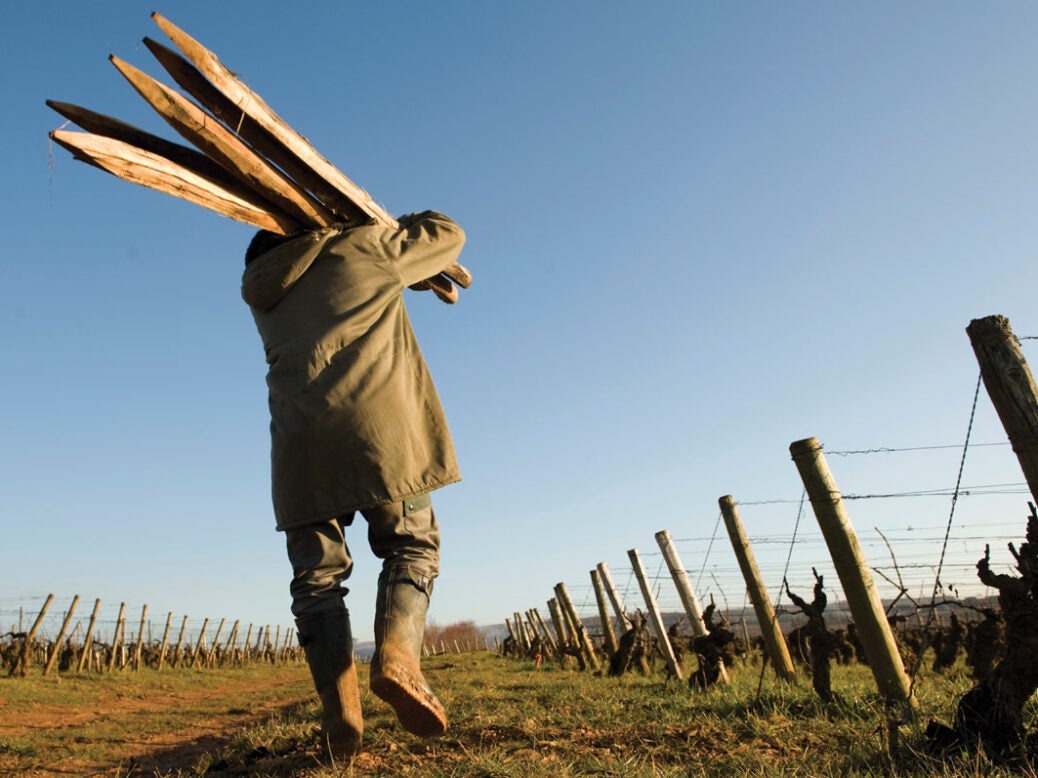 I'm afraid I have not brought the local winemakers the best of weather since I started visiting the Hill of Corton last year. But I'm happy to say that my visits in February, March, and early April have begun to redress the balance. March's rainfall seems to have been around 0.6in (15mm), and by mid-April the vine cycle was two, three, or four weeks ahead, depending on whom you believe.
After a dramatic first day weather-wise in February, when sun, wind, and rain appeared in almost equal measure, I went off-piste one sunny lunchtime to see a medieval church about 15 minutes from Ladoix-Serrigny, in the village of Bagnot, to inspect the 14th-century murals. I was drawn not by the famous paintings of devils but, rather, by the illustrated agricultural calendar — with the treading of grapes in September, the pouring wine in October — above the arch at the entrance to the chancel.
A similarly non-vinous location the same week was Maison Jacques Copeau in Pernand-Vergelesses, onetime home and workplace of the dramatist, director, actor, and founder of the Théâtre du Vieux-Colombier. I was lucky enough to go on the day Copeau's granddaughter Catherine Dasté and current owner Jean-Louis Hourdin, himself an actor and director, were visiting to discuss returning the house to its former, very active glory as a center for the theatrical arts. It is a jewel — and properly appreciated by the inhabitants of Pernand.
In March, more renovation was in full swing in Corton Renardes, where another Jean-Louis was still repairing the wall I had seen him working on three weeks earlier. Perhaps he hit a wet patch in February, or perhaps the slow progress was a result of his high standards. It is certainly an impressive piece of work.
I arrived in March to find the almond blossom at the top of Bressandes almost at its glorious peak amid the dark, stubby, seemingly sleeping vines. But when you have time to stop and take a careful look, with the sun in the right direction, rows of jewel-like drops on the baguettes reveal that something is stirring. This is why the burning of prunings has given way to the tying of each vine's single, carefully chosen shoot to its supporting wire. Only with the sap rising will that shoot bend to the horizontal without splitting. Tiny buds are emerging, too, and the new vintage has started to take shape.
The weather the following week, during Les Grands Jours de Bourgogne, was bright and sunny. Up on the Hill, Didier was stripped to the waist rewiring Corton, and Jean-Louis was in his shorts chipping away at chunks of limestone to dress his wall. Even the lizards were out and so pleased to feel the sun that a camera did not seem to worry them.
Baguettes in Bressandes, bees in Ladoix
But the early mornings, before the clocks went forward, were still cool, so Rodolphe had his hood up as he attached the baguettes in Bressandes, moving almost imperceptibly like a one-man tide up the slope. It is sudden movement that catches the eye, and his dog Kimi was far more visible stood above the steps where his canine cassecroute lay scattered around his water bowl as he looked left and right, eagerly hoping to catch a glimpse of a hare while his master moved slowly closer. Perhaps spring will be kinder this year than it was last year. Down in Ladoix, Serge the beekeeper was looking confident as he spring-cleaned the garden and planted his phacelia.
A wise old head in café La Grappe in Pernand that evening, however, thought it was all happening too early and warned that there was still the risk of frost.
"Never ask a farmer to smile," I remembered…
Terroirs de Corton and a new grand cru
My greatest interest in Les Grands Jours de Bourgogne this year was the Friday presentation — in Aloxe-Corton at Château Corton-André and the neighboring historical icon of Maison Louis Latour's 1834 cuverie — of the Terroirs de Corton, where growers with vines on the Hill of Corton show their latest offerings to receptive visitors.
From early in the morning, cars were arriving, bottles unloaded and hands shaken, as the winemakers gathered in relaxed anticipation. Some were even smiling. They had not had the good, long cold spell they had been hoping for, but at least they were seeing the sun and were able to get out and catch up with work. There were new plantings in En Charlemagne, new posts in Les Lolières, and shiny wire pulled out in Corton — all without any mud on the boots.
But now it was time for them to stand behind their barrels amid the wooden vats, below the narrow-gauge railway tracks that once carried the copper containers with their cargo of grand cru grapes in the first purpose-built cuverie in France; time to pour samples of what little they had — for the press, sommeliers, and other wine professionals who were coming from around the world to taste their wines and test their linguistic skills.
Amazingly, the roadworks in Aloxe were completed just in time, or at least the holes had been filled in and the route barrée signs laid to one side so traffic could get through.
I have often driven up the Hill from Aloxe passing a small clos on a corner that must once have been Les Chaumes before some winemaker built his house and walled off his garden. I found out recently that the current owner has replanted and renamed the parcel, as he is entitled to do with a clos, so there is now a new grand cru appellation on the Hill: Corton Clos Blanche. But don't all rush at once — the maximum production will be 300 bottles! Anyway, more new growth on the Hill.
Curtain call
April continued dry and warm — even harder work for those plowing, but perfect for Pernand's third biennial theatrical event, Les Parcours des Tréteaux, which was played out in four parts in three different wineries and the village hall. Over the weekend, the village hosted 300 visitors each day. Each entertainment, acted out astonishingly well by locals, accompanied a sit-down course with three wines from Pernand-Vergelesses. It was all carried off with great efficiency, self-deprecation, and humor — I have not laughed so much in a long time. I highly recommend it as a wine experience, too! It was the perfect finale to a memorable year.
Over the past 12 months, I have been taking photographs for my book, to be published later this year, about the Hill of Corton, the vineyards, the work, and the three communities that share it. Spending part of every month visiting the same people and places has created bonds, understanding, and affection. I have certainly learned that vineyard work is mentally numbing and physically taxing, survived only by the dedicated few with an appreciation of the importance of what they are doing and a real sense of vocation.
When we drink wine, we are in danger of considering nothing more than the price, the vintage, the grower, and the vineyard: Charlemagne, Corton, Clos du Roi — these and other climats lie together on one spectacular hill favored by Mother Nature and nurtured by the inhabitants of three villages. Think of them and their lives and labors next time you open a bottle — any bottle — and drink a toast to them. Aubert de Villaine, himself now active on the great Hill of Corton, reminds us in his foreword to Climats du Vignoble de Bourgogne of Pierre Veilletet's assertion that "there is no such thing as a vineyard predestined to greatness. This can only be achieved through the obstinate will of man." It's time to celebrate these obstinate men and women.