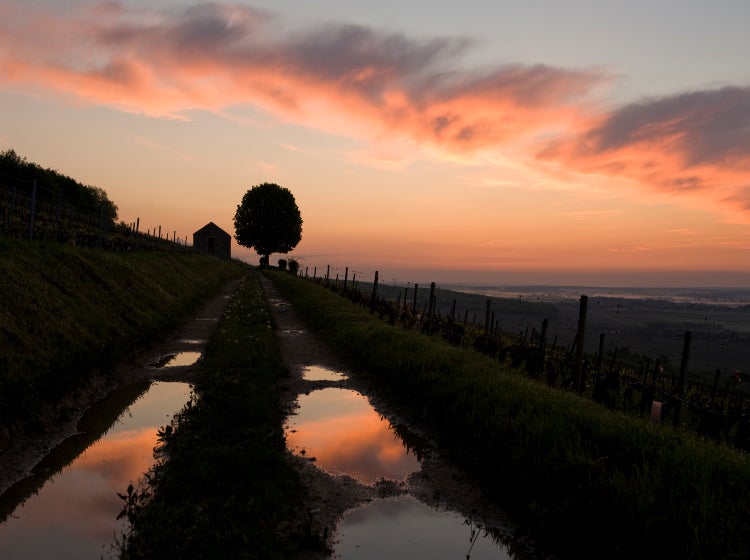 Standing one afternoon amid the vines on Corton Hill, high above Aloxe-Corton, I watched four workers from Maison Louis Latour as they trained the vines and hoed the soil in Les Languettes. Behind them a storm loomed. The sky seemed to resemble boiling black ink-great for a photograph, but were we all about to get a good soaking? I tried to calculate the quicker route to shelter- car or cabotte?-but decided in the end to stay close to the workers and run for it when they did.
As a professional photographer shooting wine, I often feel I'm in a race. Sometimes your goal is not even within sight, but you must pace yourself and treat your subject with respect. Preliminaries must be observed and permission sought. The race is usually to get your pictures before you overstay your welcome.
I hoped to see the vignerons and tâcherons frequently on the Hill, so I would need their co-operation and enjoy their friendly recognition. Although the best photographs are often the work of a split second, for us lesser mortals they follow a period of observation.
Suddenly everyone was scampering down to the cabotte built into the wall above Les Languettes, so I followed on, hoping there would be room for me as well. Bastien with his strimmer lodged himself in the entrance, but just as the heavens opened I managed to squeeze inside. One of the group had the experience to run to their van and came to collect them. The heavy rain and late hour meant that they called it a day. But I already had my pictures.
Budding in May had been late and damp, but the weather suddenly turned sunny and warm-ideal conditions for rot, though happily that seems to have been avoided. In June, when the above deluge occurred, my visit was a mixture of sunshine and showers. Everything was three weeks behind and the vignerons were praying for a heatwave.
But they should have been careful what they wished for…. After my next visit in July, when the working day began before dawn and afternoon temperatures soared into the mid-30s C (mid-90s F), they suffered a severe hailstorm that cut the crop from the less-than-perfect June flowering by up to half. And this after 2012's small harvest.
I was certainly seeing the tough side of coping with Mother Nature in the vineyard. It reminded me of the time I was photographing a winemaker in Spain and asked him for a lightening in his expression. "Better not ask my father to smile," the son warned. "He's a farmer."
A unique place
Burgundy-lovers might well raise their eyebrows if I suggested that there were readers of this magazine through whose lips neither the word nor the wine "Corton" will ever have passed. And perhaps it's just as well, since there is not enough for everyone. But I suspect that the Hill of Corton is undervalued even by those whose eyebrows may now have returned to their normal level.
Most of us may know Charlemagne, Corton, perhaps Clos du Roi. But do we ever pause to reflect that this is a little like having Montrachet on one side of the hill and Chambertin on the other? The Corton Hill embraces several grands and premiers crus, both red and white. And while in the Côte d'Or, it is not on the Côte d'Or, being quite apart in its magnificent isolation. That makes it a unique place, even in Burgundy. And that is why I decided, as a photographer, to explore the Hill and its three villages: Pernand-Vergelesses, Aloxe-Corton, and Ladoix-Serrigny.
July en fête
Despite the dramatic weather, my July visit was more to record the life of the people than their travails in the vineyard. Every July, there is a remarkable event in Ladoix-Serrigny (already double-barrelled before other villages of the Côte d'Or sought to improve their prospects by adopting the suffix of their greatest vineyard). Its winemakers now promote their wine through La Balade Gourmande: a 7km (4.5-mile) trek through their grand and premier cru vineyards with five courses and matching wines laid out at intervals. Numbers are limited to 3,500-and if you think a meal for 500 at Clos Vougeot is a feat, it has nothing on this!
The walkers are put in groups that set off at ten-minute intervals decked out with a straw hat, a small container for a glass and cutlery, and a glass of kir. Music accompanies every course. A Swiss quartet of faux Scots musicians in full regalia (doing a pretty good job, it has to be said) accompany the Ladoix blanc and charcuterie at the start. A hearty fish terrine follows at the first stop, then Boeuf Bourguignon in Bressandes, and cheese at Notre Dame du Chemin-by which stage spirits are soaring even as legs are tiring. Dessert and crémant await those who make it as far as the finish at Château de Serrigny and collapse on the grass.
A week later, in the vineyard of Les Vergennes, a small team was setting up Ladoix's firework display to celebrate Bastille Day on July 14. A vigneron and part-time fireman supervised. I imagined that the best pictures of the display would be from the site itself, but no amount of begging got me permission. It was actually quite a wise decision, since the vineyard road was a gymkhana of mortars and maze of wires-not a good place to go wandering around in the dark after the first half of the celebrations in Pernand-Vergelesses.
I heard of little going on over the weekend in Aloxe, but as I returned to Pernand after the Ladoix show, everyone in Aloxe was in the streets enjoying the big firework display above Beaune. No one seemed to go in much for tricolours, bunting, or any other outward manifestation of celebration in the three villages. But they were partying nonetheless.
Back in Pernand, the bal had reached the DJ stage by around 1.30am, so I called it a night as those of my generation headed home. I had an appointment with Bernard Dubreuil at 8.30 the following morning, when he patriotically unfurled his tricolour to mark the big day.
Bastille Day was a Sunday, so a siesta and a bit of editing filled the time before Pernand's village fête got under way at 4pm. At the village school there were games for the children, a lengthy boules contest, target-shooting (sadly no category for étrangers, which my 26/30 would surely have won), and, of course, barrel-rolling (for ladies too!). All these were followed by the awarding of school prizes and prizes for the various competitions (how could I have been 2kg [4.5lb] out on guessing the weight of the shopping bag?). Thence to the Aligoté, kir, gougères , and saucissons. These villages may look deserted 90 percent of the time. But every now and then, when they think no one is looking….