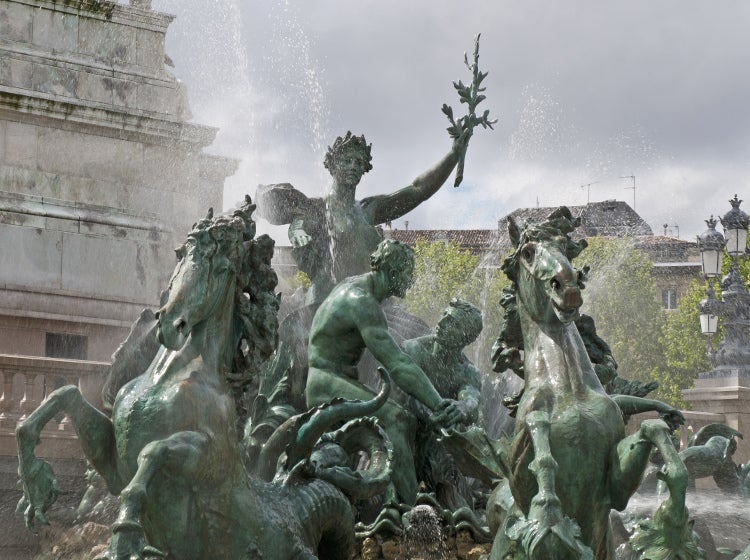 The second quarter of 2013 saw the fine-wine market in stasis. At least as the "benchmark" indices would have us believe (fig.1, below). One year ago, in issue 37, I questioned the validity of the Liv-ex 100 index as a yardstick for the fine-wine trade, asking, "Is it too narrow, with 89 wines out of 100 from Bordeaux?" I argued that the wide citation of this index, along with its first-growth-only counterpart, the Liv-ex 50, painted a gloomy picture of the market as Bordeaux classed growths underwent a huge price rationalisation since mid-2011.
This trend has continued over the past year. The Liv-ex 100 and Liv-ex 50 have failed to reclaim lost ground, remaining 24 and 28 percent below their respective levels in July 2011. The newest release of Bordeaux did little to reverse the pattern, with Bordeaux 2012 representing only 9 percent of Bordeaux trade on Liv-ex in May (compared to 20 percent for the 2010s following their release two years ago). Of this, 87 percent of trade was limited to only five wines, demonstrating a wider lack of interest. Overall, Bordeaux accounted for only 83 percent of trade on the Liv-ex exchange in May, compared to an average of 92 percent over the preceding seven years.
Liv-ex itself has recognized that a heavy weighting toward Bordeaux makes "the headline numbers negative," making considerably more of its regional indices in its recent communications. These demonstrate the positive performance of wines from Italy, Champagne, and Burgundy, each posting gains of more than 10 percent since July 2011. Liv-ex is also constructing a Rhône index.
The August "Cellar Watch" report states, "What is clear is that, two years on, the relative value argument is now in Bordeaux's favour." And yet the same report illustrates the increasing bid to offer ratios on the Liv-ex platform for non-Bordeaux wine. Bids for red Bordeaux have fallen dramatically since January, while other regions are garnering stronger interest in the fine-wine market.
Of course, it has made sense for Liv-ex to focus heavily on Bordeaux classed growths due to their high production levels and liquidity. Given the extent to which the Liv-ex exchange has been dominated historically by trade in Bordeaux, its data is presumably insufficient to create comprehensive and robust indices outside this region.
When Liv-ex substituted its own trading data for merchants' list prices in the composition of its indices, it had to abandon the Liv-ex 500 for lack of data points. This is because many of its members – including wine funds – focus almost exclusively on Bordeaux and, largely, first growths.
Fund latest
This narrow outlook has resulted in the demise of the UK's Vintage Wine Fund. Following the protracted decline of prices for classed-growth Bordeaux, the Financial Times reported that the fund was due to be wound up at the end of June 2013, ten years after it was founded. Andrew Davison, the fund's longtime manager, was not available for comment (let's just say he sounded rather preoccupied); however, in 2011 he told me that the fund was invested entirely in Bordeaux, save a "tiny bit of Champagne," citing its liquidity and transparency.
The Vintage Wine Fund came close to meeting its end in 2008 with assets under management of more than ¤100 million ($140 million), when Davison says he "learned the lesson that the fund was too big in what is a small market." A second downturn has seemingly been too much, even without the larger institutional investors. This downturn has also hit the Luxembourg fund Nobles Crus; following controversy around valuations and overwhelming redemption requests, it has been forced to "temporarily suspend all redemptions and subscriptions" by the Commission de Surveillance du Secteur Financier.
UK competitor Wine Asset Managers stated in its June report, "It is not disingenuous to put a positive spin on this […] as the market has absorbed it in a stable manner," adding, "we are now operating in a smaller sector." Liv-ex proffers positive signs in the shape of increased exchange turnover, up 47 percent in June 2013 compared to June 2012 by value, and up 20 percent by volume.
AUCTION OVERVIEW
In the first half of 2013, the overall number of wine auctions fell to 65 from 77 in the same period in 2012. Global revenues of $144 million to June represented a 24 percent reduction year on year, due to the average lot price falling by 16 percent, and 9 percent fewer lots sold overall. Asia suffered most, with sales dropping by more than one third. US revenues fell less steeply, by 18 percent, allowing it to overtake Asia in revenue terms and marking the end of Hong Kong's three-year supremacy in wineauction terms. The US now accounts for 42 percent of worldwide revenues to Asia's 35 percent, a reversal of the situation this time last year.
Europe claimed some of Asia's ceded ground, increasing its share of global sales by 3 percent on the first half of 2012, to 23 percent. It was the only region not to see a decrease in total lots sold, and revenues fell less sharply as a result, by only 11 percent. It was continental Europe that accounted for the region's relative success, with local hubs Cannes, Geneva, and Paris increasing sales by 81, 42, and 17 percent respectively year on year. Meanwhile, London's revenues were 31 percent down – only a slight improvement on its first quarter performance.
Acker Merrall & Condit retained pole position by the skin of its teeth, with $30.8 million for the first half of 2013. Just $300,000 behind was Christie's, which held an extraordinary eight sales in the second quarter, across six locations from Amsterdam to New York. Christie's will add another location in the autumn, with a sale in Shanghai, having secured an unprecedented license to operate independently in mainland China. The first auction, on September 26, will include wine alongside art (but not "cultural relics," which the license does not cover). Christie's strong global performance in the second quarter allowed it to overtake and steam ahead of Zachys. Zachys has been focusing on the launch of its new retail arm in Hong Kong, which currently has around 1,400 different lines of stock on its list and will launch officially on September 7.
Where's Wally?
Meanwhile, Zachys lost several employees to a new competitor. Following its acquisition of Los Angeles-based store Wally's Wine & Spirits in June, Guess? Inc founders Paul and Maurice Marciano and existing co-owner Christian Navarro have announced their intention to launch a new auction business in New York under the Wally's brand. The auction arm will be run by Zachys' former managing director Michael Jessen, with former auction director Julia Gilbert also moving across.
New York, which accounts for more than half of US wine-auction revenues, and where Los Angeles-based Wally's Wine & Spirits is creating a new auction arm
The new auction business will face tough competition in New York, a market arguably already saturated with presence from Acker, Christie's, Sotheby's, and Zachys. On the other hand, New York accounts for more than half of US wine-auction revenues, bringing in $32.3 million in the first half of 2013, down 16 percent year on year. The city's average sell-through rate was 93.8 percent – lower than the US average but healthy nonetheless.
PLACE DE BORDEAUX, PART 2
In Part 1 of my investigation into the Place de Bordeaux, I discussed the relevance of en primeur in the context of Château Latour's withdrawal from the system. Despite arousing strong resentment among traditionalists, Latour's decision came across as reasonable and perhaps indicative of things to come. Another lackluster campaign in May failed to reignite enthusiasm for buying wine in futures, arguably throwing the outlook for the en primeur system more sharply into question.
In this issue, I will look more widely at the Place de Bordeaux, which, as we found in Part 1, does not exist solely on the premise of selling wine en primeur, despite a long history of doing so. The négociant can also sell bottled stock at different levels of maturity. The Place de Bordeaux is an intricate beast. Last time, I got as far as outlining the role of its 300 négociants in linking the Bordeaux châteaux to the rest of the trade – for example, a UK wine merchant or a Paris restaurant.
Layering up
What I didn't mention was the additional layer between the producer and the négociant – namely a courtier, or a middle man, whose role consists of matching buyer and seller, providing market intelligence, managing the negotiation, and ensuring the contract is adhered to. Charles Sichel, export director at 130-year-old négociant Maison Sichel, states, "Historically, courtiers have always played a very important part in the distribution of wines from Bordeaux."
He goes on to explain that two centuries ago, with 40,000- 50,000 individual estates, the négociants "didn't necessarily have the time to ferret around Bordeaux and source the products." Some courtiers are specialized – for example, in certain appellations or certain quality categories – and Sichel concludes that their job is "to find the products the négociants are looking for." In return for finding them, the courtier takes a 2 percent margin on each deal struck, paid by the négociant out of his total margin of 11-12 percent on average and up to 15 percent or more.
The UK merchant, in turn, might make the same amount again in selling on to the end consumer, not to mention the Parisian restaurant's markup. Or the négociant might sell to an importer, who then sells to an independent retailer, who then sells to the consumer, adding more and more layers to the distribution process. This means there can easily be four or five links in the chain between château and consumer, often two years before the consumer will actually see the wine.
The négociants pay the châteaux in tranches over a period of approximately one year from the sale, with at least half the total amount being due before the end of the year (so, December 2013 for the 2012 vintage). The négociant's client will settle in a similar fashion, always before the wine is physically delivered (in the case of en primeur) and sometimes in tranches, sometimes in one go. That all these players take a cut on the wine before it reaches the consumer begs the questions "What do they do to earn their margin?" and "Are they all necessary?" In Bordeaux, the question is more pertinent than ever and the answers more divided and divisive. In April, I put this to several key Bordeaux players, négociants and producers alike.
Courtship
Discussing the role of courtiers elicited less extreme reactions than questioning the place of négociants. Most parties agreed that courtiers are useful, but how useful depends on which courtier. Sichel is in this camp, saying, "There are some very good ones," but adding, "they are the few." Sichel estimates that around a dozen courtiers (of approximately 100) perform 85 percent of the business. Maison Sichel uses five, each of which each employs four to six people to source wines from different regions. "We still need a courtier to go and find the entry-level and mid-level wines," says Sichel, reasoning, "Proportionately, it would cost us more to have our own people."
I ask whether a courtier is really necessary to strike deals with the classed growths, which all the négociants must surely know themselves. "We use a courtier anyway – even though we don't need to – because they bring us other deals," justifies Sichel. "The good, dynamic courtiers work on deals targeted at specific négociants for distribution in various parts of the world," he explains, adding that they also "collect and collate information from all the négociants and feed it back." The less dynamic courtiers, he says, have less of an understanding of the market internationally.
Courtiers also play a role as unbiased middlemen, aiding communication, setting the price between the château and the négociant, and ensuring that allocations are honored. "The courtiers are there to make sure the rights of each négociant are respected each year," explains Millésima's CEO Patrick Bernard. Allocations are what bind the négociants to the châteaux by what Bernard calls a "contrat moral," or gentlemen's agreement. There is no written contract obliging the négociant to purchase its allocation, but doing so is the only way to guarantee the same access to that producer's wine the following year.
However, not all producers see the benefit of courtiers, one Pomerol winemaker pronouncing, "You don't have to make the courtiers richer than they are: They do nothing." It would seem fair to conclude that certain, high-end transactions could happily take place without a courtier but that the bulk of trade on the Place de Bordeaux benefits from the better, more energetic courtiers' sourcing and mediation expertise.
Negotiating value
Once the deal is done and the courtiers' modest 2 percent earned, what do the négociants actually bring to the table to merit their much bigger piece of the pie? "We bring our distribution," says Sichel, "that network of customers that we have built up over all those years." Maison Sichel sells to 65 different markets, with salespeople that travel to each one, and offices in Japan, China, the Middle East, and England. With each producer using multiple négociants,
Sichel emphasizes that "each château has at their fingertips a massive sales force that costs them nothing." He doesn't think the châteaux could easily replicate this, asserting that "to maximize their presence around the world and spread distribution as thinly as possible to maximize visibility and breed value, it would cost them a hell of a lot more than 15 percent." Jean-Pascal Vazart, L'Evangile's estate manager, says, "The négociants had enormous power, and they maintain a formidable capacity to reach lots of clients," adding, "There aren't salespeople in the château."
Vazart also sees the négociants' role as mediatory. Their big strength "is to have a huge number of clients who can say, 'Last year I lost money on the en primeur,' and the négociants pass this info back to the producers and say, 'Watch out, the prices are too high.'" How much influence they really have is questionable, as we have just seen yet another overpriced en primeur campaign find little traction with buyers, despite every négociant under the sun vowing that they did their utmost to impress upon châteaux the importance of a sensibly priced campaign. "I've been tasting at the châteaux to put pressure on the producers," said Bernard.
Risk sharing
The négociant's only way of exerting real influence is to refuse to purchase a château's wine. However, the age-old allocation system makes this a dangerous bargaining tool, since the négociant then loses the right to purchase that wine the following year – and what if it's a blockbuster vintage? Allocations work on a percentage basis, so if Millésima purchased 10 percent of a certain château's production last year, explains Bernard, it must buy the same proportion this year (which could be more or less in terms of bottles, depending on yields) in order to ensure it will still be entitled to 10 percent next year.
Charles Sichel, export director at 130-year-old négociant Maison Sichel: "We bring that network of customers that we have built up over all those years." Photography Claude Lada / Agence Class Bordeaux 2009, courtesy of Maison Sichel
"It's simple and supple," says Bernard. "I either honor my contract," he says, "or I tell the producer I don't want any or I want less." He's within his rights to reduce or refuse his allocation, but if he takes 500 cases instead of 1,000, the following year his "rights" over that château's production will be halved accordingly. The négociant that bought the other 500 cases instead will now own the rights. The system serves to shield the châteaux in poorer vintages, encouraging the négociants to bear the risk on their behalf in order to retain their allocation. The importers, in turn, end up sharing some of the risk, assuming they similarly honor their allocations from the négociants.
When the 2011 vintage was released, for example, Bernard stuck by his allocations determined in previous years. He sold only ¤3.5 million to private clients (compared to ¤16.5 million in 2009) and ended up reselling a large portion of his allocations to other négociants at a loss. He was not planning on being so supportive this year unless the producers "listened to the market" with viable 2012 release prices. The reliance of châteaux on négociants to sell their wine is at least partly the reason for inflated prices in recent years, since the châteaux are one step removed from the reality of the market, letting négociants and importers hold unsold stock and soak up any price deflation.
Value add
Négociants also manage the logistics, collecting the wine from the château, and financing storage (if they don't sell the wine immediately), although it's not their responsibility to ship the wine to the purchaser. "There's a certain amount of work to be done to round up purchases for all customers," agrees John Kolasa, of Ulysse Cazabonne.
"We don't call ourselves a négociant but rather a marchand de vin [wine merchant]," he says. This nomenclature refers to the fact that the business holds large amounts of stock. If he buys 100 cases en primeur, he might sell only 50 straight on and keep the rest.
"We hope the other 50 will go up," confides Kolasa, but that is not the only motivation: Not all his customers buy en primeur, and if he didn't keep stock back, he would be shutting off certain markets. For example, China is "shy" when it comes to buying en primeur, he says, and the Russians never do. "They don't know if they're going to be alive tomorrow," he quips. "I have huge stocks; there are only about ten of us in Bordeaux who do." Many other négociants, he says, "fall into a tank of money because they are born into the right family, but they're not proper wine merchants, because they don't have [the same levels of] stock; they sell straight away." So, like the courtiers, it seems négociants add varying levels of value.
John Kolasa of Château Rauzan-Ségla and Ulysse Cazabonne, which deliberately keeps plenty of stock: "We don't call ourselves a négociant but rather a marchand de vin" Photography by Jon Wyand, from James Lawther MW, The Finest Wines of Bordeaux (Fine Wine Editions / Aurum and University of California Press, 2010)
Nonetheless, the Place de Bordeaux still holds wide appeal for thousands of producers with lesser resources, offering global sales, distribution, logistics, and risk management. So much so that it has even attracted business from outside Bordeaux, from the likes of Super-Tuscans Masseto and Solaia, since 2009 and 2010 respectively. Half Masseto's production is distributed via eight Bordeaux négociants. When the decision was made to disassociate the two brands Masseto and Ornellaia, this involved finding separate distribution for Masseto. "The most prestigious way to do this was by using the Place de Bordeaux," explains Andrea Orsini Scataglini, communications and media PR manager at Ornellaia e Masseto Società Agricola. "Négociants have a system that allowed them to find Masseto's real market value," he enthuses.
This success speaks to the benefits of using the Place de Bordeaux but not for the necessity of doing so. After all, Ornellaia has experienced similar price increases since the two brands went their separate ways (approximately 25 percent apiece), and half Masseto's production is distributed without recourse to the négociants, in Italy, Germany, and the United States, where the négociants do not compete. Solaia, on the other hand, has underperformed since it began distribution via the Place.
Even in Bordeaux, some are beginning to question the status quo. In Part 3 of this series, I will once more take up the question of Château Latour: Whereas in Part 1, I looked at the first growth's withdrawal from en primeur, next time I'll investigate the consequences for its relationship with the Place.