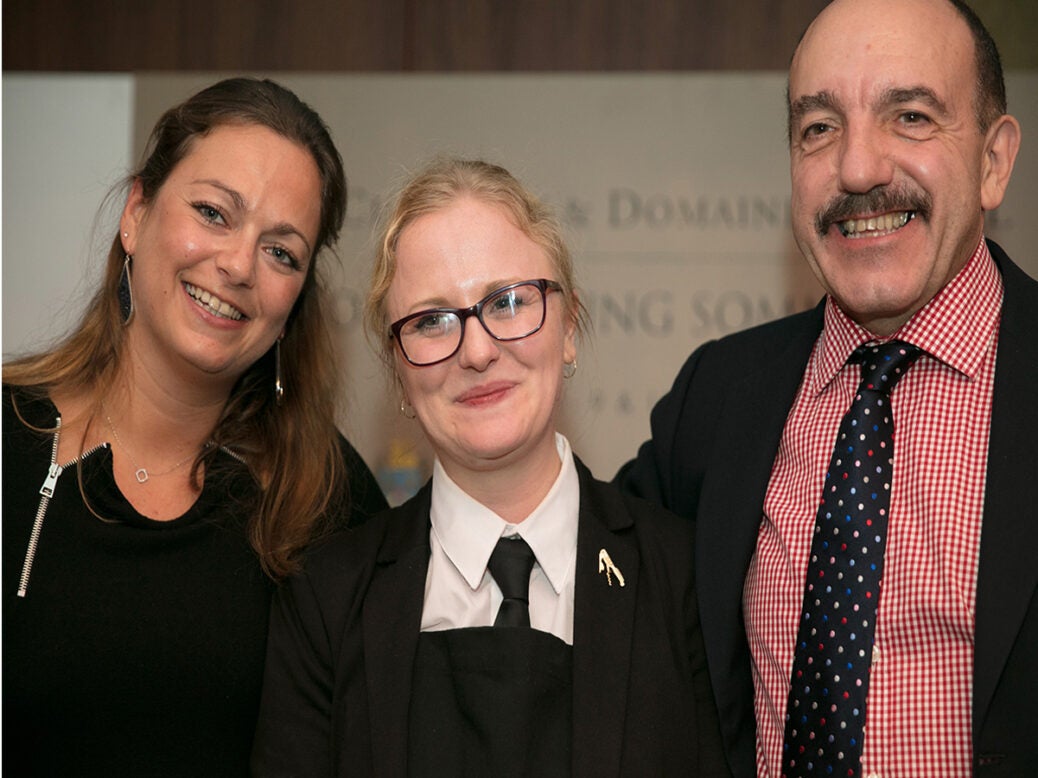 Denmark's Nina Jensen has recently been named European Young Sommeliers Cup Champion 2016 in its third edition with Châteaux & Domaines Castel.
Hosted by the UK, a grueling two-day competition spanning Sunday 9th – Monday 10th October tested young sommeliers – specifically under 30 – with practical, theoretical, oral blind tasting, decantation, advising food and wine, and many other technical-driven challenges.
Jensen from Restaurant Anarki, Denmark, stood alongside Henrik dahl Jahnsen of Bolgen & Moi restaurant in Ny Hellesund, Norway, and Tamas Czinki of the UK, who excited the British with the potential of a second consecutive win, them having claimed the title in 2015. Czinki is a sommelier at The Northcote in Langho Lancashire.
The competition was organized by The Wine Guild UK in association with Kingsland Drinks and the Academy of Food and Service.
Gerard Basset MW MS OBE assisted with hosting the event, but passed the baton to fellow UK-based Master Sommelier Nicolas Clerc to deliver the final announcement.
"It's very rare when you win a competition – Roger Federer didn't win Wimbledon the first time," says Basset. The Cup acts as a good platform to better things, more senior competition or to simply come back next year and try again, Basset continues.
The technical jury included Clement Robert MS, Laura Rhys MS, Katrine Larsen MS and Terry Kandylis, UK Sommelier of the Year 2016.
We discuss difficult competitions such as these, "Let's face it, when you have to do oral blind tasting like they did, you have a lot of chances to make a fool of yourself," Basset chuckles.
Speaking with Jensen after her win and she exclaims that the win was quite a surprise, "[I'm] Excited and a bit mystified: so many emotions!"
Jensen works with Christian Thorsholt Jacobsen, partner and sommelier at Anarki. We ask if their wine list is influenced by fads or receives pressure to include trending wine style or regions. "Our wine list is more the trend setter in Copenhagen. But it's all Christian, everyone admires him in Copenhagen," remarks Jensen.
Jensen also won the Nordic Championship a week prior, making her Best Sommelier of the Nordic Countries 2016. Jensen's next challenge is Danish Sommelier Championship, where there is no age limit. "The super favorite is Jess Kildetoft from MASH, so to be in the final with him would be amazing."
UK representative Czinki commented, "I'm very proud and I'm very happy with my performance."
As the evening gets underway an organizer announces: "In Scandinavia we have a tradition where the winner drinks from the trophy," and we excitedly witness many of those involved in the Sommeliers Cup, including the top three, finish a bottle of bubbly from the winner's trophy – a decanter.